At these seven restaurants around the world, the food is just as magnificent as the views. And luckily, the views are on the house. Don't let your food get too cold while you're off taking pictures…
Read also: 5 Restaurants Made Famous by Movies and TV
#1 Vertigo Bangkok, Thailand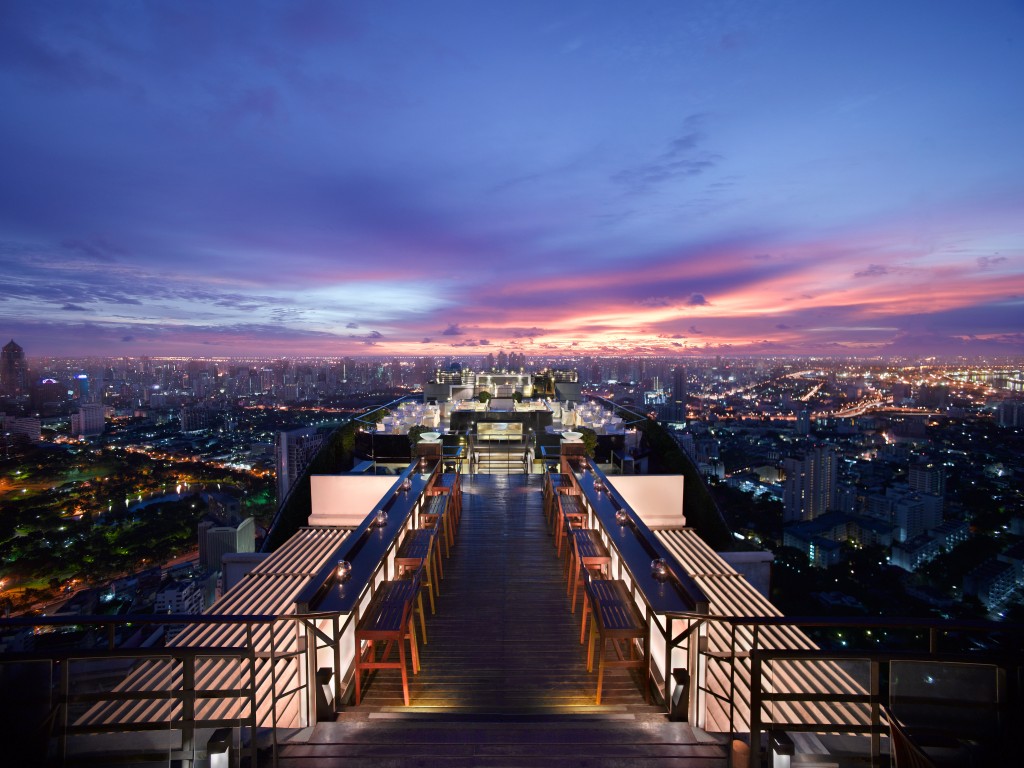 What: This isn't what John Lennon imagined (oh, punny) when he sang, "Above us only sky", but it's pretty close. Architecturally made to feel like you're on top of the world, Vertigo has the best view in Bangkok and in our opinion, the best city skyline view in the world.
What to order: 61 stories up, you're good with just a beer, but if you want to amp up the luxe, go with some wagyu beef and savour the night.
#2 Tapasake, Island of North Male Atoll, Maldives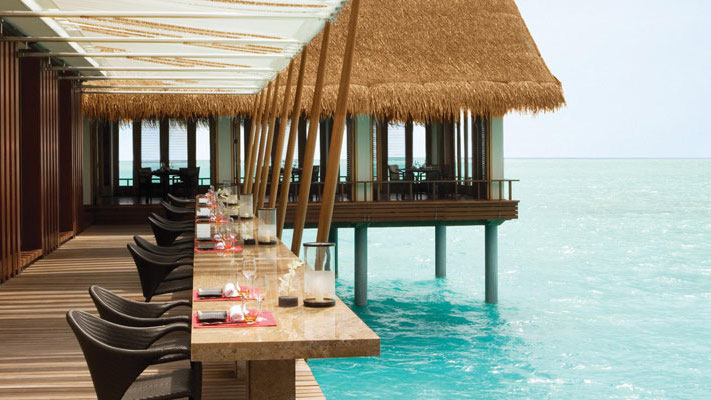 What: Imagine this–you're looking out into the great horizon and endless aquamarine waters with super-fresh sashimi that meets the highest standards. Served in tapas-style small portions, Tapasake in One&Only Reethi Rah serves traditional sake (duh) as well as cool cocktails.
What to order: It's tapas-style, so order half the menu–no one's going to judge you. Also, know that your seafood is shipped directly from Japan, so chew away guiltlessly while watching the fishes swim below you.
#3 The Rock Restaurant Zanzibar, Tanzania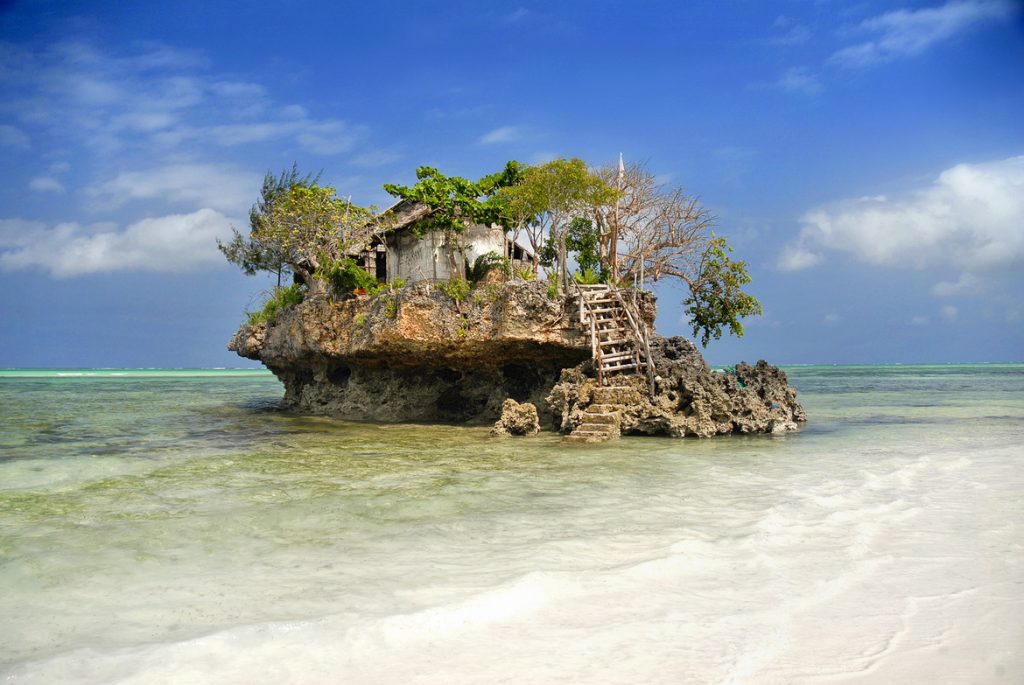 What: It looks like something out of a Harry Potter movie, and you'll start wondering who thought of the idea of building an eatery on a rock, but as it turns out, it's a great novelty, and people will still visit even if your food happens to suck.
What to order: Thankfully, the food is almost as good as the view. Live seafood is ripe for the picking; from lobster to jumbo prawns. We personally recommend the Rock Special–which is the menu on one plate.
#4 Sierra Mar, Big Sur, California, USA
What: The restaurant itself isn't much of a looker, but that view is fit for royalty. Sierra Mar on Big Sur though, isn't just known for the pristine, oceanic views but also for the grub. Many people have described their experience as "michelin-starred, or should have been".
What to order: Anything, it seems. The Sierra Mar can do little wrong in everyone's eyes.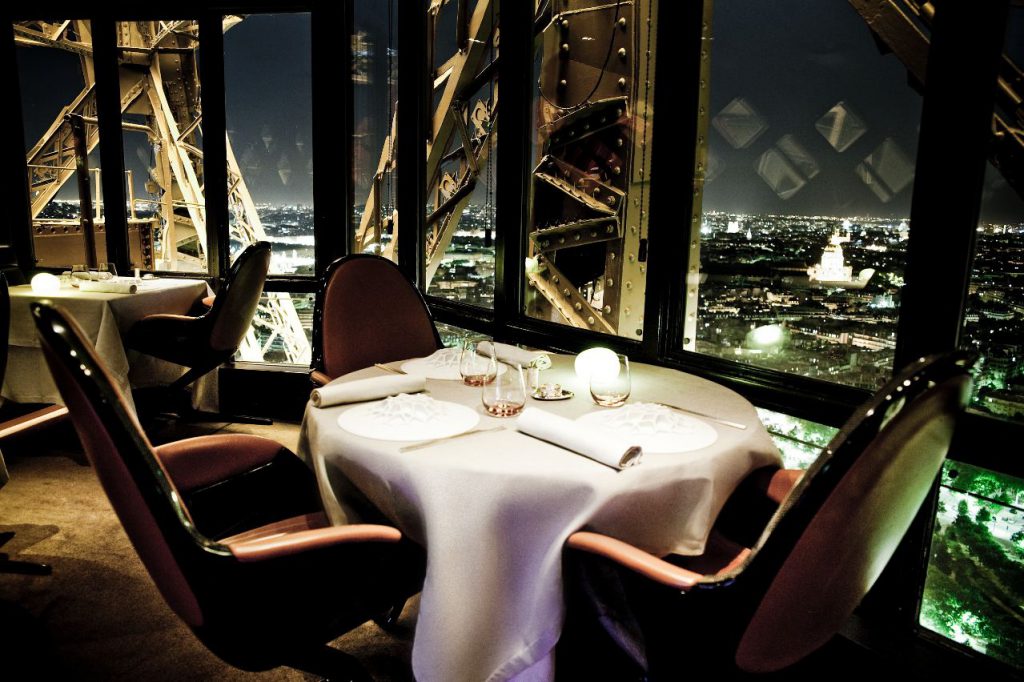 What: The famous Eiffel tower restaurant, the Le Jules Verne is possibly the first on any foodie's bucket list. Michelin-starred, world renowned in the world's most famous monument. What could go wrong?
What to order: We say try the lobster with black truffle–you can't go amiss with lobster.
#6 Piz Gloria, Mürren, Switzerland
What: Put on the map by James Bond, or more accurately, the movie "On Her Majesty's Secret Service", this revolving restaurant sits on a snowy peak and phew, would you look at that view??
What to order: Piz Gloria has the James Bond martini, so you can perch at the bar and have your 15 minutes of cheesy-sleuthy-feels, but seriously? We hear the buffalo burger's the sh*t.
What: You know that romantic scene in every movie when the guy proposes to the girl? Well, it was probably shot at the Ambrosia. You can see the Santorini volcanic sea caldera from here and everything and beyond. It wouldn't be a stretch to say that the the restaurant is nothing without the view.
What to order: We hear the Scottish salmon has pleased many a palette with its champagne and basil sauce.
Photo credits: Main, 1, 2, 3, 4, 5, 6, and 7.