Come winter, Niseko is the definitive watering hole for Asian luxe travellers, ski bunnies and powder enthusiasts. A combination of perfect snow (lots of it!), high-end hospitality, ubiquitous natural hot springs (many of which are alfresco and open until late) and all around good English proficiency make Mount Annupuri's Niseko United ski area one of the world's finest.
Year on year, city-dwellers across Asia flock here for their fix of a winter wonderland. Over the years Hirafu village, arguably the cosiest of all settlements by the foot of the mountain, has become an eclectic mix of cuisines and cultures offering the best of Japan and beyond. Besides its obvious allure, Hirafu's charmingly narrow streets and steep slopes are also home to an increasing number of luxurious chalets, designed for contemporary tastes and creature comforts.
Read also: 7 great bars & restaurants for date night in Niseko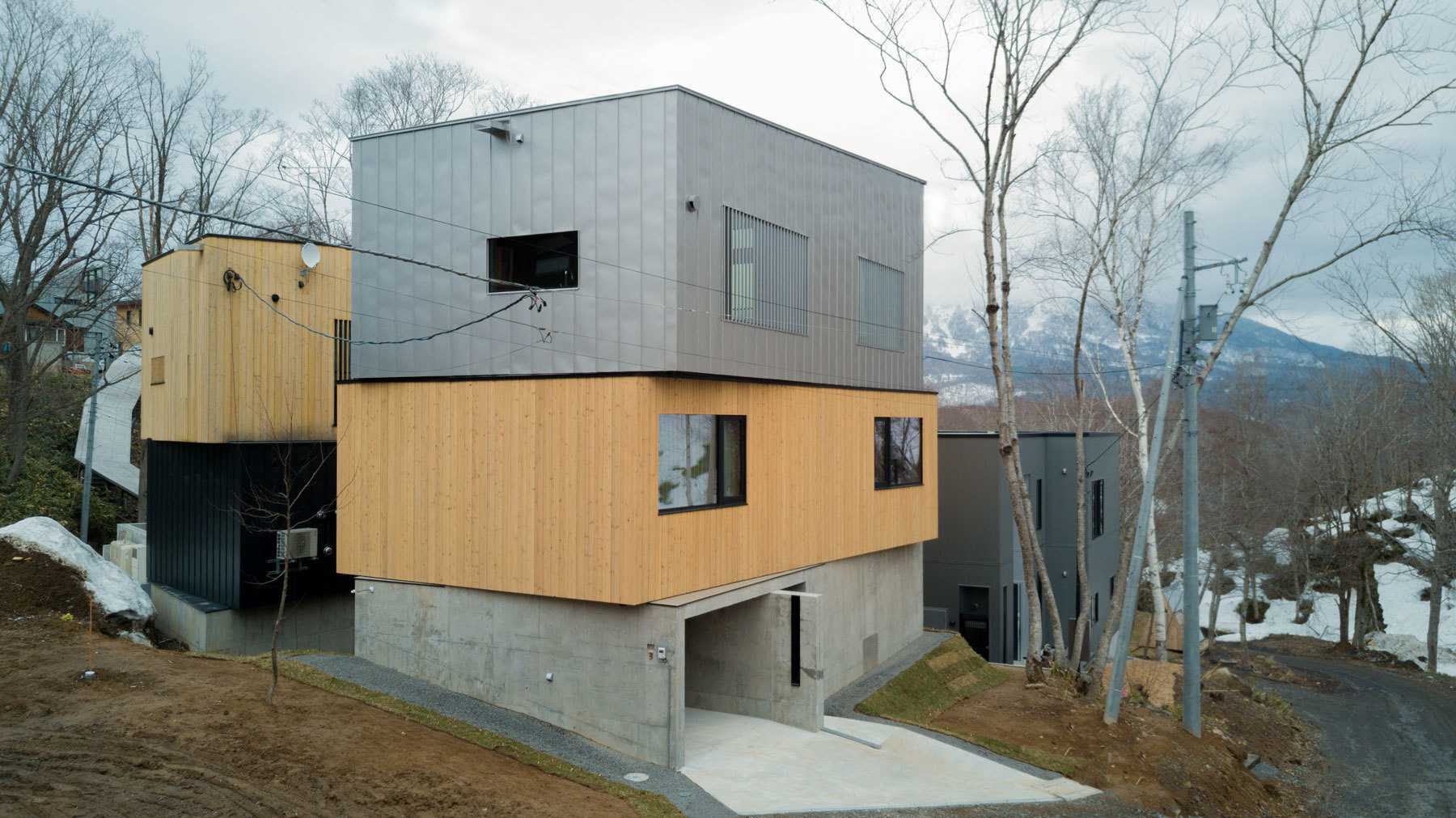 We had the pleasure of checking out (or rather, into) two such secluded lodges, both tucked away in the quieter lower Hirafu village. The properties are managed Hokkaido Tracks, who provide a large selection of high-end hideaways to discerning Niseko first-timers and regulars. For our recent stay, we spent some quality time in Boheme and Fubuki 2, both of which are enchanting.
Its striking architecture stands out right away and, as we would learn soon after, so do its killer living room views of Mount Yōtei.
Prior to arrival, Hokkaido Tracks sent us a personal welcome email and an online-pre-check-in form that records important personal particulars to save time during arrival. As we rolled into the village, we were received by Gabriel, who manages reservations and is possibly the nicest guy you'll ever meet. In fact, everybody we met at Hokkaido Tracks was downright lovely and gladly went the extra mile to help and make me feel in good hands (this probably has something to do with that most of the staff is given ample time for winter sports – after all, that's why we all come in the first place). He escorted us directly to Boheme, a brand-new property in the portfolio completed in summer 2017 on the edge of the village. Its striking architecture stands out right away and, as we would learn soon after, so do its killer living room views of Mount Yōtei.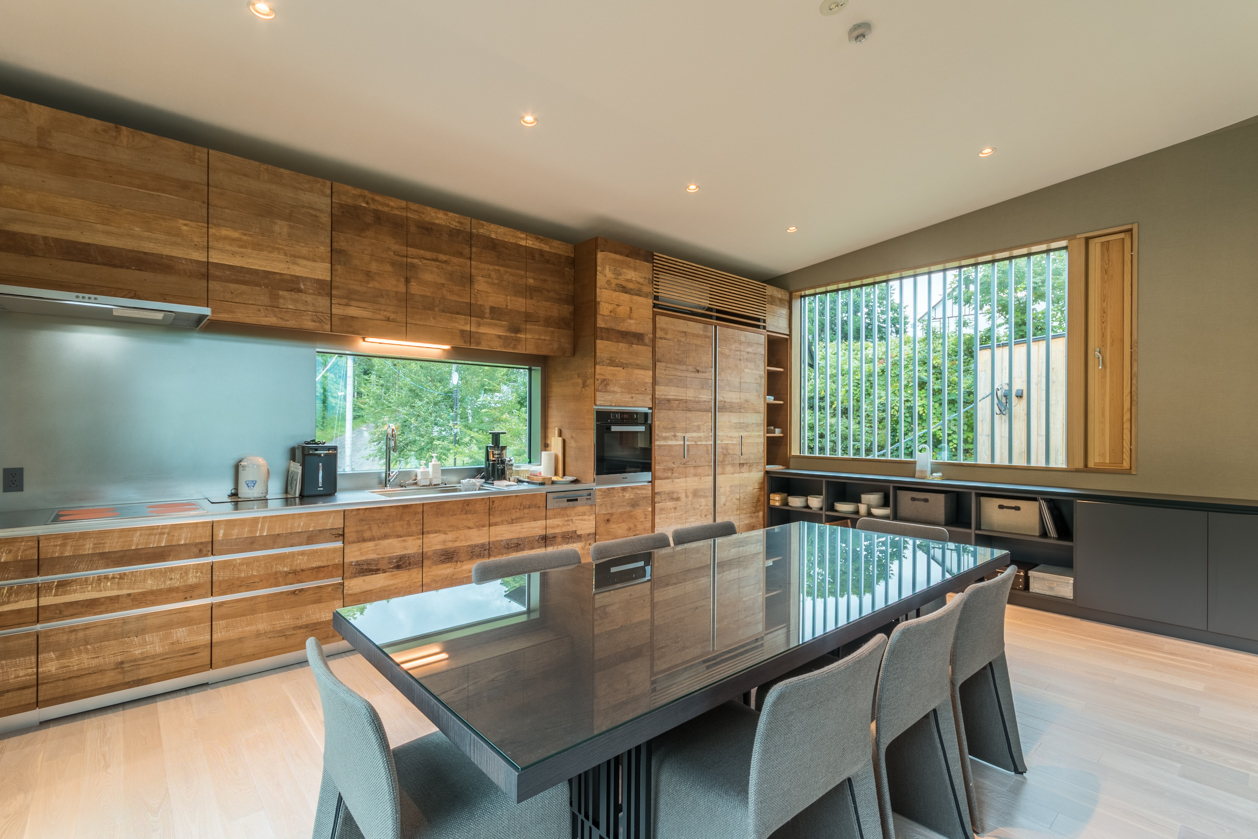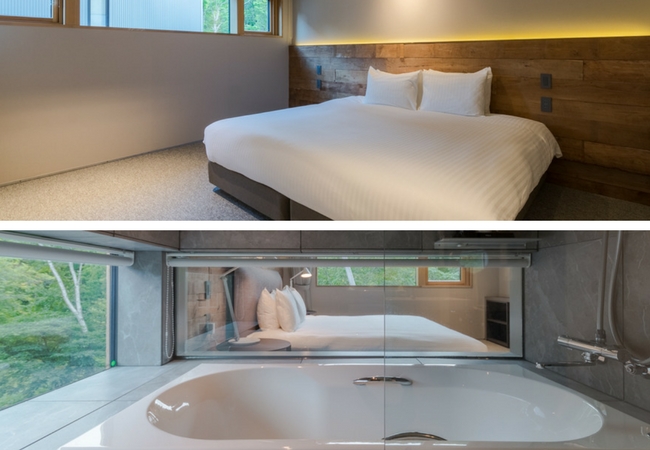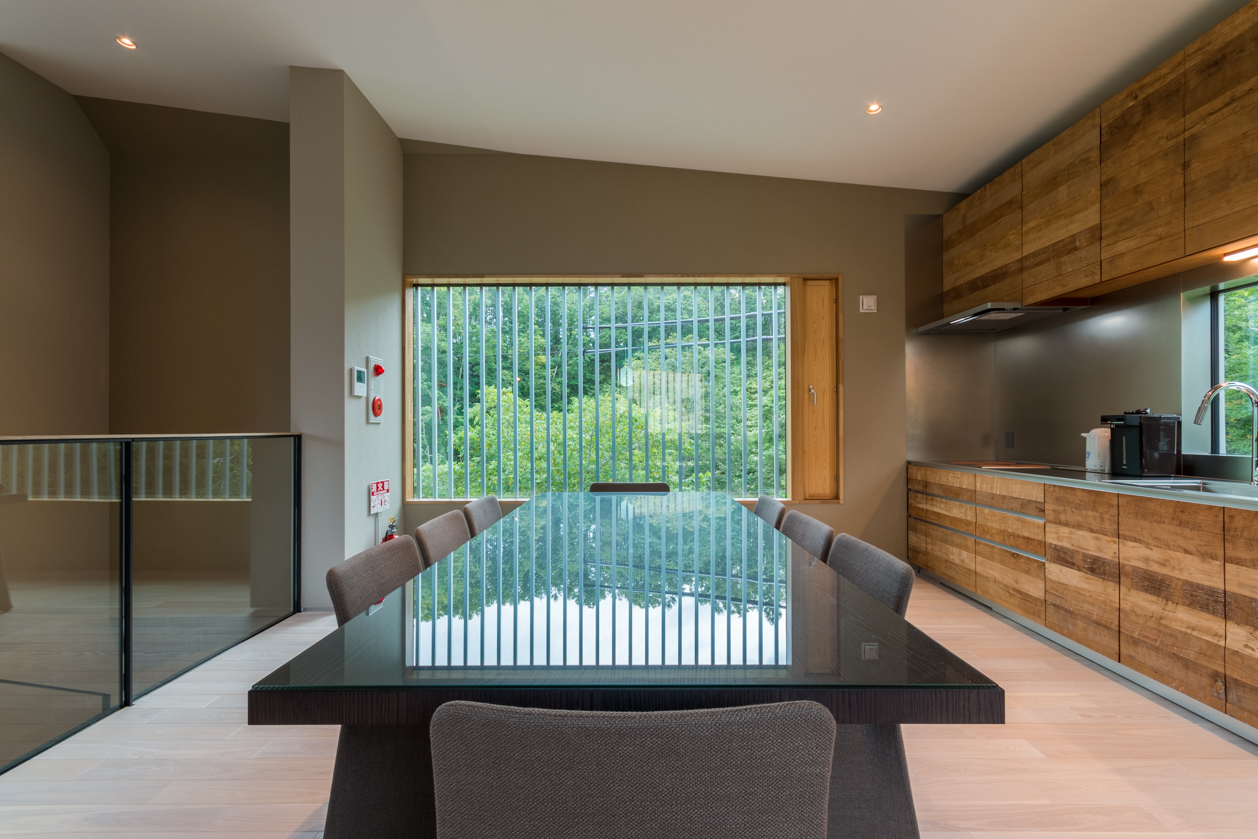 Thanks to floor-to-ceiling windows, guests enjoy picture-perfect views of Yōtei-San.
As we open the large wooden door framed by stylish bare concrete walls and remove our shoes, we are greeted by toasty floor heating (installed throughout the entire property) and a beautiful central staircase with solid wooden steps that snakes up two floors. Besides ski and laundry rooms, the ground floor features a large bedroom with ensuite bathroom.
The other three bedrooms (two common, one master) are arranged on the first floor, and the living room and kitchen are up top. While the bedrooms and baths are all elevated standard, the living and kitchen area steals the show. The kitchen is decked in wood veneer, equipped with top-of-the-range appliances and accessories and completely open-plan. It blends perfectly into the living room and gives the whole top floor a sense of airiness that makes one feel instantly at ease. Thanks to floor-to-ceiling windows, guests enjoy picture-perfect views of Yōtei-San, which are best marvelled at lazing by the house's large indoor fireplace. Running on clean ethanol, it's extremely easy to use and bathes the living room in comfortable and aesthetically pleasing warmth.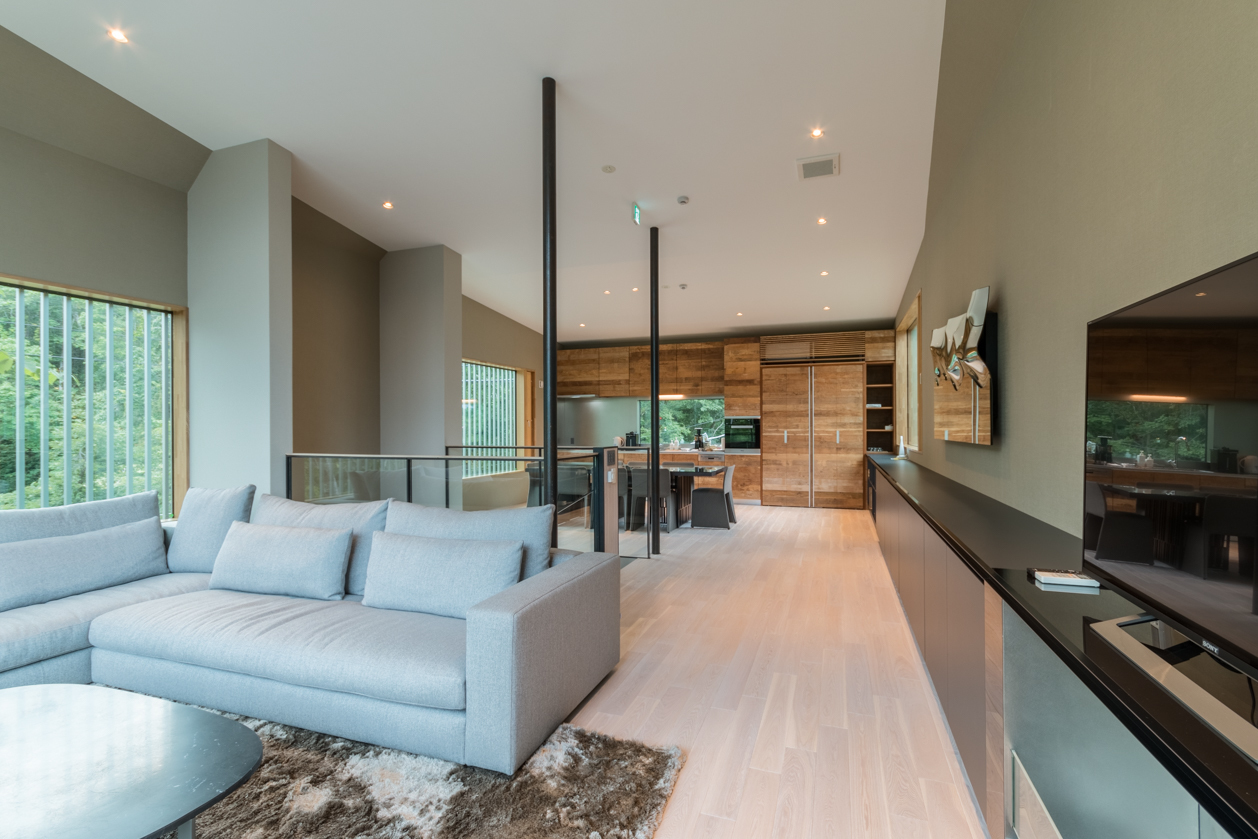 Over the three days we stayed at Boheme, we spent so much time at the top of the house that it started feeling hard to leave the place behind. This isn't to say the rest of the house disappoints in any way. Quite the opposite. Modern fittings, quality bathroom amenities, the latest Washlet toilets with heated seats and cosy, rustic carpets make each bedroom feel like a cocoon of rest.
Despite coming home late at night from my Onsen hopping and hitting the slopes early in the morning, we slept very well at Boheme (this matters greatly when you plan to use all your energy whizzing through Niseko's legendary powder in the day).
Another great plus point of the place is its semi-open garage, which saves you from de-icing your rental every morning. If you arrive without one, there's a morning and afternoon shuttle to take you to the lift, or you could easily walk the 500 meters and get yourself warmed up for the day. Driving on Hirafu village's icy slopes is a lot like sledding, so you are probably better off by foot or bus, anyway.
Next up, our stay at Fubuki 2! In the meantime, you might like these:
5 great places in Niseko you should know about
10 essential books to read before travelling to Japan
The insider guide: Your first time in Niseko
How to eat sushi the right way, because you've been doing it wrong
Boheme was reviewed by Philipp Kristian Diekhöner
Ready to start planning this year's Niseko trip? Early bird rates are now out! Check out www.theluxenomad.com or send an enquiry to [email protected].