So you want to frolic in some of the world's best powder snow in Niseko, Japan, but have no idea what to expect? You're about to get schooled.
#1 Plan Your Trip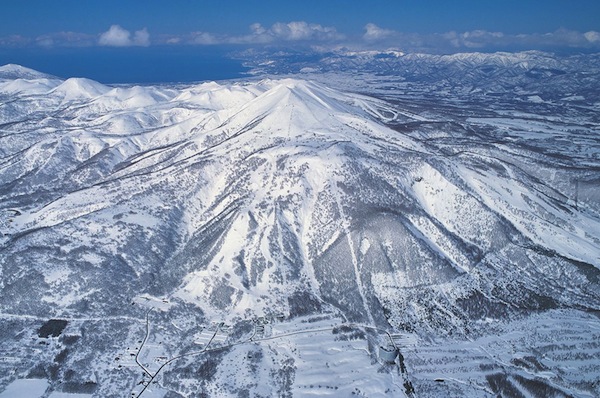 You'll want to make sure you've got accommodation and flights sorted, then book your airport transfers from Sapporo Chitose Airport to Niseko in advance. Most accommodations will help to do it on your behalf and will require your confirmed flight details. Make sure your transfer to Niseko is at least 1- 1.5 hours after you arrive to allow for any flight delays. If you choose to take the bus, it'll take about 3 hours from Chitose airport to Niseko. Some bus transfers are direct to Niseko, others may stop at Rusutsu along the way. There are plenty of bus companies: try Hokkaido Resort Liner or Whiteliner.
#2 Get Your Gear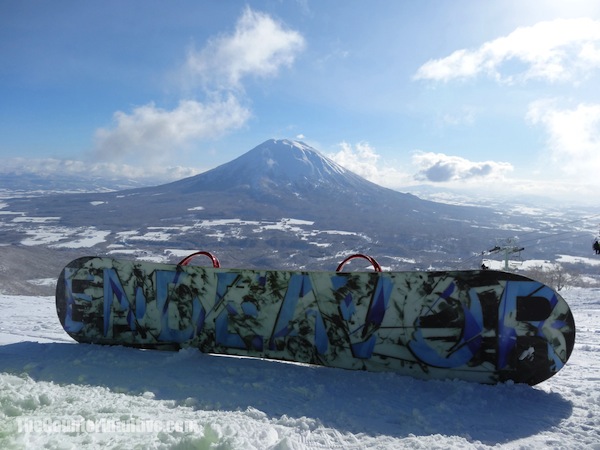 Niseko's powder snow is dry fluffy and there is a ton of this stuff – particularly if you're planning to visit in January and February (although snowfall declines after February). Unless you plan to stick to the groomer runs, make sure you have powder specific equipment is necessary. Additionally, Niseko does not see very many bluebird days as it tends to be foggy and sometimes quite windy – so if you intend to visit often, it's worth getting a pair of yellow lenses. There's night skiing, so you may wish to get a pair of clear lenses too. The trees in Niseko are plentiful out backcountry and sidecountry, so make sure you bring a helmet. We like Gentemstick – the Rolls Royce of powder boards, with their handcrafted bamboo floating goodness. Ask for Domi who speaks English.
#3 Run Around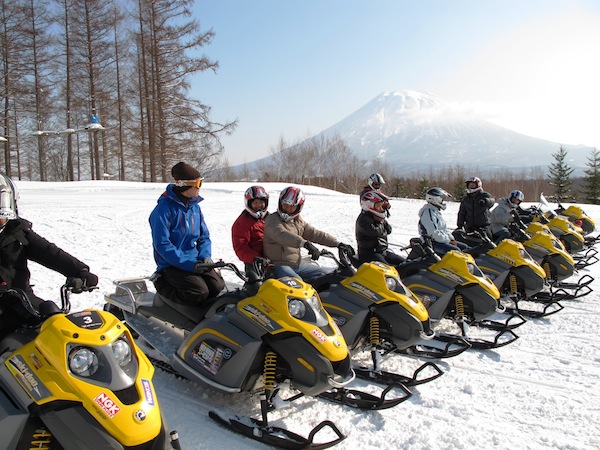 Buses are the most affordable option to get around in Niseko. As you enter the bus, make sure you take a small ticket (unless you're on the Niseko United Shuttle and have a valid ski pass or taking a free shuttle) and pay your fare as you get off the bus which corresponds to the number on the small screen. Other options include:
Niseko United Shuttle (NUS) – Free if you have a valid Niseko United lift pass (excludes night ski, 8 hour and points passes). Runs hourly and goes between the Hirafu, Niseko Village and Annupuri ski areas.
Free Village Shuttle Bus – Goes around Hirafu and Izumikyo areas. On the village maps, these are the numbered stops.
Free Hanazono Bus – Goes between Hanazono and Hirafu, stopping at Izumikyo as well. On the village map, these are the alphabetical stops.
Hilton Shuttle Bus – Goes between Niseko Village (Hilton and Green Leaf Hotel) and Hirafu. A good alternative if you'd like to travel to the Niseko Village ski area.
Kutchan Bus – Local bus to Kutchan town, which is about 20 minutes away from Hirafu. Leaves from the Hirafu Welcome Centre or Hirafu intersection making several stops and ends at the JR Kutchan station. There is a Kutchan Night Go bus too if you want to get back to Hirafu from Kutchan at night.
Spa Bus (Yumegiri bus) – Runs in the early evening and night, taking you to all the onsens in the Niseko area, and is worth catching if you want to experience some of the onsens that are outside of the Hirafu area. 500 yen per ride. Make sure you obtain the Spa bus timetable from your accommodation or the tourist information centres.
Taxis are expensive in Niseko, and you'll need to book taxis early so arrange this with your accommodation ahead of time as there are only a limited amount of taxis in Niseko.
#4 Stuff Your Face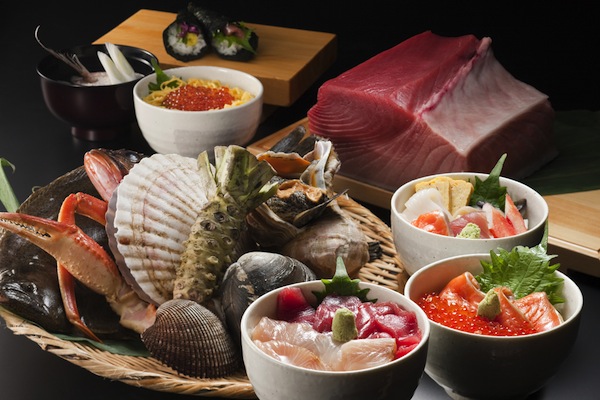 We'd recommend booking restaurants early if you're traveling during peak season. Restaurants start taking bookings in the first week of November, and if your hotel/accommodation can help with bookings, make sure you take advantage of that service because many restaurants speak Japanese and their English communication is not so good. Here are some of our faves in and around Niseko:
CAFÉ IF (Dessert, Tea & Homemade pizza/pasta) – Our favourite little café which has a grand total of 3 tables, run by an old brother/sister who speak

only Japanese and whose food offerings are akin to your grandmother's comfort food. Amazing fresh cream

cheese cakes

, grilled apple, and hand blended

teas,

and spiced mulled wine. Tip: Make sure you order everything in one hit…they do take awhile as everything is cooked to order from scratch, so be prepared to wait about 30-40 minutes for food, grab a magazine, and have a chat.
HANAYOSHI (Sushi): Their sushi and sashimi is

outstanding, and though you'll see the odd tourist, this is still a local gem. Ask them about their specials of the day, not much English is spoken but they do have an English menu. Ask for a seat at the sushi counter if there's just a few of you – it's always fun to watch the sushi experts at work and ask for "omakase". Most cab drivers know where Hanayoshi is. If not, please give the driver this address/phone number: 80-2 Hondori Niseko-

cho

,

Abuta

-gun, (81) 0136-44-3444.
LUPICIA RESTAURANT (Euro-Japanese) – There's always a changing set dinner menu at Lupicia, in a stunning glass building with wood interiors. Their Hokkaido oysters are a must-try with their signature gelee. The fusion cuisine celebrates all produce that is Hokkaido. If you're a big group, ask them to seat you in their private room. Their wine list is short, but the food more than makes up for it. Lupicia does pick up from your accommodation, and bookings are essential. Tip: Make sure you visit their deli (open 11AM – 5PM) to purchase their selection of teas and also produce (salad dressings, lean but juicy venison sausages, and scrumptious freshly baked breads

).
RISTORANTE 89 BY HUCKLEBERRY FARM (French/Italian inspired) – The Huck used to be the supplier to now closed hotels in Niseko and so they've opened the Ristorante to showcase their produce – organic vegetables, fluffy Hokkaido potatoes, eggs from their Chinese silky chickens…their custard pudding is to die for. Bookings are reservation only for dinner,

but open for walk-ins for lunch.
RAKUICHI (Duck soba and soba kaiseki dinner) – Anthony Bourdain featured this tiny little soba restaurant on No Reservations and they don't take any reservations for lunch. They now have become ridiculously popular and often sell out by 1:30pm despite their 3pm closing time. Definitely

a must try. Their soba and tempura

is

made right in front of you, and their soba kaiseki dinner, which changes depending on their produce, is fantastic and of great value con

sidering kaiseki dinners in Japan. Bookings for dinner are required as this place seats all but 10-12 people max.
Have a look at our other food recommendations here and here!
#5 Get Your Onsen on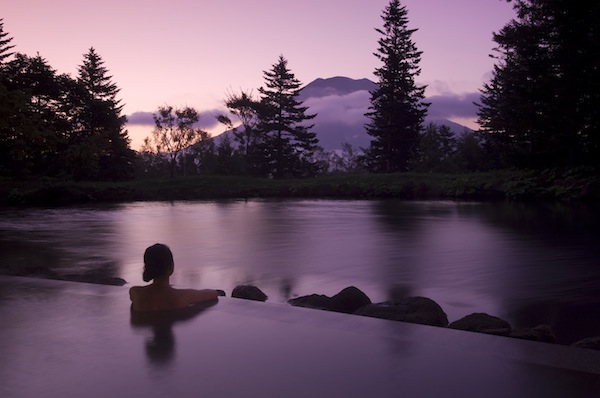 What's skiing in Japan if you don't head to an onsen? However, there are certain guidelines, so please make sure you bathe thoroughly and clean yourself before getting into the hot spring, keep your voices down as it's a place for peaceful relaxation and quiet conversation and for goodness sake, getting intoxicated sitting in a hot spring is just plain stupid. Tip: The Yumeguri (Spa) bus costs 500yen per trip and takes you out to some of the lesser known quieter onsens further away from Hirafu.
We love Yugokorotei: Located near the Moiwa ski entrance. Unfortunately, it can get crowded in the early evening, so head there during non-peak hours and you'll be rewarded by a beautiful outdoor pool, with many rocks to rest yourself on, surrounded by the quiet falling snow.
#6 Take Some Lessons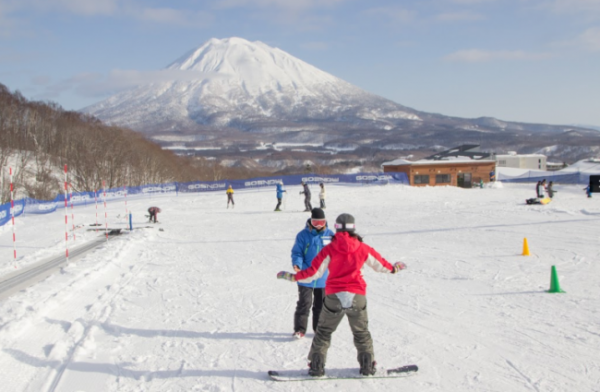 If you're not a seasoned snow bunny, chances are you'll need some lessons. Never fear, you won't have to learn Japanese as well, ski schools like Gondola Snowsports (GoSnow), Niseko Grand Hirafu's official international snowsports school, employs experienced, certified, English-speaking instructors from Australia, New Zealand, North America and Europe. They're the only school in Niseko Grand Hirafu that have private on-snow beginner facilities and priority lift lines at the Hirafu High Speed Gondola and Ace Quad (Centre 4) lift, which means less time fighting crowds and more time skiing. But make sure you book ahead! Lessons can be very popular over peak periods and classes often fill up well before the season begins.
#7 Hit the Snow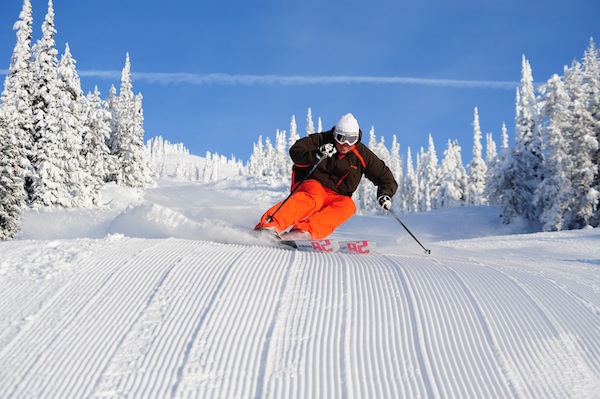 Finally, we get to the heart of the matter! Assuming you're ready for what Niseko is famous for! In that case, you'll need to get to:
GRAND HIRAFU – Get the first lift up, and do the Miharashi

run. There's a small hike up after you take the Gondola, but it's a good warm-up! If it's a powder morning, you'll be bouncing in the white stuff up until the peak gates open at about 9:30AM/10AM. We like Gate G9 too.
HANAZONO – The renowned Strawberry fields isn't

such a well-kept secret anymore, but it's still one of our

fave

runs. Watch the bumps right at the end as it meets a green run! Blueberry fields just off the Legend of Shinya is lesser known and with more trees, but

shorter,

and makes for a fun run. Start off

from

the top run called

Youtei

Sunset and blast your way down through the fields.
HIGASHIYAMA OR NISEKO VILLAGE – We love Higashiyama on a powder day as its full of little surprises. If you're staying in Hirafu, take the traverse over and have a play around in the morning all over. The only boring part is the end bit that runs back to the NV Gondola – if you need to wait for your friends, why not sneak into the Royce café for a Royce hot chocolate?
ANNUPURI – On a clear day, take the lifts right to the top and then ski down the wide slopes of Annupuri – this makes for one hell of an experience, and that's just on the groomers. For those who like a little bit of sidecountry

/backcountry, gates G1 and G2 are your best bet. As you exit G1, traverse across – though there

are

some tempting powder pocket, ignore those and keep on traversing. You'll come to plateau at the top of a ridge, and that's your cue to drop off. It ends in a valley so make sure you get enough speed to get out especially if you're on a snowboard. It joins a beginner run at the end, but there's a natural half pipe…so enjoy (overshooting that halfpipe takes you to a

river

though, not cool).
MT ANNUPURI PEAK GATES (G3, G4) – When the peak gates are open, it's like a scrambling race to see who gets up to the top first. Take your time, don't rush, as there's plenty of powder for everyone. Make sure you've got your Go Pro because you'll want to capture this moment. Head to the Back Bowls – which will take you back into Annupuri and will probably one of the best runs of your life. It's practically untouched, you'll be making fresh lines, and then the 45 minute hike to the peak will all be worth it.
Now that you're all set, we think you'll be wanting to check these babies out!
Inspired to travel to Niseko? Get in touch with our team of Nomads for the best rates (and plenty of recommendations) at [email protected].
Photo credits: Main, 1, 2, 3, 4, 5, 6, and 7