If you couldn't make it to Art Basel Hong Kong or are just trying to score with that hot chick in the gallery, we've rounded up some truly talented Asian art stars who are making some waves in the international scene. We have to admit, we were a little disappointed incensed that most journalistic coverage of the fair focused on European or American heavy-hitters rather than Asian artists who were given an international platform for their work. Why focus on another Hirst or Koons when there are so many more interesting stars in the Asian and South East Asian galaxy? Time to get all #artsy.
#1 Tromarama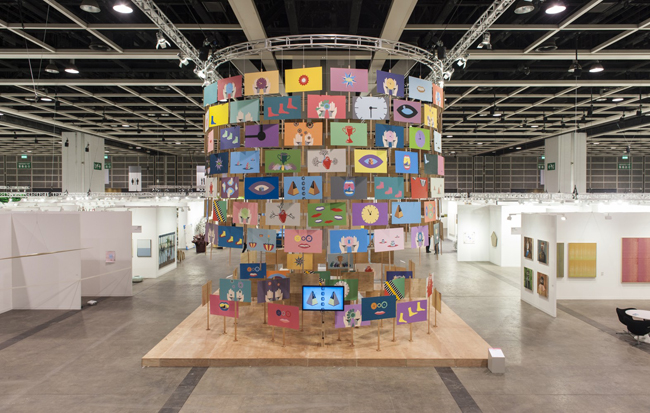 Where: Bandung, Indonesia
What: Taking centre stage at the 'Encounters' section of Art Basel Hong Kong was Tromarama – an adorably bashful group of young Indonesians who are seriously knocking down some art-world doors with their video/sound/installation work. Consisting of Febie Babyrose, Herbert Hans and Ruddy Hatumena the collective's aesthetic is a unique, playful pop that manages to toe that delicate line of both jester and archer.
#2 Hiraku Suzuki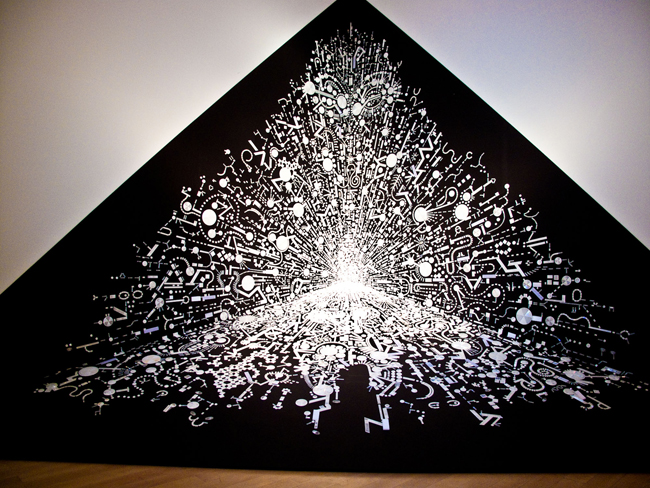 Where: Kanagawa, Japan 
What: Suzuki made a big splash in the art world with his expression of a fictional, alien-like language manifested in primitive runes, glyphs, and graffiti-like large-scale installations. Throw in a collaboration with COMME des GARCONS and it's easy to see why the art (and fashion) world are fawning over his Fifth Element-esque minimalism. Fans should check out Genga – a 6 cm thick book containing 1000 drawings of Suzuki's imaginary language.
#3 Jirapat Tatsanasomboon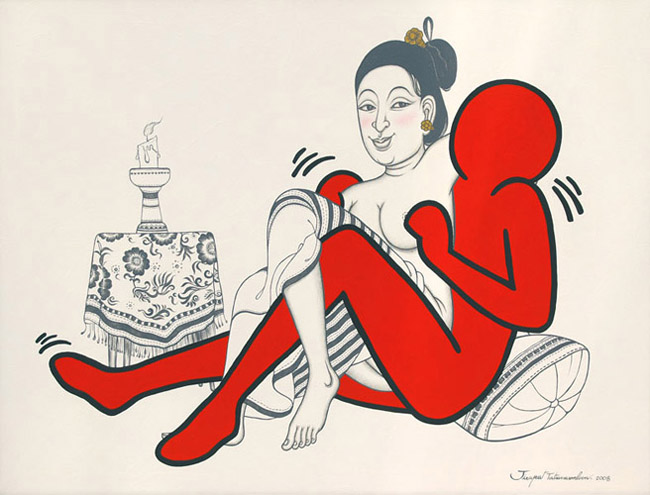 Where: Bangkok, Thailand
What: Probably one of the most commercially successful artists on this list, Tatsanasomboon has made a name for himself in the world of pop-art in one of the most pop-art ways possible: the mash-up of other famous artist's work into his own. Running through the gamut of art history: Mondrian, Lichtenstein, Warhol, Herring, Rousseau, Botticelli, Kahlo, Dali, Koons and Hirst are just a few of the lucky ones to get a Tatsanasomboon touch.
#4 

Choi Jeong Hwa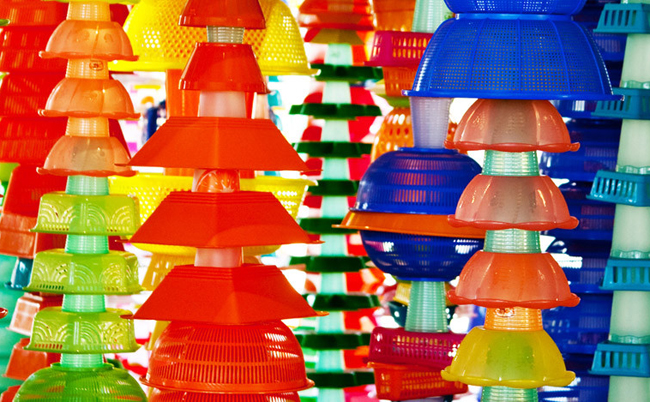 Where: Seoul, South Korea 
What: Look familiar? Choi Jeong Hwa is one of South Korea's most preeminent art stars. Often making over-the-top installations – think giant lotus flowers, beach balls, crowns or fruit – his more recent work explores the ubiquitous nature of plastic products in our every day life. If only straining a salad always looked this good.
#5 Windi Apriani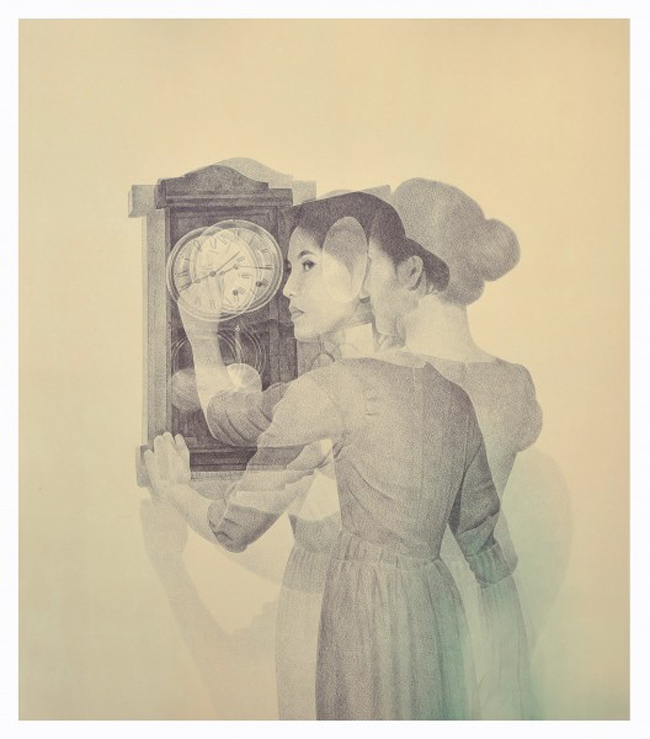 Where: Bandung, Indonesia 
What: We honestly can't get enough of Apriani's work. Just what is going on in Bandung? We think this woman is on a super-stellar trajectory with her incredibly detailed pen and oil drawings that seem to stop time – in motion. We love her concept of conjuring the romantic nostalgia of pre-digital Javanese culture, yet producing work that is future-contemporary. If ever there was one to watch on this list, we'd put our money on Apriani.
#6 Jun Ong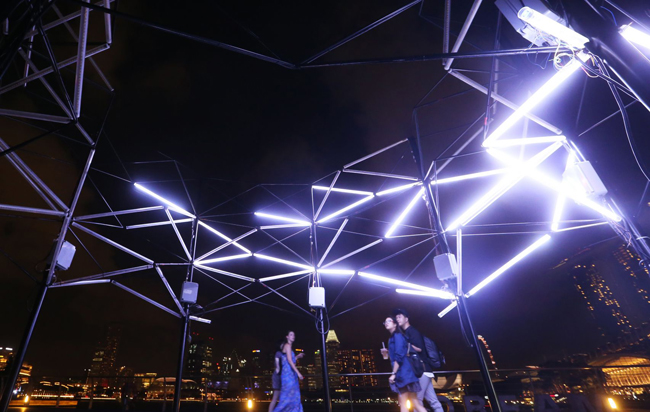 Where: Kuala Lampur, Malaysia 
What: This Malaysian artist and architect's light installations have been literally lighting up the art-world and South East Asia. His Penang-based "Star" installation, however, really put him on the map with its gritty, post-industrial, neo-futurist explosion of light. Although a little more tame, you can catch his interactive "Bolt" installation at Marina Bay in Singapore – up now.
#7 Yu-Chen Wang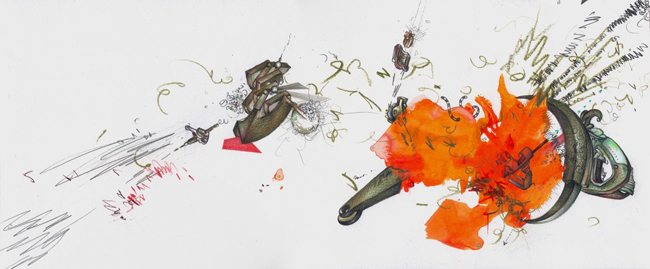 Where: Taipei, Taiwan
What: This London based Taiwanese artist draws on machinery, botany and architecture, combining her work with installations involving industrial objects, archival documentation, science fiction stories, assemblage, films and performances. Whatever media Wang employs, her work explores the relationship between nature and technology, humans and machines in a beautifully deconstructed explosion of images – BOOM, mind blown.
#8 Seon-Ghi Bahk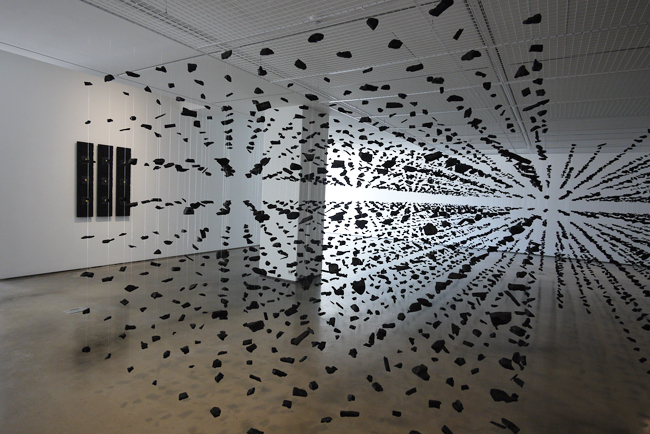 Where: Seoul, South Korea
What: Usually working with suspended pieces of charcoal, shards of mirrors or crystal beads, Seon Ghi Bahk's anamorphic installations fill gallery rooms with three-dimensional pieces that mutate depending on the viewer's perspective. While anamorphic art has been around since the Renaissance with none other than Leonardo da Vinci being the first to explore the subject with "Leonardo's Eye" (1485), Bahk's work blasts the art-form well into the 21st Century.
#9 Manny Montelibano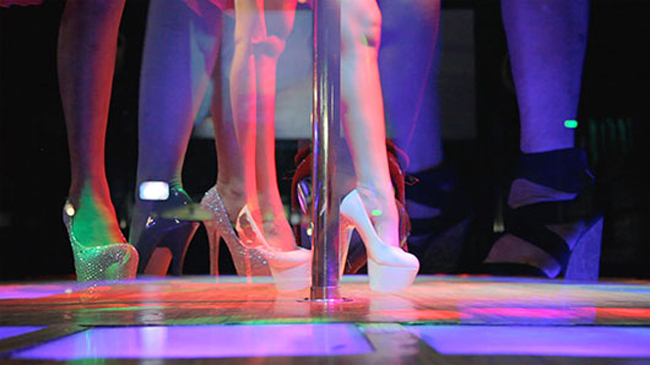 Where: Bacolod, Philippines
What: Representing the Philippines at the 2015 Venice Biennale, Montelibano's video and multimedia works tend to focus on the microcosmic sectors of Philippine society – be it fishing, cock-fighting, or red light districts. His latest work loops female dancers in a strip club, but only focuses on their towering, glistening stilettos. Viewers sit in a make shift dive-bar-like setting while stale cigarette smoke and alcohol fumes are pumped into the gallery.
#10 Yang Yongliang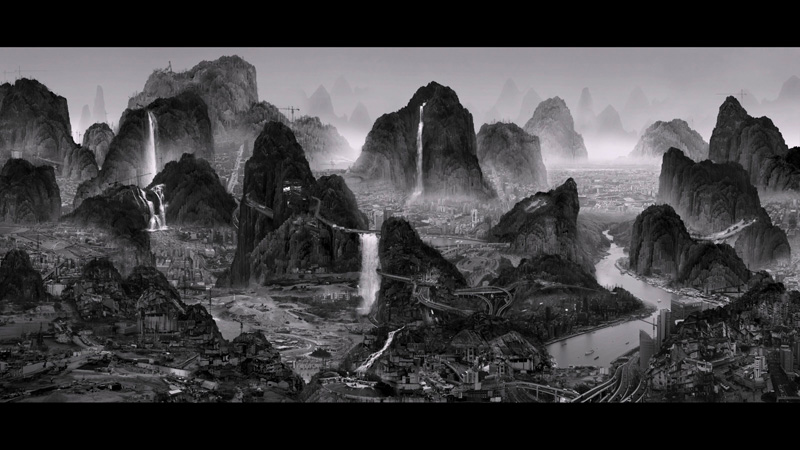 Where: Shanghai, China
What: Being taught traditional Chinese calligraphy and painting from a young age, Yongliang draws on Yuan Dynasty painting techniques in creating recognizable natural landscapes rife with development that is a more accurate reflection of modern-day mainland China. The fact that some of his works aren't paintings at all, but rather time-lapse animations only adds to the brilliance.
If the world is a gallery, go see some art.