The Bangsar enclave in Kuala Lumpur in Malaysia has been an ever-evolving hotbed of activity. Chic European restaurants of the late 90s gave way to pumping bars and clubs, ebbing off into boutiques, then the hipster coffee, cake joints and casual restaurants of today.
So how does Fittie Sense fit into this landscape? Victor Yap, partner and chef at this serene, natural-light filled restaurant serving wholesome meals says, ' We are tapping into a burgeoning movement, where people want to be more mindful of the food that they eat, and we want to make it an easy, accessible and delicious choice for them.'
The menu is a large one, separated into categories such as: Breakfast & Brunch, Soups, Salads, Noodles, Seafood, Chicken and Red Meat. Desserts, drinks, smoothies, kefir, coffee – they have it all. And from what we tasted, it's too legit to quit.
Here's a look at what we had: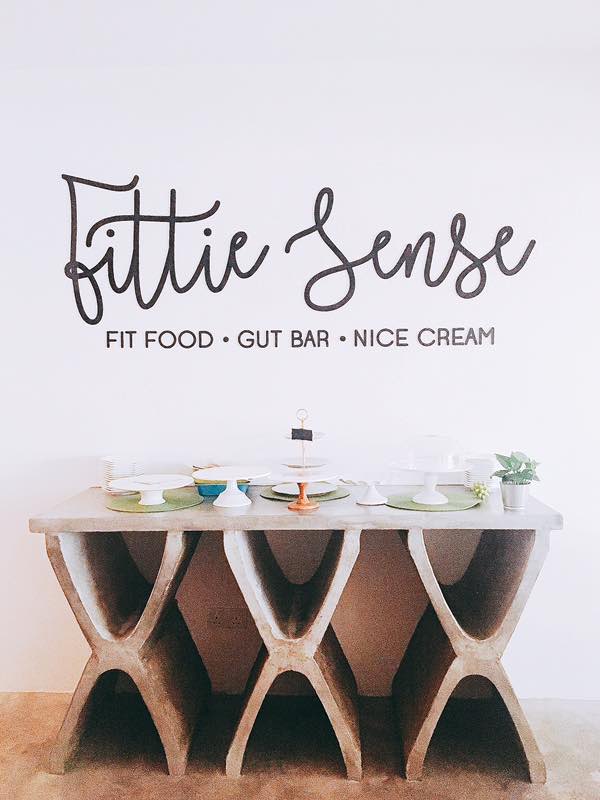 Breakfast & Brunch: The Gram Lentil Pancakes with Berries & Kefir Curd
This was a decadent dish, we especially loved the pillowy pancakes. The batter (better), being made from the nutritional powerhouse that lentil is, was slightly earthy, lending the whole dish more dimension – this was a score.
Small Plates: Kampung Egg, Spinach & Pumpkin Tart with Quinoa Crust
Fittie Sense's answer to quiche, without the tonnes of cream, butter and refined flour that goes into the making of one. Leaner than a normal quiche and tasty, but we would like to see them experiment more with this dish, could the 'crust' be crustier?
Soup: Signature 48-Hour Grass-Fed Beef Bone Broth
In the US 'Bone Broth' is currently all the rage for its healing and nutritional value. Asian grandmothers, however, have been making bone broth since the dawn of time, so it is no surprise the Victor presents a delicate broth with depth and flavour, almost reminiscent of French onion soup because of the caramelised onion accompaniment.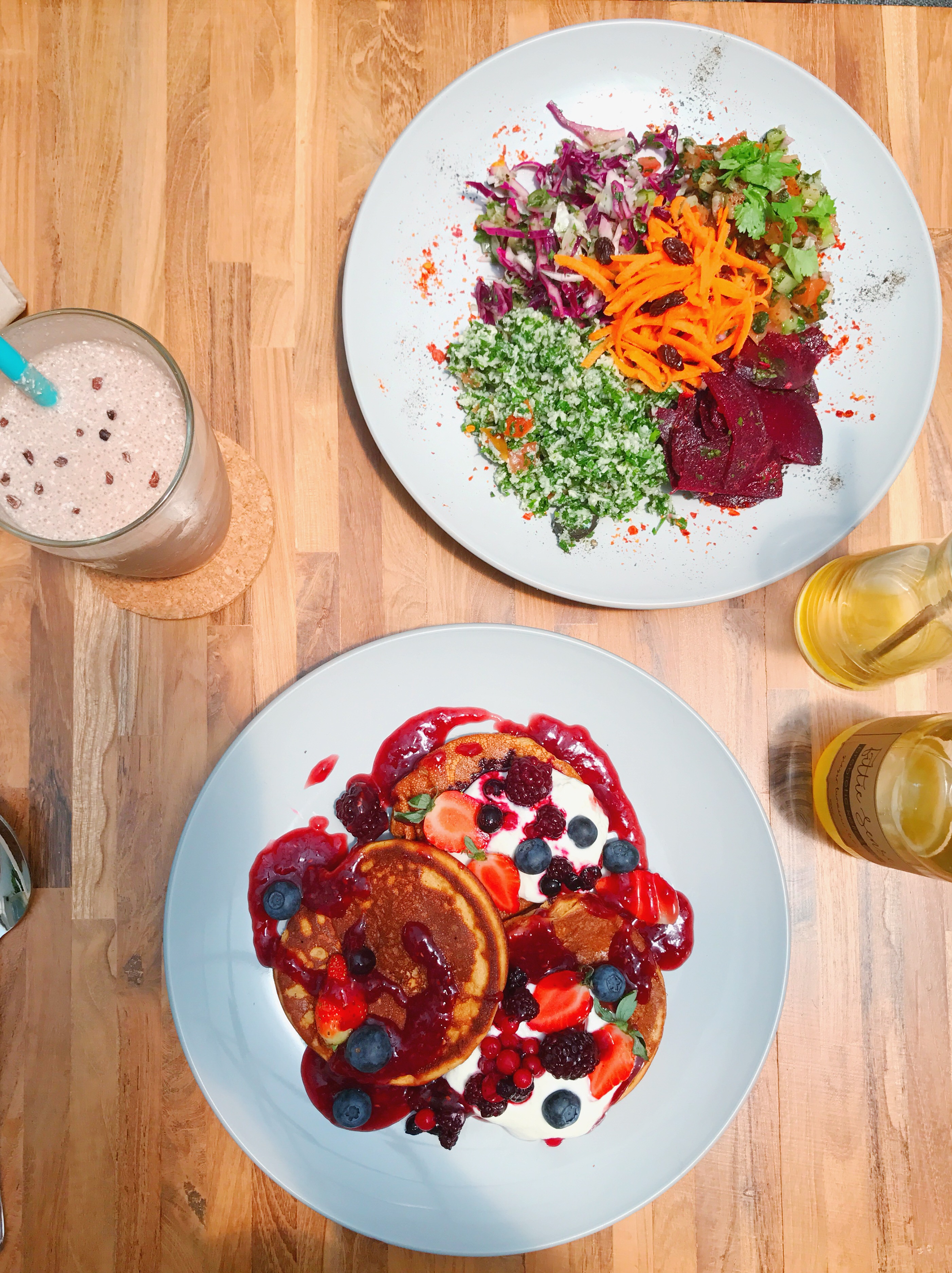 Salads: Levantine Salad with Sumac Salsa, Lebanese Slaw Marinated Beetroot & Cauliflower Tabbouleh
I must say that I paid the least attention to the salads, with my interest drawn to the other healthful, wholesome renditions of dishes on the menu – having said that, my dining companion had no complaints and polished the colourful medley off in a flash.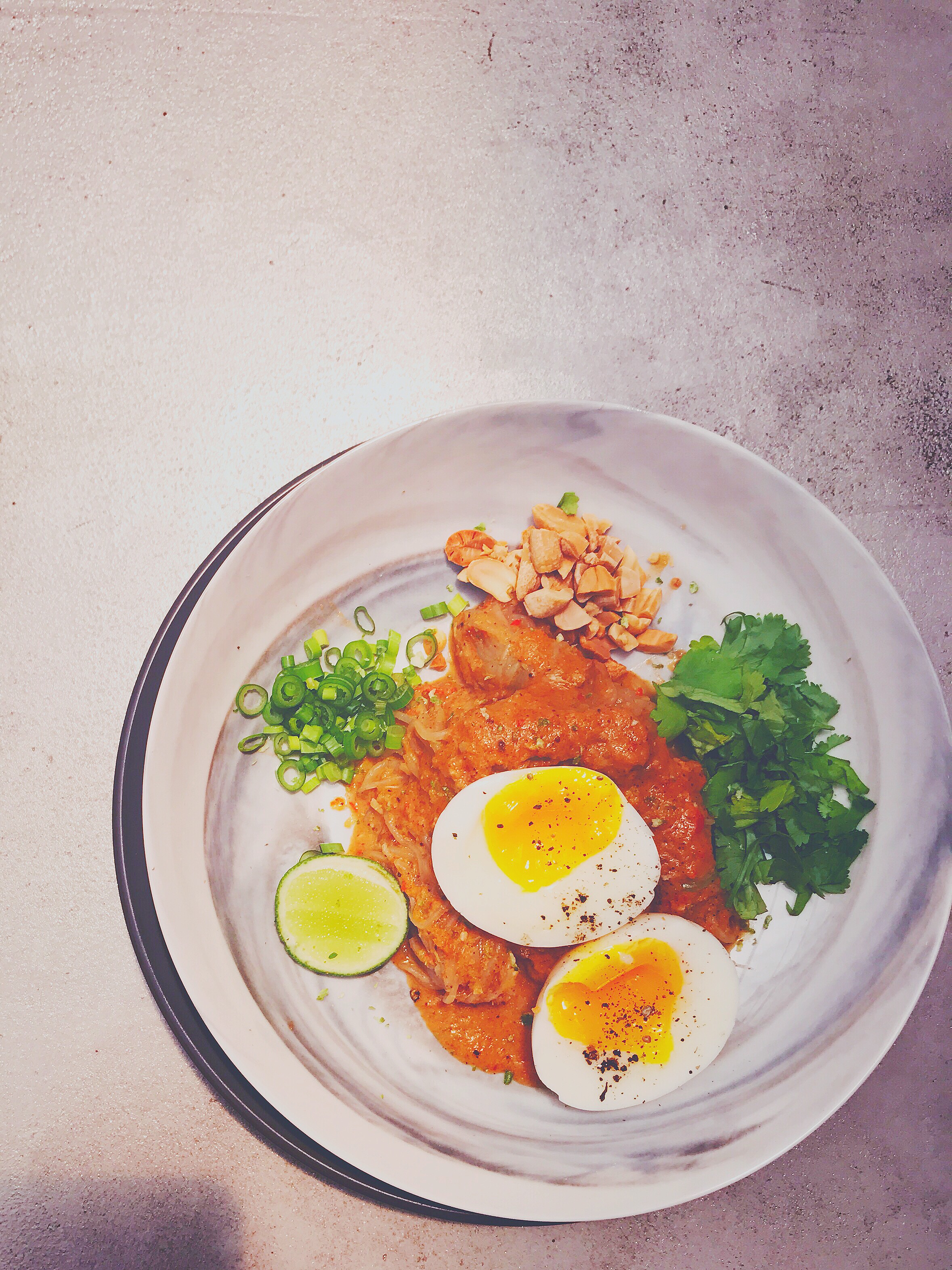 Noodles & Pasta: Konjac Noodle 'Red Laksa' wth Mollet Egg
Konjac or shirataki noodles are low-carb and low-calorie, made from the Japanese konjac yam. Here, they sub beautifully with a silky, fragrant laksa sauce and a sexy, oozy, mollet egg. A winner!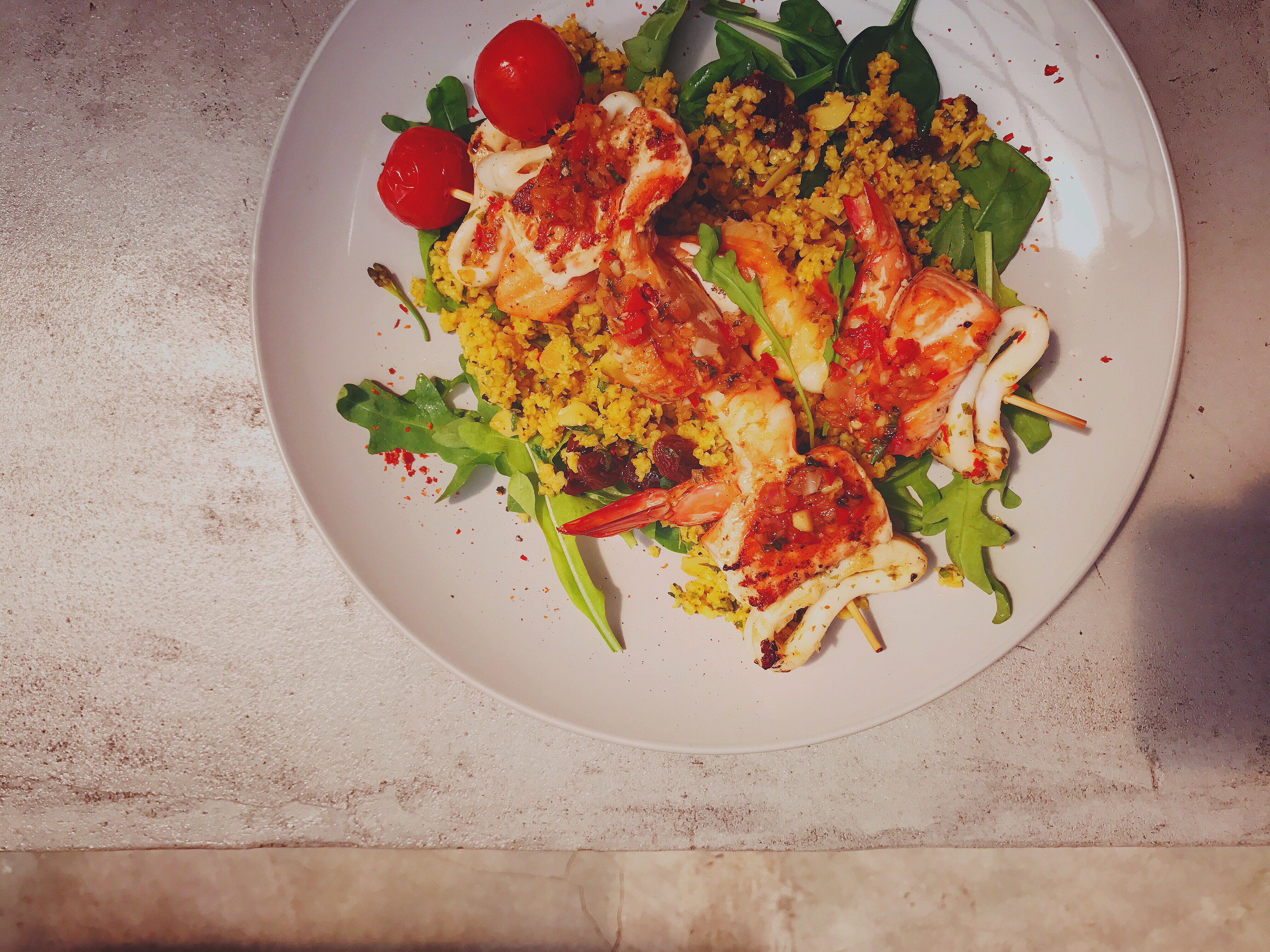 Seafood: Seafood Skewers, Millet Pilaf on Baby Spinach, Watercress & Rocket
Loved everything about this vibrant, flavourful and filling dish. The skewers were perfectly cooked salmon, squid and prawn (though I'm personally very picky about my salmon, I'm lucky that most of my friends are not). The refreshing veggies and flavoursome millet were perfect companions to the seafood.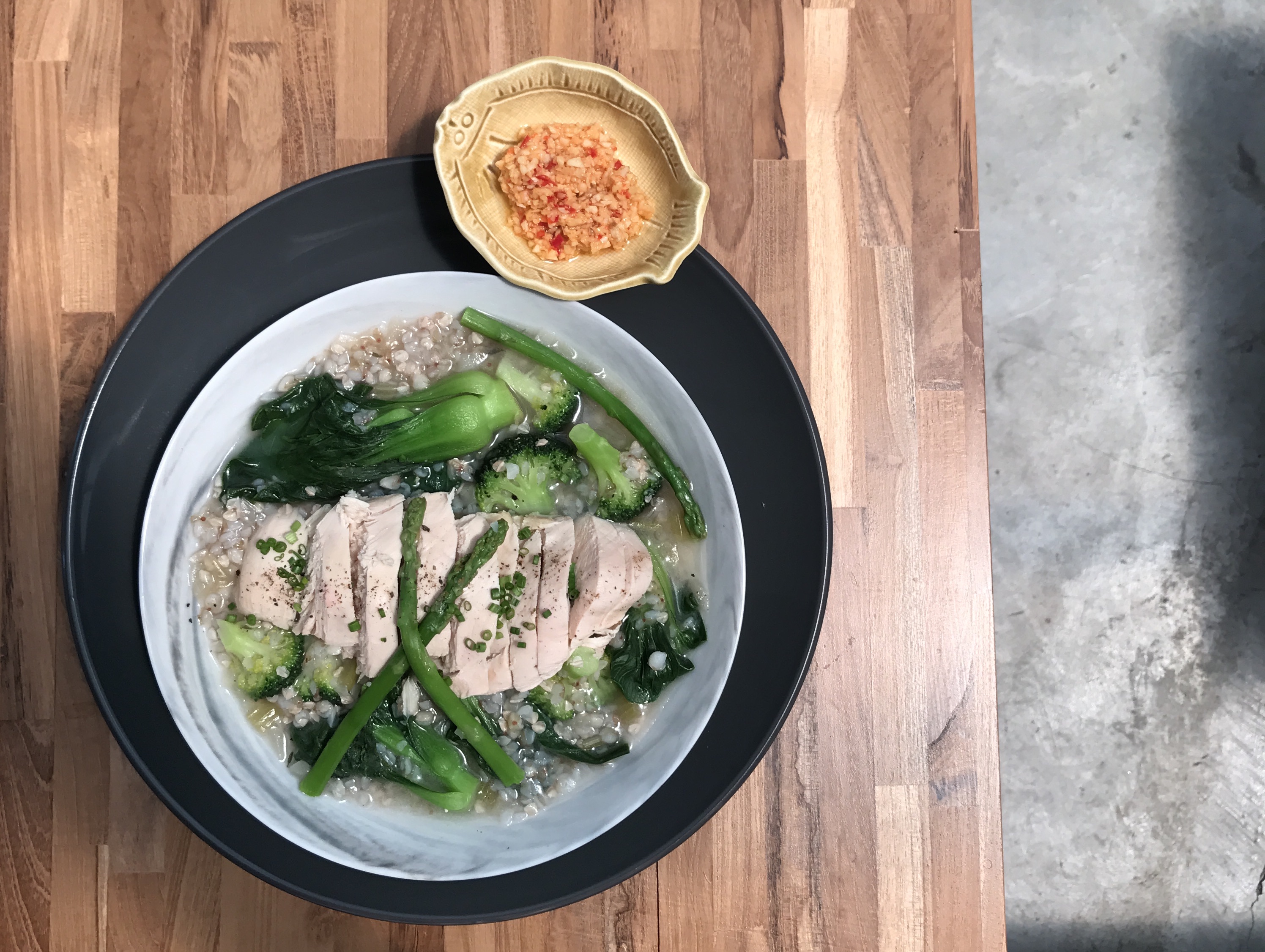 Chicken: Poached Chicken Breast in Buckwheat, Bok Choy & Asparagus Congee with Garlic-Ginger Sauce
This take on Hainanese Chicken Rice is the epitome of comfort food. Come on a rainy day and inhale it – no guilt.
Grass-Fed Beef & Lamb: Beef Kofte with Baba Ganoush, Marinated Beet & Cauliflower Tabbouleh
We enjoyed the delicately spiced beef balls, together with a swipe of the silky eggplant (baba ganoush), a kick from the marinated beetroot, and cauliflower tabbouleh as the grain substitute, it was a hearty bowl packed with protein and other things good.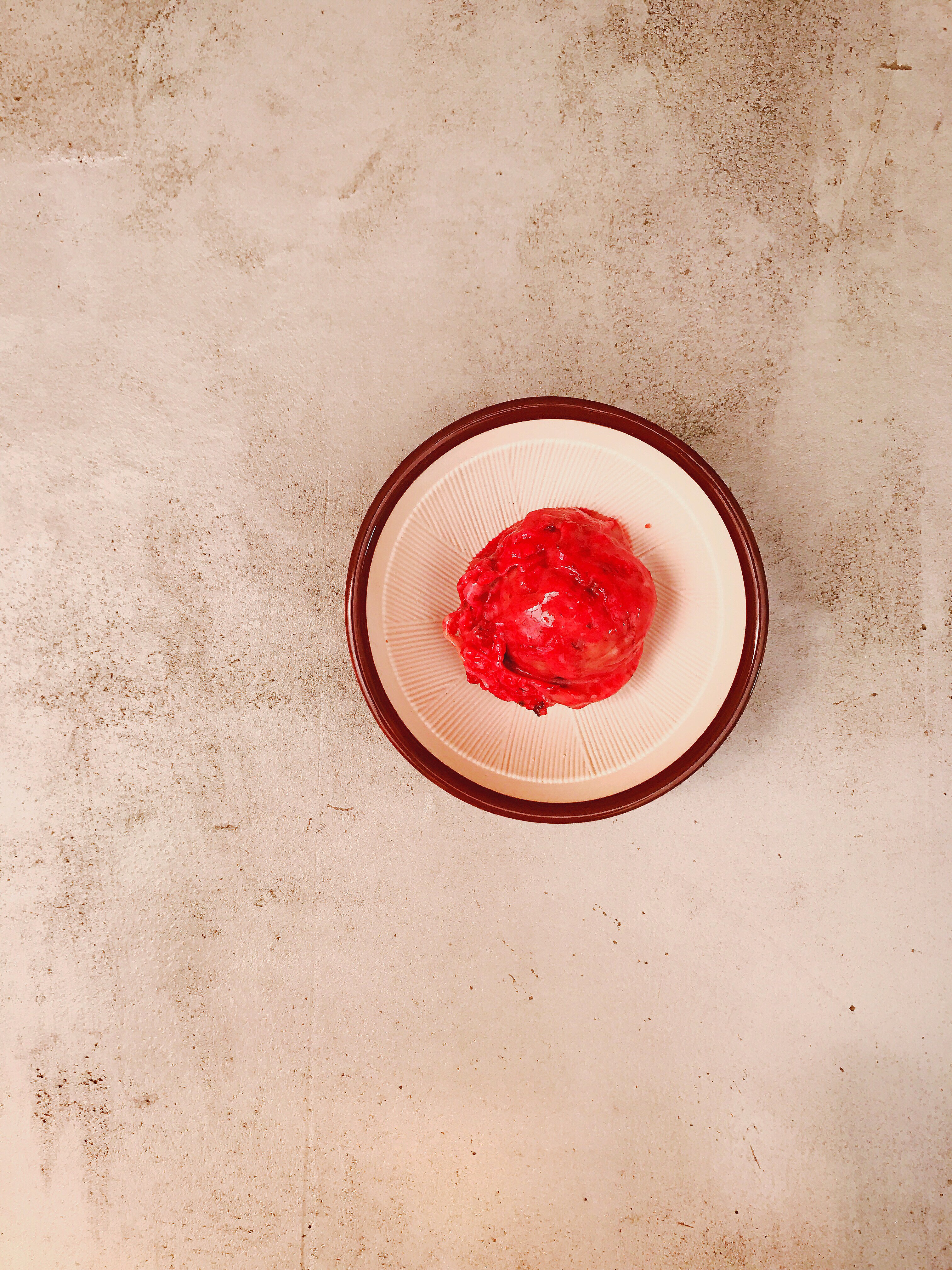 Desserts: Kaffir Lime & Coconut Pound Cake and Cherry & Cacao 'Nice Cream'
The former was moist and absolutely bursting with said flavours, but my personal favourite was the Nice Cream, made entirely of fruit with no dairy, added sugar or artificial flavouring.
This meal should have ended at dish 3 but still, we found time for a 'Fittie Coffee', which is their take on the high-energy bulletproof concoction, made with coconut oil.
As full as we were, we came out inspired and excited for future wholesome meals to come at Fittie Sense. Whether you're just looking for a better choice in terms of food, our you're on a diet or have allergies, or even a mum looking to feed your family right, Fittie Sense's menu is aimed at satisfying those needs and dishes are clearly labelled for sensitivities (gluten-free, nut-free, dairy-free).
Fittie Sense
Address: 23A, Jalan Telawi 3, Bangsar Baru, 59100 Kuala Lumpur, Malaysia
Tel no: +603 – 2858 4023
Open hours: 10am – 5pm (closed Tuesdays)