The poké (pronounced poh-keh) trend sees no sign of abating. As a super quick primer for the uninitiated (where have you been living? In a cave?!), poké is a Hawaiian-style seasoned sashimi rice bowl. Usually featuring super-fresh and colourful sashimi-grade fish like tuna or salmon, it's a light and healthy meal typically topped with Asian-inspired sauces and seasonings (wasabi, seaweed, what have you). Of course, such a colourful cornucopia leaves plenty of room for creativity, which brings us to our fave spots for poké in Singapore.
Read also: Guide to Singlish: How to Nail Singaporean Slang, as Told by a Singaporean
#1 Poké Doke at Millenia Walk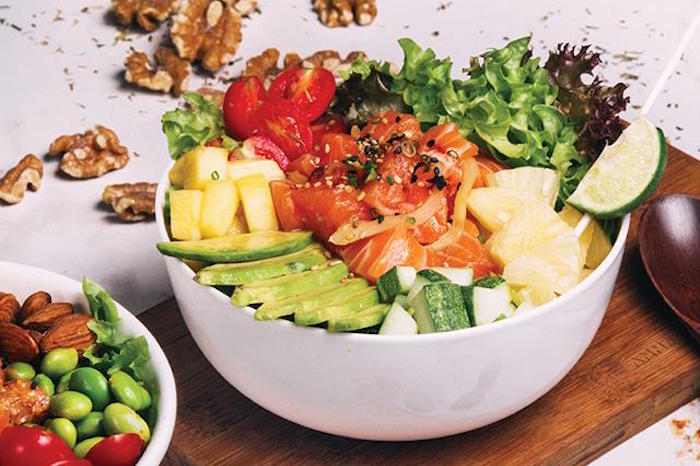 Poké Doke is doing the raw fish salad thing for the CBD crowd nearby. The shop is small, but there is seating to eat your poké bowl including a long counter decked out with sand and shells beneath the glass table. Poké Doke offers brown rice, white rice or soba noodles plus a choice of cubed raw Ahi Tuna, Norwegian Salmon and the veggie Shitake Tofu in a variety of sauces (wasabi mayo, a spicy sauce, shoyu, citrus and sesame sauce) plus usual toppings like pineapple, edamame, tomatoes, seaweed, and other interesting extras of onsen egg, jellyfish and crispy fish skin.
What to order: Bowls range from medium to large (here the actual bowl size remains the same, but the fish portion increases from one scoop up to three). Pre-designed bowls include the Poke Doke Signature of white and brown rice, salad, original salmon poke, onsen egg, sweet pineapple, edamame, salty flying fish roe and crunchy almonds. There is a soup of the day, and to quench your thirst, coconut water.
Address: Millenia Walk,  Raffles Boulevard #01-95, Singapore 039596
Tel: (+65) 91819140
#2 Alakai at Everton Park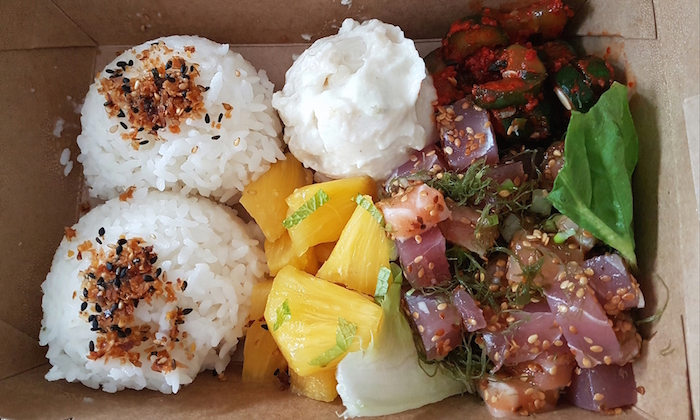 Hawaiian owner Lon has opened Alakai Poké in Everton Park, and he offers a different way of plating poké – instead of piling everything into bowls, poke here is placed neatly on plates (dine-in) or in brown take away boxes with scoops of rice and vegetables side by side.  Unlike most poké joints that pre-marinate their raw fish, Alakai only adds the sauce when you order so as not to overwhelm the flavour of the fish itself (so if you like your sauces with wow these are on the mild side).
Flavours range from simple soy sauce to spicy Korean-style mayo to "the Tahitian" with coconut, lime, cucumber and bell peppers.  Choose from pre-set plates if you are in a rush (no substitutions but you might be able to add on ingredients to up the vegetable quota, which is slightly scant, at cost).
What to order: If you are having a poké party get a huge box. There's also the Yobo Poke Plate which consists of salmon, spicy k-mayo, potato mac salad and cucumber kimchi, as well as the Thai Rainbow is a mix of Ahi Tuna & salmon with spicy "Thai" sauce, potato mac, and pineapple. We really liked their desserts, which change daily – this time it was a coffee coconut blancmange- style dessert.
Address: 3 Everton Park, #01-79, Singapore 080003
Tel: (+65) 60944957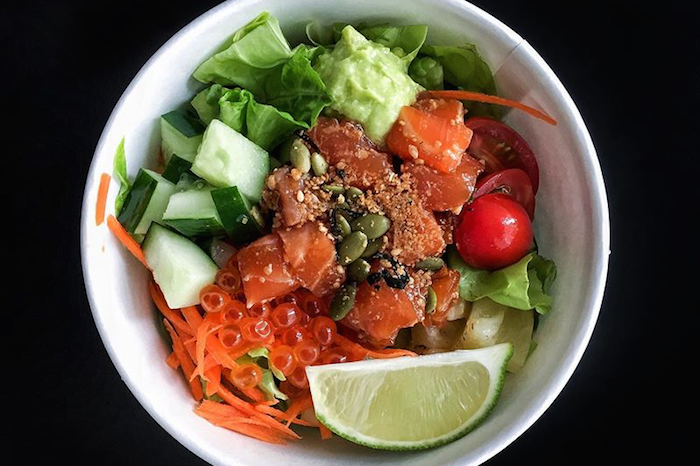 Makai Poké takes inspiration from the Hawaiian word "Makai" – meaning 'towards the ocean' – with their sustainably caught fish.
What to order: Bowls are more affordable here than at other cafes, which includes a choice of rice or salad, a choice of marinated salmon or tuna plus a good variety of toppings of avocado, Japanese cucumber, carrots, cherry tomatoes, salmon roe, and pineapple (tinned not fresh and then grilled slightly) and the option to add on some 'superfoods'(pomegranate, chia seeds, edamame, goji berries). For drinks, a choice of brewed tea in yuzu or passion fruit, plus tetra packs of coconut water.
Address: #B1-08, Tanjong Pagar Centre, 7 Wallich Street, Singapore 078884
#4 Loloku at Keong Saik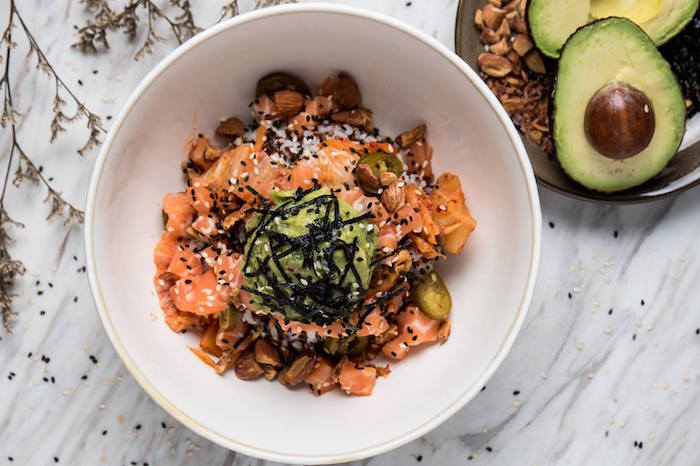 Loloku is an order-at-the-counter poké bar with seating at the spacious tropical sister restaurant Don Ho. For poké, there are five bowls featuring the normal tuna and salmon chunks plus there's a tofu, hamachi (yellow tail) and wagyu beef option, too, which scores points on variety. Putting Hamachi on the poké menu is inspired, given most places only offer the standard salmon and tuna so this we double like!
What to order: We tucked into a tasty bowl of The Ono Hamachi of Hamachi, Kumbu rice, edamame, seaweed salad, pickled ginger, tobiko and ponzu wasabi sauce. The Wikiwiki Salmon is another favourite of salmon, brown quinoa and Kombu rice mix, umami kimchi, crunchy almonds, avocado and a lick spice from jalapeño slices and chipotle mayo. You can also customise your own bowl if you are feeling chef-y, starting with a protein and then building on a choice of carbs and sides, plus the option of adding "pimped up" ingredients of slow-cooked egg and pomegranate.
Address: 1 Keong Saik Road, Singapore 089109
Tel: (+65) 62235001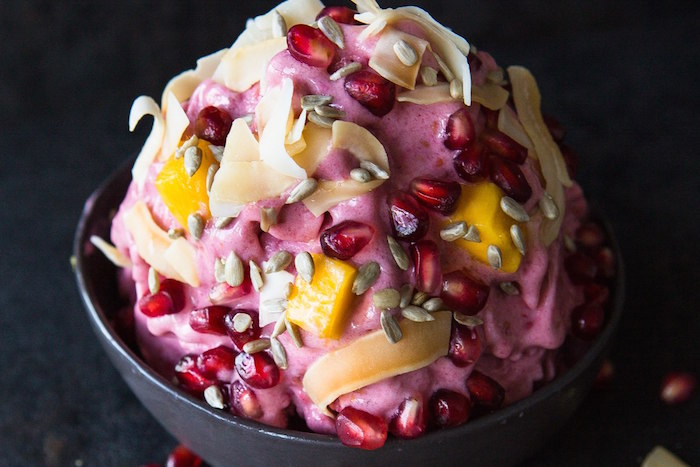 A Poké Theory does glam poke bowls with bases from sushi rice, to trendy gluten-free lemon herb quinoa then a layer of tuna or salmon in different sauces (like the avocado miso sauce made creamy with Greek yogurt). Add on the pineapple, tomatoes, cucumber, carrot and edamame then go gourmet with extra charge toppings: BBQ corn (a must try), crispy kale chips, crackling salmon skin and a sweet nut mix.
What to order: The aforementioned lemon bowl comes with sushi rice or quinoa. We like the free sauce bar (basically load up on extra nom nom of heat roaring spicy garlic sesame sauce, fried shallots and more). To drink, try the homemade lemonade or sugar-free teas from T2. And those with a sweet tooth should try the superfood smoothie bowls.
Address: 27 Boon Tat Street, Singapore 069623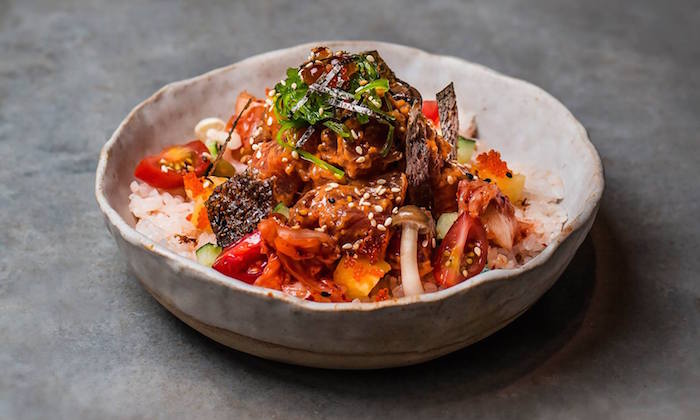 A Poké Theory's sister outlet on the external ground floor of Esplanade is Alter Ego. There's a menu dedicated to 'unhealthy eats' (think cheesy-melty-fried-awesomeness) or the healthy pre-set poké bowls.
What to order: Try the Original Poké Shaker ($16) of shoyu salmon on sushi rice with lime avocado and alfalfa sprouts, or the Vegan Green Goddess ($13) of avocado on brown rice.
Address: Esplanade Mall, #01-13D, 8 Raffles Avenue, Singapore
Tel: (+65) 6327 9301
#7 Pololi at Telok Ayer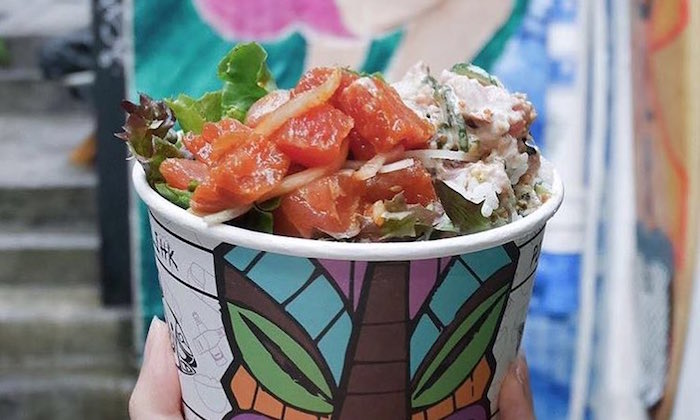 Pololi (meaning 'hungry' in Hawaiian) graces our little red dot from Hong Kong, where it has three poké branches. It's a little shack off Telok Ayer street offering raw Pacific line-caught tuna and farmed Norwegian salmon – cut into large cubes and tossed in Polynesian and Asian sauces. There are 6 flavour varieties on offer at the counter which revolve daily, from a Thai lemongrass Tuna to Yuzu and Pine Nut Salmon, Sambal and Mayo-based chilli.
What to order: Choose your base of rice (red, brown, or white) or leafy salad and whether you're going for the Keiki (150 gram fish) or the Kama'aina (180 grams). For something unusual try their Spam consisting of a wedge of spam sandwiched with teriyaki sauce and rice then wrapped with seaweed. For drinks, grab a Passion and Orange slushie (with or without a sneaky shot of rum) and pretty bottles of Hawaiian Kona Brew Co beer.
Address: 51 Telok Ayer Street, #01-06A China Square Food Center
Tel: (+65) 6909 0589
#8 Aloha Poké at Amoy Street, MBFC and Raffles Place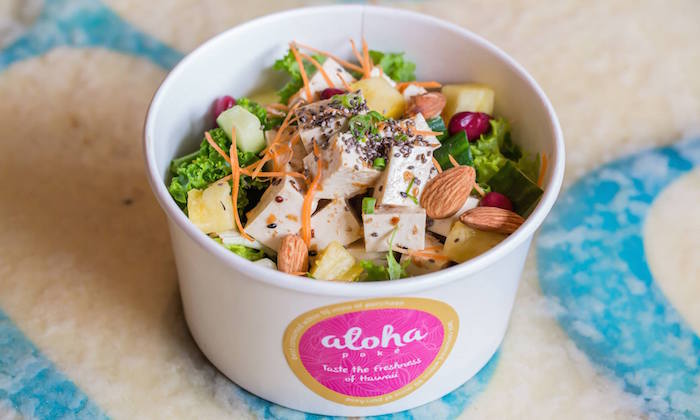 One of the first spots to pump out poké, Aloha Poké serves up salad rice bowls with raw tuna and salmon (in Original, Wasabi Mayo and Spicy dressings), plus an array of toppings from jalapeno to edamame and superfoods like chia and pomegranate to avocado, nuts and kale. It's super tasty and healthy to boot: we love the spicy dressing-drenched chunks of fish complemented by sweet pineapple, toasted sesame seeds and scallions. Decked up in coastal whites and blues, it's set up to order-and-go (call ahead to pre-order), but if you want to dine in there are some seats available.
What to order: Salad rice bowls range from small to large, with toppings at an extra charge. Don't miss their mighty fine Cocoloco coconut water – some of the tastiest coconut juice we've tried outside of a coconut shell, plus Hawaiian-inspired cocktails at the new Tiki Bar.
Addresses and tel: Aloha Poké, 92 Amoy Street, (+65) 62216565; Marina Bay Link Mall, 8A Marina Boulevard, B2-46, (+65) 6634-0730; Change Alley, Chevron House, 30 Raffles Place, 01-34, (+65) 6533-080192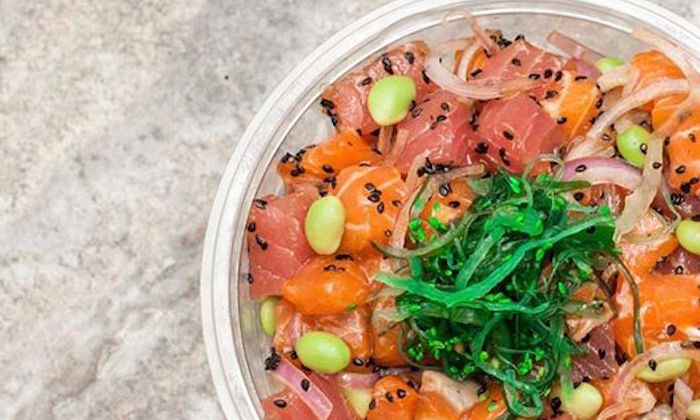 Choose from five signature bowls in an array of flavoured sauces (added on at the time of ordering) including Roasted Sesame, Sweet Yuzu Cream and Kimchi.  Bases here include Japanese rice, red brown rice mix, or lettuce and toppings range from mangoes, walnuts and Japanese cucumber to octopus while the sashimi on offer is mainly tuna and salmon.
What to order: Signature bowls run from small with 150 grams of fish, to a large with a whopping 300 grams fish.
Address: 3 Stamford Road, Capitol Piazza #B2-30, Singapore 178905
Sleep it off on a cosy villa bed somewhere. 
Read the original article on Sassy Mama Singapore
Photo credit: Main