The sand in Dubai really does glitter and it's not just the desert that'll draw you into this beachside metropolis. It's hot there but this city certainly knows how to turn up the heat. Check out these gorgeous beach clubs for a little more laid back luxury on your next trip to the Middle East.
Read also: 6 Insane Ways to Flaunt Your Riches in Dubai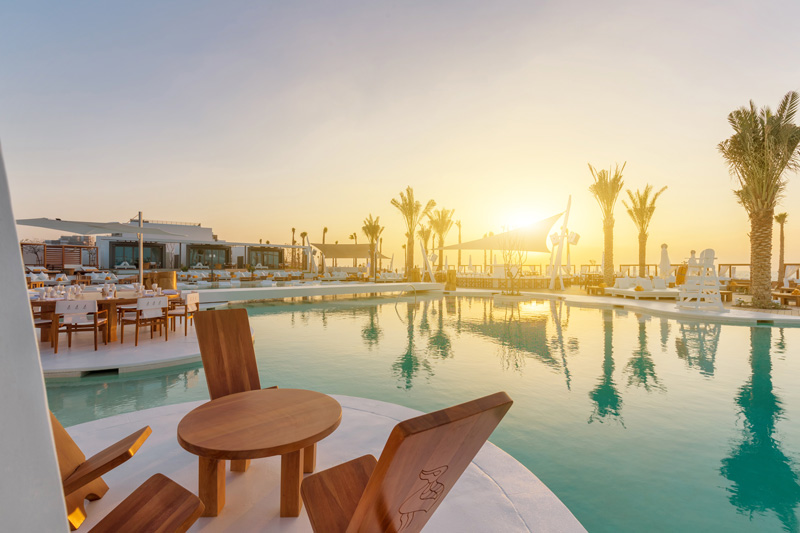 This international hotspot is still one of the chicest venues in town. Modern architecture with a hint of tribal cool, even their beach beds are suave. In-keeping with their signature all white everything, both beach and poolside ensures fully catered beds and a swim-up pool bar for when it's just too hot walk round.
Located on the opposite side of Dubai's other beach bars, on the man-made Pearl Island, you'll get a completely unadulterated view of the Arabian Gulf and some would say, slightly cooler seawater too. From day to night, there's a beautiful restaurant with sushi boats and international fusion catering. But if you're looking for something a little extra VIP, private cabanas are a fully stocked beach house alternative to a sunbed.
Open from: 11:00am-21:00pm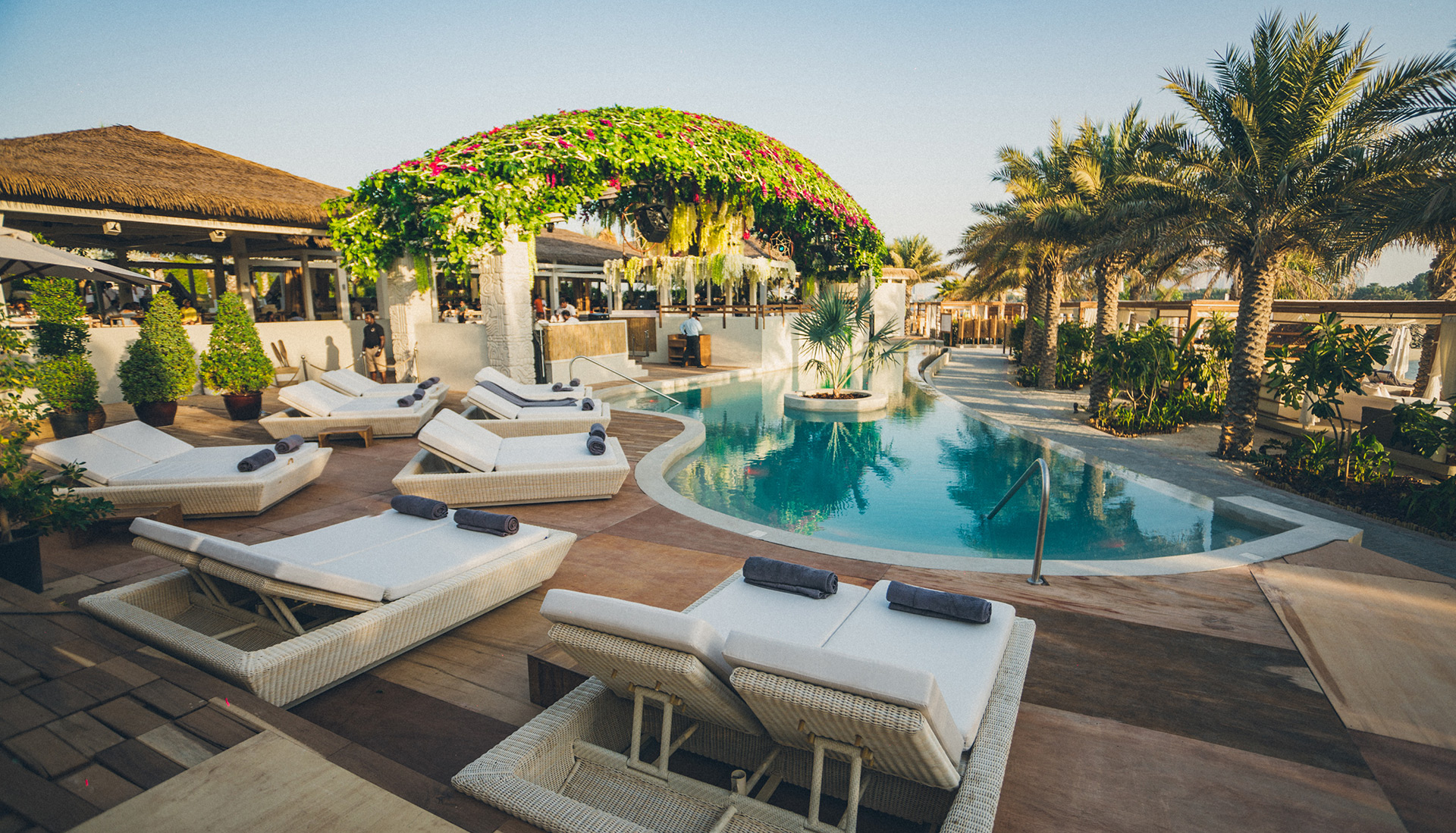 Another international favourite, this beach bar looks a bit like a mix between Club 55 in St. Tropez and Bestival, this bougainvillaea draped resort mixes Mediterranean flavours with the vibrancy of a beach bar in Ibiza. Whether you're there to enjoy a beach bed, private sofa lined beach cabana or just to join in for a Saturday brunch (rated one of the best in town), this Palm Jumeirah beachside venue knows how to help you unwind.
Open from: 10:00am till late (Wednesday – Saturday)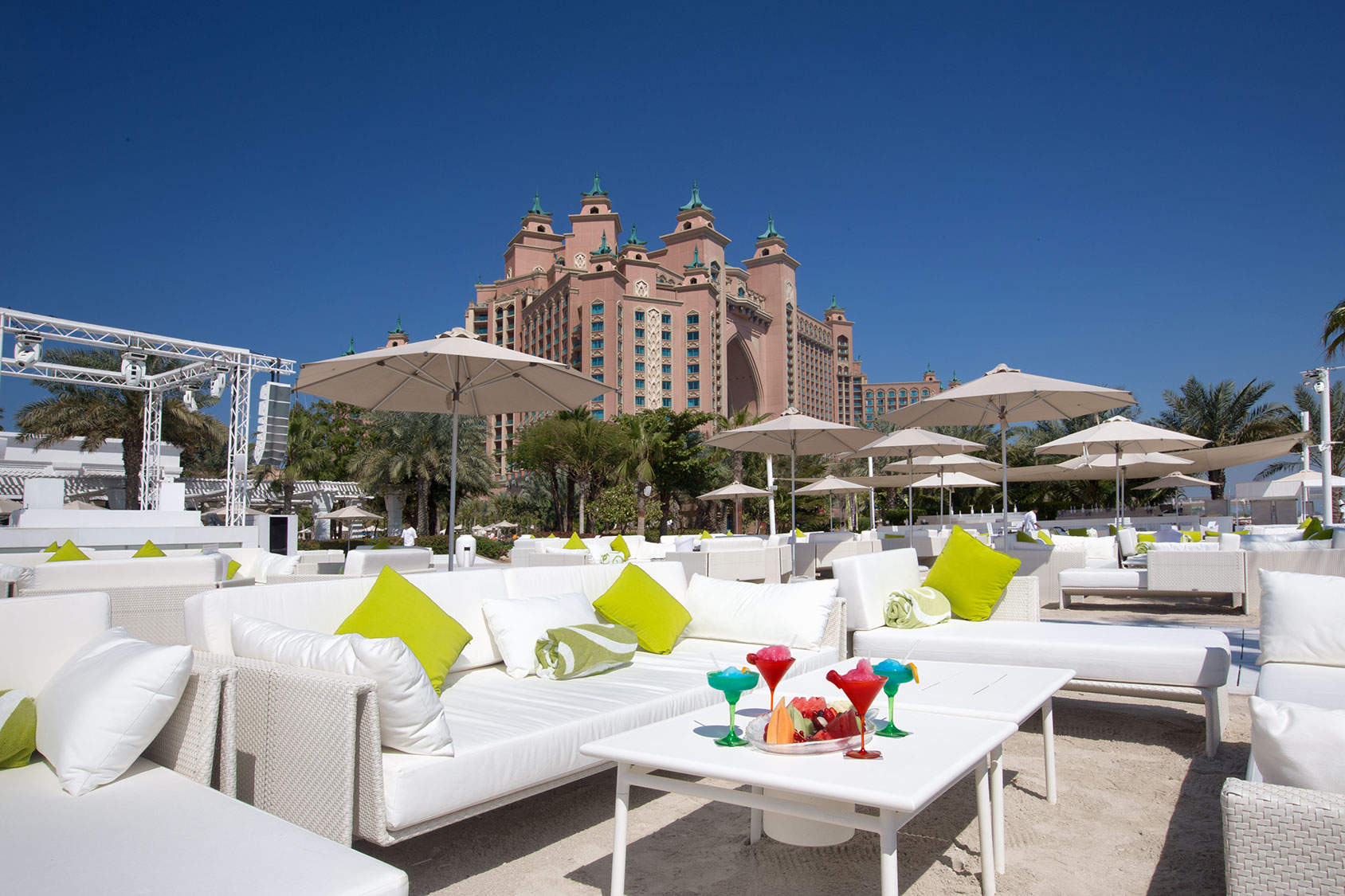 Known more for its beach to bar atmosphere, having hosted some of the most influential international DJ's in the world, Nasimi Beach is still going strong as the iconic Atlantis Hotel's signature sell point. The perfect place for sundowners too as it overlooks the city from the highest point on the Palm Jumeirah. Not content with just catching rays, there's a world-famous waterpark and aquarium next door that'll keep you busy.
Open from: 12:00pm-11:30pm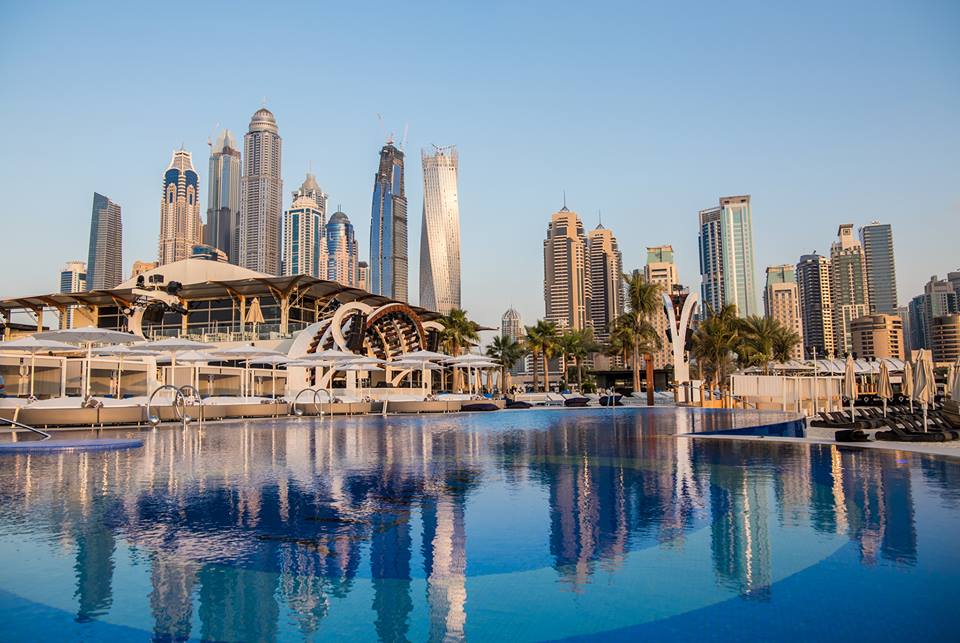 Perched out on the edge of Skydive Dubai, Zero Gravity has a front row seat to its famous parachute drop zone. With a pool that overlooks the beach and the entire Marina coastline, it also boasts a see-through side, so even underwater you'll have a great view too! Most known for its 'ladies go free' Tuesday's where there are early queue's for its famous poolside seating, the atmosphere makes you forget it's only midweek as you're serenaded by a jazz saxophonist who plays in the middle of the pool. Private cabanas and large daybeds are great for families, and they'll even cook you lunch on your own BBQ.
Open from: 10:00am on weekdays, 9:00am on Tuesday, and 8:00am on weekends
#5 Azure Beach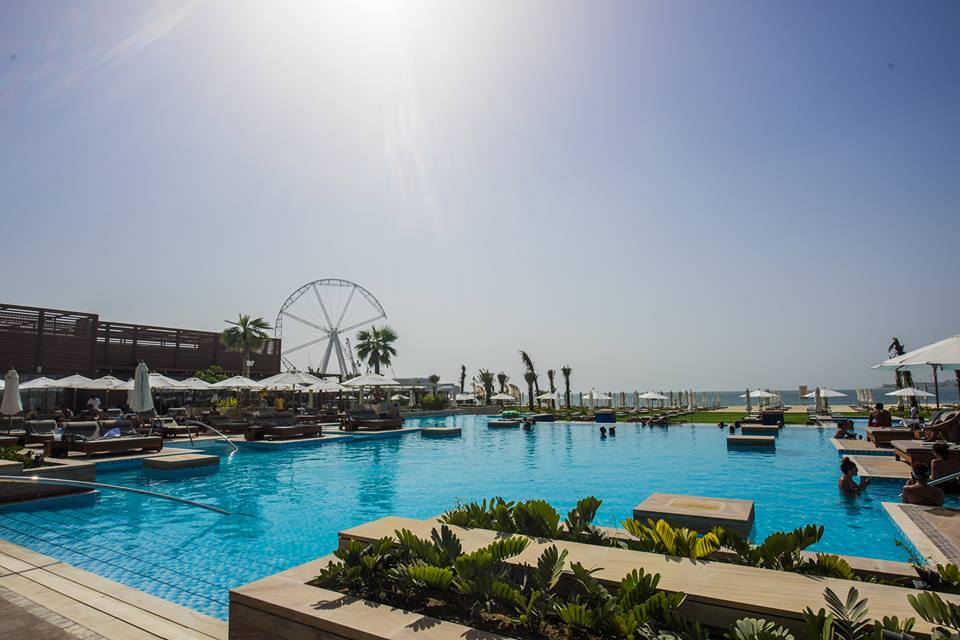 For the Marina crowd, there's a newly opened beach club right on their doorstep, at the brand new Rixos Premium hotel. Open to visitors, it's the perfect 'staycation' for those looking for something a little more luxurious than just the beach. A whole lot more in fact… a beautiful infinity pool overlooks the almost complete Dubai Eye – the world's largest observation wheel, a shisha terrace adds a whole lot of flavour to the mix and the poolside lounge is the perfect place to escape the heat too. Family-friendly island beds are the perfect place for you to unwind and feel yourself slipping away from the busy city behind you.
Open from: 11:00am-2:00am