Bangkok, Thailand has an undeniably attractive nightlife scene. For the truly fancy, a weekend trip to Bangkok for a good party is the norm. The rooftop bars are (gasp) far better than Singapore's, there's an underground music scene you wouldn't expect, and cocktail joints that blend modernity with Thai culture. With clubs like these, who needs the beach?
#1 Ku De Ta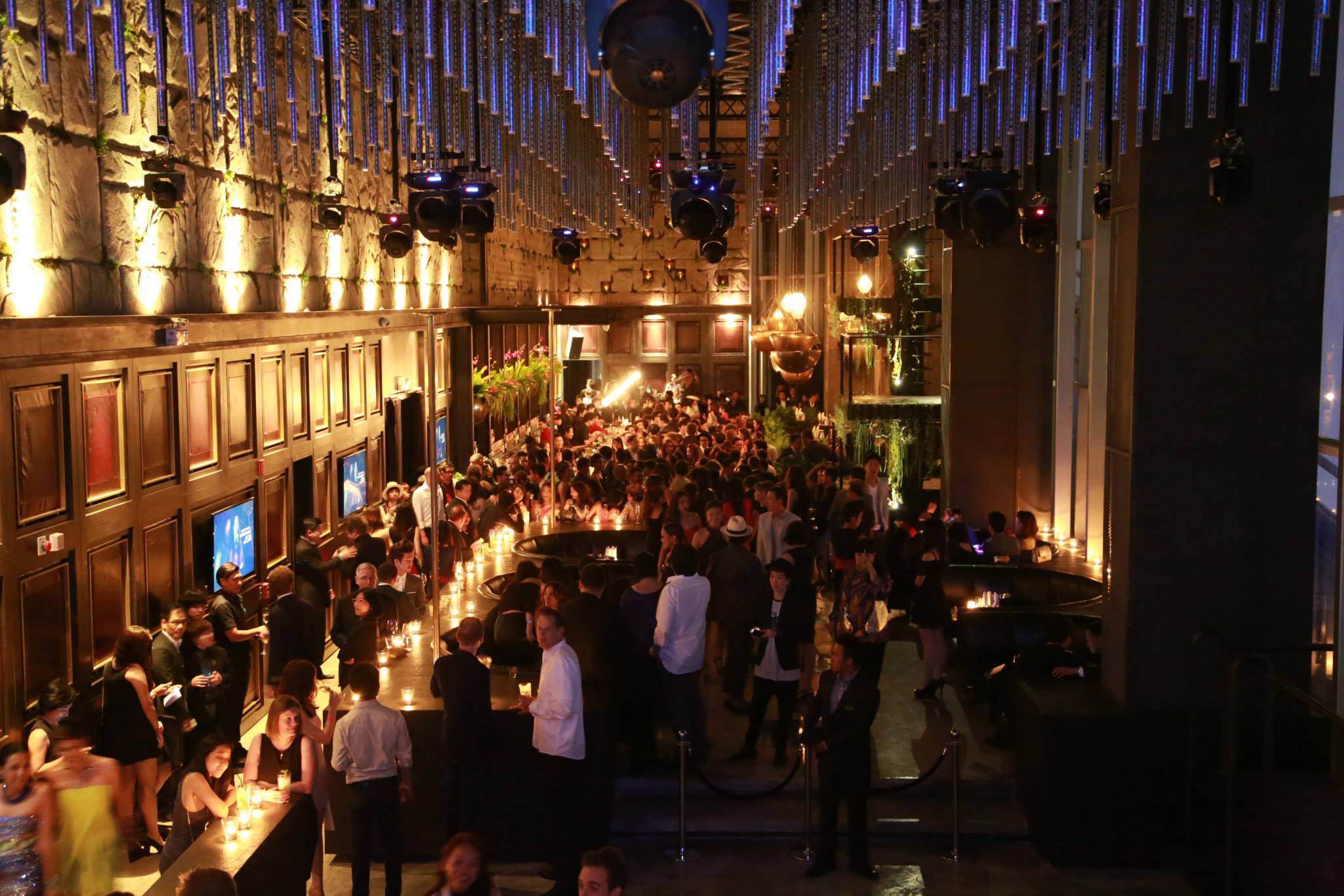 Known for: Being Ku De Ta, a bucket list item in and of itself. This one is located on the 39th and 40th floors of the Sathorn Square Building, so expect cool views of the city and Chao Phraya River. Ku De Ta is divided into two restaurants, a cocktail bar and a banging night club.
The crowd: Urban, young expats and local socialites.
Insider tip: Get a round of sake bombs for the table. We did, and the rest is a bit of a blur.
#2 Magie Choo's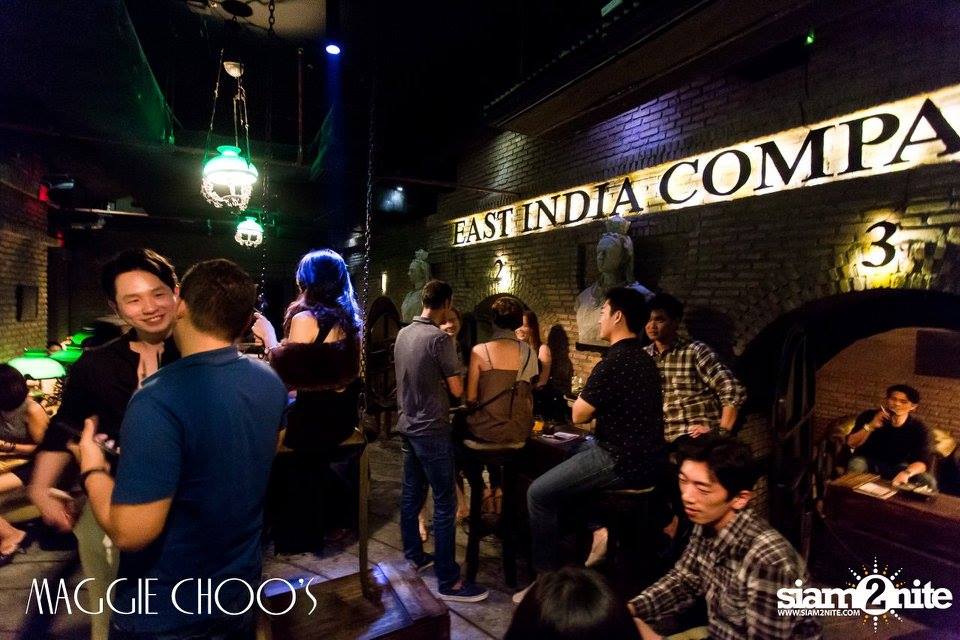 Known for: Its 1930's old school oriental vibe; a product of Ashley Sutton, who's behind some of Bangkok's best-decorated bars like Iron Fairies (that just missed the mark for our list) and Bangkok Betty. Maggie's is set in a dark basement with a speakeasy setup — the bar is behind thick drapes in a small noodle shop in Novotel Bangkok Fenix Silom. Now you know.
The crowd: They host a lot of jazz musicians, so you can expect to mingle with people with great taste in music. Hah!
Insider tip: Drinks are quite pricey. A beer costs 200++ Baht (unless that's not pricey to you). A cocktail sweet enough to sip on slowly is the MS Leviathan, a mix of honeycomb bourbon, sweet vermouth and lemon. It's really quite yummy.
#3 Cloud 47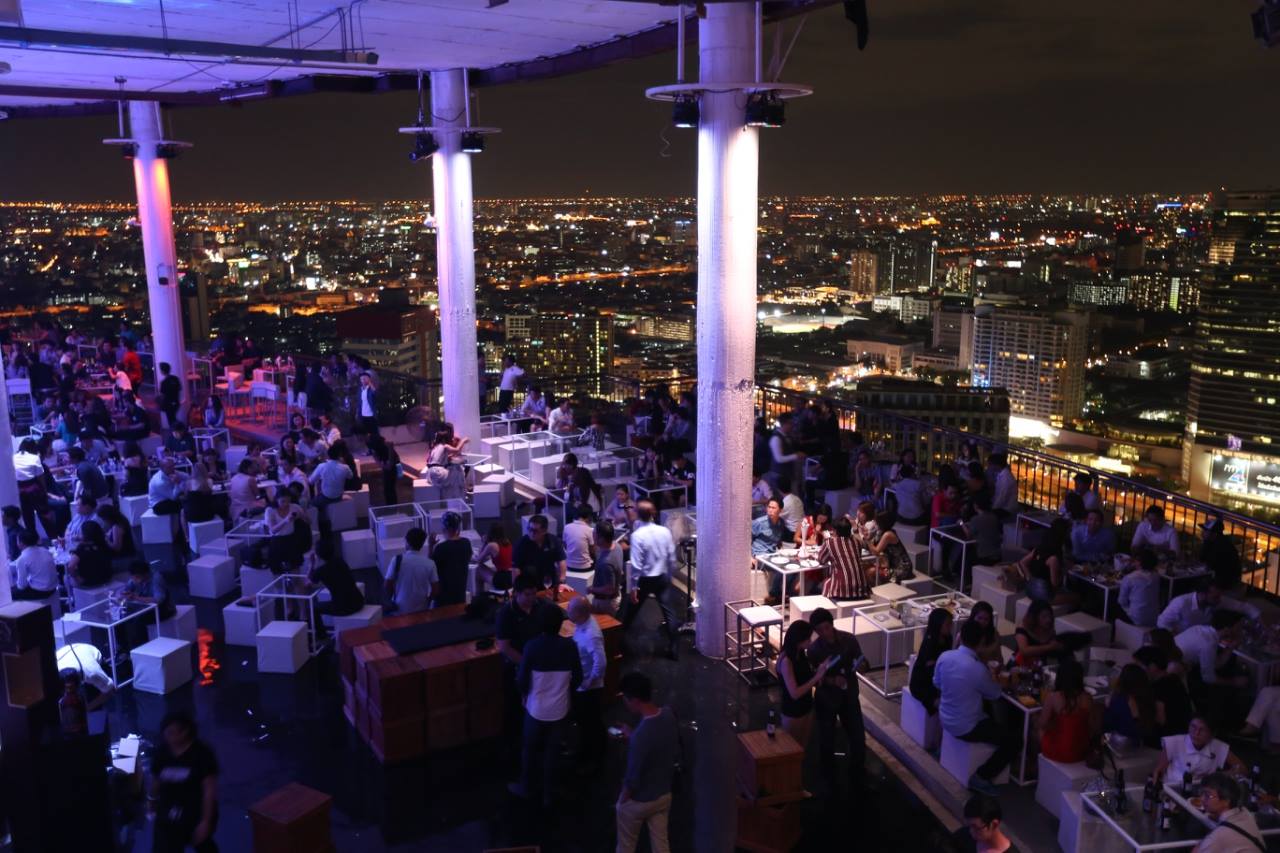 Known for: Being affordable. You wouldn't expect such fantastic prices when you have that view, but it's true. Then there's the huge pavilion which means you probably won't have to awkwardly stand around the bar. There's also a pool table. The bar is smack in centre of Silom Road and past the Patrong Night Market, there's little chance you'll miss the lights from above.
The crowd: Tourists and a steady after-work crowd of locals — Cloud 47 is part of the United Center office building.
Insider tip: No need to connect to the WiFi for Live Score on game night. Cloud 47 has a big screen for live sports and you can bet they take their football seriously.
#4 Vesper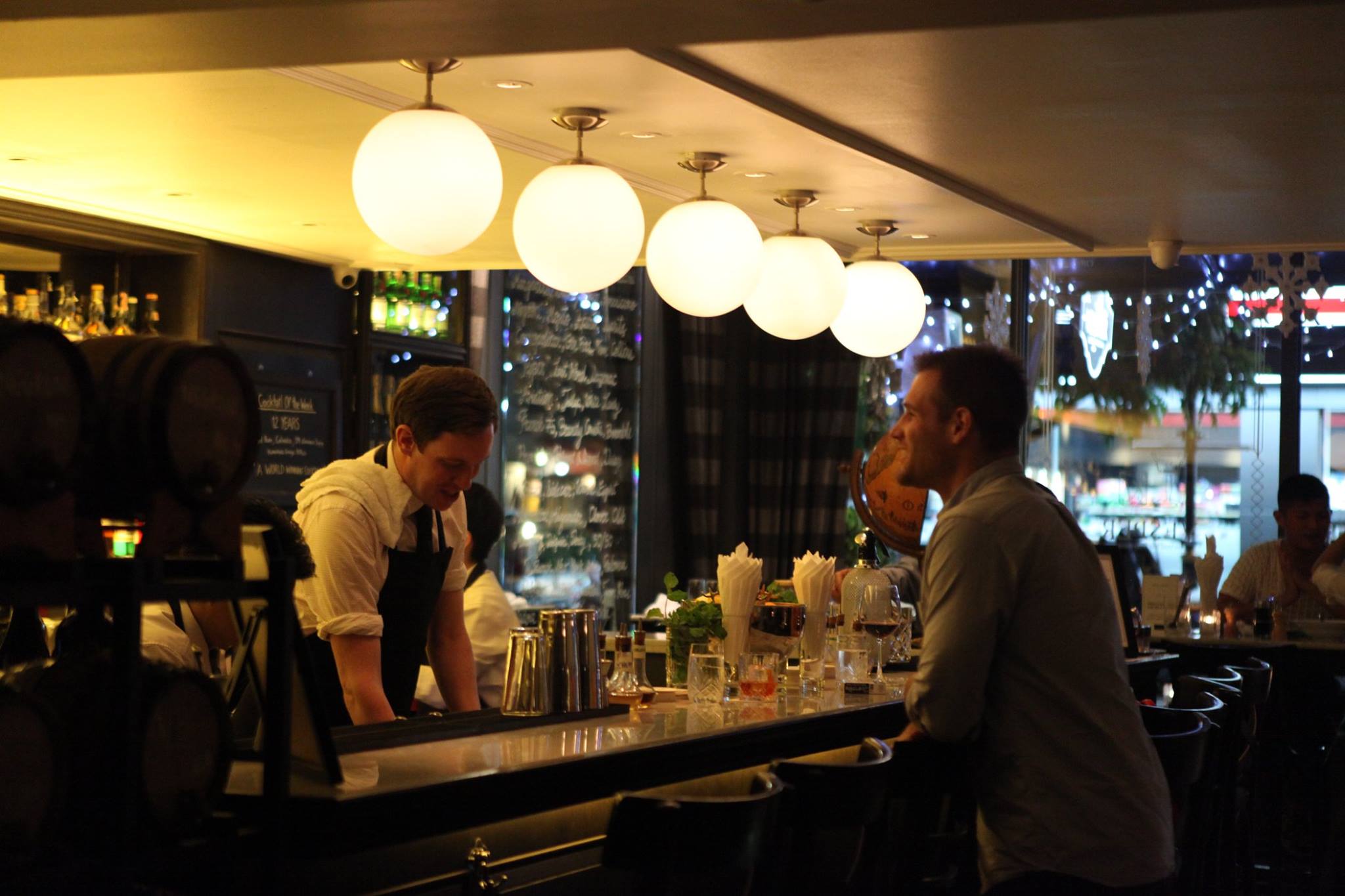 Known for: Classy cocktails. You'll like this place if Singha isn't your cup of tea (or we could go with "your pint of beer" for this one). Vesper takes their alcohol so seriously, that they've flown down their own team of London-based mixologists. Set in a typical English pub-style space, it's really quite a different scene from the rest of Bangkok.
The crowd: Gay elites and rich locals who've had enough of cheapy Mai Tais. It's not a bad spot for a first date in Bangkok either.
Insider tip: Trust the Brits to whip up a 'Secret Earl Grey' concoction of Earl Grey-infused gin, lemon, egg white and grapefruit. And trust you will love it. Otherwise try the 'Coleford Sour'; a Bourbon-based cocktail with blackcurrant preserve.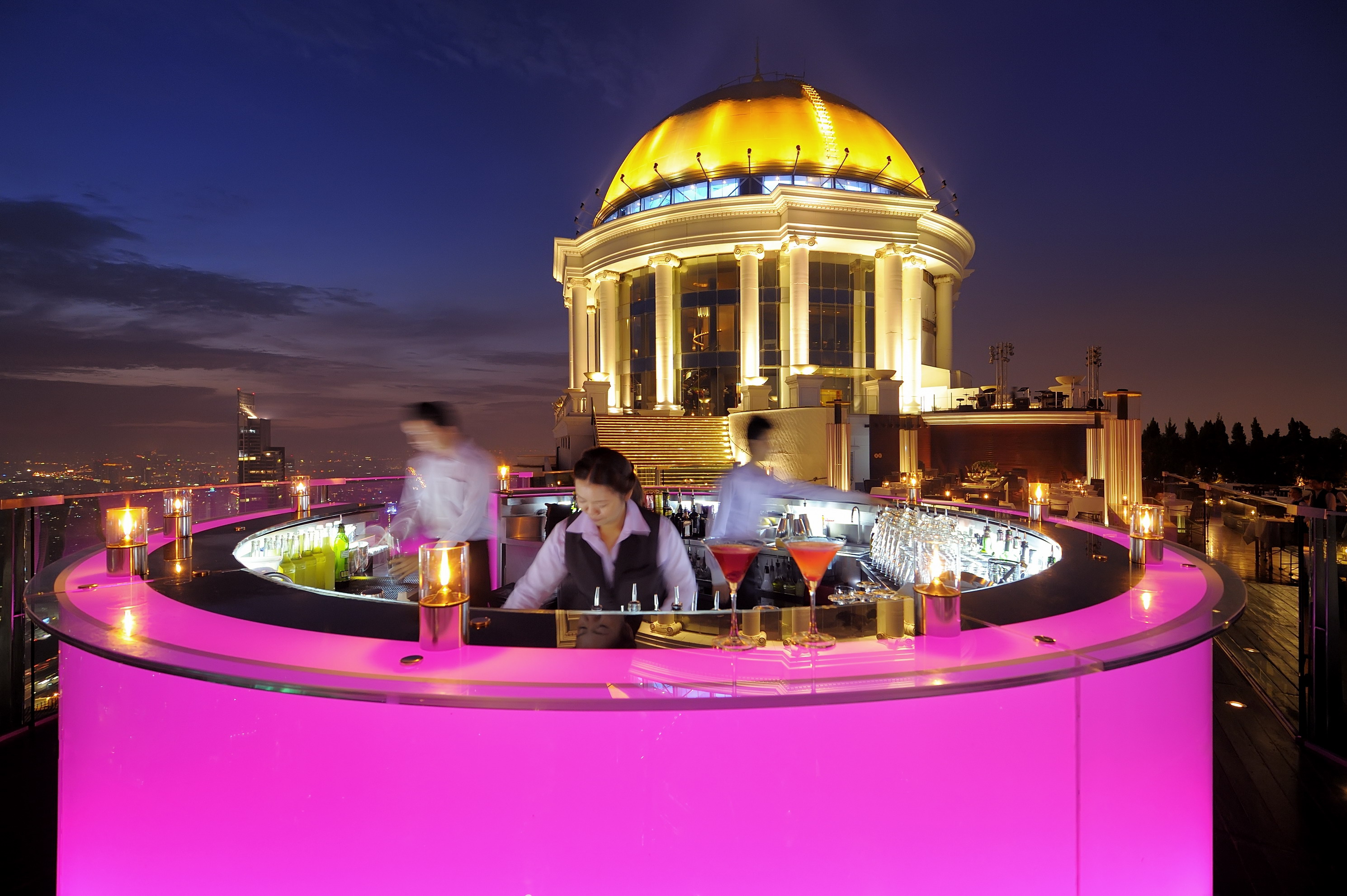 Known for: Being the shoot location for a scene in The Hangover. We've found it here on YouTube. So now it's largely known as "the hangover bar". It has some pretty unbeatable views from the 63rd floor of the hotel. Drinks however, are very expensive so don't say you weren't warned about the costly champagne.
The crowd: Mostly hotel guests. Lots of people come in for a look around or quick drink and then leave — they're just there because of 'The Hangover' hype.
Insider tip: Sky Bar is just around the corner from Maggie Choo's. Perhaps start the night off with some jazz flute (it's not for little fairy boys) and a pricey cocktail, then to Sky Bar for more drinks and a bit of fresh air. Also, we'd be crazy not to recommend staying at Lebua at State Tower for the night.
#6 Vertigo and Moon Bar at Banyan Tree Hotel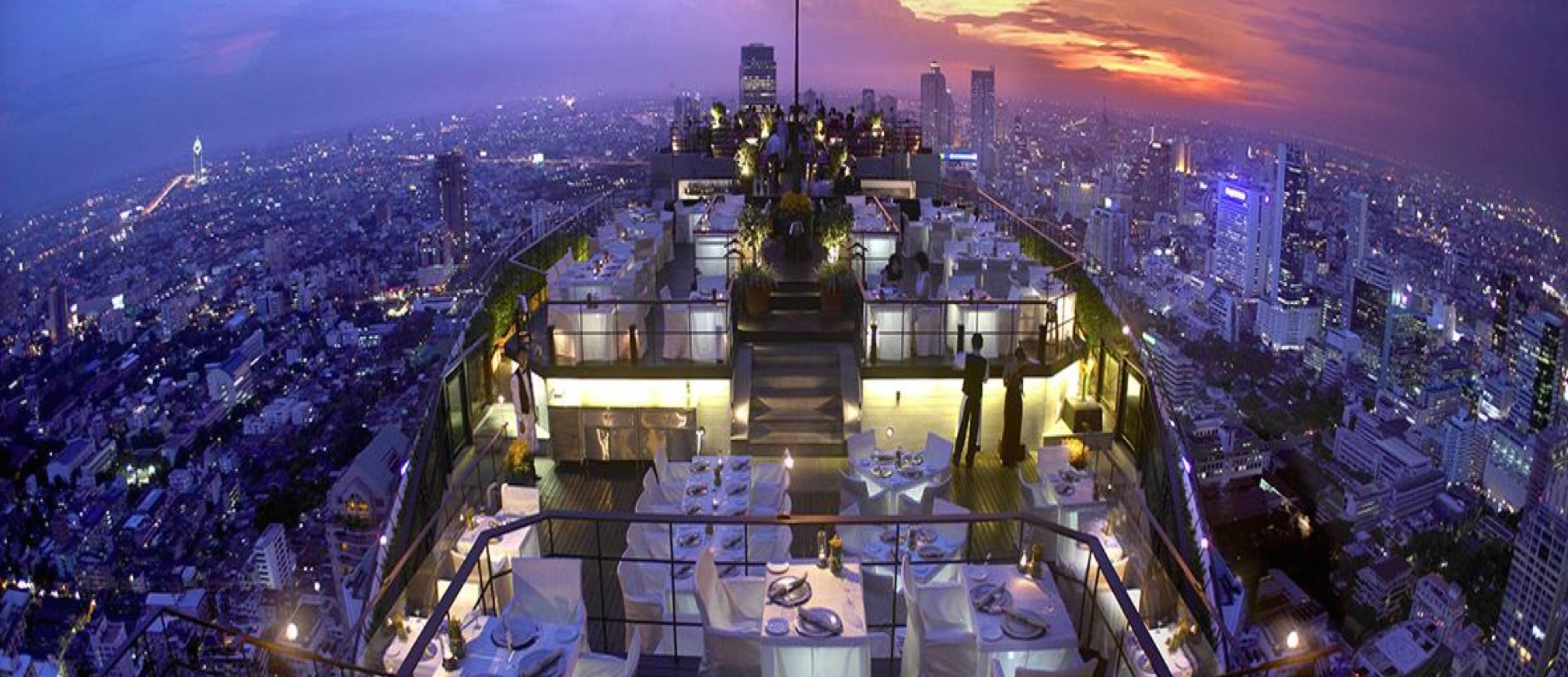 Known for: Pictures like this, and the main photo featured in this article. But even if you don't have a drone flying around for footage, it's still remarkably impressive. It takes up the 61st floor of the Banyan Tree Hotel and was therefore probably two floors too low to be in  'The Hangover'.
The crowd: Hotel guests and honeymooners, with a few elite couples out on date night.
Insider tip: Can't find it? There's no lift up to the 61st floor, so go to the Bai Yun Chinese restaurant on the 60th floor then walk up a flight of stairs. Also, food at Bai Yun is quality stuff.
#7 Glow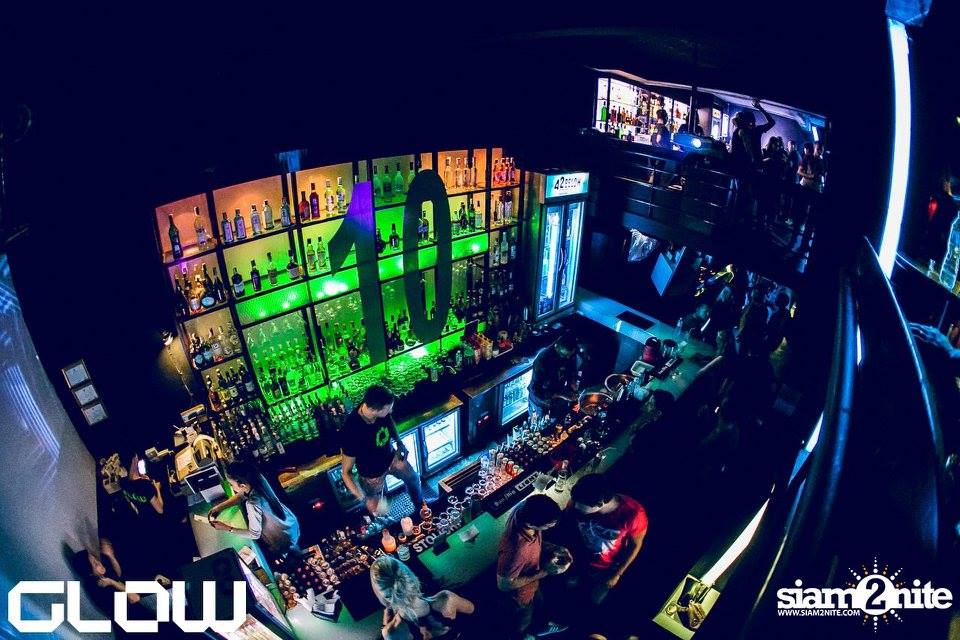 Known for: The music. The underground parties here are unlike any other venue in Bangkok, which attracts a number of international acts including Nakadia, Alex Niggemann and Felix Moreno. Think of a really good European techno club. To find this place, just look out for neon-green lights flashing somewhere along Sukhumvit Soi 23. Since the closure of other notable underground spots like Cafe de Moc, Glow is really the best (maybe even the only) in town.
The crowd: This is the best part about Glow. Only serious music heads, both expats and locals, party here. You're bound to make a few new friends.
Insider tip: Come around midnight. No one parties hard before then.
Wake up feeling like P Diddy in a sweet hotel.