What happens when you're the only non-skier in the group at a ski resort? You get left alone in the chalet every morning, that's what. Especially because you've brought along your four-month-old baby who enjoys studying the snow at a safe distance but is not mentally prepared to be in or on it for any great lengths of time.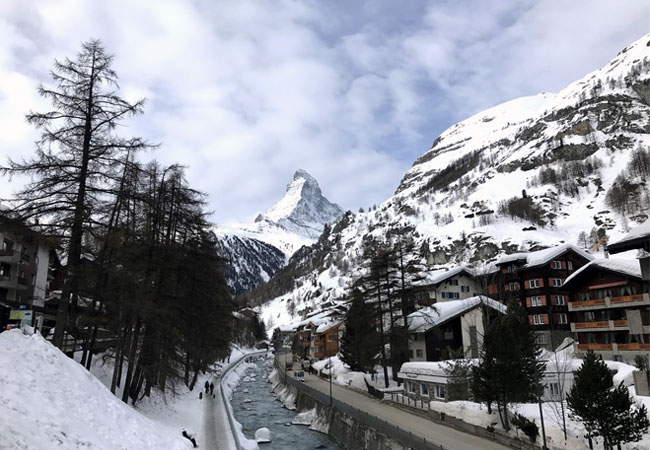 This was me (the non-skier, not the baby) recently on a family trip to Zermatt, Switzerland. What I missed out on: skiing. What I gained: five mornings of quality time with the baby, a memory card's worth of Instagram content, several kilos of chocolate, and a newfound appreciation for strollers with snow-capable wheels. This is how I did it.
Choose your accommodation well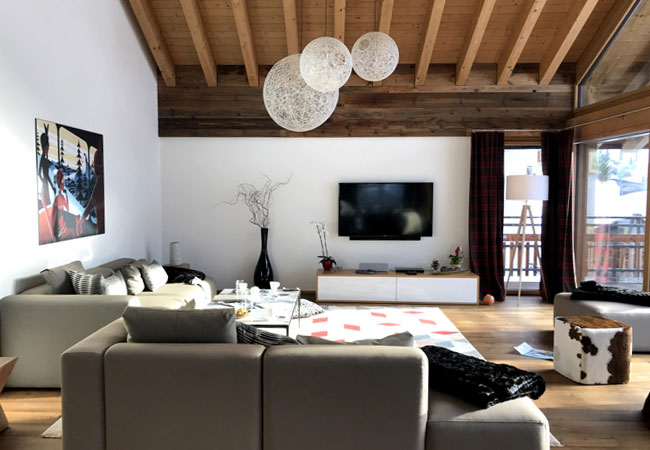 This was a happy accident on my part because I had no hand in the booking of Chalet Valeria, but it quickly became the protagonist in my Zermatt story. It's a beautiful three-apartment chalet that combines a central location (a five-10 minute walk into town, depending on how well your stroller deals with the snow, or whether indeed you are encumbered by a stroller) with absolutely incredible views.
Read also: 5 things we loved about our family vacation at Kasara Niseko Village
We stayed in the four-bedroom apartment Aria on the top floor which had an amazing, unspoilt view of the Matterhorn, and floor-to-ceiling windows and a wraparound balcony from which to enjoy it. Imagine: fresh coffee and a pastry in the morning, watching the sun sparkle on the snow-covered Alps. Dinner in the evening with the lights turning on in chalets in the valley.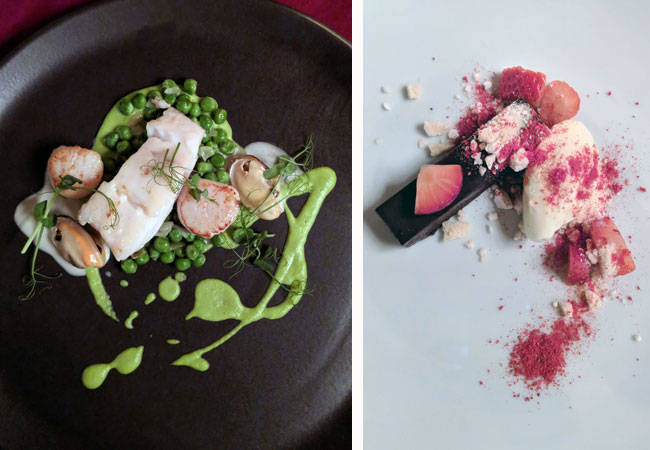 Which brings me to the second best part of Chalet Valeria: catered meals. Every morning there was a continental spread laid out on the breakfast bar, supplemented by a daily hot special. We had syrup-drizzled French toast with crispy bacon, chorizo-topped avocado toast and fluffy blueberry pancakes by turn, all prepared while we were still bleary-eyed and knocking back the coffee. But even better than that were the personalised four-course dinners in the evening that started at 7pm with champagne and canapes and ended around 10pm in glazed eyes and various versions of 'Wow'.
Go up the mountain anyway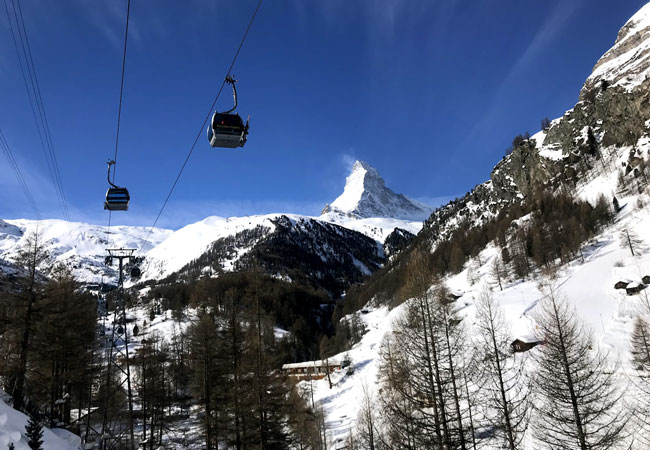 There's no reason you can't enjoy the mountains just because you're not actually skiing them. Buy yourself a peak pass for unlimited access to the ski lifts, gondolas, cable cars and funicular railways. Because while things are pretty down in the valley, they are even more spectacular the higher up you go, and there are plenty of restaurants and cafes where you can order a coffee, bask in the sunshine and gaze at the Matterhorn. (Seriously, the view just does not get old.)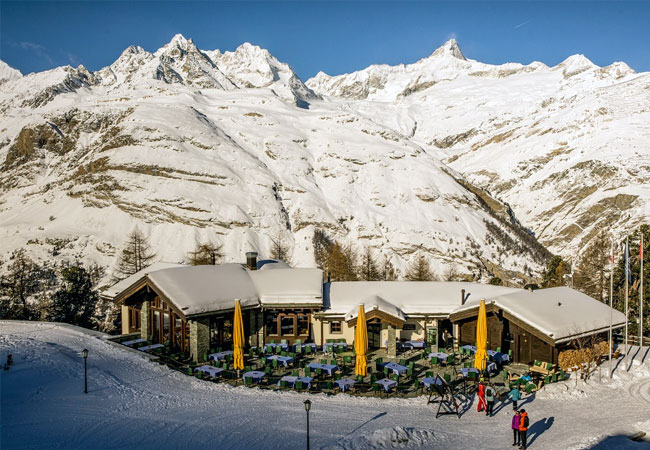 The Gornergrat Bahn is the most non-skier-friendly – it takes a gentle pace up the mountain and has huge windows perfect for picture-taking. Take it right to the top (on the way down stop at Rifelalp for Ristorante Al Bosco, which is a short, snowy trek from the station). Another time, hop on the Matterhorn Glacier Paradise cable car for swinging, vertigo-inducing views and alight at Schwarzsee for a restorative strudel and coffee.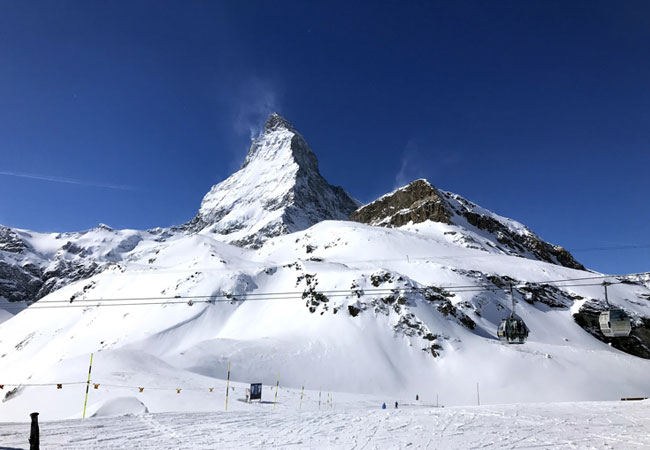 Tip: Avoid being trampled by the skier stampede at rush hour and venture out at the more civilised time of 11am – you're likely to have the whole train/cable car to yourself.
And if, like me, you come bearing children, you can get a stroller onto any of the lifts, trains, gondolas or cable cars without even having to fold it down. Station attendants were more than happy to help with bundling us on board, as were most skiers, if a touch bemused.
Read also: How to teach your kids to ski
Just eat
It's cold! The food is good! You need to stay warm! There are bakeries and coffee stops and chocolate shops on every corner throughout the village; stop in at Laderach and push your luck with the sampling. I can recommend: the lime and chilli, caramelised hazelnut and fudge caramel.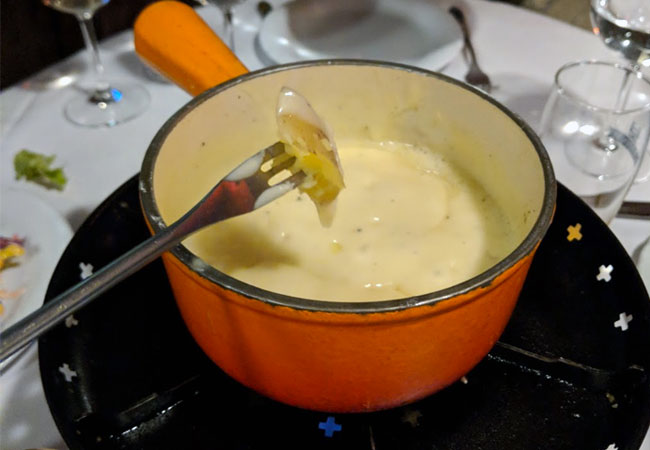 It may be a cliche, but fondue on a Swiss winter's night is hard to beat. Under the recommendation of chef Chris, we went to Stockhorn Grill and filled up on fondue and plates and plates of bubbling raclette scraped over tiny new potatoes. It's certainly full of tourists (and served by smiling waitresses in dirndl aprons), but don't let that put you off. Order the raclette.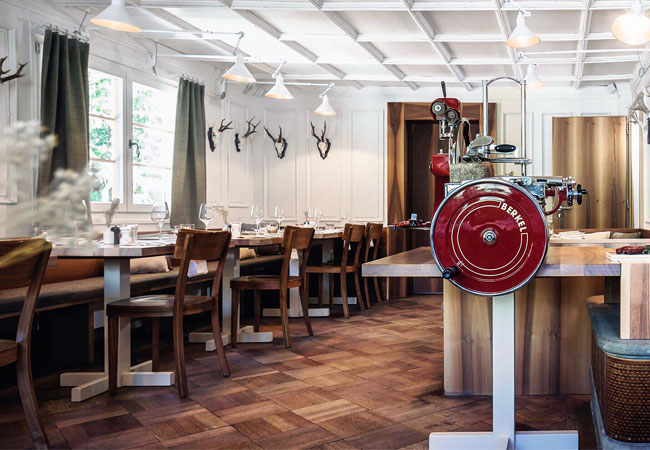 The shared border means that there are plenty of incredible Italian restaurants on the slopes. Go to Cervo Puro for fresh, modern dishes that make the best possible use of local, seasonal produce (and great truffle fries). Try Rothorn Ristorante Pizzeria for crispy, bubbling pizzas fresh from a wood-fired oven, and a grill that makes everything magical: steak, seafood, even your standard mixed vegetables. No one says you can't enjoy the après even if if you haven't skied. 
Read also: Colorado's billionaire ski retreats
Take all the photos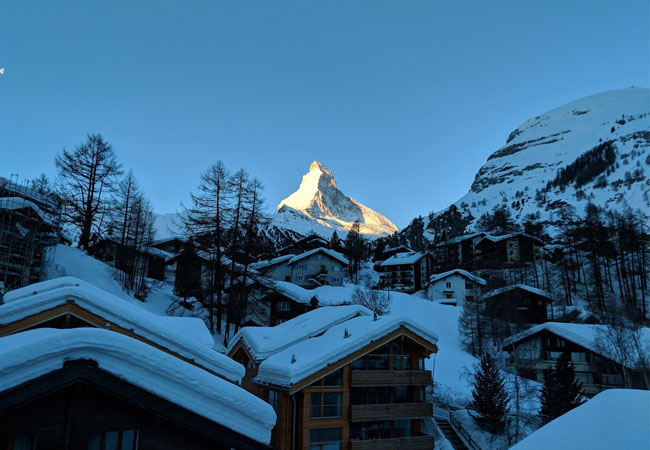 This seems like an unnecessary piece of advice. But though it can be dispiriting watching everyone troop off in the morning for a day of skiing while you're left at home, it means you're afforded that much more time to perfect your Instagram feed, get hopped up on caffeine and take photos both beautiful and banal. And on that note, I leave you with this one.