Home to only about 28,000 residents, Queenstown, New Zealand is like the world's secret garden. With lakes, mountains and incredible heights, Queenstown has a laidback vibe but is at the same time a playground for thrill-seekers. So jump off the highest bungee point and get your heart racing, or dip into a warm outdoor pool and enjoy a glass of Pinot Noir. Here are a few more ideas for the adventurous.
#1 Start at The Skyline Experience
You're not afraid of heights, are you? Even so, you definitely won't regret having the best seats in the house to Queenstown's striking scenery. Get introduced to Middle Earth with a gondola ride up the Ben Lomond mountain. Called 'Bob's Peak', the overlooking views are yours to soak in before your first official taste of adventure – riding the luge down the mountain. We guarantee a luge-race will set the tone for the rest of your trip.
Take a hike: Ben Lomond is a popular hiking spot which takes about an hour to reach the top. Be warned, it's pretty steep uphill but what a workout!
#2 There are different ways to take on Lake Wakatipu
The TSS Earnslaw is an iconic 105-year-old steamship that takes you on a 90-minute cruise across the beautiful Lake Wakatipu. It's been graced by many famous visitors including Queen Elizabeth II, Prince Phillip and US President Bill Clinton – something to get the kids excited about, not that the view during the cruise isn't enough to get everyone hyped up! If you don't have time for a cruise, do the Milford Sound Fly-Over, which takes you from Queenstown to the stunning alpine region of Milford Sound. Another great way to enjoy Lake Wakatipu is by parasailing.
#3 Bungy jump, obviously!
You're only in the world's adventure capital, and the birthplace of commercial bungee jumping! It should be a rule that all travellers honour this… or at least that's what we tell ourselves. Standing on the jumping base above the Nevis river is 450 feet of fear. The river is located 40 minutes outside of town (which includes driving past a sheep station) and is the highest jump in New Zealand. Sound good? Keep the adrenalin rush going and take on the new Nevis Catapult that slingshots you 150m across the Nevis Valley at 3Gs of force. Yes, it's definitely crazier than it sounds.
Read also: Guy's guide: 7 spectacularly scenic New Zealand day hikes
#4 Bike the Queenstown trail
Welcome to Nga Haerenga, New Zealand's most popular biking trail. There's a total of 120kms of trail with alpine vistas, hidden ruins and awe-inspiring rivers to explore. Trails are categorised according to distance and difficulty, so all you have to do is choose one that suits you, hire a bike (some hotels also provide bikes for rent), and get paddling. There are attractions and amenities along the way, so if you follow your map right, you'll be able to have meals and take very scenic breaks.
#5 Hey, even daredevils gotta eat
To be fair – and honest, because we're never ones to forgo a food feast when we travel – there's a whole list of things to try in New Zealand. For the most authentic Kiwi experience, try Hangi, an ancient form of Mauri cooking where meat and vegetables are roasted in an earth-dug pit. You won't find that at a cafe, but the cooking method is still used for special occasions like weddings. Otherwise, bite into steamy deep-fried fish, another chef's recommendation that flaunts the region's fresh seafood.
#6 And if you have the time to 
wine down…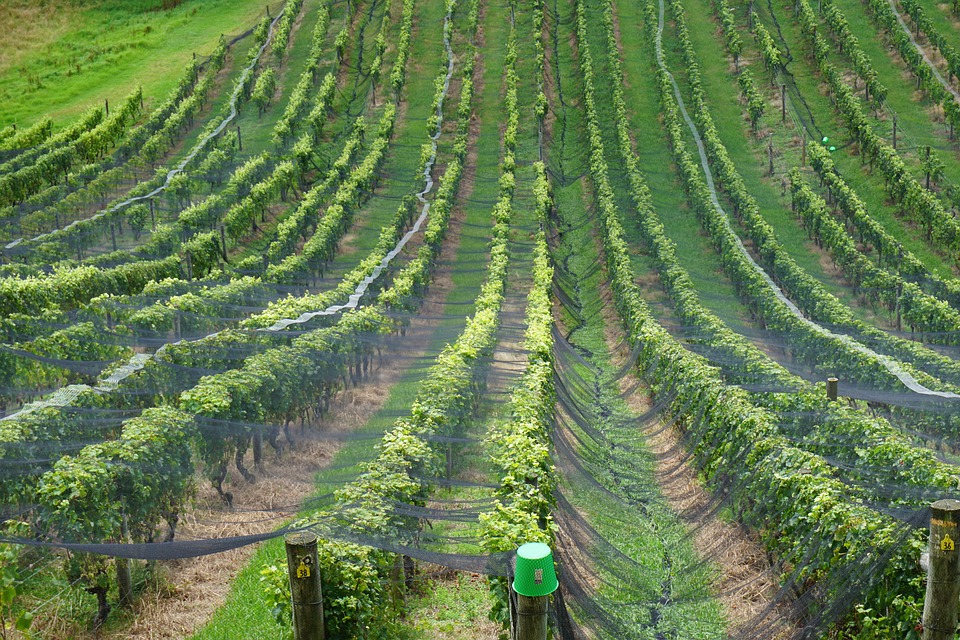 You might need a slow end-of-day after jumping down crazy heights. You could head to a bar for a glass of wine, or you could one-up your typical Friday night and visit a winery. Queenstown is incredibly proud of their award winning Pinot noir and chardonnay. There are over 75 wineries in Queenstown and the nearby Gibbston valley. And you know what pairs well with wine from this region? Kapiti Kahurangi Creamy Blue Cheese.
Read also: Kiwi cuisine: 6 classic New Zealand dishes you have to try
#7 Hit the golf course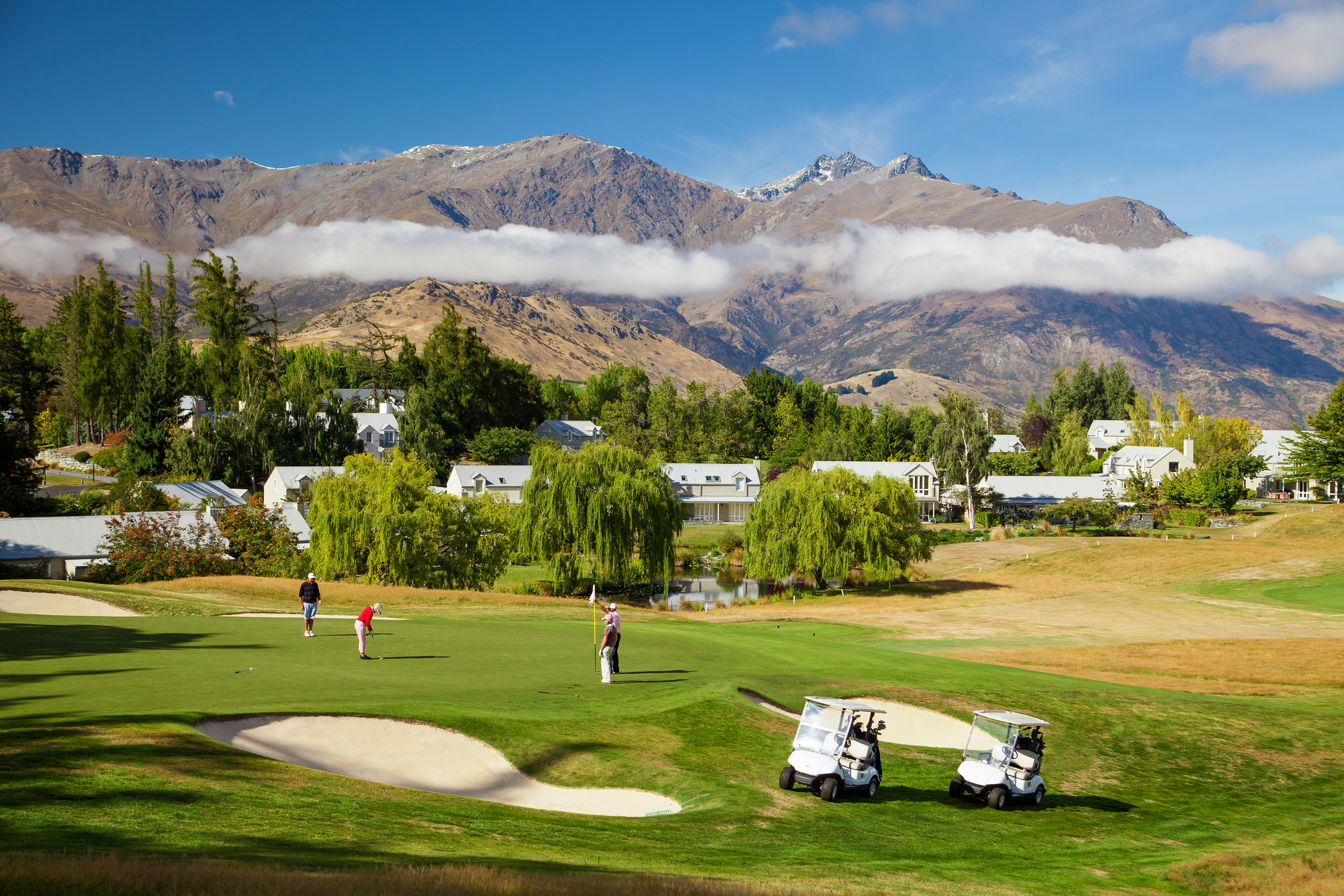 On the topic of things New Zealand does best is its golf courses. With those sculpted landscapes, it's almost natural for Queenstown to be the home of amazing golf courses, which also happen to be ranked as some of the finest in the world. The Millbrook Resort has a 27-hole course with a number of titles under their belt to be proud of, like the Best Golf Resort in Australasia at the 2010, 2011 and 2012 World Travel Awards. There are five more courses to play at, and each is just 25 minutes or so away from each other.
#8 Get snow-sporty in winter
Spend a good half hour lacing up those snow boots knowing that it will all. Be. Worth It. Because come June to October (yeah, weird winter months!), Queenstown is deep in fresh powder. Ski terrains here complement skiers and snowboarders of every level, with lessons on-site for greenhorns who don't want to miss out on the fun. Queenstown's après ski atmosphere completes the experience with nightlife spots to get warm with a glass of whisky – we trust you've worked off the wine hangover on the slopes?
#8 Leave on a jet…boat
We'll have you know that actors Hugh Jackman, Ian McKellen and America Ferrera, Lord of the Rings director Peter Jackson and even the Duke and Duchess of Cambridge have all had their turn on this. Yearning for one last adventure before you leave? Skip the leisure drive or morning walk and brace yourself for the Shotover Jet. You have no idea what's coming your way but for the sake of us not recommending something without good reason, here's a teaser of what to expect: neck-break speeds through narrow canyons, 360° spins, dangerously close encounters with rock cliffs, and holding on for dear life. That's Queenstown for you.
This article has been updated.