Welcome to The Luxe Nomad's signature Phuket Guide!
It's sexy and you know it. We could barely get up and tear ourselves away from sun loungers when travelling to this teardrop-shaped island of Phuket, which is unarguably one of the most luxe destinations in the planet. The world's rich and famous (including supermodel Kate Moss and entrepreneur David Tang) frequent the area for its pristine beaches and sexy, vibrant nightlife. Not to mention, it's the premium choice for film locations: who hasn't seen Leonardo di Caprio's The Beach, and James Bond flick The Man with a Golden Gun?
Set in one of the world's best-known beach destinations, Andaman Coast, this island and mangrove paradise has gone through a rebirth, and Phuket has sealed its status as the go-to destination for the global traveller. Think haute beachfront resorts to match its hot nightlife (and food!). Upscale luxury dot the island of Phuket, and experiencing Thai hospitality amidst stylish settings (dressed in your lovely kaftans and espadrilles) is the only way to do it. Vacation options range from luxe private pool villas to beachfront hotels to immaculate island resorts accessible to those willing to 'rough it.'
So whether you're travelling for spectacular diving and island hopping, swanky spa sessions, sizzling nightlife, its thriving art scene, or simply doing nothing on the beach (best thing ever!) and waiting for the sunset at Railay, here's the TLN Guide on everything you need to know about what goes in between jutting peninsulas, craggy rock formations, lush coral reefs and limestone rocks that make up Phuket.
Panwa
Almost Away from the Crowds. Named after a Muslim village nearby, Panwa has maintained its tranquil surroundings despite urbanization in the area peppered with luxury villas. Perfect for jetsetters who crave peace and quiet, this beach haven facing southwest is eight kilometres east of Phuket Town (easy access to shopping and dining!) and inhabits the west coast of Cape Panwa. This area is very scenic with views out across Chalong Bay and Lone Island, although this side of town is not something you can swim in. Not to worry, Nomads, as private pools in your villa totally make up for this. Imagine floating away with your bedroom and personal butler just seconds away from you.
DO:
1. Around 2pm, find your way to Wilai's along Thalang Road in Phuket Town and inquire about the secret door to the 120-year old Chinese temple.
2. Located in Sri Panwa, check out Baba Pool Club and its glass edge and island views. Swimming will never be the same again!
3. Do watersports with John Gray's Seacanoe. It is by far the most ecological of all operators.
4. Stroll along the most ambient part of town—Romanee in Thalang Road and appreciate Sino-Portuguese architecture.
5. Watch grand productions of drag cabaret at the 600-seat theatre Simon Cabaret. We think the costumes are gorgeous! Nightly shows at 19:30 and 21:30.
6. Have a massage at Swasana, a four-star beachfront spa. Traditional Thai massage is for USD 25.
7. Saltwater Dreaming is perhaps the island's best surf shop. Inquire about surfing lessons.
EAT & DRINK:
1. Baba Soul Food – This award-winning restaurant (including Best Bar) serves tasty fusion Thai food using ingredients grown from the resort itself. Tip: Make sure to book a table in advance to avoid the crowds. Also, enjoy aperitifs at Baba Nest's rooftop bar while soaking in the panoramic sunset view. Location: 88 Moo. 8, Sakdidej Rd, Tumbon Vichit, Muang Phuket, Phuket, Cape Panwa, Phuket; dinner; mains from USD 19.
2. Raya – An institution in Phuket dining, Raya serves casual, home cooked dishes in a charming two-storey old mansion turned restaurant. Must-try: their pork stew, and creamy crabmeat curry with rice noodles (Kanom Jeen). Location: 48 Dibuk Rd, Phuket Town, Phuket; lunch and dinner; mains from USD 9.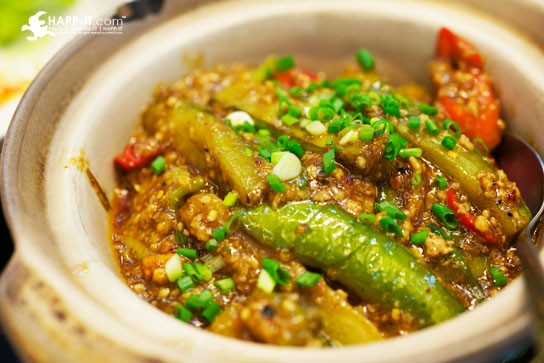 3. Hong Kong – Two words: Best Seafood. Looks can be deceiving but this restaurant has really, really good food. It's a go-to place even for locals. Location: 22 Ratsada Road Muang Phuket., Phuket Town, Phuket; lunch and dinner; (seafood sold by the weight) mains from USD 22.
4. Ka Jok See – Probably Phuket's best kept secret (well, not anymore), this is a fun place for drinks (supermodel Kate Moss will definitely agree). Always call in advance for a table as it gets full easily. Tip: Ask if you can come back after 10pm for drink, and sometimes they'll say yes. Expect to be entertained. Owner Khun Lek is a great host! Location: 26 Th Takua Pa, Phuket; dinner and drinks; eat-all-you-can from USD 50
5. Baan Rim Pa – Literally translates to "house next to the cliff" and features 'Royal Thai Cuisine.' This open air, two-story teak house provides magnificent, panoramic views of beach at Patong and to the Bay of Kalim. Location: Kathu District, Phuket; lunch and dinner; mains from USD 20
6. Sanaeha Phuket – Do as the locals do. Watch live bands while sharing a bottle of whiskey with friends. Location: Yaowarat Road, Phuket Town; drinks
7. China Inn Café – Great lunch venue especially when caught up in the middle of shopping in Phuket Town. You will love its vintage atmosphere. Location: #20, Thalang Road, Phuket Town, Phuket; lunch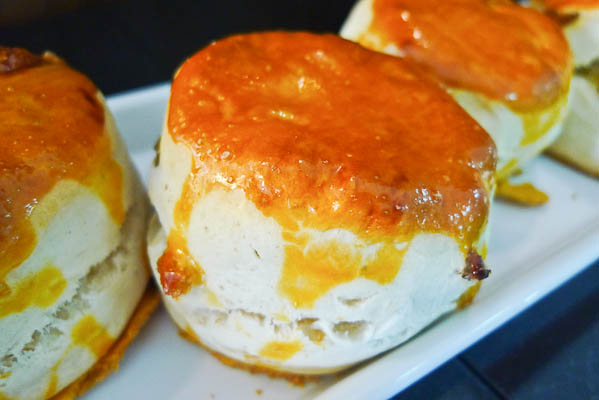 8. Watermark Patisserie – Have your tea and cake fix should you tire of hot Thai food. Location: Rommanee Lane, Phuket Town, Phuket; quick eats and dessert
9. La Gaetana – Going for a romantic Italian dining setting? Head over here and try their lobster linguine. Location: 352 Phuket Road, Phuket Town, Phuket; lunch and dinner; mains from USD 45
SHOP:
Phuket Town:
1. Go through piles and piles of textiles, handicrafts and celadon at Radsada Handmade.
2. Pick up a few spa products at Oriental Pleasure.
3. For ethnic house wares and textiles, head over to Ban Boran.
4. Sin Seong Leong has interesting Thai eats and knickknacks that you can bring home as souvenirs.
5. Bookworms will love South Wind Books for their extensive library and collection.
6. Give in to the collector in you and buy some antiques at Ngaun Choon Tong.
7. Rommanee Lane is a quirky street filled with various shops for textiles, fabrics and lots of curios.
STAY:
1. Sri Panwa. 88 Moo. 8, Sakdidej Road, Tambon Vichit, Cape Panwa, Phuket
Set 40 to 60 metres above sea level along the Eastern & Western ridges at the very tip of Cape Panwa, each of the 52 villas within the estate offers panoramic ocean views, some even with a nearly 360 degree view of the ocean. The interiors integrate its natural jungle and ocean surroundings with contemporary decor and all the modern comforts of luxury living, while the exteriors are clad in signature terra cotta. There are extensive facilities available on site, but if you ever feel like exploring the island or its surrounds, the hotel can even help you tailor excursions around the island.
Rates start at USD 940.20 during low season, click here to book.
Patong
Pulse of Phuket. It's big, bold and bright. Party rockers, you will definitely enjoy Patong. As one of the most popular beaches in Phuket, it's hard not to feel Patong's hustle and bustle with a hive of activity in every corner. It would be really hard to fathom that this was once Phuket's most remote beach. Beach babies love Patong for two things: the two-kilometre stretch of golden sand and its wild and worry-free night scene. In Patong, you can watch the world go by: it's a tourist mecca with travellers sunbathing on the beach, boutique hotels and modern accommodations, world-class restaurants, a renowned diving site, spas and masseuses in every corner, ladyboys dancing on-stage, and countless bars clustered in the street. Need we say more that this is the party capital of Phuket? If you feel this is all too much, head under the bridge and breathe in fresh air as you watch old-fashioned fishermen going about their daily routine. It's picture perfect.
DO:
1. Watersports come in abundance at Patong—parasailing, waterskiing, wakeboarding, kayaking, windsurfing, jet-skiing (most jet-skis are not insured and scams exist here so be warned). Looking for open wind? Beginners can catch a wave and surf at Patong Beach's north end.
2. Hit the clubs and explore the night scene over at Bangla Road—there are tons of bars in the area and don't get weirded out when friendly girls with big smiles encourage you to have a drink and play few silly bar games.
3. Nursing a hangover? Ease your sore temples and have a Thai massage on the beach!
4. In case of rain or should you need a break from the active beach scene, head over to Jungceylon, the largest mall in Phuket, for foot spa (try the fish spa!), bowling (they have 12 lanes!), 4D mini movie theatre, or a blue facial treatment for USD 10.
EAT & DRINK:
1. Seduction – Hit the dance floor and share a bottle with friends. Location: Bangla Road, Patong; party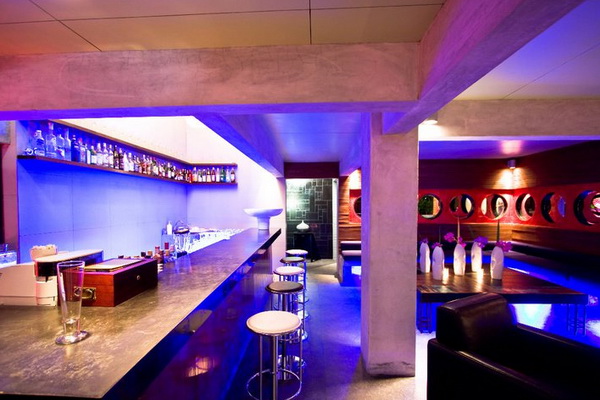 2. Nine Lounge and Bar – A stylish remodeled mansion with surrounding gardens set the stage of this lounge frequented by expats and tourists. Location: Soi 7, Kalim Beach, Patong; drinks
3. Sound – An offshoot of Bangkok's Bed Supperclub, this eardrum shaped bar has superb sound system that will make you party the night away. Location: Jungceylon Shopping Complex, 193 Rut-U-Thit 200 Pi Road, Patong; party
4. Joe's Downstairs – Cool white décor with comfy lounges. Great for tapas, sunset drinks and Mediterranean-inspired food. Location: 223/3 Prabaramee Road, Kalim Beach, Phuket; lunch, sunset cocktails, dinner, nightcap; mains from USD 19.
5. Acqua – This upmarket Italian resto is trendy, chic and cutting-edge. Must-tries include the sea bass fillet cooked in Vermentino wine, with fresh artichokes, potatoes, cherry tomatoes and capers. Yummy seafood, indeed! Location: 322/5 Prabaramee Road, Kalim Beach, Phuket; dinner; mains from USD 45.
6. White Box – An elegant and white-washed beach restaurant that serves fusion Thai-Euro food, but we recommend having tapas and cocktails at their rooftop bar. Location: 245/7 Prabaramee Road, Kalim Beach, Patong; dinner; mains from USD 17.
7. The Blue Elephant – Set in Phra Pitak Chinpracha Mansion, this resto is a historic 105-year old landmark serving authentic Thai cuisine prepared by world-renowned star chef Khun Noroor Somany Steppe. Location: 96 Krabi Road, Patong; dinner
SHOP:
1. For leather lovers out there, pay Friendship Store a visit. They can make you shoes, jackets and bags.
2. Patong OTOP is your typical market for touristy things—souvenirs, shirts, shawls, and knock-offs.
STAY:
1. La Flora Resort Patong. 39 Thaweewong Road, Patong Beach, Kathu, Phuket
This is the only boutique resort in the central Patong Beach area that offers you the convenience and luxury of having your own pool villas, stylishly designed accommodation, distinctive dining and spectacular panoramic views all in one place. Plus it's only a stone's throw away from all the action at Patong Beach. Choose from a selection of 67 luxurious rooms, suites and pool villas with a unique modern style and all the amenities a jet-setting traveller would ever need. The on-site facilities are all top-of-the-line as well, including exotic food and drink establishments and a fully equipped spa.
Rates start at USD 260 during low season, click here to book.
Kamala
Keep Calm and Kamala On. Kamala is the anti-thesis of Patong. It is a quiet, calm and sweet haven of coral sand embraced by coconut palms south of Bang Thao. This area of Phuket suffered some of the worst destruction during the 2004 tsunami (some drivers and shop owners still share their stories), but Kamala has sprung back to life. Kamala is home to many luxury private pool villas and suites, and despite the occasional noise from jet-skis, this large sandy beach is peaceful enough all year round. The Kamala Beach is said to be one of the best for swimming in Phuket. So go on, have a breather and dip your toes in its clear and sparkling waters.
DO:
1. Located in the south end of the beach, check out Kamala Wat's beautifully decorated walls, which depict the story of Buddha. Standing in the garden, a memorial tree serves as a dedication plaque for what was lost in the tsunami.
2. Visit Phuket FantaSea, a lively cultural show and theme park that shows off Thailand's rich heritage. The park operates daily except Thursdays and opens at 20:30.
3. On the way heading to Kamala Beach, you can stop for a scenic and hill view trek riding an elephant for 45 minutes. Camp Champ Kalim offers this activity for USD 35 (adults) and USD 22 (kids).
4. Kamala is a fantastic swimming beach. Frolic under the sun or snorkel in the north end where you will find a fair-sized coral reef. (Mind the flags: Red means it's not safe to go for a swim!)
5. For a great snorkeling experience, hire a boat and check out the spots in Ao Yon, Racha Island. But if you want to go for an excursion (the ultimate!), visit the Phi Phi Islands or even further away, the Similan Islands.
EAT & DRINK: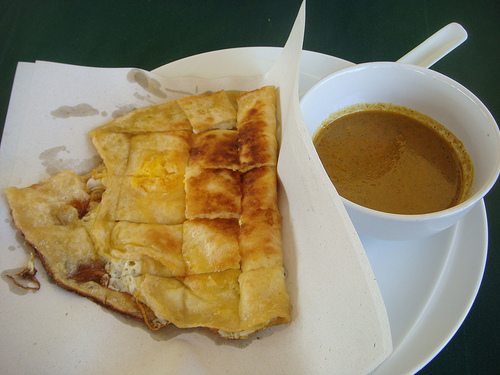 1. Chef Roti – Look for this stand and order roti filled with egg and fruit topped with condensed milk. Yummy snack! Location: Near the Coconut Garden bungalows; quick eats; less than USD 1.
2. Two Chefs – It has a relaxing atmosphere and serves international food, modern Thai food, fresh seafood and Mexican specialties. Location: Icon Park Condominium 9/96,9/97,9/98,9/99 Moo 6, Kamala, Kathu, Phuket; breakfast, lunch, dinner; mains from USD 15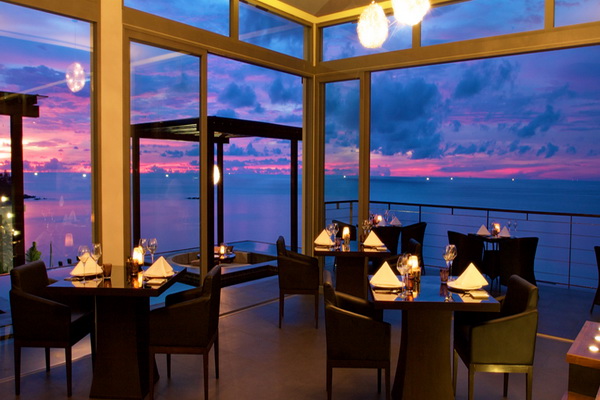 3. Plum – Casual and chic at the same time, this restaurant features home-style Mediterranean cooking. The original fisherman's risotto is a classic. Location: Inside Cape Sienna Hotel & Villas, Kamala Cliff, Phuket; dinner; mains from USD 19
4. Vanilla Sky – Sunset cocktails is the name of the game here. Enjoy spicy lamb tapas and vanilla tiramisu as you watch the sun go down in this cliff side bar and lounge. Location. Within Cape Sienna Hotel & Villas, Kamala Cliff, Phuket; sunset cocktails and drinks; pica pica from USD 4
5. Duck Spicy – If you're in the mood for real Thai flavours, check out this small and simple restaurant offering a good range of spicy stuff such as som tam (spicy papaya salad) and laab ped (spicy duck salad. Location: Kamala Road, Kamala, Phuket; lunch and dinner; mains from USD 2
6. Silk – Experience Thai fine dining within sumptuous surroundings. Their specialties include goong sarong (deep-fried prawns with crispy rice noodles). Don't be surprised with its unusual presentation. Location: Within Andara Resort & Villas; lunch and dinner
7. Rockfish – Good for casual lunch, dine al fresco and order the Rock Lobster & Pomello salad and the Australian beef burger from its modern eclectic menu. Location: 33/6 Kamala Beach Road, Phuket; all-day dining with kids menu; mains from USD 22
SHOP:
1. Kamala is not so big in shopping, but there are convenience stores around for your basic needs.
2. Located across Phuket Fantasea, catch the Friday Market (similar to the local village market) and score some fresh fruits and veggies as well as clothes, accessories and handicrafts. CDs and DVDs are also sold here, but we wouldn't advise you to pick up a copy.
3. There are more shopping options in Patong, which is only 20 minutes away.
STAY:
1. The Naka Phuket. 1/18, 1/20 Moo 6, Kamala, Kathu, Phuket.
Beachfront chic: this exclusive, tranquil heaven on Kamala beach comprises of 94 uniquely designed luxury villas, each boasting 180º panoramic ocean and mountain views. Beautifully integrated into tropical gardens along the beach, The NAKA brings in the elements of water, sky and earth in order to revitalise balance. Swim in your private infinity pool overlooking the ocean, bathe underneath the stars in the outdoor stone bath and shower, savour breathtaking sunsets from the comfort of your villa and revel in the discreet service and privacy of its staff. You might never want to leave.
Rates start at USD 736.40 during low season, click here to book.
2. Paresa Resort Phuket. 49 Moo 6, Layi-Nakalay Road, Kamala, Katu, Phuket.
Translates as "heaven of heavens" from Sanskrit, Paresa is nothing short of divine. Set in what could pass for the Garden of Eden, the 49-luxury pool villa and suite resort is built around magnificently preserved Banyan trees and basks in the warmth of golden sunsets dipping into the Andaman Sea. The Frank Lloyd Wright-inspired organic architecture and simplicity of Southern Thai interior design are spot-on luxury while the fibre optic-lit infinity swimming pool sets a dramatic backdrop for al fresco dining. You won't want to head back to reality after this Kamala beach paradise.
Rates start at USD 550.50 during low season, click here to book.
3. Andara Resort & Villas. 15 Moo 6, Kamala Beach, Phuket.
Nestled in the lush tropical hillside above Kamala Beach on the pristine west coast of Phuket, the Andara is just a short drive away from Phuket's International Airport. Choose from a collection of 63 deluxe pool villas and spacious residence suites, each offering varying levels of sinful opulence to those who crave it. With lavish ensuite facilities and amenities set within the well-designed decor, you can be sure that your stay will be an unforgettable one. The resort is also equipped with other topnotch facilities, including a beach club and even two private yachts! How's that for the ultimate Phuket holiday destination?
Rates start at USD 1002.60 during low season, click here to book.
Surin
The Celebrity Haunt. Lined with tall Casuarina trees and humble Thai restaurants, Surin is just 20 minutes away from Phuket International Airport. Surin is naturally beautiful and known for its 'Millionaire's Row,' with celebrity haunts, private homes and villas dotting the area amongst luxury resorts. Luxe accommodations sit proudly on top of the hills overlooking the Andaman Sea and although this part of town is not as popular with tourists, it's fine white sand and turquoise waters make this a very picturesque destination.
DO:
1. Shop til you drop at the Plaza Surin or explore the stores over at Cherngtalay.
2. Surin Beach is home to five-star spas such as Surin Thai Spa. Experience Thai massage, foot massage and oil massage as well as Thai herbal sauna.
3. You can snorkel here in the dry season from October to April around the headland at the northern end and out to the headland at Pansea Beach.
EAT & DRINK: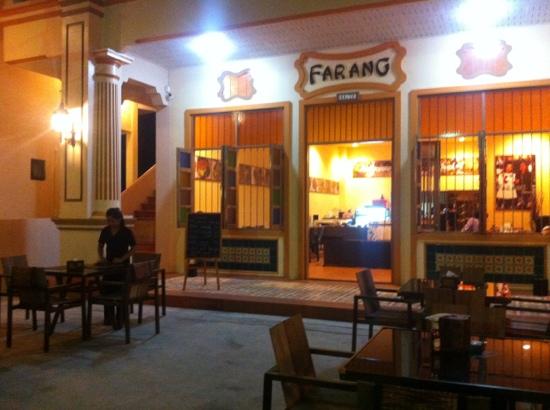 1. Farang – One of the locals' favourites for great burgers, pasta and fusion food. Location: Surin Beach; mains from USD 14
2. Opus One – Ideal for romantic dinners or just a quiet drink at the bar. Try their European Turbot, pan roasted and served with braised fennel, steamed asparagus, celeriac mash and a light morel mushroom sauce. Location: The Plaza Surin, 5/50 Cherngtalay, Talang, Phuket; 6pm to 1am; mains from USD 25
3. Cudos – Enjoy fresh salad and fish away from the busy beach area. We heard they have a great wine selection! Location: 117 Moo 3 Srisoonthorn Road, Cherngtalay, Talang, Phuket; dinner; mains from USD 25
4. Pla – Good seafood barbeque on the beach. Location: Surin Beach; brunch and dinner; mains from USD 20
5. Taste – Both a restaurant and gallery, it's a lovely place to be in at sunset. We love their Cold Summer Salmon appetizer
– Poached fresh salmon w dill sauce and cucumber pickle. Location: Surin Beach; lunch til late; mains from USD 20
6. Catch Beach Club – Its fun and fabulous seaside dining makes this a hit amongst travellers. Expect salads, pizzas, pastas, shawarma and rotisserie selections while listening to funky house music. Location: Surin Beach; breakfast til late; lunch buffet from USD 31, dinner buffet from USD 40
7. Indochine Surin Beach Club & StereoLab – Think scenic beach, vast terrace with loungers and cocktail on-hand. Location: Surin Beach South; 11am to 2am; drinks
8. Bake – Take a break from Thai food and enjoy this patisserie for your favorite coffee, pastry and brekkie. Location: 58 Lagoon Road, Cherngtalay, Talang; 7am to 7pm; from USD 10
9. Lotus – Expect fresh and tasty seafood such as lobster, sea bass, groupers, tiger prawns while enjoying the panoramic view of Bang Tao bay. Location: Bang Tao Beach; lunch til late night; mains from USD 30
SHOP:
Cherngtalay & Plaza Surin
1. Looking for something dressier to wear at party or perhaps, a wedding? Visit M Boutique at the Plaza Surin for dresses made of silk chiffon, sun hats, stone necklaces and leather bags.
2. For gypsy-inspired resort wear, head over to Dharma Bun.
3. Pay a visit to Art of Living for antiques and artefacts.
4. Lemongrass House has exceptional handmade spa products, which you can bring home as gifts.
5. The Plaza Surin is a three-storey one-stop-shop for stylish resort wear and chic home accessories. Must-visits include: Andara Boutique, Lamont and Lola.
STAY:
1. The Surin Phuket. Pansea Bay 118 Moo 3, Phuket
An exclusive beach retreat, The Surin Phuket welcomes couples and families to enjoy their unique beachfront setting on the tranquil west coast of the island. Having just been renovated by its original designer Paris-based Ed Tuttle, the resort offers 103 hillside and beachfront cottages and suites with a classic modern feel, yet still maintains its Thai culture in the decor with lush green, saffron and gold fabrics inspiring the design. Set within a carefully conserved landscape (it has its own small coral reef!), The Surin really is a tropical island paradise that you'll not want to leave.
Rates start at USD 319.50 during low season, click here to book.
Phang Nga
The Scenic Route. A melting pot of Buddhists, Thai-Chine, Muslims and sea gypsies, Phang Nga is a coastal province with scenic forests and islands on the Andaman Sea. Its natural beauty emanates both onshore and underwater: it is probably best known for its distinctive limestones and sheer emerald green water with Koh Panyee and James Bond Island as Phang Nga's most famous spots. Travellers love to stay at the unspoiled Bang Niang beach where luxury villas and resorts are peppered in the area.
DO:
1. Attractions near the city are: The elephant mountain (temple), Sanong Manora waterfall, Somdet Phra Srinagarindra Park. Further away are: Namtok Lamru a 5-tiered waterfall, Khao Lak (beaches), Ko Similan National Park (diving & snorkelling), Ko Surin National Park (diving & snorkelling).
2. There are also jungle tours with rafting and temple tours.
3. Ko Ra is a beautiful island on the Northern Andaman Coast. You can do ecological tours and explore the lush green forest on the island.
EAT & DRINK: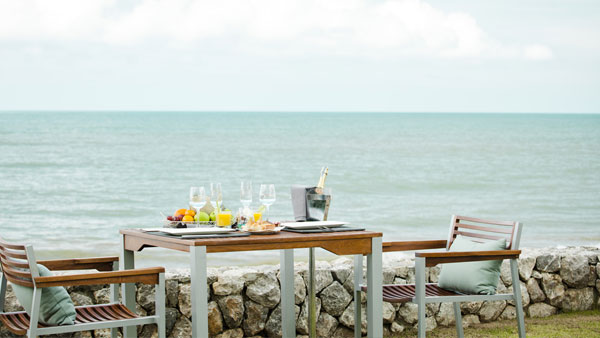 1. La Aranya – Think international menu with a Thai twist, using only premium and fresh ingredients, refined techniques and served with a healthy dose of Thai hospitality. Location: Inside Casa de la Flora, 67/213 Moo 5, Khuk Khak, Khao Lak, Phang Nga; breakfast, lunch, dinner
2. Ingfah – It has a minimalist open-air design, providing a unique ambiance where you can enjoy food and drinks while listening to chill-out music underneath the stars. Dine under the canopy or beneath the stars in one of the modern cube-shaped salas on the beautiful lawn. Location: 67/213 Moo 5, Khuek Khak, Khao Lak, Phang Nga; drinks; from USD 14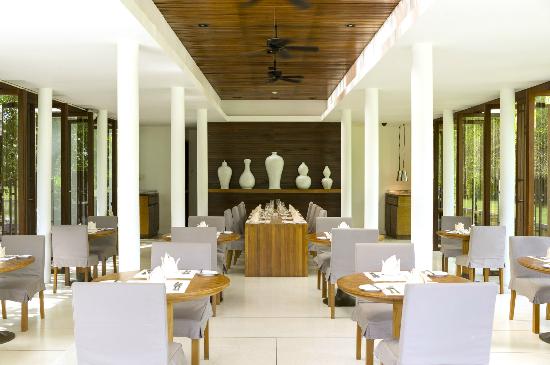 3. Ficus – Gourmet dining under an age-old Ficus tree, beside the shimmering Andaman Sea. Expect Mediterranean cuisine with a twist. Location: Inside The Sarojin, 60, Moo 2, Kukkak, Takuapa, Phang Nga; all-day dining
STAY:
1. Aleenta Phuket – Phang Nga Resort and Spa. 33 Moo 5 Tambol Khok Kloy, Amphur Takua Tung, Na Toei, Phuket
A gorgeous boutique hotel that offers a wide range of luxury accommodations including: pool villas, ocean view lofts as well as luxury private two- and three-bedroom beachfront villas, all with beautiful sea views and just a stones' throw from the white beach. Located on the sunset side of the Andaman Sea, the Aleenta Phuket is ideally placed and is just a short 20-minute drive north of the Phuket International Airport. This luxury property is also just a short distance from the Blue Canyon Golf Course and the picturesque Phang Nga Bay.
Rates start at USD 378.70 during low season, click here to book.
2. Casa de La Flora. 67/213 Moo 5, Khuk Khak, Takuapa City, Phang-Nga
Named as one of the best new hotels on Conde Nast Traveller's Hot List 2012, Casa de La Flora is one heck of a luxury resort. The 36 cubic-form villas are located in Khao Lak in the Phang Nga province, bringing cutting edge cool to the unspoiled Bang Niang beach. Designed by VaSLab Architecture, this beachfront beauty's metaphorical design (and name) is based on how each villa emerges from the ground and 'blooms' to reach the daylight. You'll find deviated walls, tilted roofs, glass-fronted villas, concrete surfaces, natural stone walls, wooden floors and ceilings as well as tapered elements that widen the rooms' perspective frames when looking outward to sea. Get your tan on in the chemical-free infinity pool, snuggle up in designer custom-made furniture, admire the T.R.O.P-designed landscape and abstract lighting by APLD. Our fave feature? Exclusive in-room check-in and the 10 beachfront villas, which boast 24-hour personal butler services, state-of-the-art entertainment, private swimming pools and maximum views of the ocean.
Rates start at USD 317.50 during low season, click here to book.
FAST FACTS
WEATHER
The best time to visit Phuket is during the cool northeast monsoon season, from December through March, when it isn't so humid. The average temperature is around 24° to 32°C. The hottest time is from April through May with temperatures ranging from 27°C to 36°C. There are frequent short heavy thundery showers, offering welcome relief from the temperature and humidity. While high season is from November to March, locals enjoy June, July and August since the weather is usually fine and the island's favourite haunts remain uncrowded. The usual pattern is brief but heavy showers, with plenty of sunshine between downpours. Everything is a little less expensive at this time of year, as well. Temperature ranges between 20° and 33°C.
THIS WAY, PLEASE!
Airport: Phuket International Airport (HKT)
Visa: For many tourists it is not necessary to apply for a visa beforehand if you come from a country that is eligible for a Visa Exemption and are not going to be in the country for more than 30 days. Other tourists may be able to apply for a Visa on Arrival, which costs around USD 31 (1,000 baht) and is valid for 15 days. For everyone else, and for those wishing to stay longer in the country for purposes of tourism or leisure should apply for a 60-day Tourist Visa from the Royal Thai Embassy or consulate in the country where you reside. For assistance and other tourist info, visit the Ministry of Foreign Affairs website.
Flights: 
Thai Airways, Bangkok Airways, Air Asia, Nok Air, One-Two-Go Airlines, Silk Air, Tiger Airways, Jetstar, Singapore Airlines, China Airlines, Dragonair Room, Korean Air, Malaysia Airlines, Happy Air
Getting Around: 
– Phuket is notorious for taxis that will totally rip you off, so it's best to hire a car and driver for around USD 50 for eight hours per day. Check out davidcarrent.com or worldrentacarphuket.com.
– Take note that gas stations in Thailand are usually open from 8 am to 9 pm only. So if you're partying or staying out late, don't forget to stock on petrol. Don't buy from vendors selling gas at the roadside, pumping the gas by hand from barrels, or selling it by the bottle.
– If you choose to take the scenic (and physical) route, rent from the Talang Bike Shop, which is trusted by bike enthusiasts. Tel: +6676274352
– If you must take a taxi, expect to pay up to USD 16 (500 baht) depending on your destination.
OFF THE BEATEN TRACK
1. The laid-back village of Rawai, near the island's southern tip, has emerged as an enclave for talented local artists. A cluster of small studios and galleries, like the Love Art Studio, form the Art Village.
2. For miles of untouched golden sand all to yourself, head to the blissfully deserted Mai Khao Beach, part of Sirinat National Park, along Phuket's northwestern shore.
3. The Similan Islands are not only one of the top diving areas in the world, but they also have plenty to offer land lovers too. There are nine islands but Koh Similan (island number 8) is the most popular for visitors.
4. Ko Tachai is considered part of the Similan Island National Park, but it is not one of the Similan islands. The beach on Ko Tachai is considered to be one of the most beautiful in the world.
5. Koh Rok is nearer to Koh Lanta than Phuket, but it is certainly worth the visit. The facilities here are minimal and those who want to stay will need to camp. (Perfect for Adventure Nomads!)
6. Coral Island is just ten minutes away from Chalong Bay by speedboat. This is a particularly good destination if people are interested in snorkeling.
MINI NOMADS
1. Children will love finding not only Nemo here, that's for sure. There are over 30 tanks in the Phuket Aquarium where you can check out cuttlefish hover like spaceships or razorfish that look like sinking sticks.
2. Kids will surely enjoy the thrill of putting their driving skills on a challenging racing track as they zoom around the course. Patong Go-Kart Speedway have single and double karts plus helmets are available and there are floodlights for evening races.
3. Go elephant trekking on the hills above Chalong with panoramic views over the east side of Phuket Island.
4. Located on the hills overlooking Kalim Beach, participants at Zorbing at Rollerball descend a 190-metre hill track inside a three-metre diameter flexible plastic ball.