You may or may not be loaded like Sir Richard Branson and boast your very own Necker Island (we're going to go with the latter), but if you've ever wanted to splurge on (let alone OWN) a private island getaway with a bunch of friends, you're going to have to cough up some serious dough.
That's right, we're talking major leagues here. You know, rubbing shoulders with the likes of Gwyneth and Chris (of 'conscious uncoupling' fame), tech giant Larry Page, limber-limbed Mick Jagger, Robert De Niro (you talkin' to me?) and occasionally, even Kate and Wills. Sounds exciting, right? Here's a sneak peek at what you're in for.

Musha Cay, The Bahamas
Who: David Copperfield. Remember the magician who made the Statue of Liberty disappear, or walked through the Great Wall of China? Thought not.
What: In any case, David Copperfield did one thing right, which was  buy Musha Cay, a 150-acre getaway right smack in the Bahamas, with his magic millions.
We love:  It only has 5 houses, but it is surrounded by 10 other islands (one of which has a landing strip for bigger jets), also owned by the illusionist earning the nickname Copperfield Bay. There's a beach cinema, a secret village accessible only by an underground tunnel, the Musha Olympic Games, floodlit tennis court, a billiards table once owned by the great Houdini and a total of 40 beaches.
The catch: It only costs USD 39,000 a day for up to 12 persons with a 4-night minimum. Abracadabra, money appear!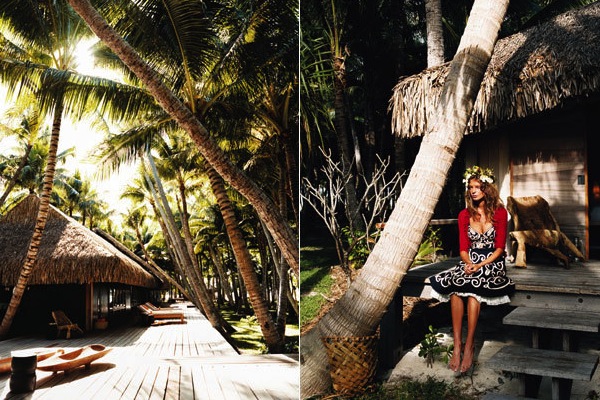 Motu Tané, French Polynesia
Who: François Nars (founder of Nars Cosmetics) bought this beautiful tropical paradise in the late '90s while holidaying near Bora Bora, French Polynesia.
What: Motu Tané (translated as "island of universal love") has evolved from a desert island to a laidback lap of luxury (Nars spends up to 6 months a year there).
We love: Having partnered with Christian Liagre to create chic interiors, landscape architect Pascal Cribier and even an Australian ecologist to ensure minimum damage to the environment, the island stays true to its roots, featuring Tahitian lobster feasts and local dancers, in addition to the 26ft Boston Whaler, submarine tours, and 13 thatched wooden bungalows made from antique teak, African and Thai woods.
The catch: If you're not model Daria Werbowy, photographer Patrick Demarchelier, makeup artist Gucci Westman or amongst the fashion set, you might not have a chance to stay. That, or pay in the range of USD 30,000 – 45,000 per night.
Fregate Island Private, Seychelles
Who: Owned by a German businessman so private he refuses to reveal his name.
What: You may want to head to North Island like the Duke and Duchess of Cambridge, but we think Will Smith and Pierce Brosnan favourite Fregate Island Private in the Seychelles boasts much cooler cred.  Featuring superb facilities amidst talcum powder-like sand, 17 traditional-style thatched villas made from native mahogany dotting the island alongside seven beaches, private butler service, spa, a wine cellar, boutique and gallery, library, fitness centre, private gardens, as well as two restaurants and two bars.
We love: The aptly named Pirate Bar and the colonial-style Plantation House for the best barbecues. Also, the fact that we can frolic around in our birthday suits without getting busted.
The catch: You won't get transportation or all-inclusive rates here though, but then again, if you've got upwards of USD 10,000 minimum to spare you shouldn't be complaining.
Dolphin Island, Fiji
Who: Dutch hotelier Alex van Heeren of The Huka Retreats.
What: At only 14-acres, this little holiday home packs a huge punch. Located just off Fiji's main Viti Levu island, Dolphin Island is an exclusive-hire four-roomed retreat that reads rockstar all over.
We love: It's not just Kiwi Virginia Fisher's chic interior styling; you'll also love the traditional palm-thatched roofs topping the picturesque bure suites dominated by bold colours, textures and patterns of the South Pacific, a romantic hill-top open-air boudoir for the best in luxe glamping, spa treatments using local plants and oils, fresh and local food hosted by Fijian Dawn Simpson, wakeboarding and fishing facilities, all culminating in your perfect luxury castaway experience.
The catch:  You'll have to take a private boat transfer over from Ellington Wharf, or you know, fly in, with your helicopter (obviously). However, the rates are relatively affordable, starting from USD 1,373 per person per night.
Coco Privé Kuda Hithi, Maldives
Who: Privately-owned by a Maldivian.
What: Set atop a vast underwater mountain range, Coco Privé is just one of the many islands resorts that make up the tranquil island nation of the Maldives. You'll get to take a step up and away from lesser mortals and book out the whole island which is furnished with one master residence and five additional villas to accommodate 12 guests in total.
We love: Known for its spectacular uninterrupted views of the Indian Ocean and its slick blend of modern and natural design and interiors by award-winning architect Guz Wilkinson, Kuda Hithi Island also features on-call chefs, yachts, kayaks, speedboats and 24-hour spa therapists!
The catch: Oh, you'll only have to fork out about USD 33,000 per night during peak season!
Parrot Cay, Turks and Caicos Islands
Who: Owned by Christina Ong of COMO Hotels & Resorts.
What: This 1,000-acre private-island hotel doesn't have a reputation as a celeb magnet for nothing. Getting there is a little convoluted – thanks to a 75-minute flight from Miami or Nassau, followed by a 30-minute boat transfer, but once you get there – bliss, and far from everything and everyone (which is the point, really).
We love: Parrot Cay is a perfect colonial-style paradise. Think beautiful white structures complemented by tropical accents. Highlights are their teak, cane and rattan furniture, white stretch of powder-soft beach, understated glamorous vibe, plus the stunning lagoon-facing COMO Shambhala Retreat for all your spa needs. You could stay at the resort's normal rooms, suites or beach houses, or if money isn't an object, head to the Estates where three- to seven-bedroom villas are tucked away on a more secluded part of the island. Each villa is privately owned, with Donna Karan, Keith Richards, and Bruce Willis among the reported resident list.
The catch: It's time to get social-climbing, Nomads. Unless you're guests of the A-list owners, you'll have to settle for paying from USD 550 per night, and that's just the Garden View Room.
Peter Island, British Virgin Islands
Who: Owned by the Van Andel family (of Amway Corporation fame).
What: It may not have the most glamorous of names, but Peter Island is the largest private island in the British Virgin Islands.
We love: The 1,800-acre island is everything a tropical island should be – jungles, mountains, beaches and private coves to rival Robert Louis Stevenson's Treasure Island. Even the island's main beach is called Deadman's Bay. Actor Robert De Niro has stayed in one of its private villas, and footballer Rio Ferdinand celebrated his nuptials here – booking out the entire 32 rooms, 20 junior suites and three villas.
The catch: If it's good enough for De Niro, it's certainly good enough for us, but you might need to pull a couple of strings and burn a hole in your pocket to the tune of USD 3,500 – 18,500 per night for a private villa, depending on the season.
Inspired to holiday like a jetset gazillionaire? Check out our latest flash sales here!