We've just added a stunning selection of new Greece villas on to TheLuxeNomad.com! Check them out here:
#1 Blackrock Villa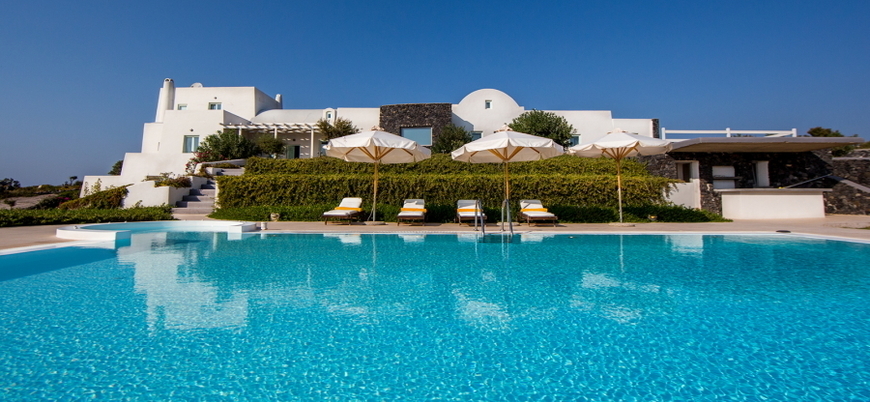 Where: Akrotiri, Santorini
What: Blackrock Villa is a stunning 5-bedroom villa located on a cliff-top area close to the famous Lighthouse of Santorini. This beautiful white-stone building, influenced by a blend of modern and traditional Cycladic architecture, ranks high amongst the countless stunning residences scattered across this sensational island. Spread over 3 levels with several living and dining areas providing a choice of secluded indoor hangouts, giving guests shelter from the baking South Greek sun. Meanwhile, the ground floor houses a large salon, two smaller lounges along with an open-plan kitchen and dining area, plus a large bathroom with bathtub. Each of the 5 bedrooms feature an en-suite bathroom, as well as stunning views! Outside, guests can relax, sunbathe or dine while savoring the tranquil blue expanse of the Aegean and its astonishing evening sunsets. There is an outdoor heated pool, plus a Jacuzzi and BBQ area to make your recreational time even more pleasurable.
Why: In keeping with its 5-star status, Blackrock provides a daily concierge service, breakfast and housekeeping services and transportation from/to the port/airport.
#2 Windmill Villas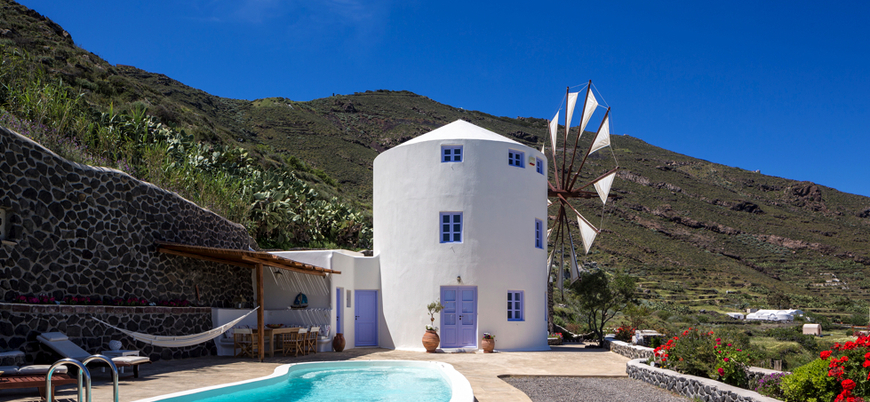 Where: Imerovigli, Santorini
What: Windmill Honeymoon Villa in Imerovigli is located at the top of the caldera cliff, with perhaps the most complete 360-degree view of the entire island. From its terrace one can enjoy an unobstructed view of the famed Santorini sunsets, volcano, Aegean sea, breathtaking Oia village views, the cosmopolitan center of Fira and the Port of Athinios. The location might make you feel like you are world's away, but the villa itself gets you settled right at home, with a twist – thanks to its comfortable modern furnishings and white wooden floors set in a remodeled traditional windmill, complete with a thatched roof. The unusual architecture lends itself to 50sqm in space and 3 circular storeys that allows you laze in a spacious living room with access to the circular terrace surrounding the mill. There is also a lounge with sofa downstairs, which can be easily converted into a double bed to accommodate another guest.
Why: The villa also has an on-site Cycladic chapel that can accommodate couples who dream of tying the knot in the stunning island of Santorini.
#3 Villa Timandra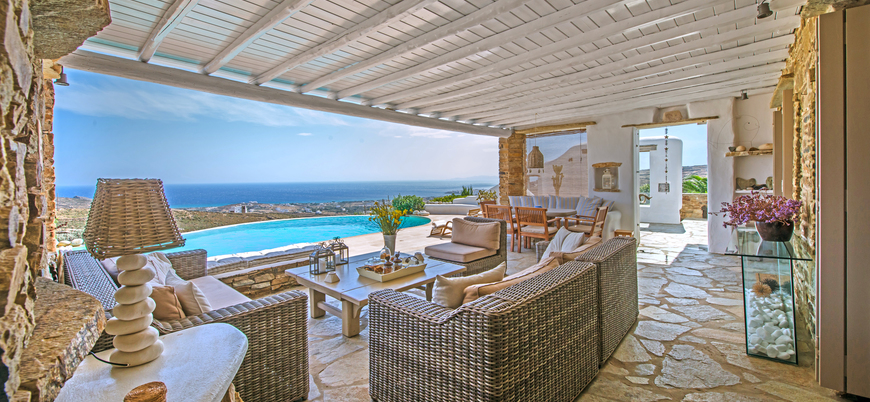 Where: Tinos, Greece
What: The beautiful Villa Timandra enjoys a high hilltop position, where it overlooks 2 of the most popular beaches of the island of Tinos, the bays of Agios Sostis and Agios Fokas. It's ideally situated, as it is only around 10 minutes by car from port Chora, Tinos's capital and Panagia Evangelistria – a beautiful and historic shrine that's the focal point of many pilgrimages and festivals, celebrating the reputedly miraculous icon of the Virgin Mary. The exterior design of the villa follows in the traditional style of Tinos but simultaneously offers all the comforts of a modern home. In fact, the building structures somewhat resemble the traditional whitewashed dovecotes that the island is famous for.
Why: Apart from its spacious and stylish 6 bedrooms, living and dining areas and 5 luxurious bathrooms, the property has many relaxation areas carefully designed to protect against the northerly gusts, with glass surfaces offering shelter but still giving guests unobstructed views of the surrounding area.
#4 Agia Thalassa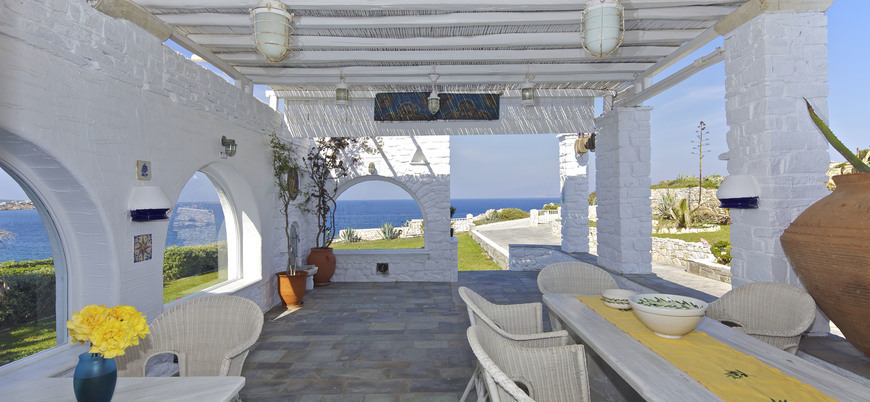 Where: Ambelas, Paros
What: Nestled in the fishing village of Ambelas, Agia Thalassa offers unparalleled views of the sapphire waters of the surrounding sea and the striking natural scenery. You'll find a spacious and charmingly furnished open plan living room and dining area that boast stunning views as well as a small kitchenette where guests can enjoy a quick espresso or aperitif. At the beautiful pool terrace, guests can enjoy a refreshing swim in the crystalline waters of the pool, and relax with an ice-cold cocktail as they soak in the sun while laying on one of the comfy loungers. The lower level of the house features a fully equipped kitchen.
Why: The natural stone, Cycladic architectural style, whitewashed interiors and traditional décor are beautifully combined with contemporary furnishings and amenities.
#5 Villa Hurmuses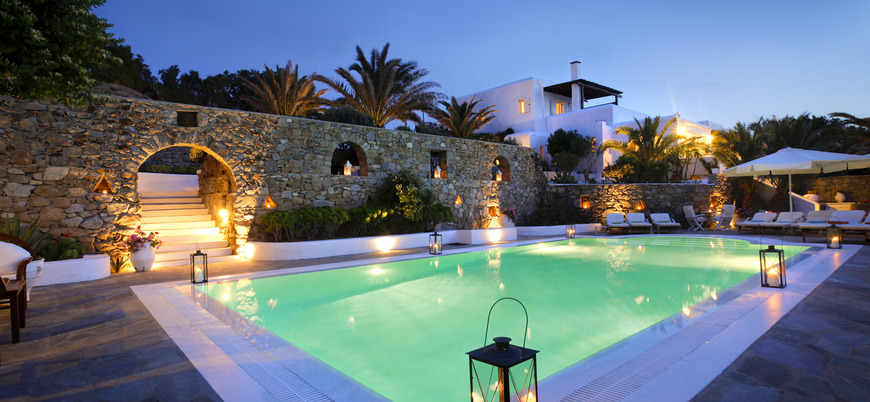 Where: Megali Ammos, Mykonos
What: This villa offers five-star services and luxurious accommodation for up to 10 people in 5 separate, stunning bedrooms – 3 of which are fitted with luxurious en-suite bathrooms. Enjoy sunbathing by the private pool, indulge your body with a soothing massage under the pergola, or sip cocktails against the backdrop of an unbelievably beautiful sunset or simply pamper yourself with the undivided attention from the staff in residence. The location is also unparalleled, conveniently situated within easy walking distance of the charming Mykonos town and a nearby beach and has wonderful views of the sunset, harbour and the main town.
Why: Condé Nast Traveller rates Villa Hurmuses as one of the top 20 Great Villas on the Greek Islands. And, for good reason.
#6 Villa Agi Lazro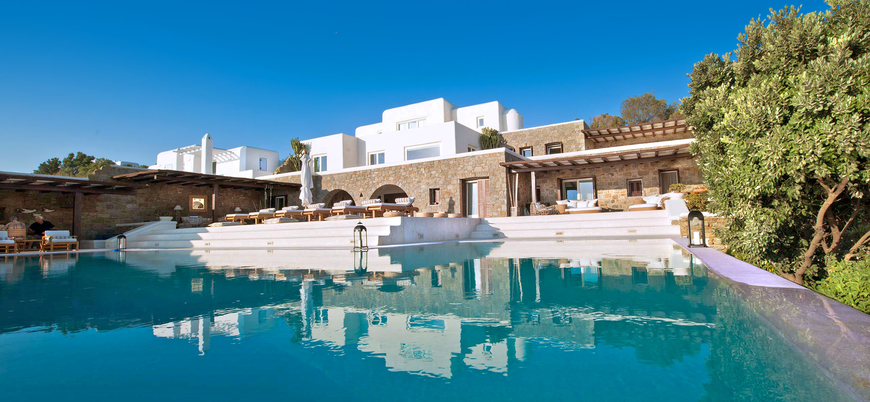 Where: Mykonos, Greece
What: Villa Agi Lazro is located in the prestigious and most sought after area of Agios Lazaros. It uniquely lies at a high point in the area atop a hill providing the most magnificent sunsets and views across the ancient island of Delos and way beyond. The hill behind gives it a vantage point, which also defines this property. It protects it from the famous northerly winds also known as Meltemi – a unique privilege for any property on the island. It is also home to 5 beautiful en-suite bedrooms, spacious living and dining areas and an infinity pool ideally constructed to blend in total perfection with the sea beneath. The property's owners being eclectic furnishing connoisseurs have meticulously decorated the property resulting in an unparalleled combination of elegance, luxury and modern design yet creating a laid back easy living environment.
Why: Magnificent views of Delos and daily sunsets abound without leaving the villa!
#7 Native Eco Villa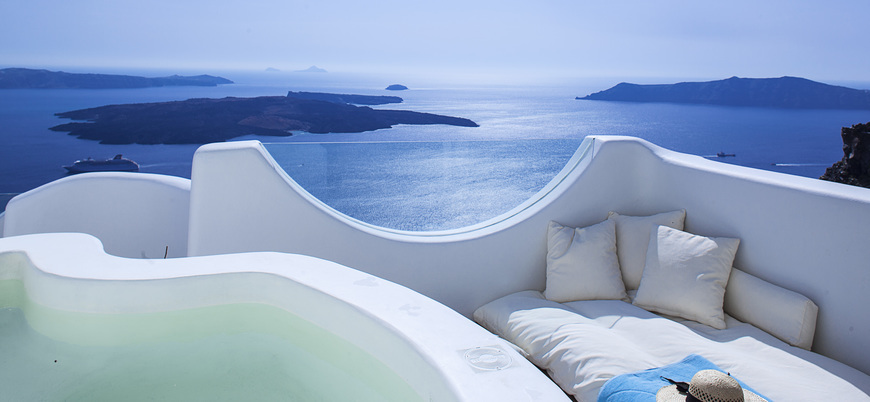 Where: Imerovigli, Santorini
What: Native Eco Villa is located right on the rim of a cliff at the village of Imerovigli. Its eco-friendly architecture is a perfect example of the beauty in a typical Cycladic style and colour. The 4-bedroom house is spread over two levels, connected by an indoor winding staircase that's actually set into the cliff rock. Its chic and spacious four bedrooms are fitted with their very own bathrooms, as well eco-friendly and comfortable beds and linens by Coco-Mat. If you're tired of admiring the wonderful view (which we doubt you will be), there are two freeform Jacuzzis which offer relaxation for guests, while technology features like WiFi and a media center with a satellite TV and DVD player keeps them connected.
Why: Native Eco Villa is located on a cliff-top setting at the village of Imerovigli, with the world's most beautiful scenery as a backdrop. Also, the Qatari royal family stayed here on holiday, so if it's good enough for them, it's good enough for us!
More Greek escapes right this way!