If you're still suffering PTSD from planning your wedding, are enduring the agonies of trying to plan one, or are considering popping the question but are put off by the thought of all that planning, here's a story to give you hope.
Max Johnson, a British entrepreneur based in Hong Kong, arrived at Indonesia's Nihi Sumba resort on Friday, proposed to his girlfriend, Gabriela Maia, a travel PR, on Monday and got married the following Sunday. The couple told no one except their parents, and had no guests apart from the resort staff. If you've ever dreamed of eloping in a tropical paradise, stress-free, read on to learn how they did it.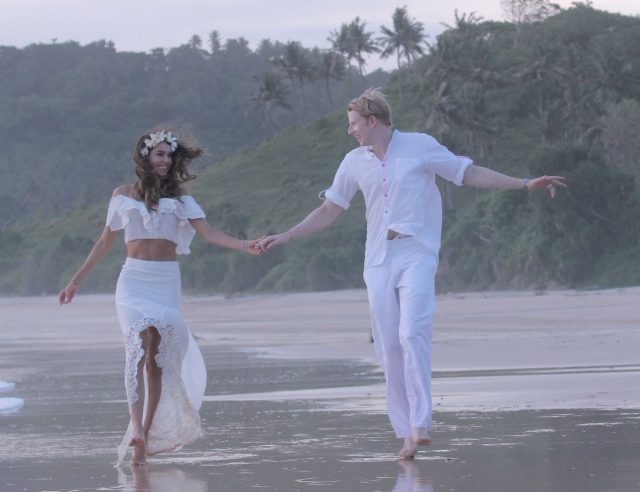 Don't be shy about asking for help
Even though they had no guests or wedding party to cater for, there was still plenty to arrange. "We had to plan things like the ceremony, music, our dinner and dancing," Max says. They asked the resort for help and within a day Nihi Sumba's team had a plan.
"It is one skill to organise a wedding but completely another one to do it within six days," Max says. "No words can describe the support. The hotel provided so many amazing people who did everything out of so much love. We felt like they became our family. The level of thought and detail in every experience, from getting the traditional local priests, the animals that the groom buys to give as a gift for the bride, the decorations with fresh flowers, candles, coconuts. The photographers with drones… we even had a special fireworks display."
Of course, it helps if your resort has been repeatedly voted the best in the world, and has a reputation for going above and beyond, so choose well.

Shop locally and use what you have
"We didn't have a lot of time," Max says. "Gabriela claims I asked her to find a dress in 30 minutes in Seminyak. She freaked out a bit and we spent a day riding around on a scooter, looking. Then she remembered that she was just given this amazing new skirt by her dear friend Mimi Ledo, the designer of BoAimeshop. Mimi is the person who actually set up our 'blind date' in the beginning."
Gabriela added some material to the skirt, matched it with a top bought in a local boutique and fashioned a bridal veil from fabric found at the market.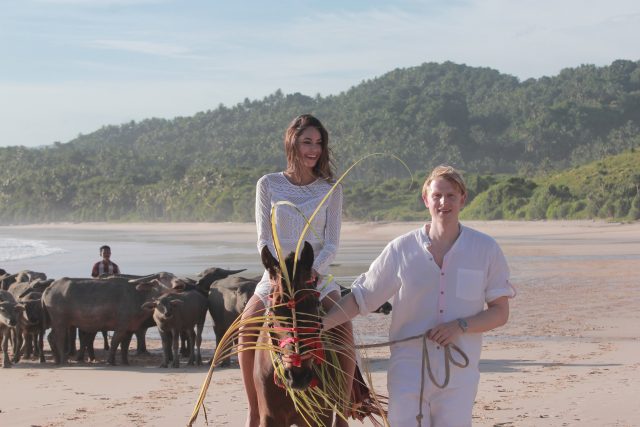 Embrace local customs, including the buffalo
Incorporating local wedding customs into your ceremony shows respect for the culture and makes your day even more special.
Max and Gabriela were married by priests from Sumba (they arranged to complete the paperwork once they returned to Hong Kong) and used local flowers and coconuts for their decorations. Gabriela wore a frangipani head piece made by the Nihi Sumba team, and Max got on board with traditional customs by donating a herd of 30 water buffalo and two prize horses to the bride. "We skipped the chicken sacrifice though," he adds.

Take a minute for the people who can't be there
The downside of eloping, of course, is not having friends and family there, so take some time to remember them.
"Family and friends weren't there physically but were in our hearts for sure," Max says. "We thought about our close friends and imagined having them there as bridesmaids and groomsmen. Gabriela cried, missing her bridesmaids and wishing they could be there to help her get ready and share the moment. Then the girls there gave her a hug and said 'We are your friends and are here to help you like your bridesmaids.' That made her cry again! And from there on she cried at every single step of the ceremony because she felt overwhelmed with love and care."
Go with the flow
Max's ultimate advice? "Just relax and go with the flow. There were so many moments that we thought, oh dear we weren't in control enough, but when we let it go we felt the emotion and pure happiness and appreciation."
Remember, it's also meant to be a holiday, so you should be relaxing anyway. And if you're at a great resort then the staff will be happy to take on the burden of planning.
In the end, the day was "a dream", says Max. "There were so many people behind the scenes doing everything to give us the perfect wedding day. We are forever indebted to them."
Ready to book your own romantic escape (or surprise wedding!) at Nihi Sumba?
Through its partnership with the Sumba Foundation, Nihi Sumba works to improve the lives of the people of West Sumba. The foundation has built four health clinics, reduced malaria infection rates by 85 per cent, developed more than 60 water wells and provides school lunches for around 1,300 children every day. To find out more, visit sumbafoundation.org.
Image credits: Dicky Here/Kemah Photography
Read more: 5 things to consider when planning your destination wedding