What does the perfect Maldives holiday entail? Endless access to those pristine aquamarine waters, for sure. And if you're lucky enough to take the journey on a seaplane, then the view as you coast over the atolls are incomparable. On top of that, there are luxury island resorts boasting stellar service, and incredible food. That should do it, no?
Read also: 10 Things You Need to Know Before Travelling to the Maldives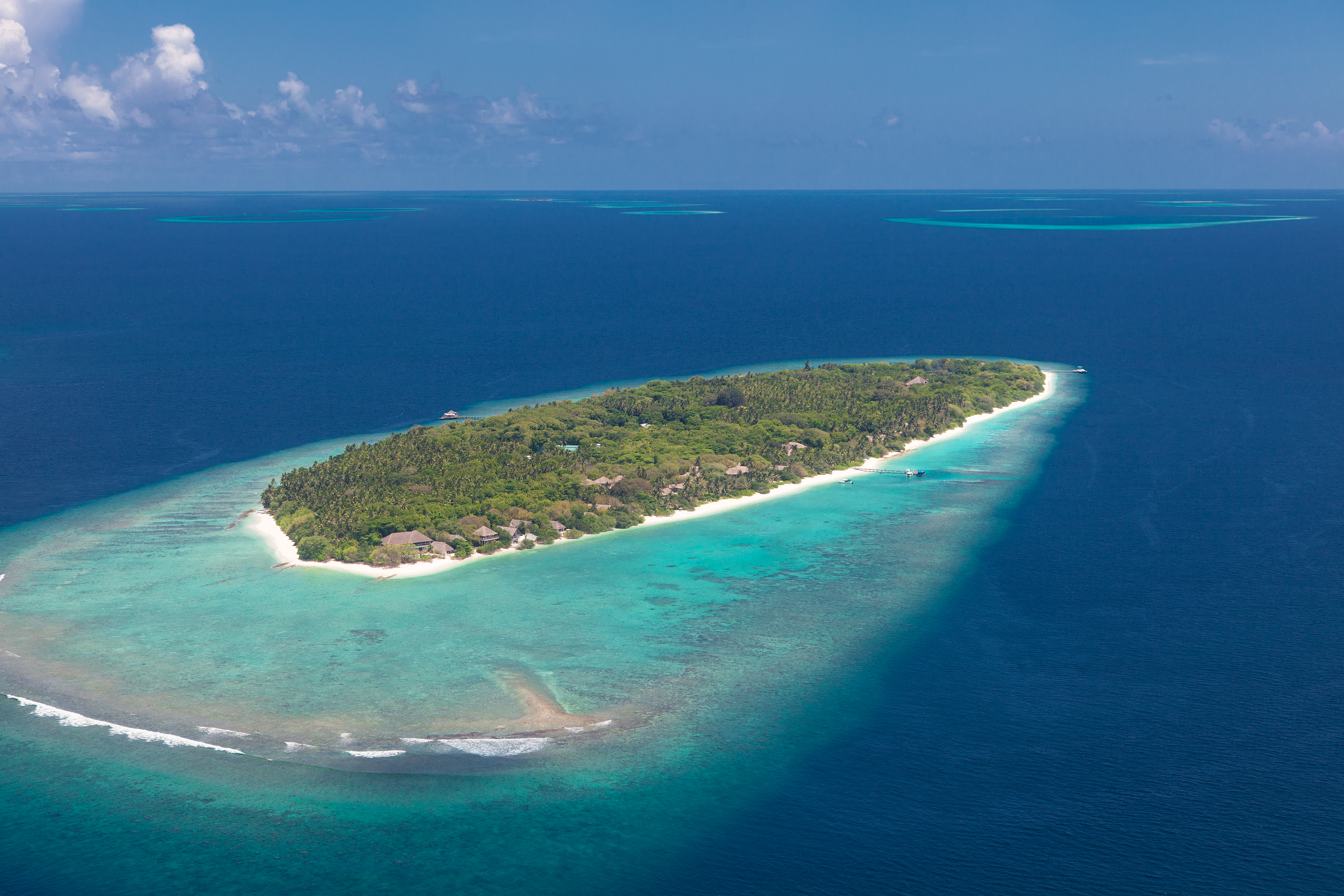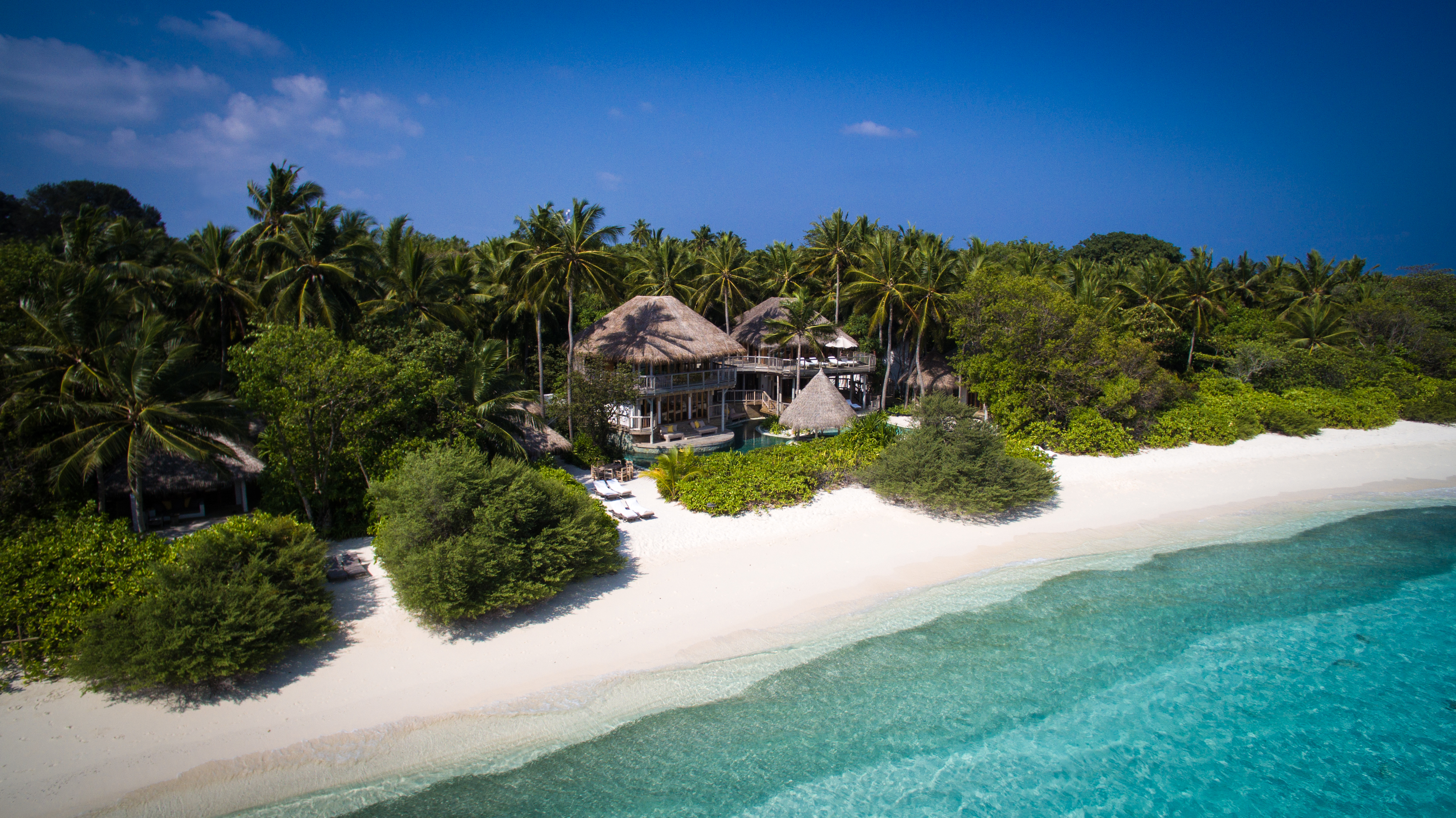 Why Stay Here? 
Offering more than just luxury, Soneva Fushi is also one of the leading eco-friendly resorts in the Maldives. Highly conscious about sustainability, the resort has its own waste management programme, producing organic fertiliser for its gardens; and a recycling plant to process everything from plastic, to wood and styrofoam. Glass from spent from mineral water bottles? They crush, melt and blow it into glassware and art pieces. You'll be hard pressed to find any plastic on the island – everything is reusable or recycled. That's right, cast your pre-conceived notions of questionable 'sustainable' travel aside, our Soneva Fushi review will show you a resort that knows what true commitment is, and they do it with all the luxury mod-cons in consideration.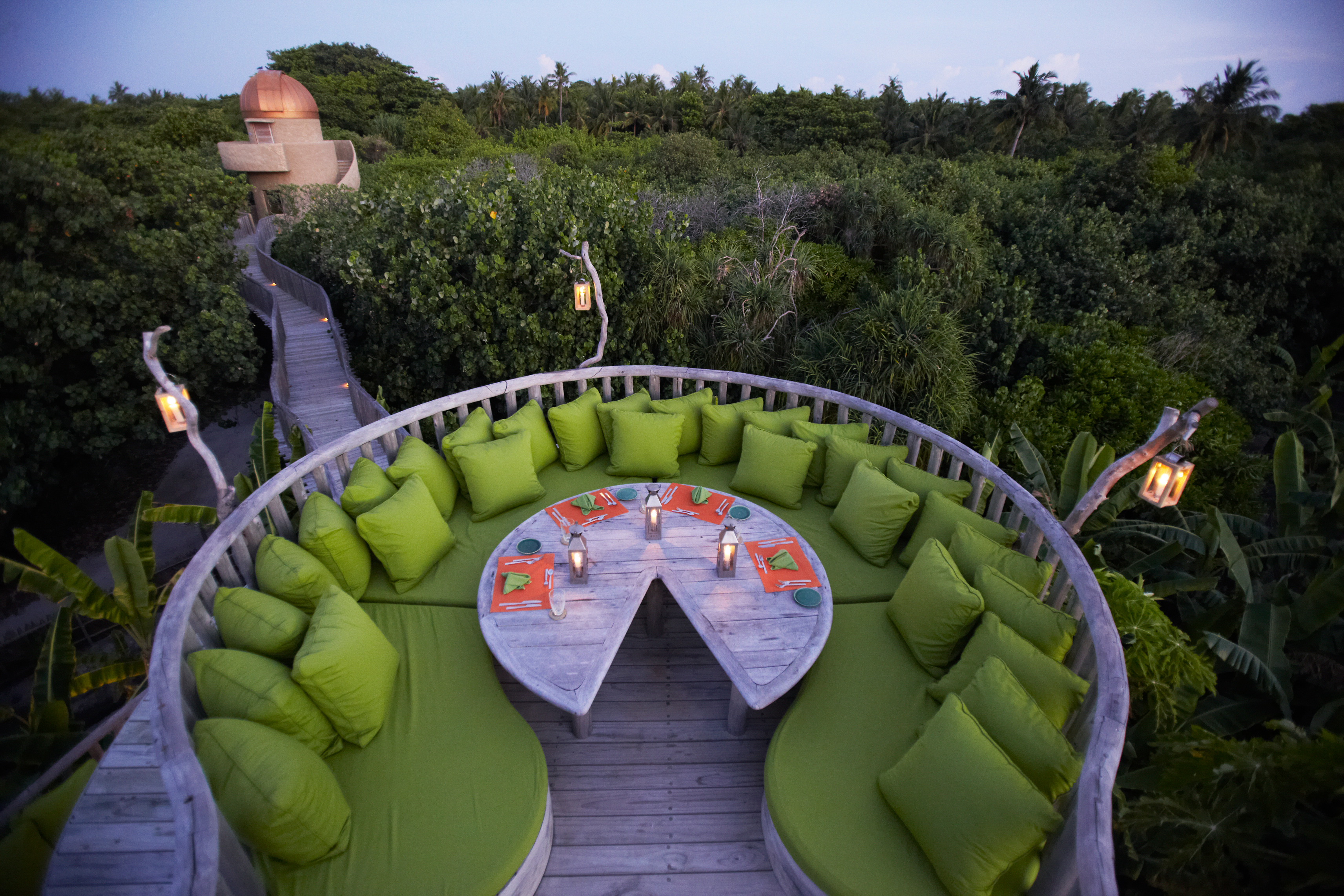 Arrival: No News, No Shoes
A 30-minute seaplane ride takes you from the Maldivian capital of Male to the 'Soneva Fushi Airport' – a natural sandbank in the Baa Atoll, a UNESCO World Heritage Biosphere Reserve. A speedboat collects you from the sandbank, and within 2 minutes, you'll be greeted by your personal 'Mr or Ms Friday' (butler), who is quick to whisk off your shoes and put them in a bag marked 'No news, no shoes' – not to be seen again until you check out. That's right, it's barefoot beach time, baby!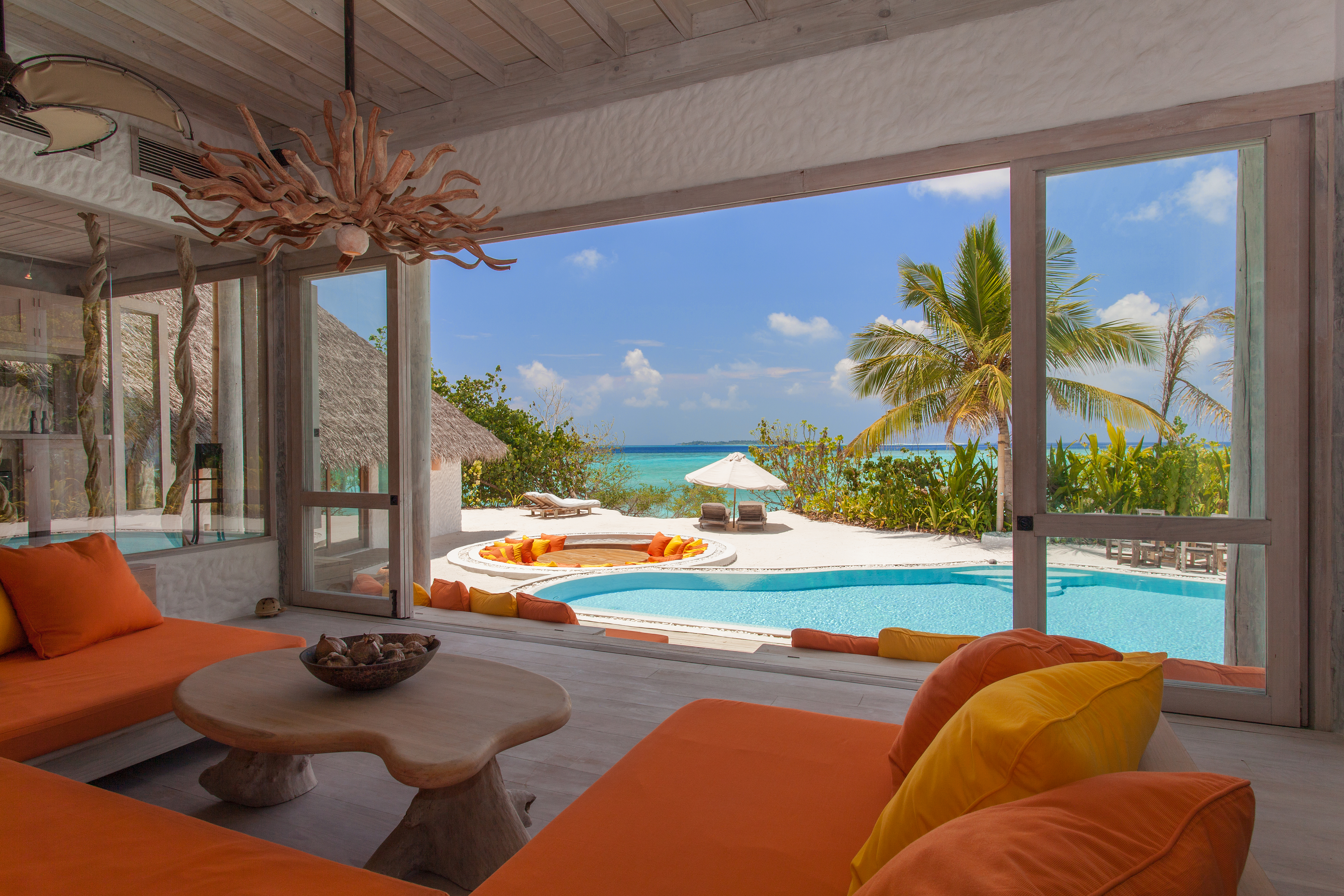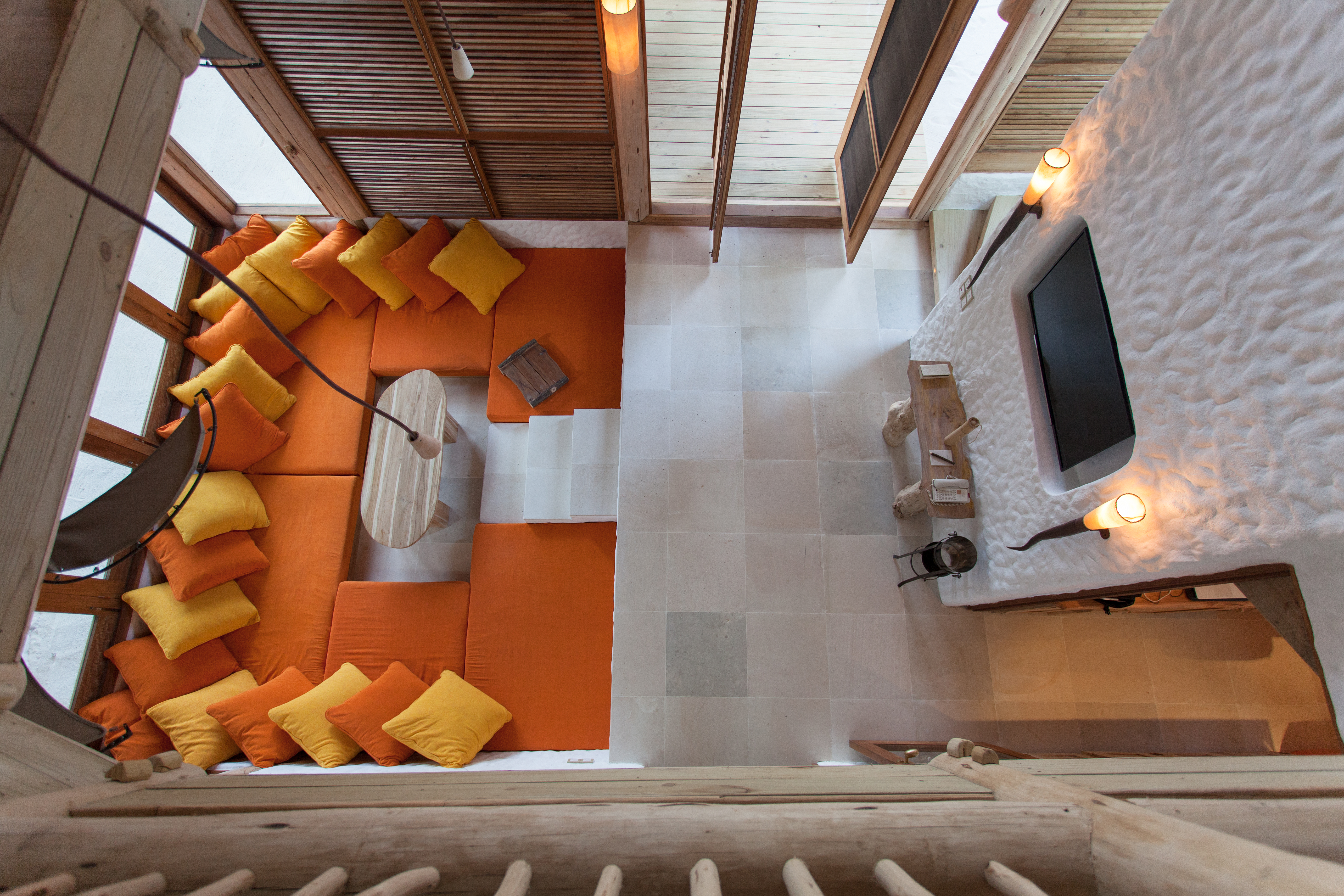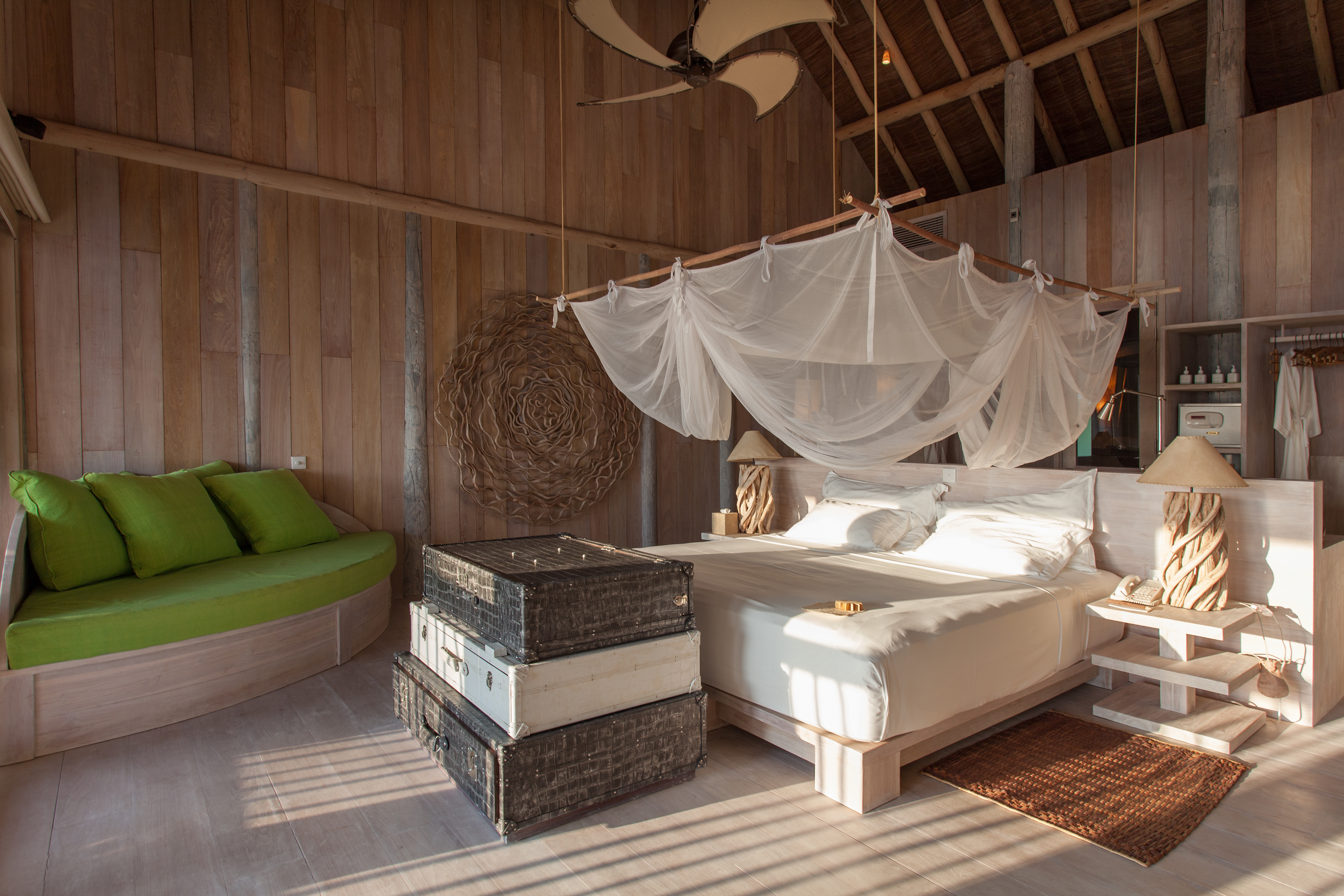 Eco- Chic Beach Villas: Soneva Fushi Family Suite
We stayed in the Soneva Fushi Family Suite with Pool and while the terms 'Robinson Crusoe' and 'castaway' come to mind, the care that went into integrating luxury and sustainability here is inspirational. There is air-conditioning, but should you choose to forgo and enjoy the sea breeze, you may do so by opening the louvres on all the doors and some windows. Mosquitoes? That's taken care of by the subtle netting which covers the louvres. Besides being mere steps from the beach and having a private pool, our villa boasted comfortable furnishing in of an earthy palette, an upstairs terrace, a large living room, a well-stocked pantry (welcome champagne!), a kid's bedroom, indoor and outdoor shower and a massive bathtub, which we christened MP (mini pool).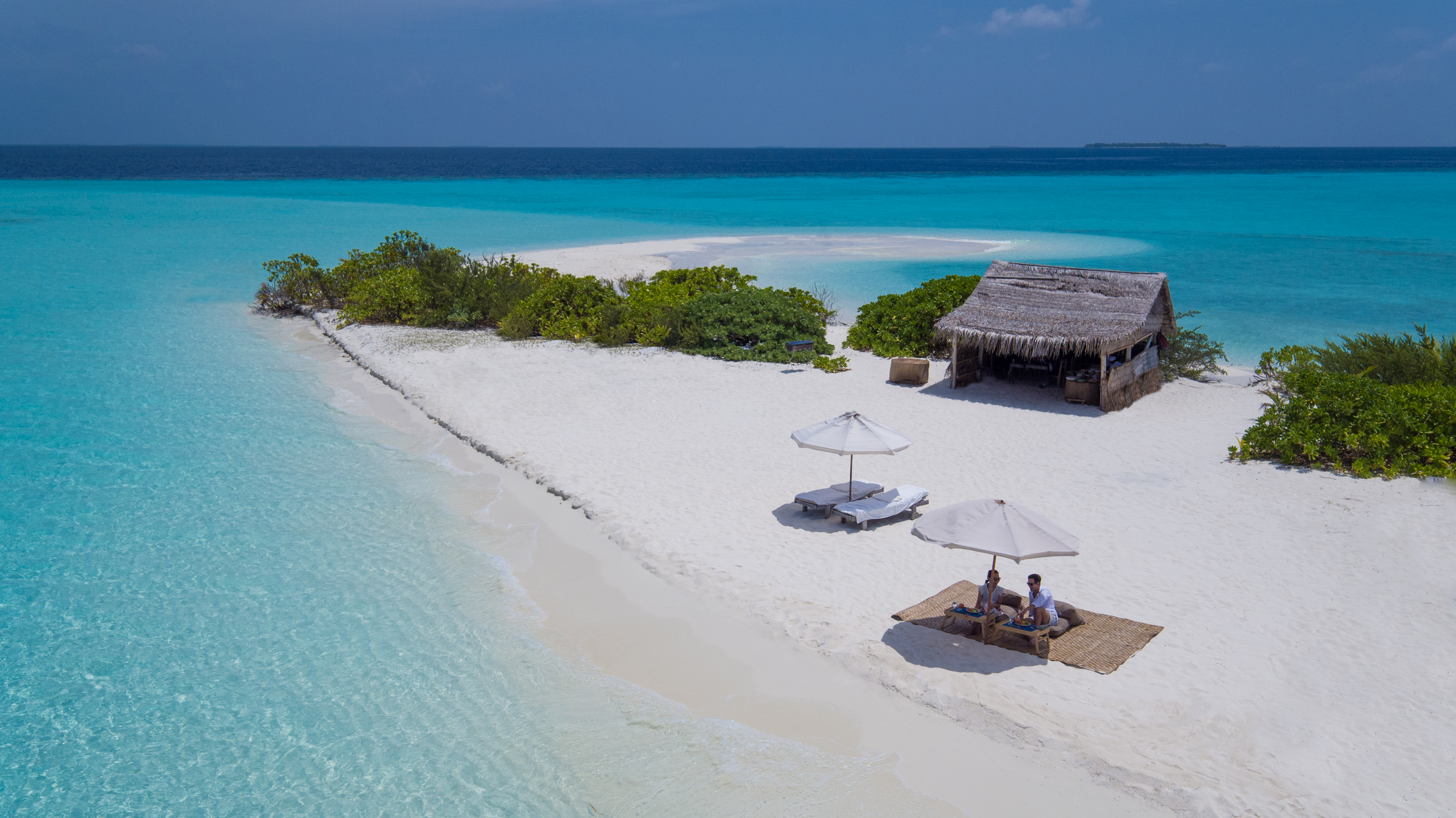 Soneva Fushi Dining
Meals here were sublime. From the array of fresh tropical fruit and hot offerings such as dim sum and fry-ups at breakfast, to authentic Sri Lankan lunches in the garden using the freshest organic produce, to the beautiful food and setting of Fresh in the Garden – we were in gustatory heaven. Add to that the complimentary cheese, chocolate and gelato rooms – bliss!
A Typical Day At Soneva Fushi
Breakfast in-villa is complimentary and this was the best room service breakfast we had ever indulged in! Barefoot, overlooking the sea, divine food and presentation. After breakfast, some snorkelling in the verdant house reef in front of our villa, then a bicycle ride (all villas come with personal bicycles and trikes- if you have a kid) to lunch. After lunch, the kids might go to The Den — a standalone complex featuring a large pool with waterslide, Lego room, cinema, nap room, and countless exciting activities – cooking, craft, movies, treasure hunts, all in the care of trained child-care consultants. In fact, your child must issue you an invite in order for you to gain entry!Quite possibly the best kid's club in the world.
Parentals can then indulge in a tranquil therapy at the Six Senses Spa, ours was accompanied by the intoxicating hum of a Tibetan drum and the soothing flow of water.  Late afternoon naps back in the villa (or tennis, if you're so inclined). Then dressing up for dinner at Fresh in the Garden, to be preceded by a cocktail as you regard the waves at Bar(a)bara. The day is capped off by a high tech and spellbinding session at So Starstruck – the observatory.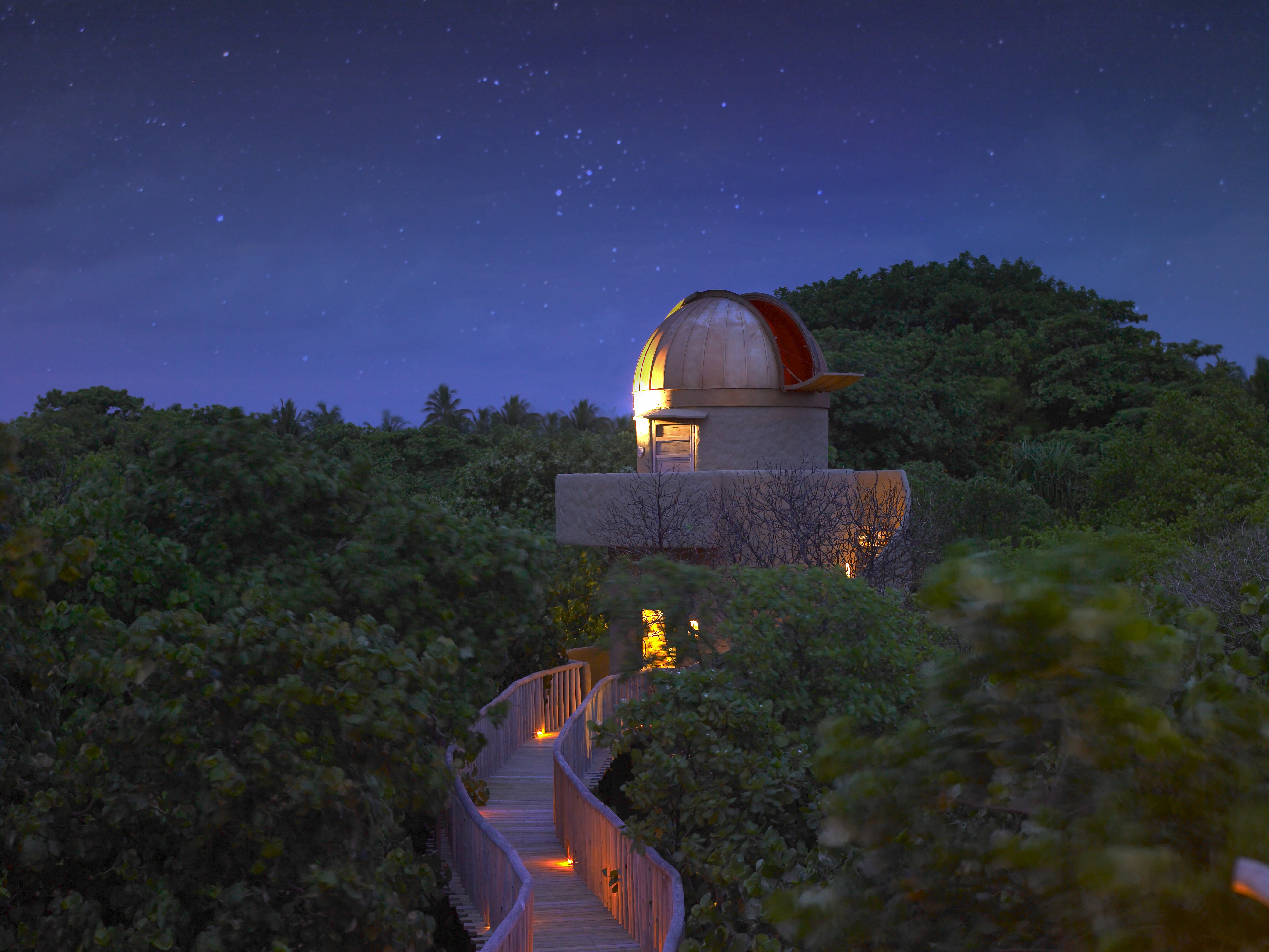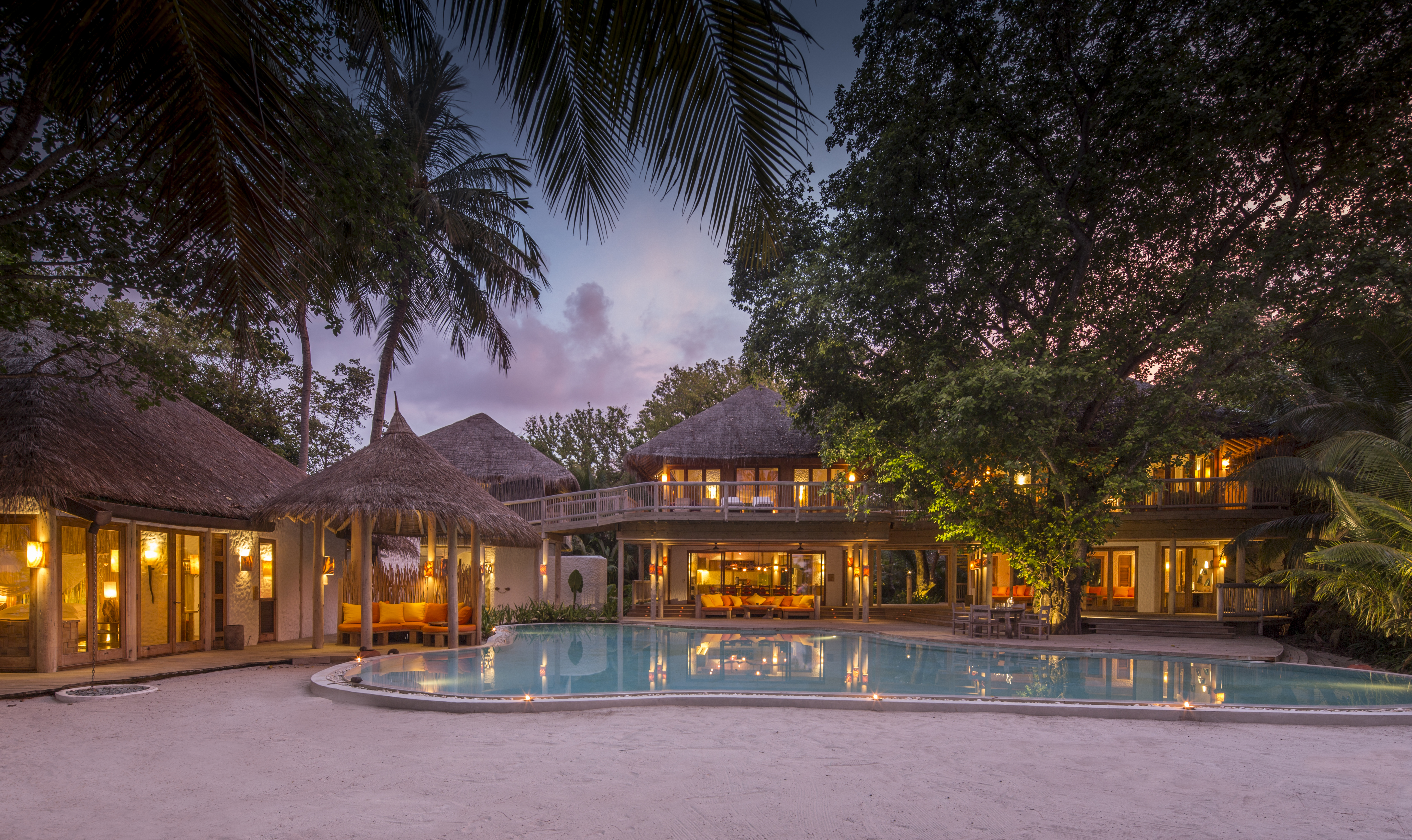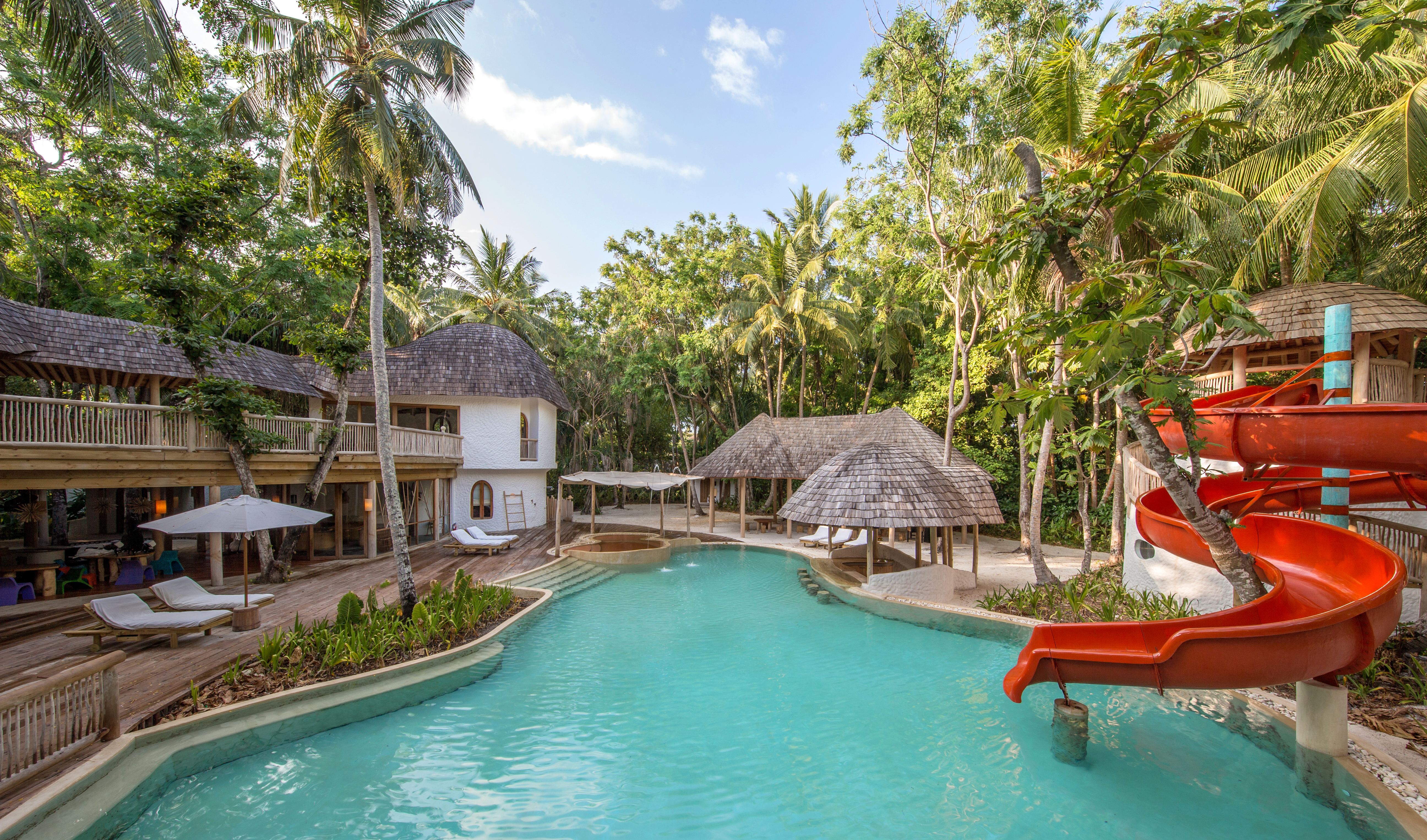 Activities at Soneva Fushi
Cinema Paradiso – the outdoor cinema-under-the-stars offers an idyllic take on the TV dinner, and a plethora of other activities include meals with private chefs on deserted islands, water sports activities such as stand-up paddle-boarding, underwater safaris and day cruises on the 'resort at sea', Soneva in Aqua.
The Best Resort in The Maldives?
Is it? Well, if you're looking for a rustic Maldives eco-luxury resort, this is the absolute winner. Since its inception in 1995, Soneva Fushi has continued to lead in eco-conscious initiatives and has gained recognition from the likes of Travel + Leisure, CCN.com and Conde Nast Traveller. Thus, it is no surprise that it's guests include both celebrities such as Richard Branson, Daryl Hannah, Noemie Harris, Nicole Scherzinger and Madonna; and multi-generational families who take up multi-bedroom villas, making Soneva Fushi Maldives their annual pilgrimage.