One of the most important factors in travelling is to experience food from various cultures from a different perspective. Most times, that's authentic local cuisine. As one of Hong Kong's oldest neighbourhoods, Sham Shui Po is one of the best districts to indulge yourself of that through street food, whilst still being able to see the remnant vibes of olden day Hong Kong. 
(Note: The way to say things in Chinese will be written in brackets next to the word if you're looking to learn a bit of the Chinese lingo!)
Read also: Guy's Guide: Wet Your Whistle at These New Hong Kong Bars
#1 Fish Balls (Yuu Daan)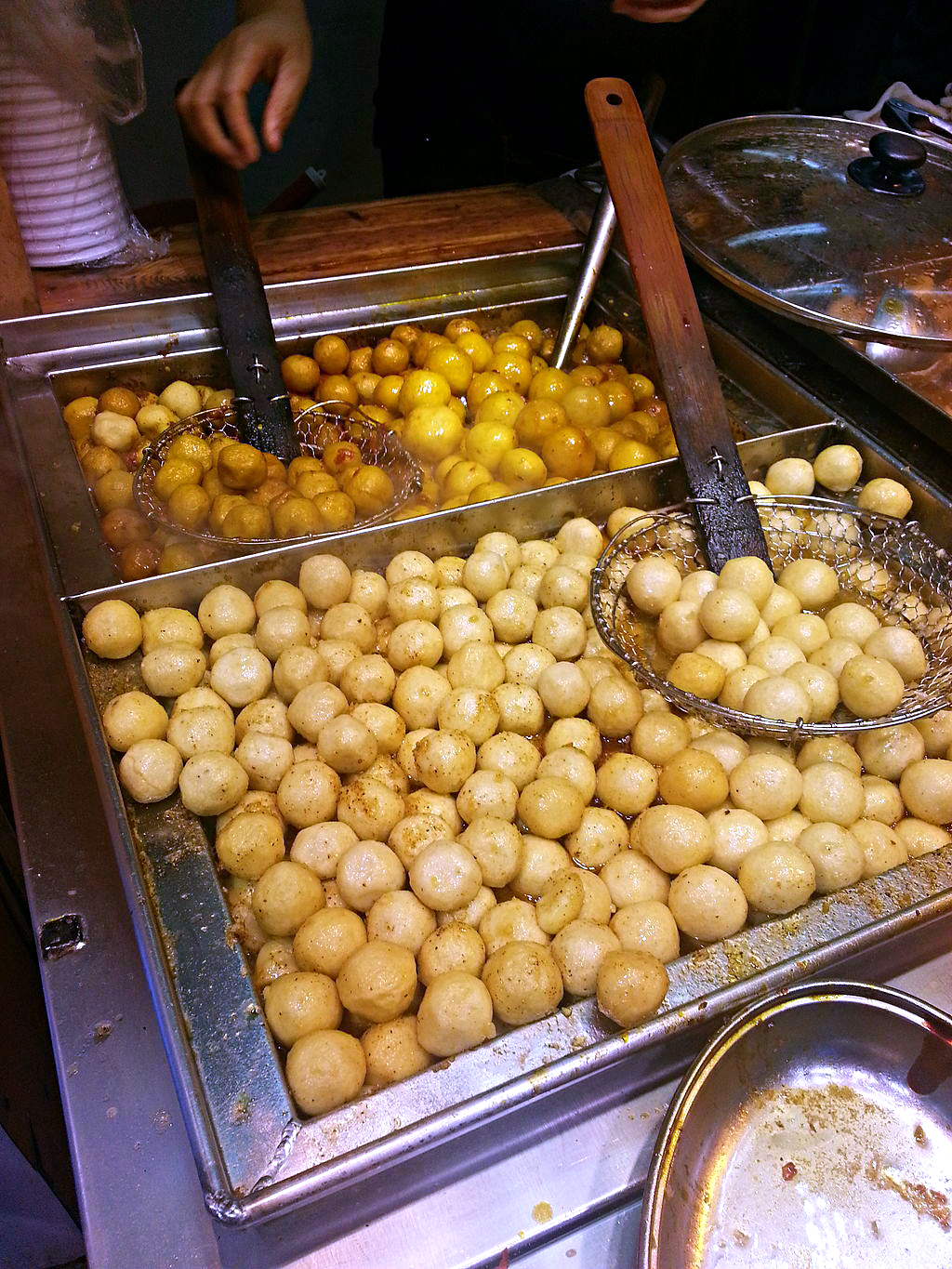 Chewy with a sort of spongy texture, fish balls are one of the most iconic street foods in Hong Kong. You will usually have the option of it being spicy (laat); covered in an extra hot curry sauce, or with mild curry sauce as the non-spicy (mm laat) alternative.
#2 Siu Mai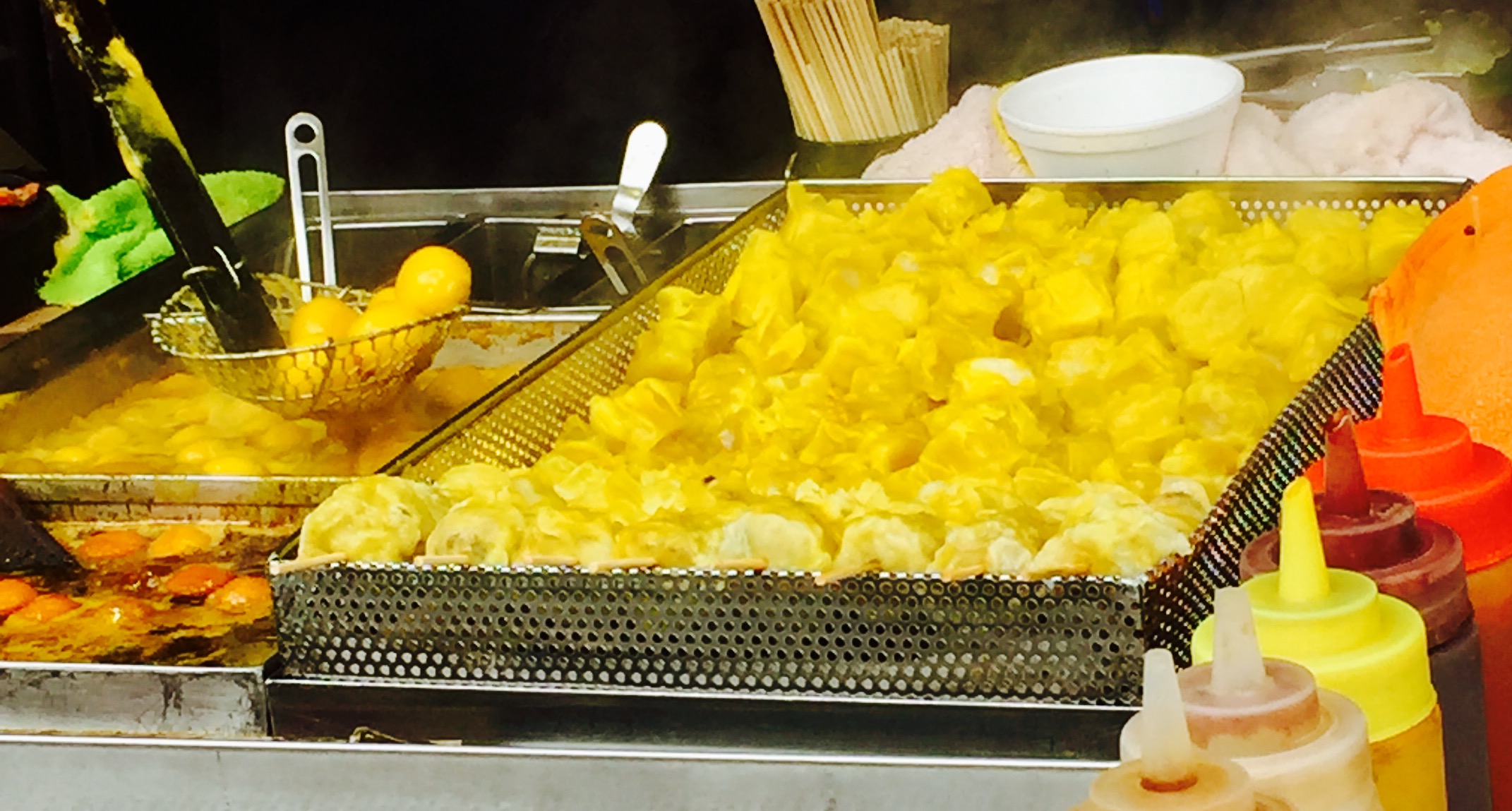 With siu mai, you have two versions: regular restaurant siu mai and street food siu mai. The main difference is that the latter contains fewer ingredients.  Street food siu mai usually is made of fish meat wrapped in a thin doughy skin, similar to those of wontons. They also come with the option of being slathered in curry sauce to make things spicy, or drenched in soy sauce to give it extra flavor — without burning your mouth.  
#3 Egg Waffles (Gaai Daan Tzai)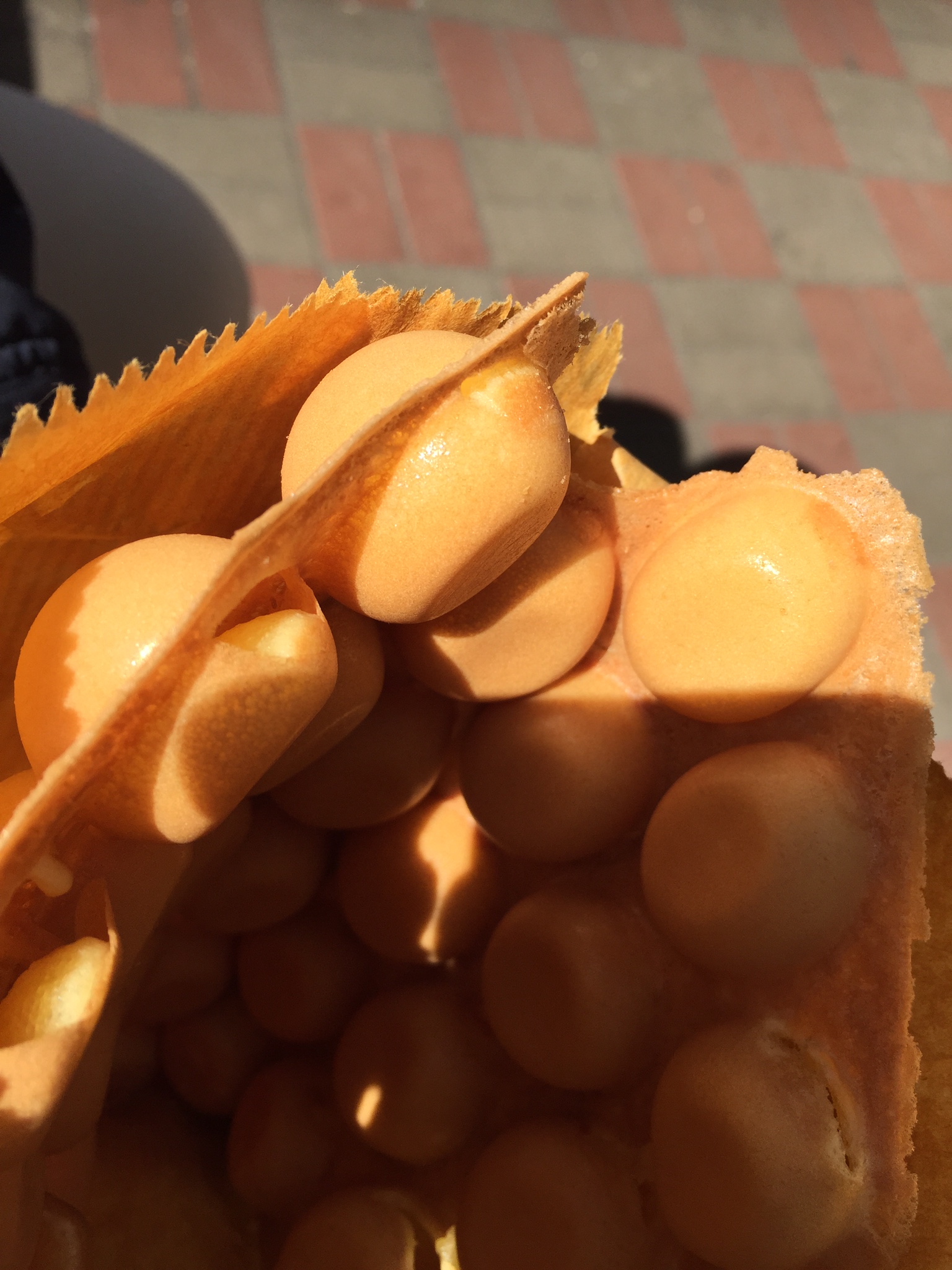 Now THIS is the original behind the worldwide egg waffle craze. Its batter is poured onto a spherical waffle iron and is flipped a couple of times, creating egg-shaped waffles that are crunchy on the outside and soft on the inside. There may be places that offer multiple flavours but most in Sham Shui Po stick to their roots and only have the original flavour.
#4 Waffles (Gaat Tzai Beng)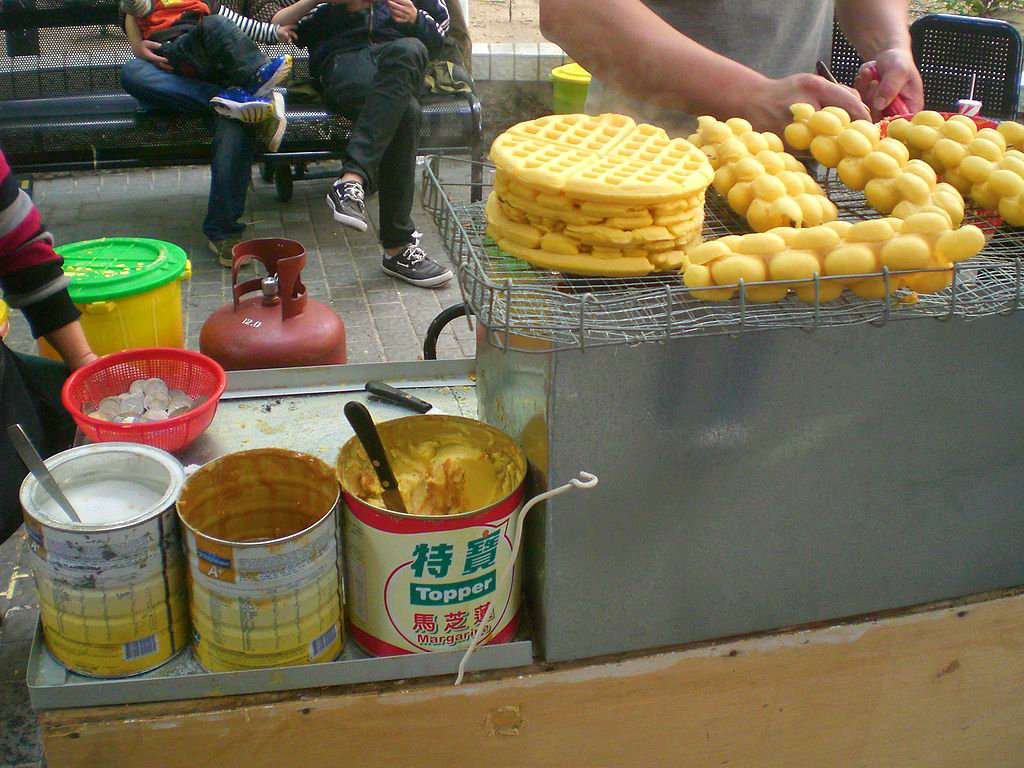 If you're still craving waffles, Hong Kong has more to offer. But being from Hong Kong, being a little extra is in most of our genes, thus we slather these waffles with butter, peanut butter and condensed milk, creating the perfect balance of sweet and savoury.
#5 Skewers (Chuun Siu)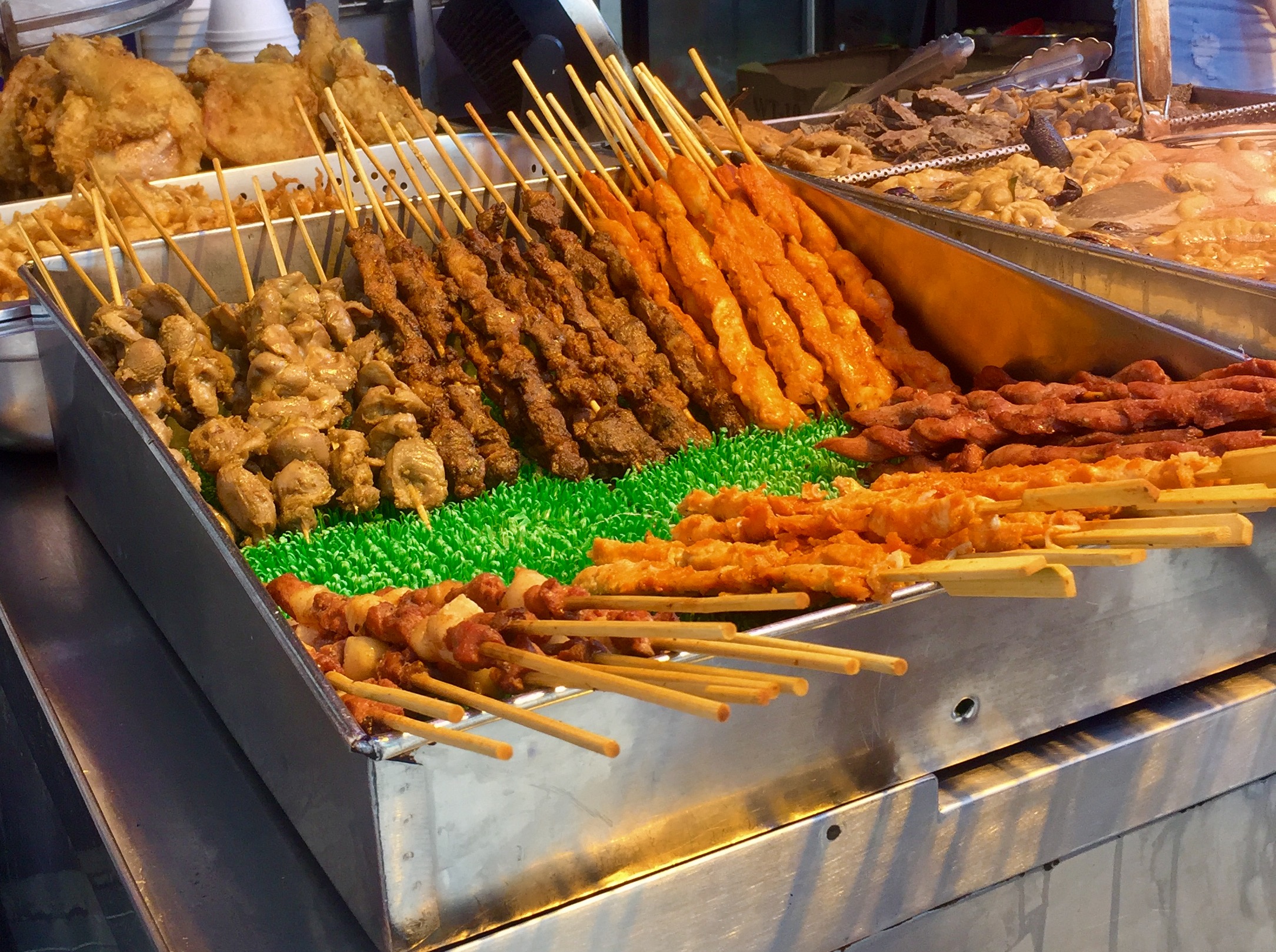 Skewers come in many varieties, mixing and matching meat so if you're a brave soul, just point to pick what looks good to you. They're generally just pork, beef or chicken, but there's a chance of liver too! 
#6 Deep Fried Pig Intestine (Tza Daai Cheong)
This 'hit or miss' is a favourite among many locals, but definitely an acquired taste. It is deep fried, giving every bite  a nice crunch from the crispy top layer and then chewy-ness because of the soft, tender parts of the intestines.  
#7 Chee Cheong Fun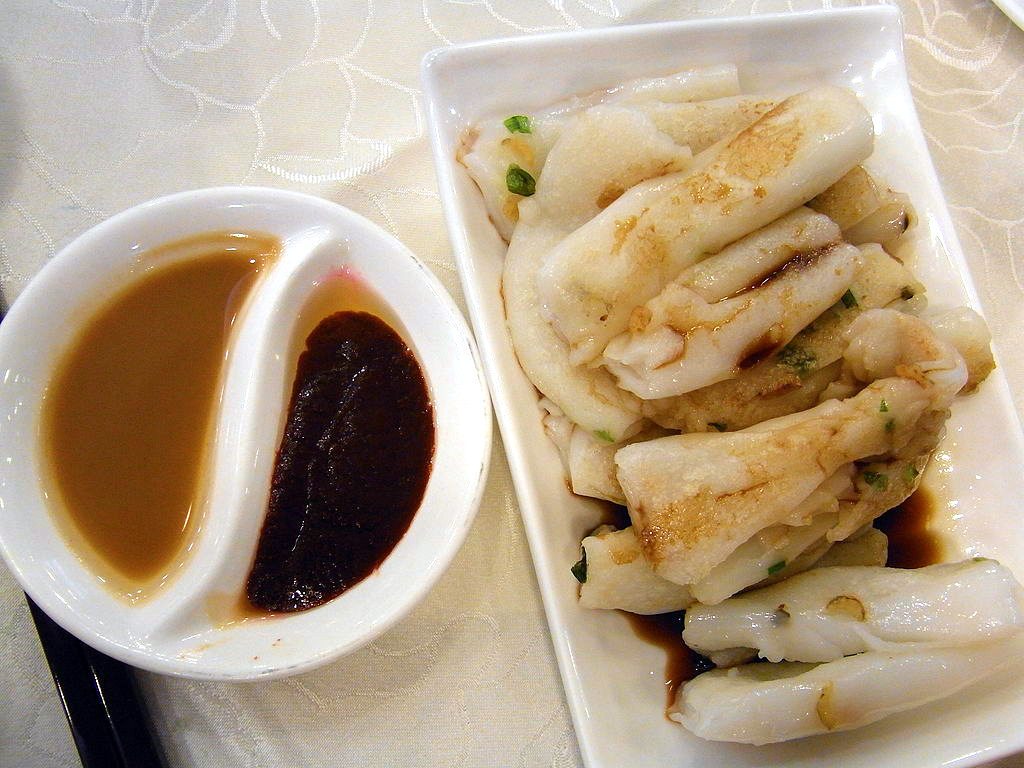 'Chee Cheong' may translate to pig intestine, but this dish is instead steamed rice noodle rolls served with soy sauce, sweet sauce and some tahini, peanut sauce. They're easier on the tastebuds, too. 
#8 Anything Off These Carts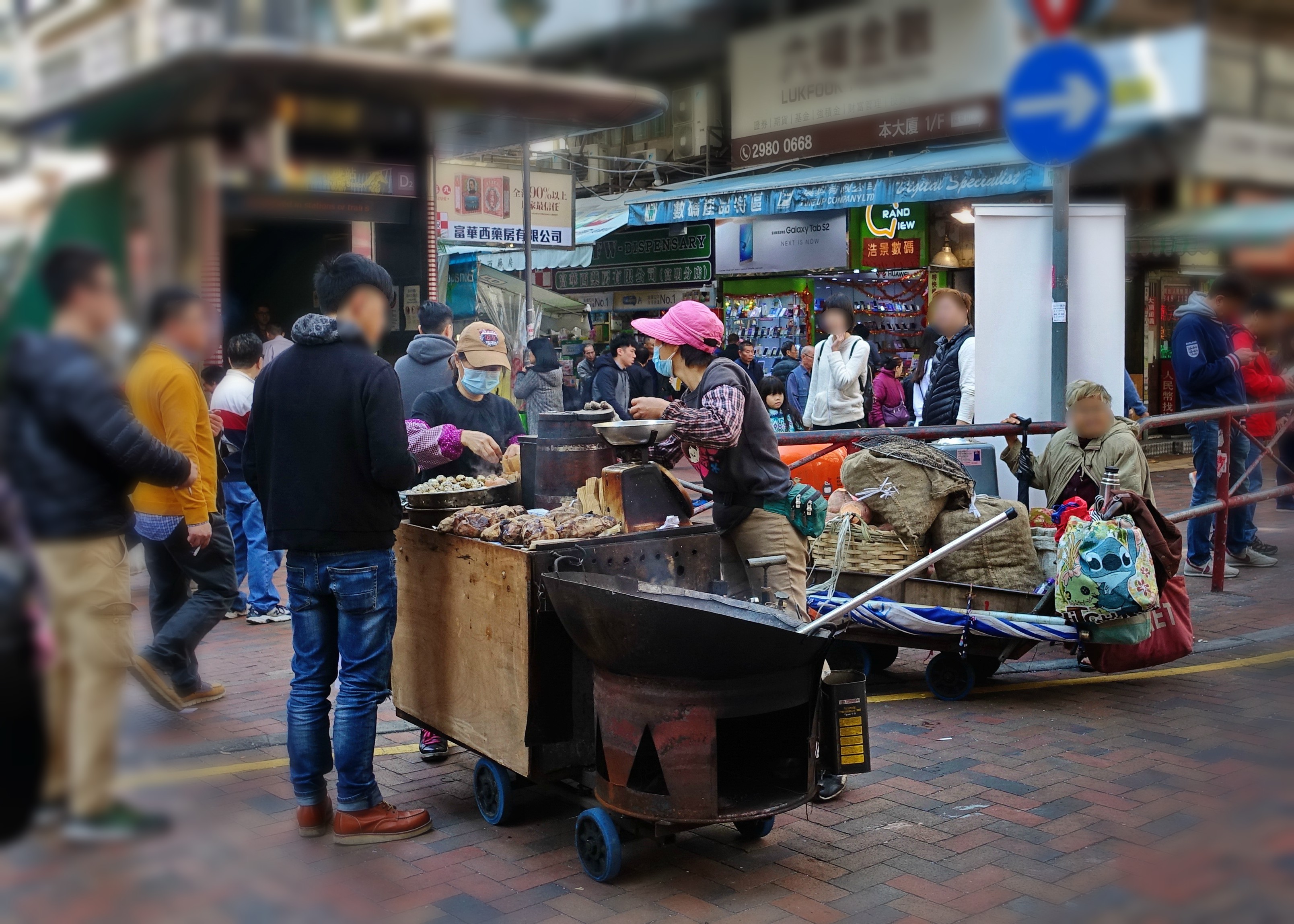 You may bump into one of these wooden carts (or smell them from a mile away) and wonder what they are. These carts can be considered icons of Hong Kong street food as they sell steamed giant sweet potatoes (faan shu), roasted chestnuts (lut tze) and quail eggs (an chun daan).
#9 Egg & Beef Sandwich (Daan Ngau Tze)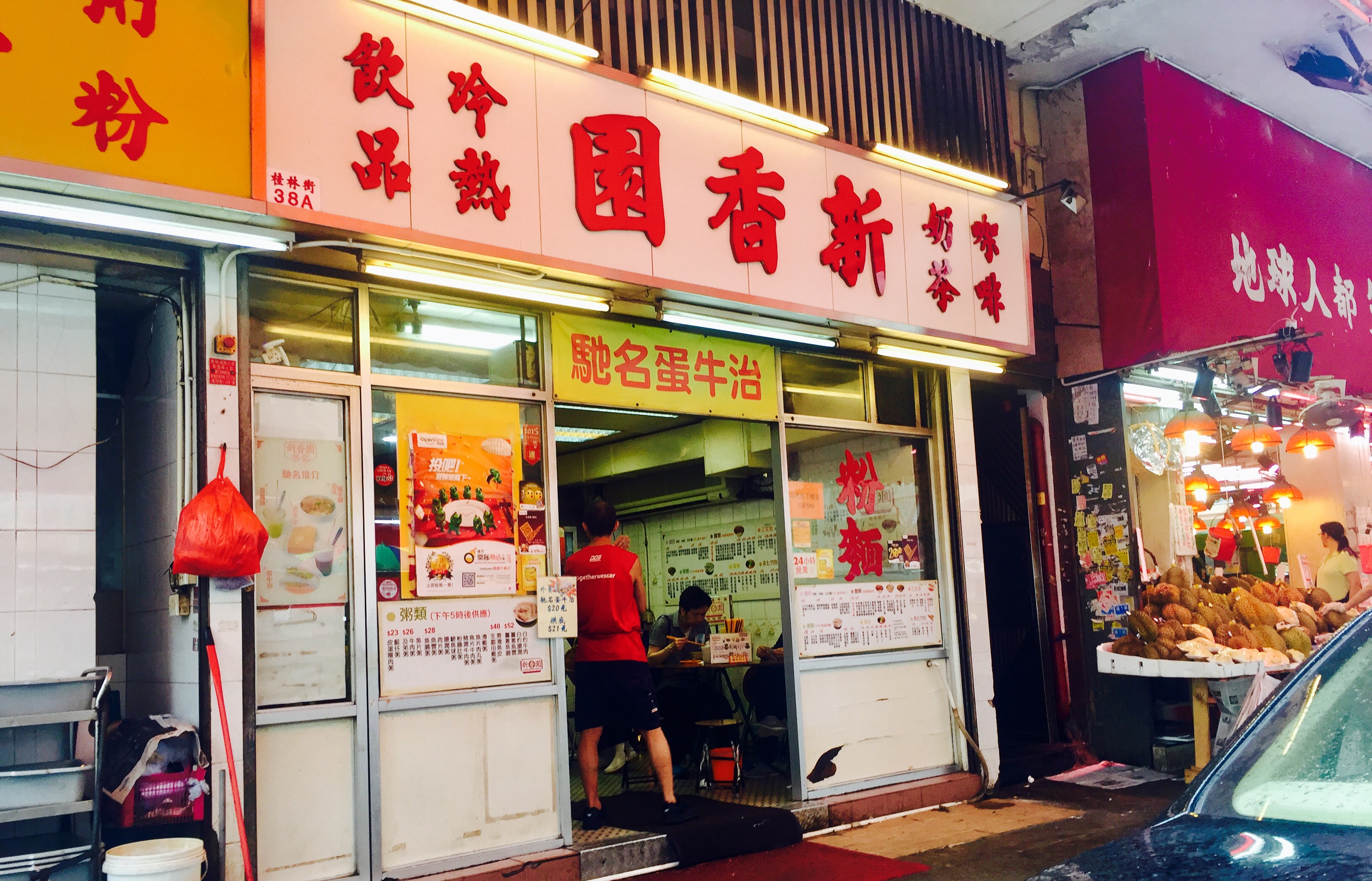 Sun Heung Yuen in Sham Shui Po is well known for the scrambled egg and beef sandwich – every bite makes me feel like there's a heaven on earth. Enough said. 
#10 And Drinks!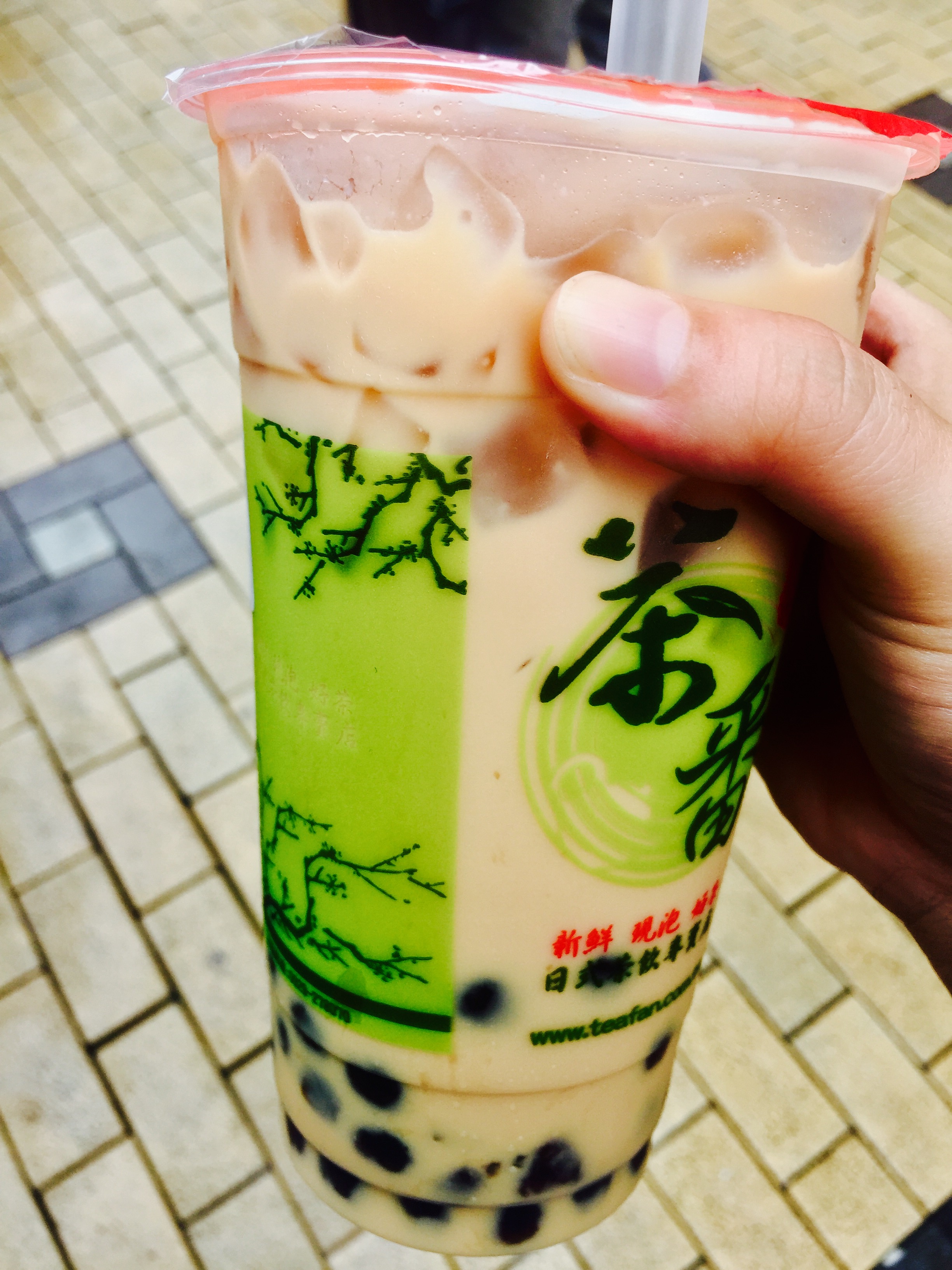 A meal is never complete without a thirst-quencher. First, try the world-famous bubble tea (tzun tzu lai cha). Originally from Taiwan, bubble tea made its way to Hong Kong and became so popular that it's not difficult to find a shop that sells it! 
And for coconut lovers, King of Coconut made a name for itself with their delicious bottled coconut water. If you could bottle up heaven, this might be it!   
Image credits: 1, 3, 4, 7. All other pictures are courtesy of the author.