It's Friday, I'm in Love
(Well, Tuesday actually, but who's nitpicking?). We are seated in Modern Society, Kuala Lumpur, the latest bar-cum-restaurant in the city's new Damansara City Mall. In front of us, is the cocktail list which the owners say has been 'thoughtfully designed to suit a range of palates and create a truly unique experience with every sip'. Sip a little bit more with them and prod a little deeper though, and you get the other side of the story.
Read also: 6 Great Restaurants & Bars for Date Night in Kuala Lumpur

A Menu of Muses
The story is a sweet one. The 5 owners had decided they would devise unforgettable cocktails and name them after their loved ones, immortalising that love (somewhat) in a heady concoction. It all went swell until, one pair became singles. And thus we present: Shenanigans.
Fresh beetroot for earthiness, whisky for that kick to remind you to be a man, Parfait d'amour to recall love lost, and chilli syrup for passion and spice, the colour itself reminiscent of a bleeding heart – we loved this drink, despite its circumstance. The flavours delicately balanced, and oh -so -unique.
Next up: Alice in Wonderland
What does this drink say about Alice? She is sweet like ripe berries, she has a heady bouquet of thyme, mess with her and she will toss you down like vodka, and treat her right, and she will make you feel warm and fuzzy like cherry brandy. Aye, sounds like a nice girl.
Next up: From Russia with Love

United not just in their F & B business, but also in their love for 007. This nod to James Bond features vermouth, vodka and gin like a cross between a vodka and a vesper martini, but green because there's nothing more mysterious than a green drink is there? Verdict? It will blow your socks off.
Next Up: Achtung!
Don't say we didn't warn you! (but in German). It's got absinthe, and for that alone, you must beware. Orgeat syrup, Southern Comfort and French herbal Liqueur complete this drink, which does a delicate dance upon the tongue, skipping between sweet and savoury trying to distract you from its potency. Was this named after a loved one? Yes indeedy.
Night Cap: The Scientist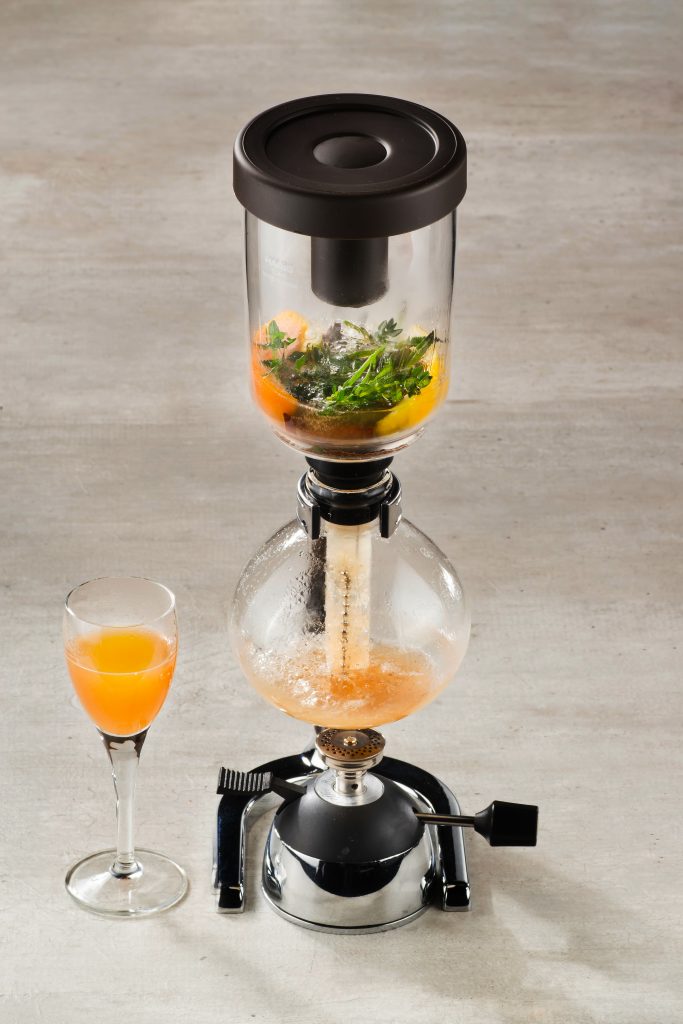 At this point in the night, its hard to put a finger on who this was named after, but this combination of Manuka Honey, Rose Tea, orange and lemon peels, elderflower, cinnamon and gin – we're betting it was named after someone's mammy. She gave up her gin hip flask and started just mixing it into the 'fruit tea', just the thing to put all the kids into bed easy at night (just kidding!). But try it, it's served warm.
The First of Many
With its Greek Volakas marble bar, unadorned floors and walls, and futuristic lighting 'Modern' Society is the first of many societies which its owners hope to create. They envision a unique collection of food and beverage experiences, each different from the last. The food served here is a contrasting presentation of east and west, bound to have the diner sit up and take notice.
Address: L1-10, Level 1, Damansara City Mall,
Pusat Bandar Damansara, 
Kuala Lumpur
Hours: 11.30am- 2.30pm, 5.00pm – 3.00am (closed Sundays)
Extras: Ladies night on Wednesdays