Thailand is well known for its Thai hospitality, Thai massage and last but not least, Thai street food. For some, the mere mention of 'street food' reminds one of eating crickets and grasshoppers by the road-side. In fact, Thai street food is so much more! You can enjoy deep-fried chicken marinated in special fish sauce to steaming bowls of noodles with sweet and spicy broth. Go on, be adventurous and look out for our top Thai favourites:
Editor's tip: Wash these eats down with an icy cold Singha beer!
Read this too: Thailand After Dark: The Best Clubs in Bangkok
#1 Duck Noodle Soup (Kuay Teaw Ped Toon)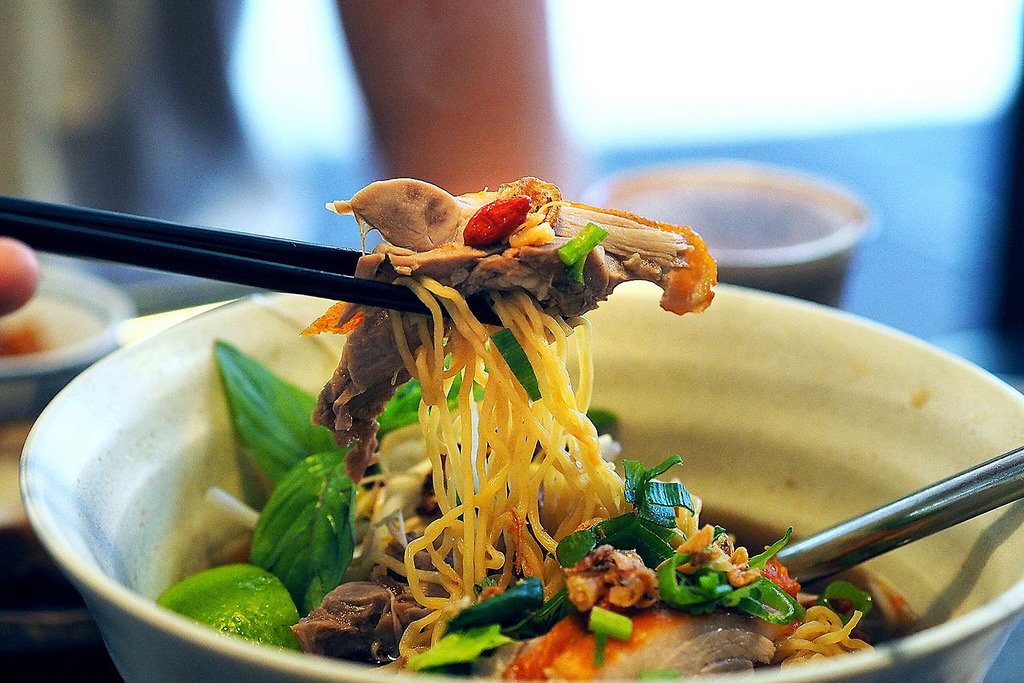 The best way to end your night after hours of dancing in the nightclub, is to have a hot bowl of noodles to calm the aching muscles. By noodles, we mean freshly pulled yellow deliciousness, accompanied by moist strips of duck meat, all immersed in a rich peppery broth. If you want to prevent a hang-over, then wash this down with some lemongrass drink (instead of more Singha beer!).
#2 BBQ Pork Skewers (Mu Ping)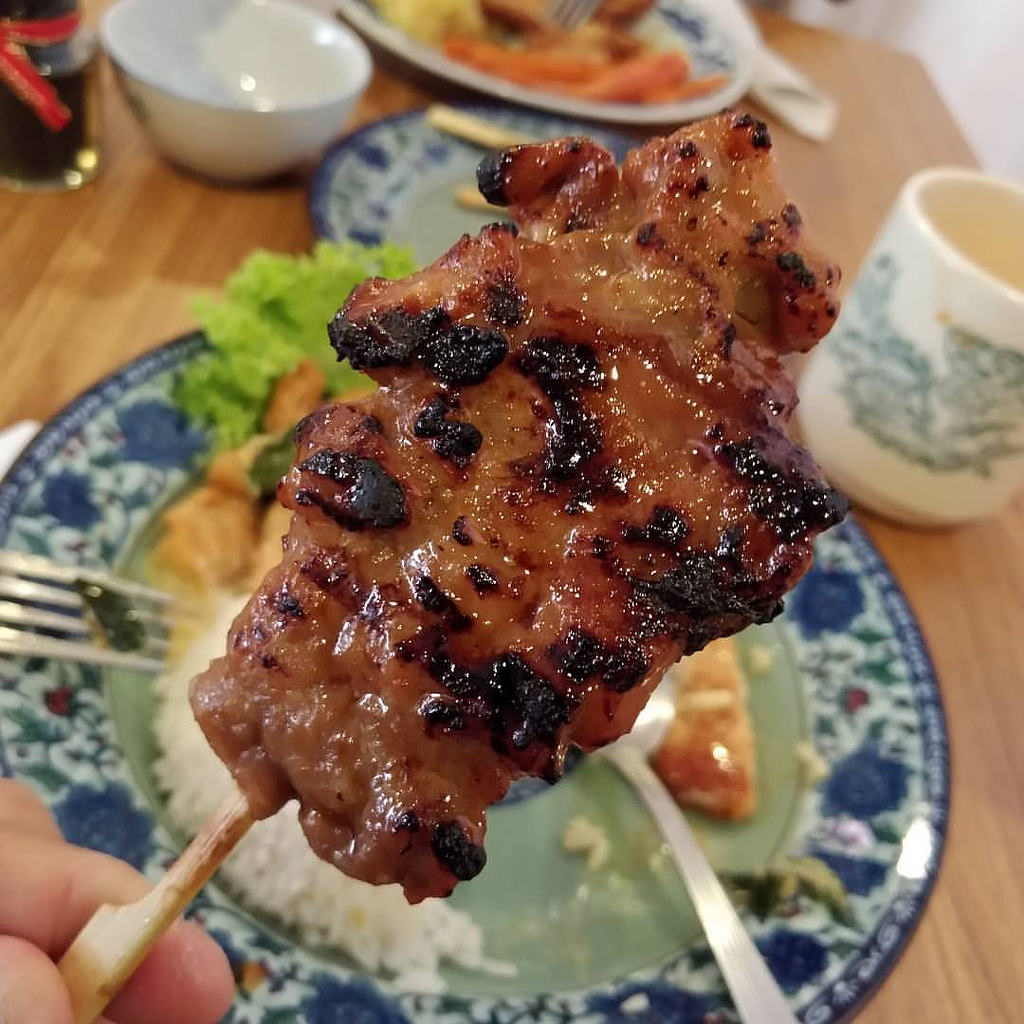 It's not street food without something sizzling on a stick! Mu Ping are barbequed marinated pork skewes that are served with a side of sticky rice and spicy dipping sauce. When you try one, it will  leave you asking for more.
#3 Stir-Fry with Thai Basil (Pad Kra Pao Gai)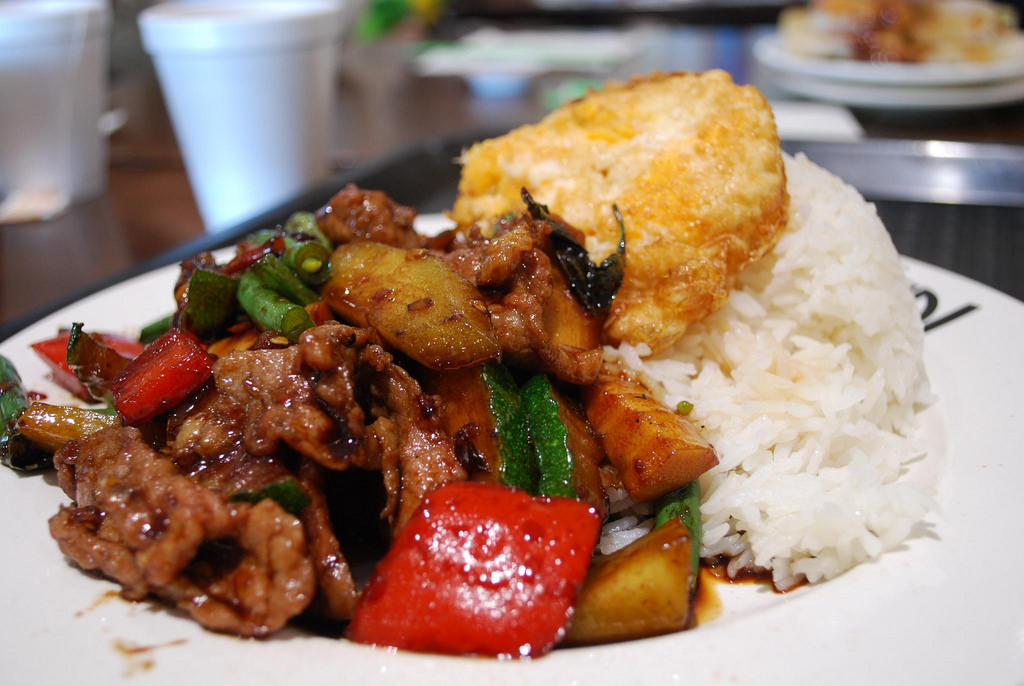 This lunch dish is an absolute favourite amongst the Thai locals for being quick, yummy and easy on the pocket. Start by choosing the meat or seafood of choice (beef, chicken, pork, shrimp or squid) and this will be stir-fried with spicy chili and Thai basil. Thai Basil, unlike Holy Basil, is sweeter, hence making this dish deliciously sweet and spicy. It is best eaten with a generous helping of rice and a fried egg to top it off!
#4  Braised Pork Leg on Rice (Khao Ka Moo)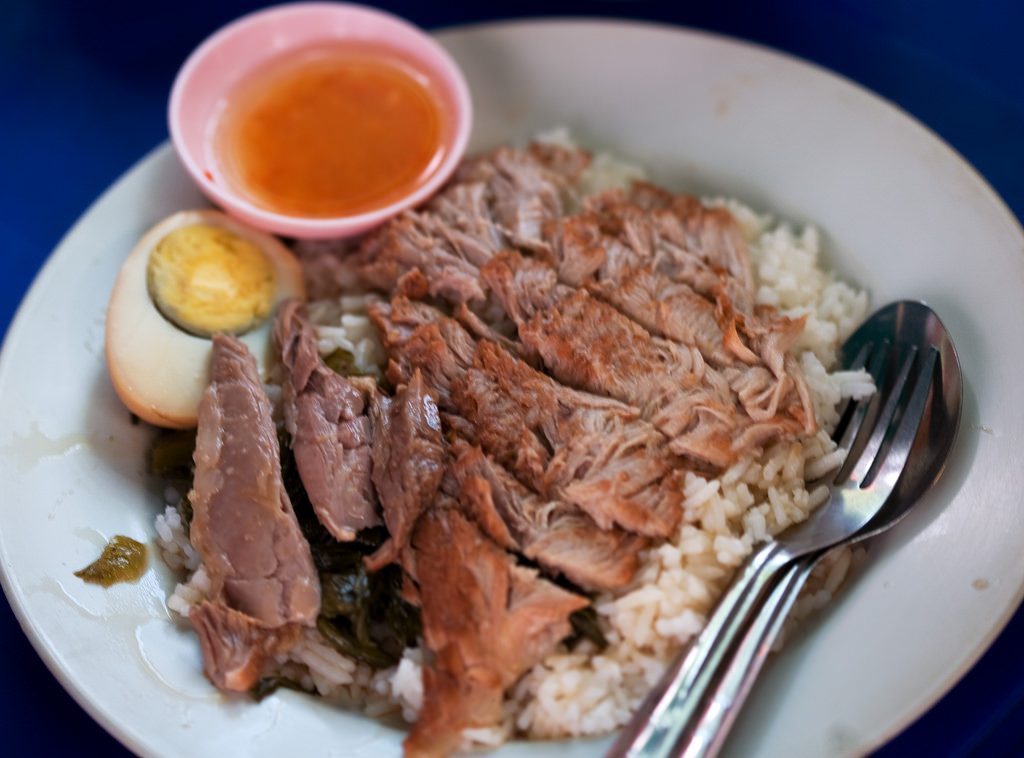 If it is good enough for Thailand's Prime Minister, it is good enough for the rest of us! This comfort food is one of the nation's favourite food due to its simplicity and a reminder of good-old home-cooking. Pork meat is braised for hours until it is tender and juicy and the final stew is sweet with a hint of cinnamon. This dish is best eaten with rice.
#5 Thai Sausage (Sai Oua)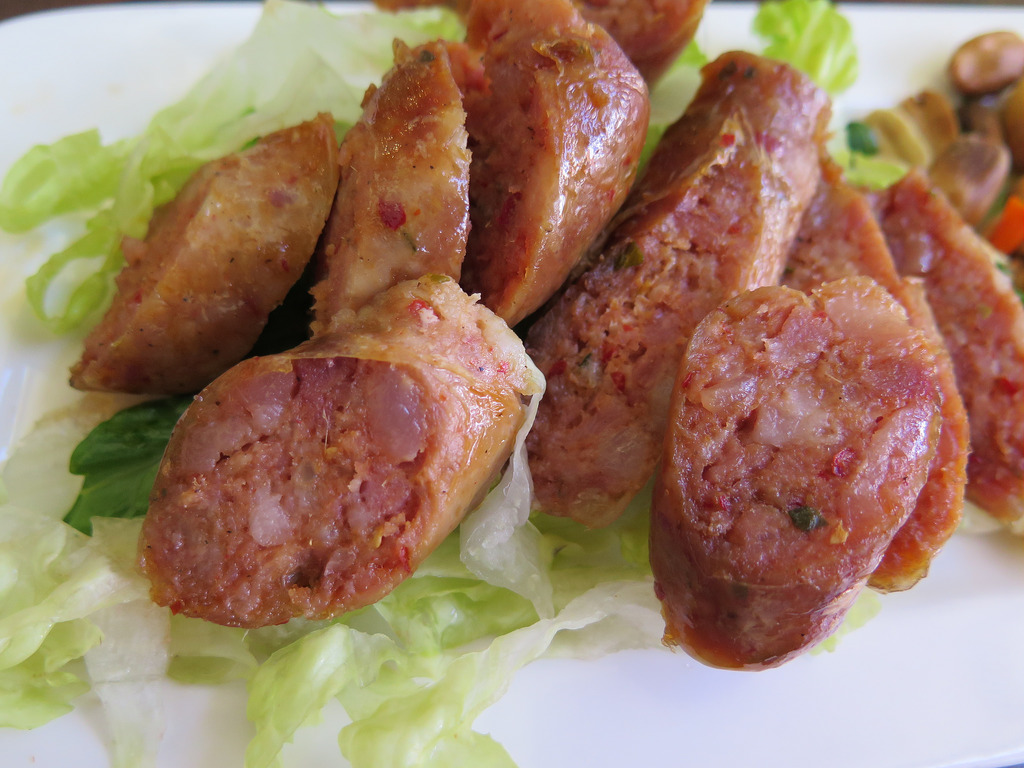 Although commonly found in the northwest of Thailand, these sausages might be difficult to find in and around Bangkok. The sausages are made from minced pork, dried chillies, garlic, turmeric, lemongrass, kaffir lime leaves and shallots. It is best eaten with sticky rice, chilli sauce and a bed of fresh vegetables. Don't let them fool you, these sausages are delicious but can be incredibly spicy!
#6 Tom Yum Mama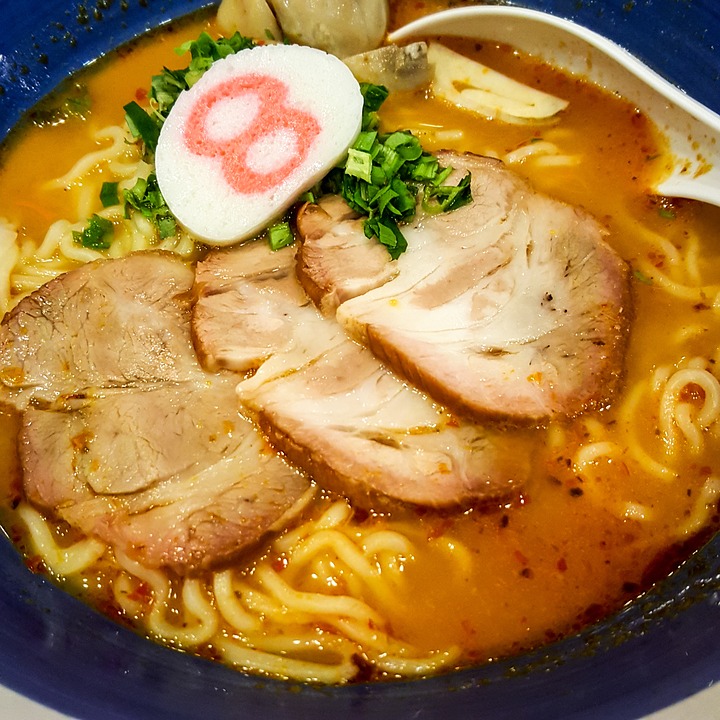 Much to the amusement of many local Thais who have been devouring this dish for years, Tom Yum Mama has become the latest foodie haunt, thanks to social media. Instant noodles are served with spicy Tom Yum broth with added toppings such as shrimp, squid, cuts of meat and eggs. It is so infamous that Tom Yum Mama has even traveled to Singapore, but we know the 'original' version in Thailand is still way much more delicious.
#7 Green Papaya Salad (Som Tum)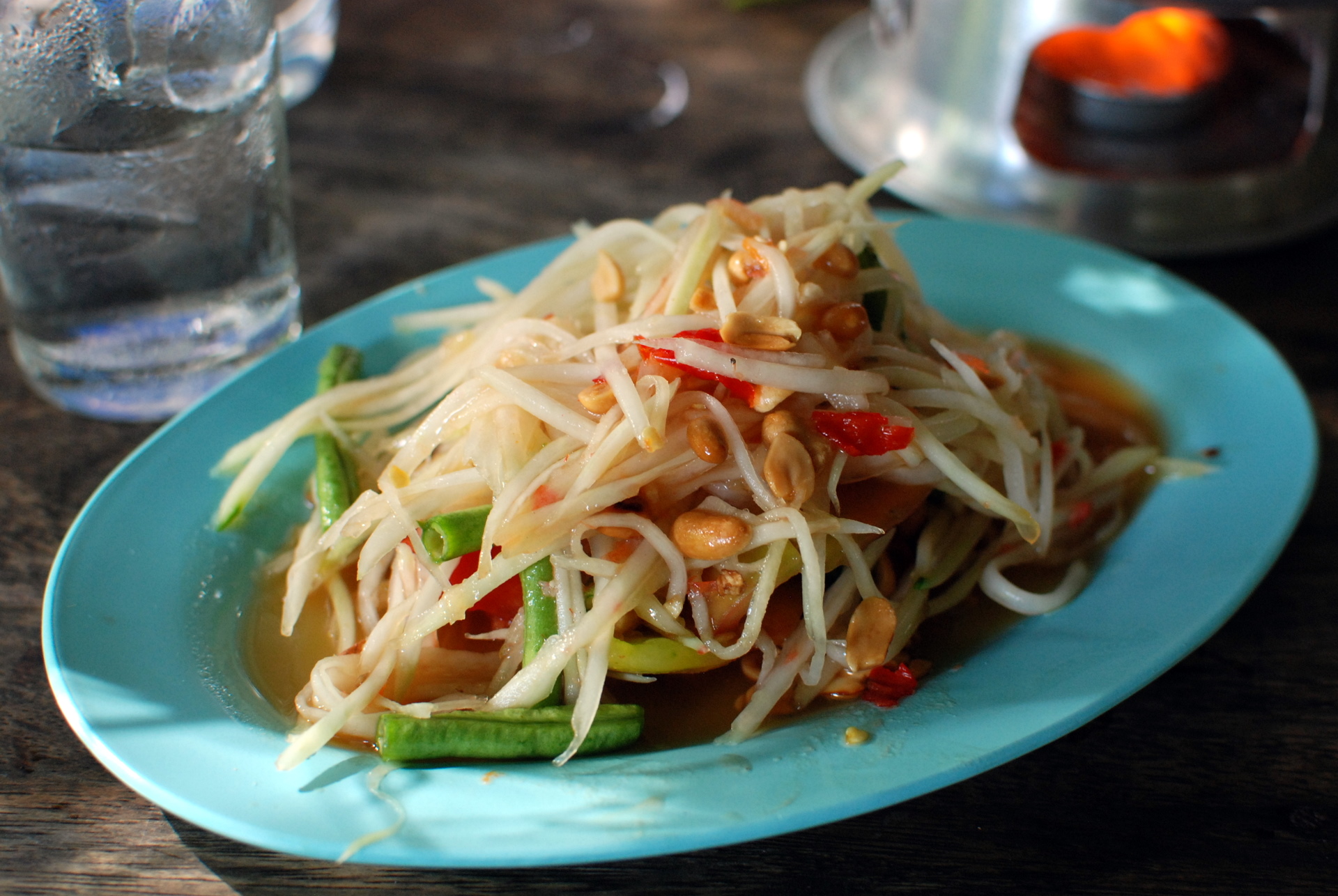 This refreshing salad is insanely delicious and as healthy as it gets. The main ingredient is Thai green papaya, which is tossed together with freshly cut chillies, peanuts and a tantalising mix of fish sauce and lime juice. Although Som Tum is served all over Thailand, from street stalls to fine-dining restaurants, we do feel that the 'street' style version of this salad really brings out the origins of Thai food. This dish is the perfect takeaway for a light, late night snack back at your villa.
#8 Pad Thai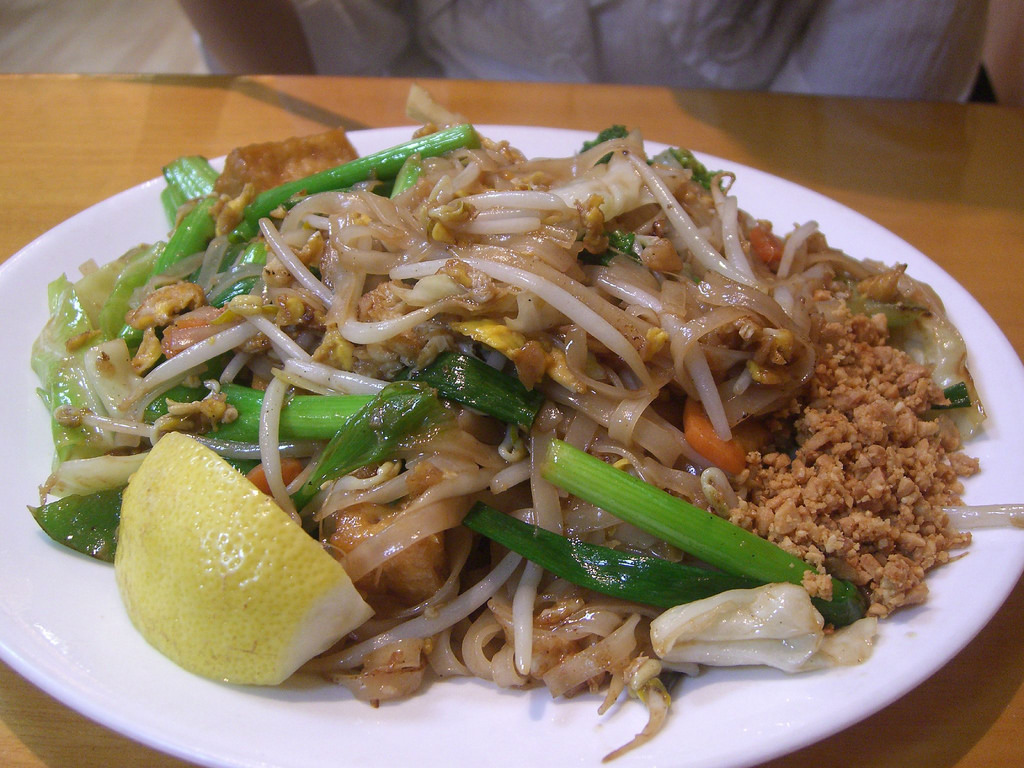 The classic Pad Thai is practically everyone's' favourite! It is a stir-fry rice noodle cooked with egg, bean sprouts and crushed peanuts. The secret ingredient that makes this dish super yummy is the concoction of the fish sauce, dried shrimp, a sour tamarind paste and a dash of sugar. For the vegans out there, this dish is as easily modified to be meat-free and still taste absolutely delicious.