It's time to dig out and dust off your Super Soakers! Songkran, Thailand's world-famous water festival is nearly here! The Thai New Year festivities begin on Saturday, April 13 and we have all the details on where you should go and stay, what you need to say, and what to wear to celebrate in Samui!
The Basics
What to wear: You remember that ridiculous Hawai'ian style shirt your parents bought you on your last family trip? Well, it's time to present it to the world! The Hawai'ian shirt is the unofficial top of Songkran and the louder and prouder it is, the more you'll fit in!
Make sure you wear shoes with a grip! Everything is going to get very slippery, and those flip-flops will not be staying on your feet.
What NOT to wear: Do NOT wear white! As much as you may want to relive your university days, this is a religious holiday and not the time for a wet t-shirt contest. It's also advisable not to wander around in your bathing suits all day.
What to bring: Your childhood Super Soaker and if you can't find that, a bucket will do. Beyond that, pack like you would for the beach – e.g. hat, sunglasses, waterproof sunscreen.
Rules of the game: 
Get wet and get people wet.
Don't get mad (seriously, don't). If you're unhappy go inside but don't get angry in public.
Don't get into a fight. Songkran is a light-hearted holiday, and no one means harm.
Don't wear white (in case you needed the reminder).
Monks, uniformed police and the elderly have immunity – everyone else is fair game.
Where it's all happening
Chaweng – For the party people
Why Chaweng: If you want to wake up at the end of this holiday wondering how you made it out alive, Chaweng is the place to go. Chaweng is one of the busiest places in Samui, and this Songkran there are going to be foam parties, DJs, and plenty of boozy brunches!
Where to Stay:
The basics: Sangsuri is an estate of three expansive villas in Chaweng, eastern Koh Samui. They range in size, consisting of six, seven or eight bedrooms. The three villas can be rented together to create the largest Songkran team around – that's 21-bedrooms and 31-bathrooms!
Why: Set on a secluded stretch on Chaweng Beach, all 21-bedrooms feature spectacular views of the ocean or the various landscaped terraces. Plus, there's direct beach access, and each villa has at least one pool! And, it's just ten minutes from Chaweng.
Read also: Everything you need to know about Samui before you go
Choeng Mon – Calm, but still in the action
Why Choeng Mon: If you want to get involved in the action, but you're hoping to survive the holiday without any scars go to Choeng Mon. The area is also probably one of the better places to celebrate if you have younger children who you're hoping not to lose in a crowd.
Where to Stay:

The basics: The Sun Kissed Villa is a 3-bedroom, 2.5 bathroom villa in the hills of Choeng Mon.
Why: This child-friendly villa is perfect for your tight-knit family (again, making sure those kids don't disappear). Sun Kissed earns its name thanks to a combination of sunny outdoor spaces and its modern interior which offer sea and sunset views. Plus, it comes with a 6 x 5.4 metre infinity pool.
Bophut & Fisherman's Village – For the best of both worlds
Why Bophut: Bophut and Fisherman's Village are probably the best places to be during Songkran if you want a combination of Chaweng's excitement and Choeng Mon's more child-friendly atmosphere.
Where to Stay:
The basics: Ban Kinaree is a five-bedroom, five-bathroom hillside villa in Bophut.
Why: Ban Kinaree is just a 10-minute drive from Fisherman's Village for easy access to Songkran festivities, but a great retreat when you need a break. With a total of 5 bedrooms, the getaway is sprawled across three separate pavilions and levels, featuring a 17-metre swimming pool, an al fresco dining area, and breathtaking views overlooking the bay.

The basics: Baan Benjamart is a 4-bedroom, 4.5-bathroom villa located directly on the beach in Bophut.
Why: The villa is perfect for island-loving families or a laid-back company of friends looking for a tranquil and luxurious beachfront retreat. Baan Benjamart's spacious rooms all open out onto tropical coastal views, and stunning white sand beaches, making it easy to move between pristine private beach, infinity pool and living areas.
Read also: Dine your way through Koh Samui's Fisherman's Village at these 12 Eateries
The South and West Coasts – For the 'real' Songkran
Why the coasts: The least touristy areas of Samui are along the island's southern and western coasts, and from here you can get a better sense of how the locals celebrate the holiday. Being on the quiet coasts, however, does not mean you'll be staying dry – there's still a water battle out there.
Where to Stay: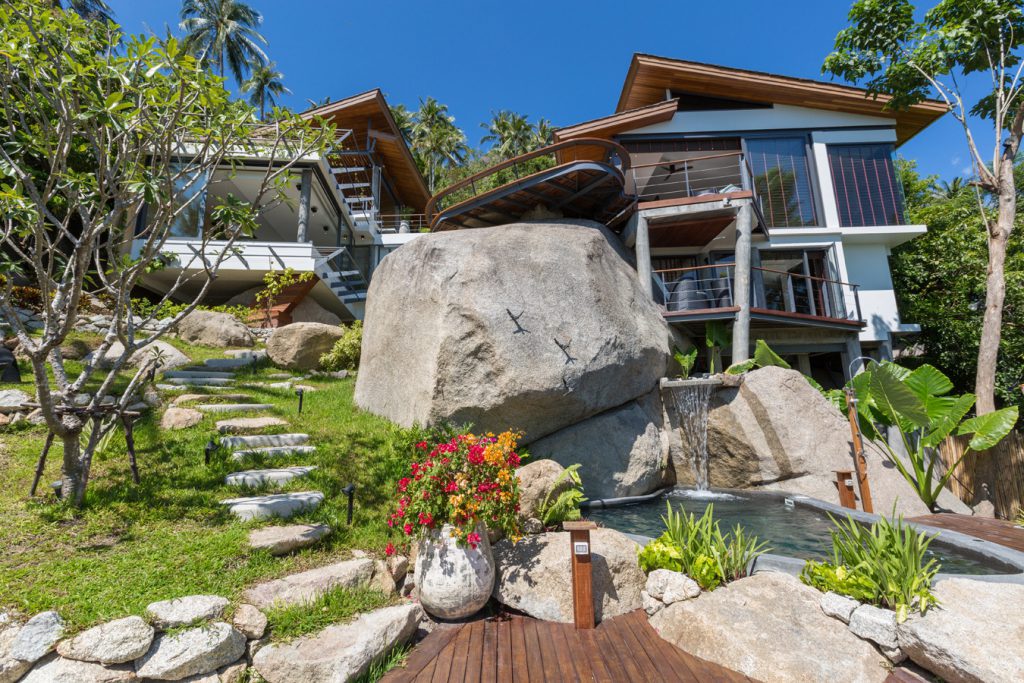 The basics: L2 Residence is a 3-bedroom, 3.5-bathroom villa within an exclusive hillside getaway in Laem Set on the southern coast.
Why: Spread over a cliff face, L2 is an architectural gem. L2 is excellent for couples and small families looking to retreat from the world. The villa comes with panoramic views of the Gulf of Siam, a kid-friendly plunge pool with waterfall, and a floating yoga deck! There's also an in-villa chef, so the only downside of L2 is the possibility that you'll forget about Songkran entirely!
Read also: These are the most beautiful Samui villas, inside and out
The basics: Villa Haineu is a 5-bedroom, 7-bathroom beachfront home in Lipa Noi, on Samui's west coast.
Why: One of six villas within the Dhevatara Cove Estate, Villa Haineu was designed with the historical Ayutthaya palaces in mind. The living areas are spread across several pavilions housing dining areas, bedrooms and the main lounge area. The main pavilions open out onto a 15-metre swimming pool with jacuzzi. Haineu is perfect for families and larger groups of friends.
Read also: How Tjin Lee balances girl time and mum duty in Samui
The rest:
Business closures: Most businesses on the island will be closed on April 13th, and many will be closed until April 17th. If you need things like cash, make sure you get plenty of it in advance.
Driving: Alcohol sales are strictly monitored during Songkran, but as with any new year celebration, keep an eye on the road. And, if at all possible, avoid using a motorbike or scooter during Songkran. Beyond the roads being wet, you might end up with a face-full of water tossed at you – which can lead to all sorts of accidents.
Safety: Very generally, Songkran in Samui is no less safe than any other new year celebration. Just remember to stay alert!
A phrase to know: Sa-wa-dee bi mai! That's, "Happy New Year!"