As you would know, anticipation is rising for all football fans across the globe because the FIFA World Cup 2014 is just around the corner! While energy levels of fans are being revved up, we know many are taking advantage of the season to play explorer in this glorious nation that cherishes its football.
'Tis the season for football fans and voyagers alike. Go ahead and crisscross this nation which sprawls across half the continent of South America and treat yourself to sunny adventures, breezy magnificent shores and immerse yourself in Brazilian culture!
Here's a list of the top 10 places to visit in Brazil!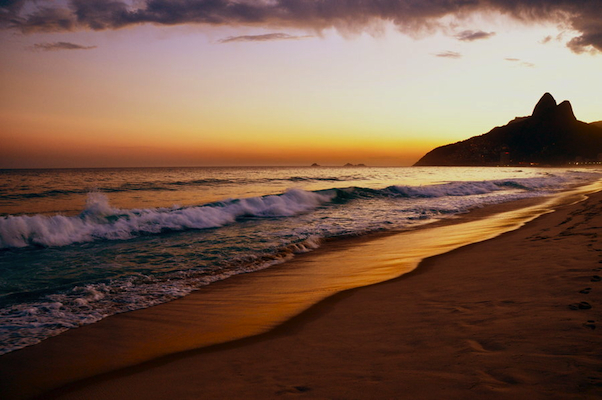 #1 Ipanema
"Tall and tan and young and love, the girl from Ipanema goes walking…"
And that's the very song "The Girl From Ipanema" (and not to mention, a Grammy award winning one) that caused this little seaside neighbourhood to rise to fame.
Far from the meaning of its name, "stinky lake" in the Tupi language, this beach is everything the name is not. Known for its eloquence and social status, with thousands of tourists visiting each year, the Travel Channel did not list Ipanema as the sexiest beach in the world for nothing.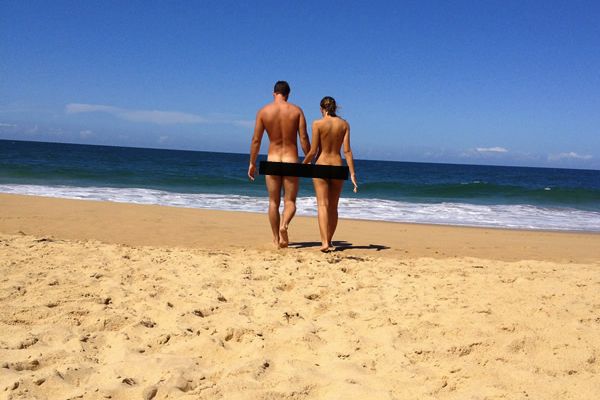 #2 Praia do Pinho
If visiting a nudist beach is something you fancy, then this is the place for you. Located in Florianopolis, dubbed the happiest city in the world, Praia do Pinho is considered one of the oldest nudist beaches in Brazil. However, before you can partake in all the fun, you'd need to hop on the bandwagon and well, drop trou!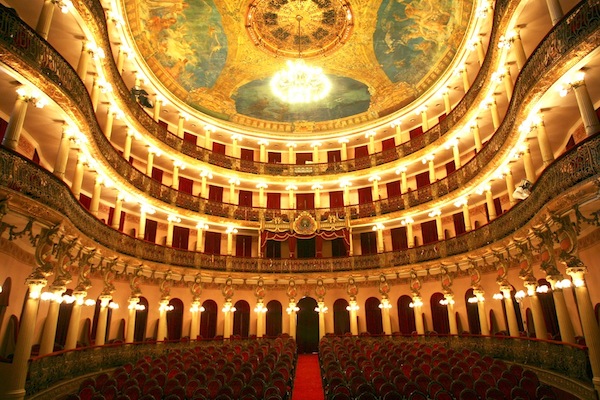 #3 Teatro Amazonas
When visiting the city of Manaus in Brazil, you have to watch the opera at the breathtaking Teatro Amazonas! This one of a kind popular historical attraction began construction in 1884 and was only completed 15 years later.
From concerts to orchestras, ballets and performances by renowned performers, this theatre is host to world class acts from across the globe. Artists that have performed in the opera house include Margot Fonteyn, Julio Iglesias and Jose Carreras.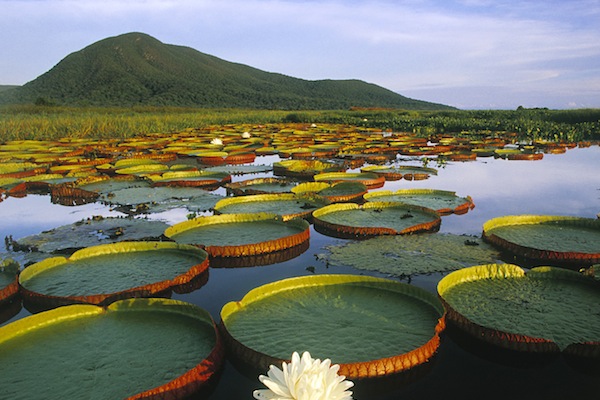 #4 Pantanal
If you think the Amazon is all that, then you definitely need to check out the Pantanal situated mostly at Western Brazil. A sea of vivid blue and greens, you will be granted the opportunity to view a large variety of wildlife. Home to one of the largest Jaguar population, get psyched to watch these majestic creatures roam out in the open.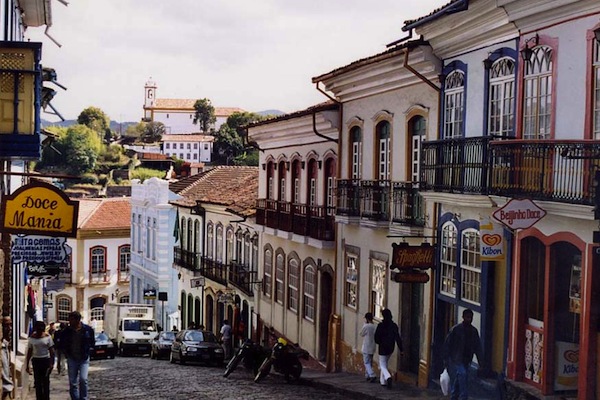 #5 Ouro Preto
Ouro Preto simply means "black gold' and it was once an epicenter of a new gold rush in the state of Minas Gerais. With its 18th and 19th century style buildings, travel back in time as you adventure through this quaint colonial town of Brazil.
Because it is so well preserved, this whimsical town makes one of the most popular tourist attractions in Brazil. And oh, not to mention, this little town is listed as a World Heritage Site by UNESCO.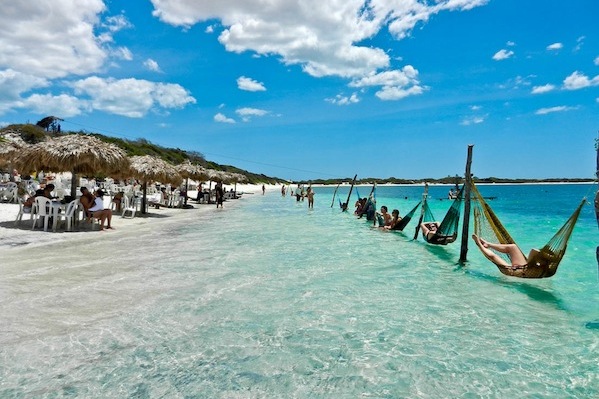 #6 Jerioacoara
A destination of wonderment, many travelers end up deciding to spend a longer period of time here than originally planed. Far out west of Foraleza, Jery, this serene fishing village is an oasis among white sandy dunes. The Washington Post has declared Jerioacoara as one of the best ten beaches in the world. Swaying palm trees, white find sand, breezy atmosphere and crystal clear waters, there is no reason to not explore this precious gem!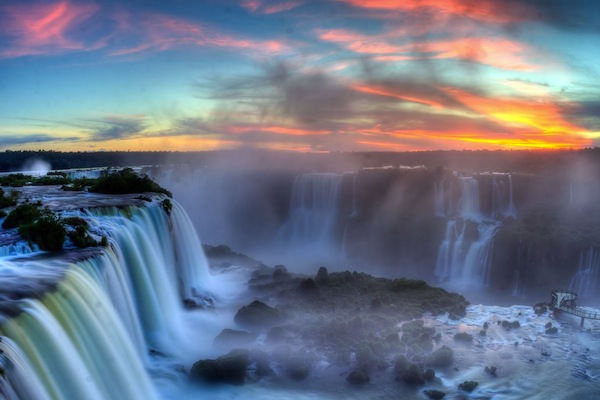 #7 Iguazu Falls
Situated on the border between Brazil and Argentina, this world wonder is made of 275 falls along the Iguazu River. While you're there, make sure to check out the most impressive fall of them all, aptly named the Devil's Throat.
According to legendary belief, a god planned to marry a beautiful woman named Naipi, who fled with her mortal lover Taroba in a canoe. In envy and rage, the God decided to slice the river, creating the waterfalls whilst condemning the lovers to eternal separation!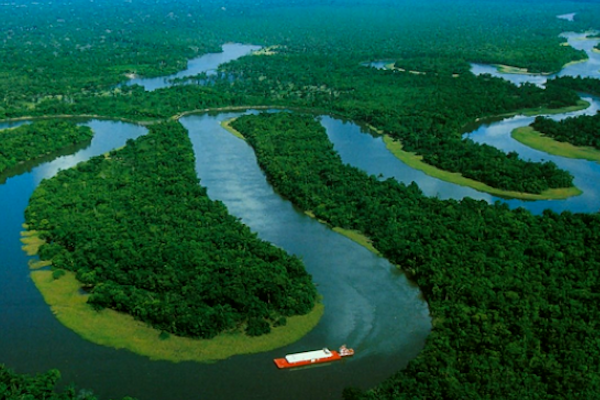 #8 The Amazon River & Amazonia National Park
The Amazon rainforest covers a whopping 7 out of Brazil's 27 states, earning itself the nickname "The Green Inferno". Things to do at the Amazon include trekking, hiking, climbing, taking boat cruises along the river and bird watching.
Explore the Amazon River and its surrounding rainforest filled with exotic wildlife and over 3000 known species of fishes. Book yourself a cruise and go on an adventure along the second longest river in the world. Without a trip to the Amazon, your tour in Brazil would be incomplete!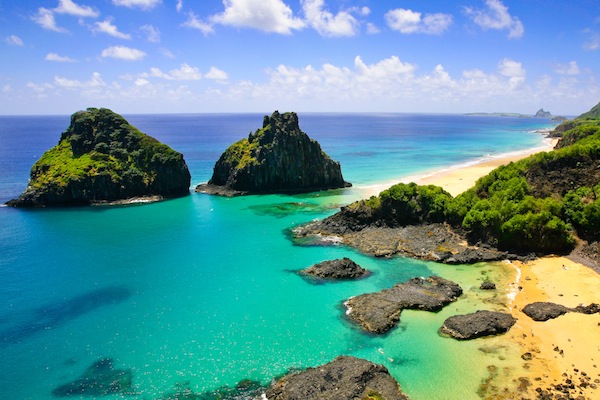 #9 Fernando de Noronha
UNESCO designated this outrageously attractive destination as a World Heritage Site in 2001. Rich with sea and wildlife, promising views of sea turtles, dolphins and so much more, travelers are in for a phenomenal experience. The Fernando de Noronha consists of an archipelago of 21 stunning islands, one 11-square-mile chunk of volcano rock and islets.
And here's some great news for all divers! Because warm water is perpetually being pushed from Africa to the islands, diving depths without a wetsuit can go down to 30 to 40 meters! So, it seems heaven does exists on earth.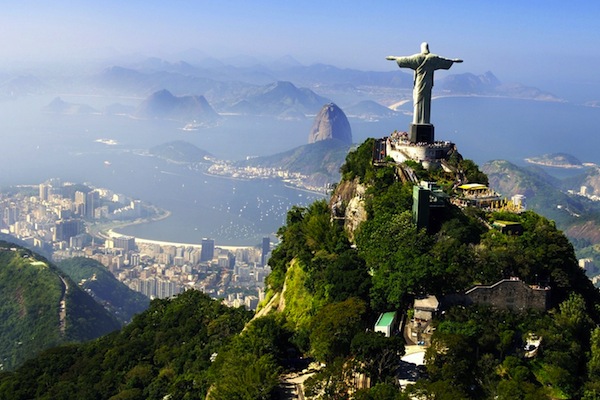 #10 Corcovado & Cristo Redentor
We've all heard and seen pictures of the majestic 38-metre statue of "Cristo Redentor" (Christ the Redeemer), which stands tall on the Corcovado (meaning "hunchback" in Portugese) mountain located in the Tijuca Forest at central Rio de Janeiro.
With over 300,000 visitors in a year, the most fascinating attraction of the mountain would obviously be the statue and it's panoramic view of the city from the peak. It is so popular, even Albert Einsten and the late Princess Diana were compelled to pay the iconic location a little visit.
Main Photo: 1.