Tucked in the serene and protected development at the end of Millionaire's Mile, Wang Nam Jai Phuket is one of the finest and most exclusive villa retreats in the island of Phuket. Surrounded by dense foliage, the villa is almost an enclave built into the cliff; granting the owners majestic views of the Patong and Andaman sea. Throughout the villa itself, you'll find it dotted with water features against groves of fragrant frangipanis native to the island. While simple, the overall design of the villa is unique and meant to take advantage of the supremely beautiful vantage point.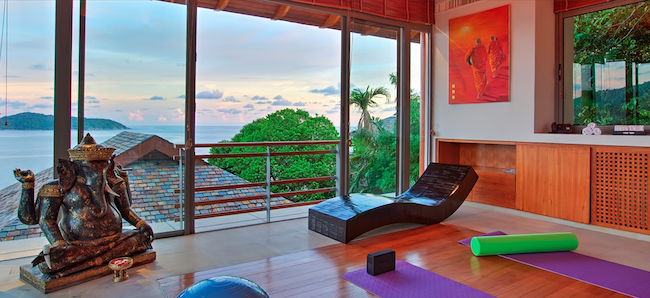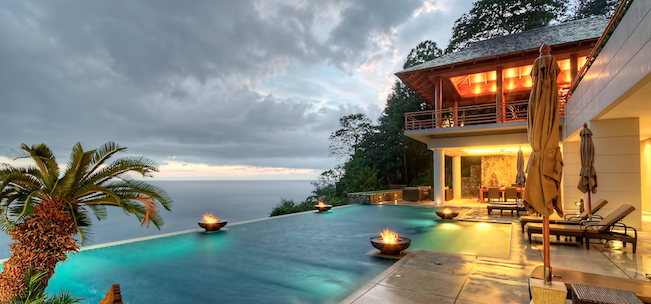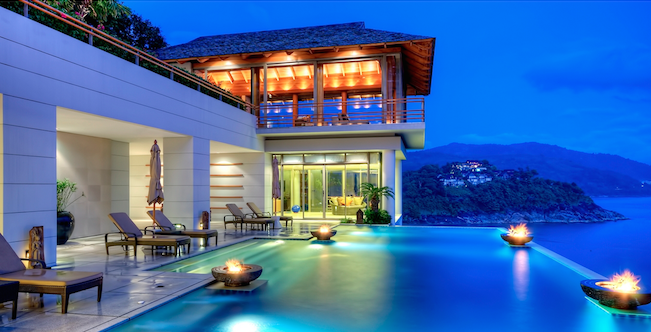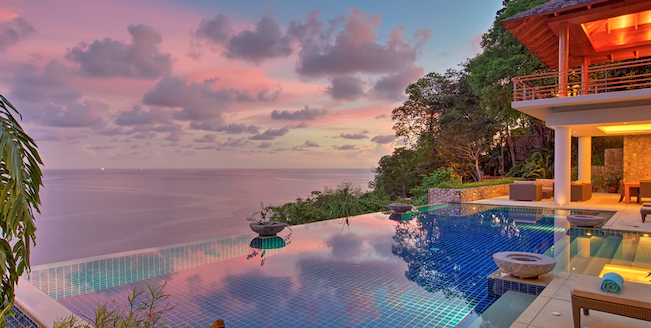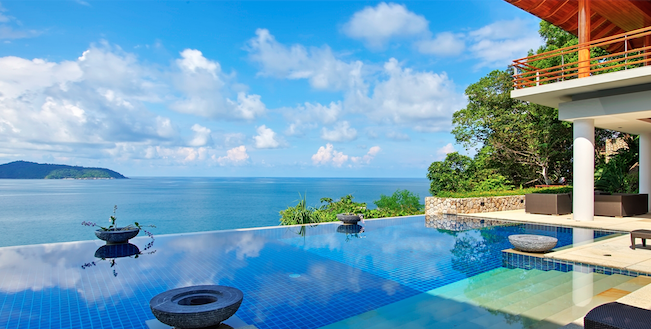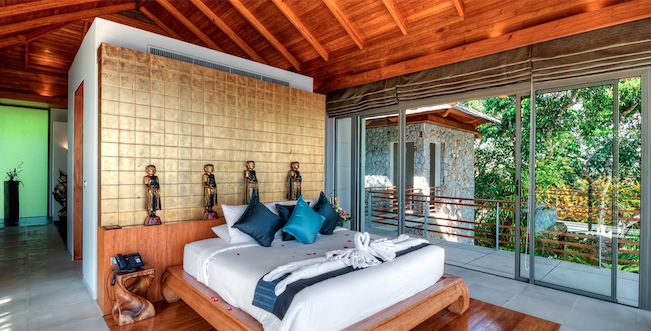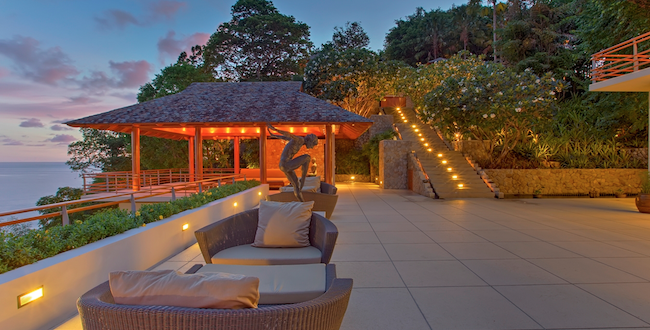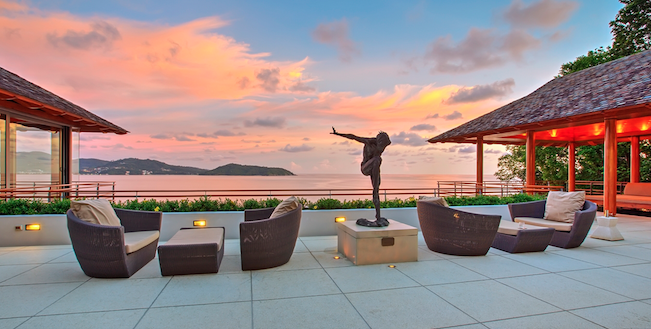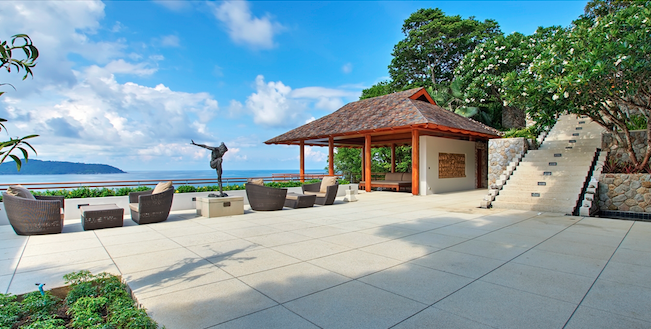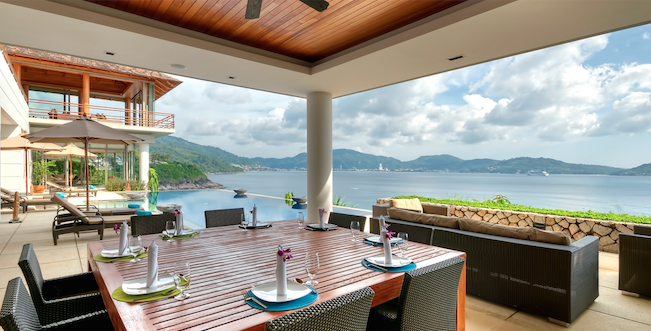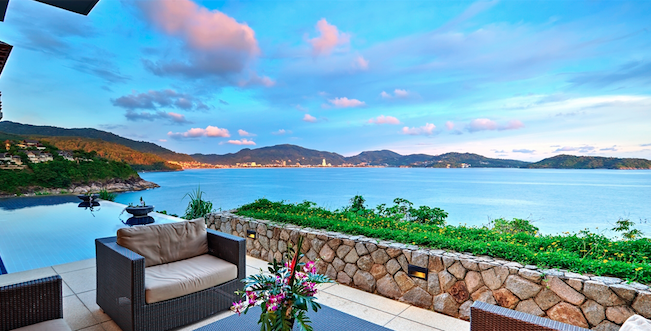 What: Wang Nam Jai Phuket consists of five floors, from the infinity pool at the bottom all the way up to the top, where a fitness centre resides. Overlooking the busy stretch of the island, this designer villa combines grandeur and elegance with high ceilings, teak wood interiors and sophisticated furnishing. The most outstanding bit about Wang Nam Jai is the whole openness about it; it's open from floor-to-ceiling to make most out of the outstanding view. Directly translating to "The Castle of Grace", Wang Nam Jai boasts expansive grounds that are magically lit up in the night, painting the entire scene amber and azure. A yoga and meditation sala overlooking the endless sea is great for yogis while the media and entertainment room is equipped with a foosball and mini table tennis table for a bit of together fun.
Why: Azure skies, golden sunsets, sapphire seas, warm sea breezes in ultimate comfort. It's an experience that not many can say that they have had.
Extra stuff:
– From Phuket International Airport, the Villa is only a 40 minute ride on the highway and a country road past a couple of villages teeming with activities and open fields. The villa is also located 25 minutes from Patong Beach and 40 minutes to Phuket town.
– Airport transfers are THB 2140 one way, for a maximum of 8 to 10 passengers, depending on the amount of luggage.
– Wang Nam Jai is spread over five floors of careful designing and spread out planning.
– This villa features four bedrooms, all within proximity of each other for easy access and functionality.
– The villa has a staff of 5, including a villa manager, a cook, 2 housekeepers, and a handyman.
– The villa chef will do all of your grocery shopping and prepare your meals. Please note there is a 20% charge on the ingredients purchased. Also, meals are served family style rather than "à la carte".
– The villa can host about 40 to 100 guests for private events and weddings. They are also open to photo shoots and international  -catalog photography.
– Pets are not allowed at the villa.
– Smoking is prohibited within the villa.
What do you think about the Villa Wang Nam Jai Phuket, nomads? If you like what you read, you can book it here.
All images are credited to Villa Wang Nam Jai Phuket