Partially inspired by the Fifty Shades of Grey trailer that just graced the Internet, we decided to put together a list of sexiest hotels around the world, complete with inner goddess ratings (though we can't vouch for the luxe-ratings), since not all of us have a super rich entrepreneur to lure us into his sex dungeon.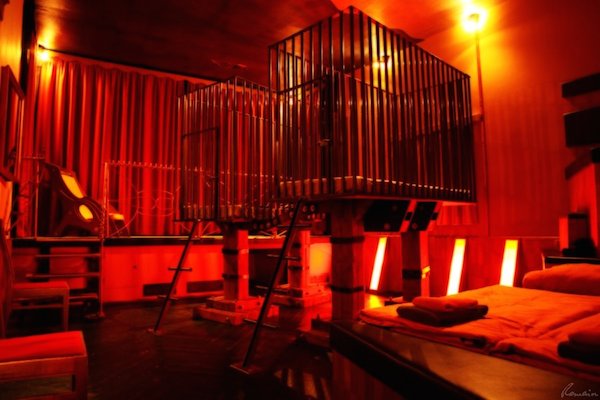 Reopened for a limited time only, the Propeller Island City Lodge is an aesthetic, sensory overload that is not just a hotel, but a work of pure art. Several themed rooms start from children fairytale rooms all the way to raised caged beds under red lighting. Ooh, kinky.
Inner goddess rating: 4 stars
"
My inner goddess is doing the Merengue with some salsa moves."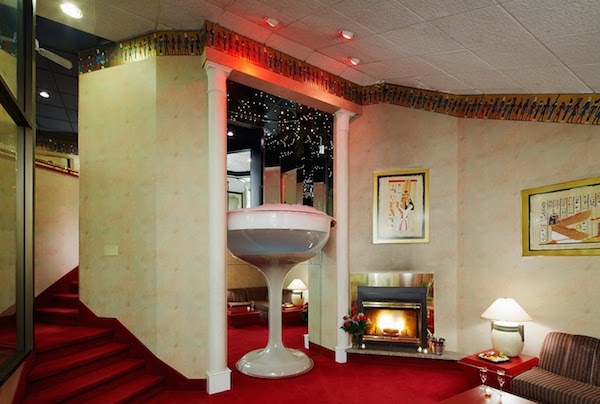 If bathtub sex tickles your fancies, Pocono should be on your must-stay list. A 7-foot champagne glass whirlpool beside a cracking fireplace greets you in this 4-level suite. Complete with a heated heart-shaped pool, this ensures that you get laid at least once.
Inner goddess rating: 5 stars
"
My inner goddess stops jumping and smiles 
serenely. Oh yes… she mouths, nodding at me smugly."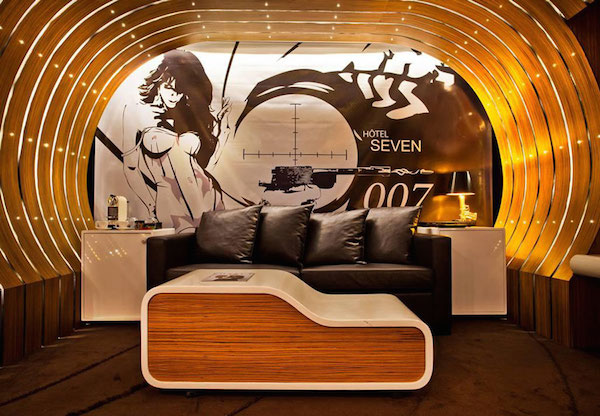 This is for those who fancy themselves a sexy secret agent; a hotel that's like a set right out of a James Bond movie. Funky back lights, levitating beds and plush leather is perfect for that much needed ego boost. Seven Hotel's pads make it super easy to charm your way into her pants.
Inner goddess rating: 3.5 stars
"
My inner goddess sits in the lotus position looking serene except for the sly, self-congratulatory smile on her face."
#4 Aiwei Boutique Themed Hotel, Hefei
Right up Christian's alley (though maybe not his budget), the Aiwei has several themed rooms, all in different types of sexy. Waterbeds, suggestive toys and their most popular jail room complete with metal bars and hand cuffs will definitely get the juices flowing.
Inner goddess rating: 4 stars
"
My inner goddess jumps up and down with cheerleading pom-poms shouting yes at me."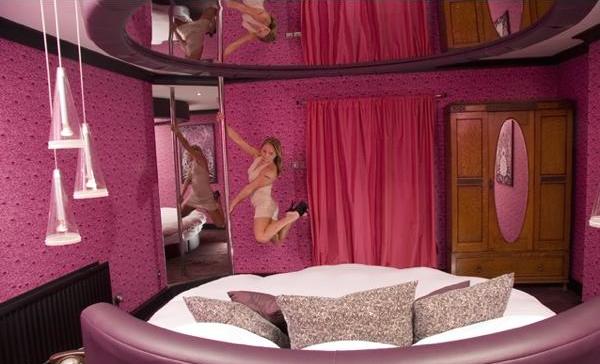 It's pure domestic sluttery, but your inner goddess would approve of Pelirocco. Mirrored ceilings, round padded beds, red (of course) rooms and there's even a pole to showcase your (lack of?) dancing skills. Super cheesy, but who doesn't love cheese?
Inner goddess rating: 4 stars
"
My inner goddess is doing back flips in a routine 
worthy of a Russian Olympic gymnast."
Which other hotels would you recommend for sexy times, nomads?
Main photo:
1. 
Photo credits:
1,
2,
3,
4,
5.