"Have you seen the sunset in Bali?" our driver asked us as we make our journey to The Ungasan Clifftop Resort in Uluwatu. We tell him we have, just a day ago in Seminyak, to which he smiles and says, "The sunsets here in Uluwatu are better."
We're here for Sundays Beach Club, the resort's much talked about beachfront club that sits in one of Bali's most picturesque locations, the sandy white beaches of Uluwatu, with The Ungasan's beautiful villas perched on the clifftop above. The first hint that this was going to be a beach experience like no other? When we hopped into an inclinator to make the journey down the cliffside to reach the private piece of paradise.
Read also: Top of the luxe list: The Ungusan Clifftop Resort in Uluwatu, Bali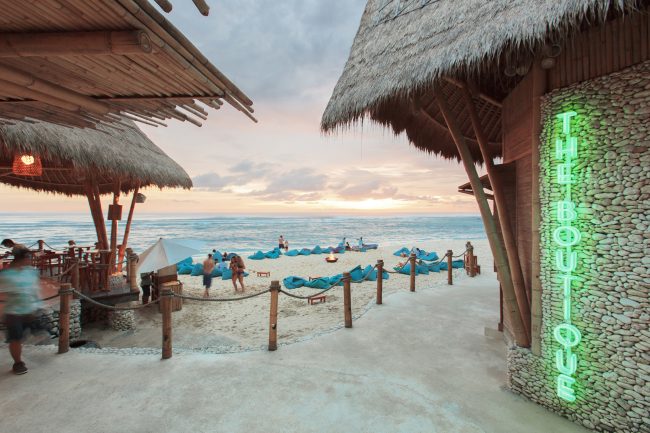 If the ride was exciting, what we found below more than matched up to expectations: the cleanest beach in Bali, and a great mix of families and young couples enjoying it. With so much going on at Bali, sometimes it can be hard to commit to a single place for the whole day – but not at Sundays. The location and incredible views are one thing, but they've matched that with exceptional facilities: all-day dining, bespoke cocktails and complimentary water sports. We alternated between lounging around with cocktails, exploring the rock pools scattered across the coast, and trying our hand at paddle boarding.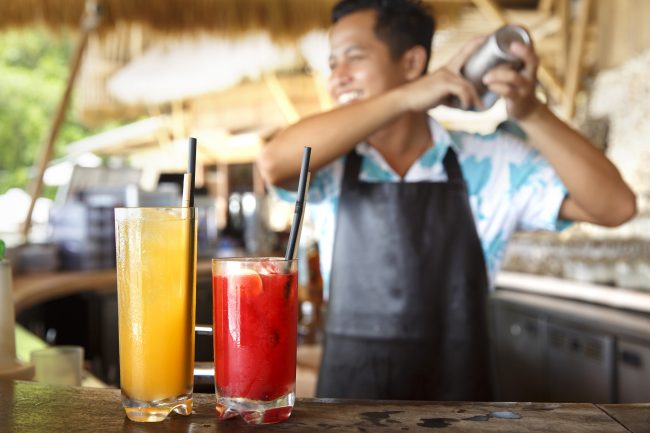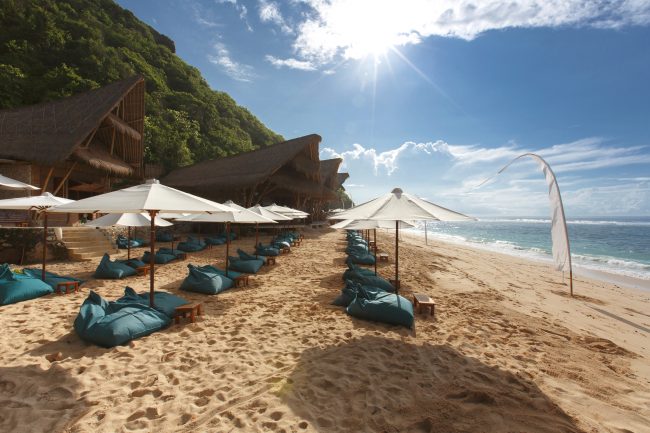 And of course, eating. Our tip? The best days to visit are Friday and Saturday so you can enjoy the very special Seafood Feast. It's a mouthwatering ocean-to-table banquet that's perfect for refuelling after a day spent in the sun on the sand.
Make sure you're comfy for sunset, with sundowner cocktail in hand (we recommend the mojitos for optimum refreshment). Because – yes, we admit it – the sunsets here are better than anywhere else in Bali. And beautiful as they are, what comes after is even lovelier – beach bonfires that create a gentle, radiant glow, complemented by the pink skies and chill tunes in the background. It's a beautiful close to a day we didn't want to end – but we'll be back, soon enough.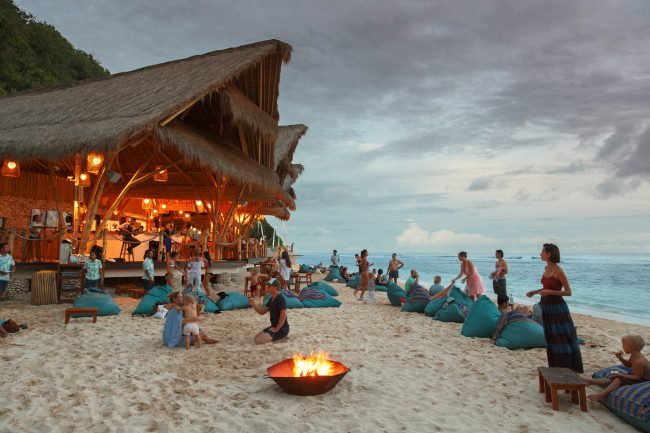 If you're heading to Sundays Beach Club yourself, you're in luck – the beach club used to be first-come-first-served only, but now you can book your spots at The Deck, The Beach and Dinner. Plus you can also skip the line with VIP entry. Go now, and think of us when the sun sets.
For details and reservations visit www.sundaysbeachclub.com