Read the original post on Where in the World is Paradise
Location: Baros Maldives in Maldives
You are flying over scores of tiny, perfect islands peppered through the sea, each framed with bright white sand and crystal-clear waters featuring endless shades of blue. There is only one place you could be. Welcome to Asia's smallest country, The Republic of the Maldives, where 1100-plus islands are spread over 90,000 square kilometres of magnificent sea.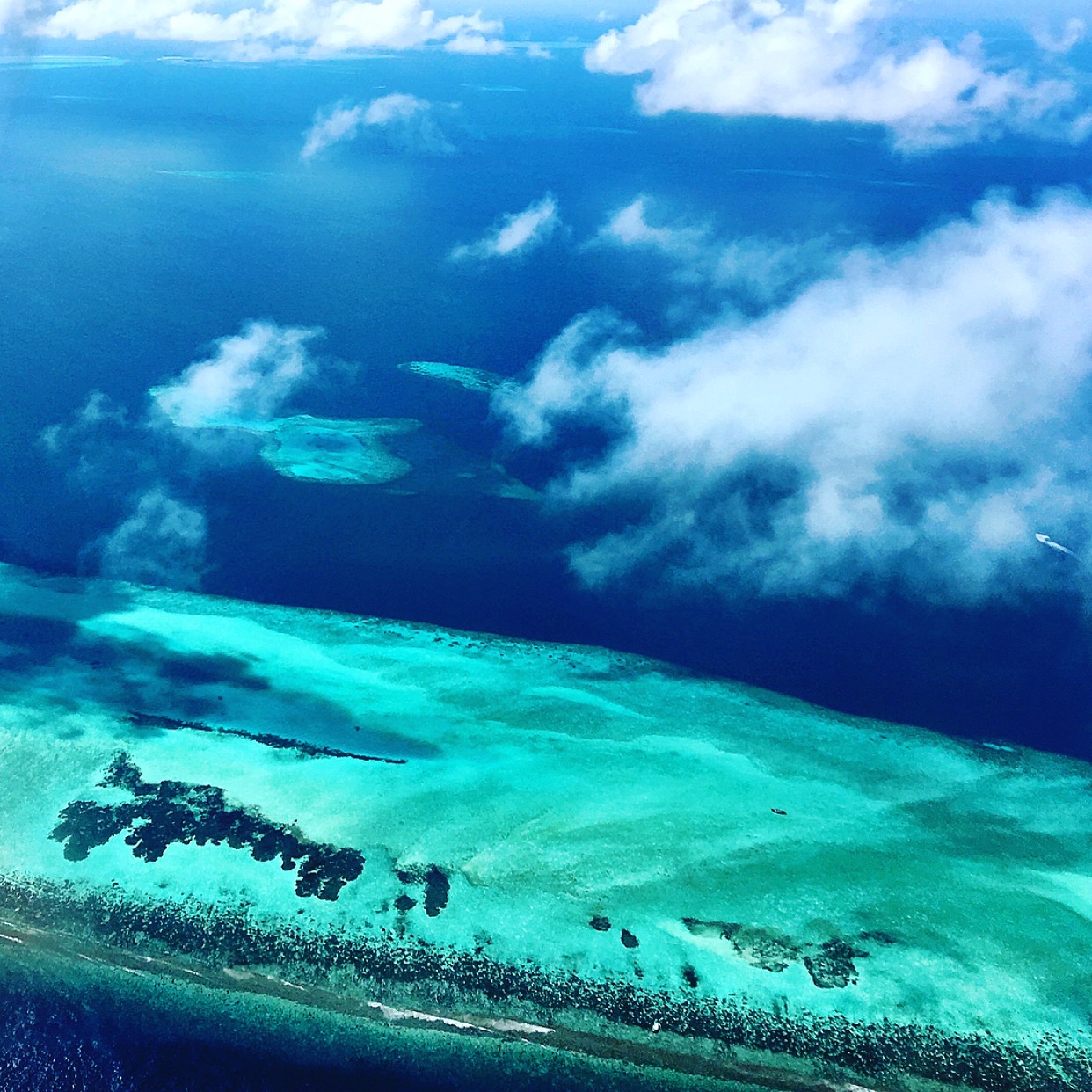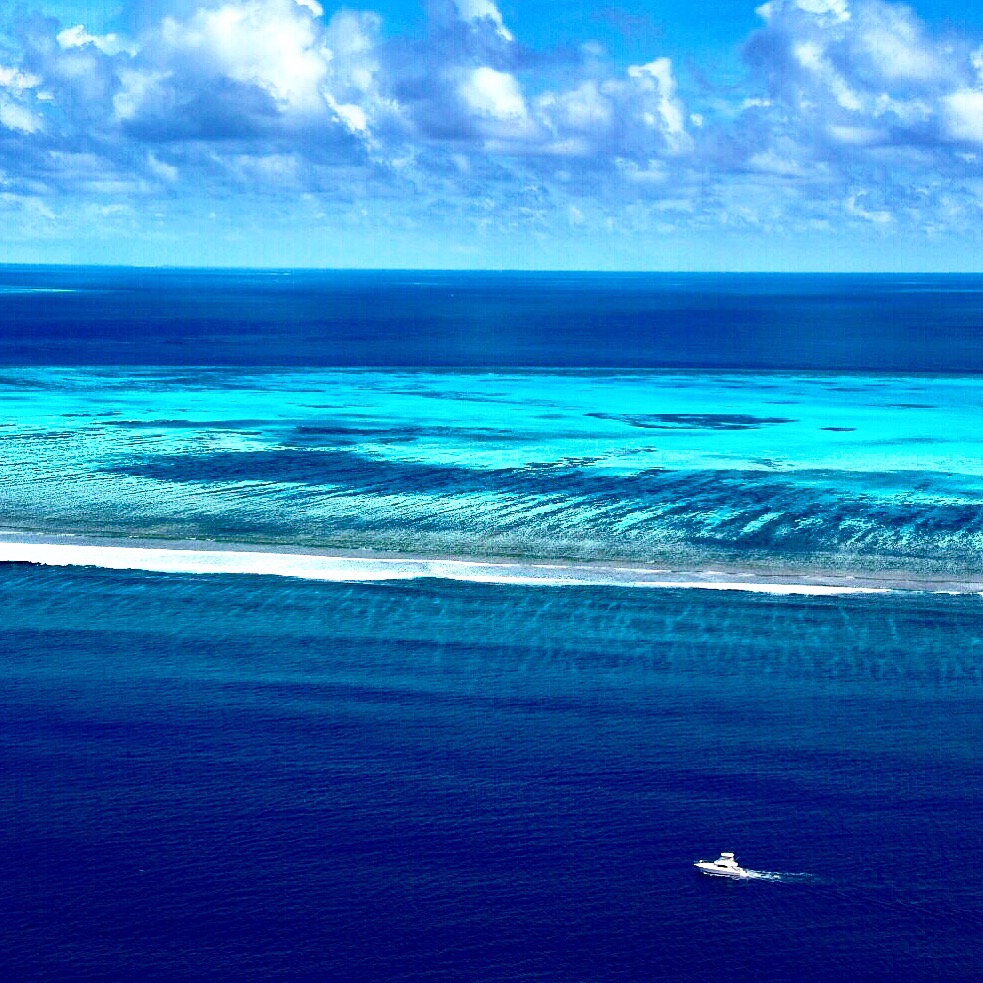 It is here you'll find Baros, a luxury resort described as 'the essence of the Maldives', and what I can only describe as Paradise. The Maldives' islands are grouped in 26 natural atolls (ring-like coral formations) and Baros lies in the central southern part of North Malé Atoll, a 25-minute speedboat ride from the Maldives International Airport and the capital, Malé.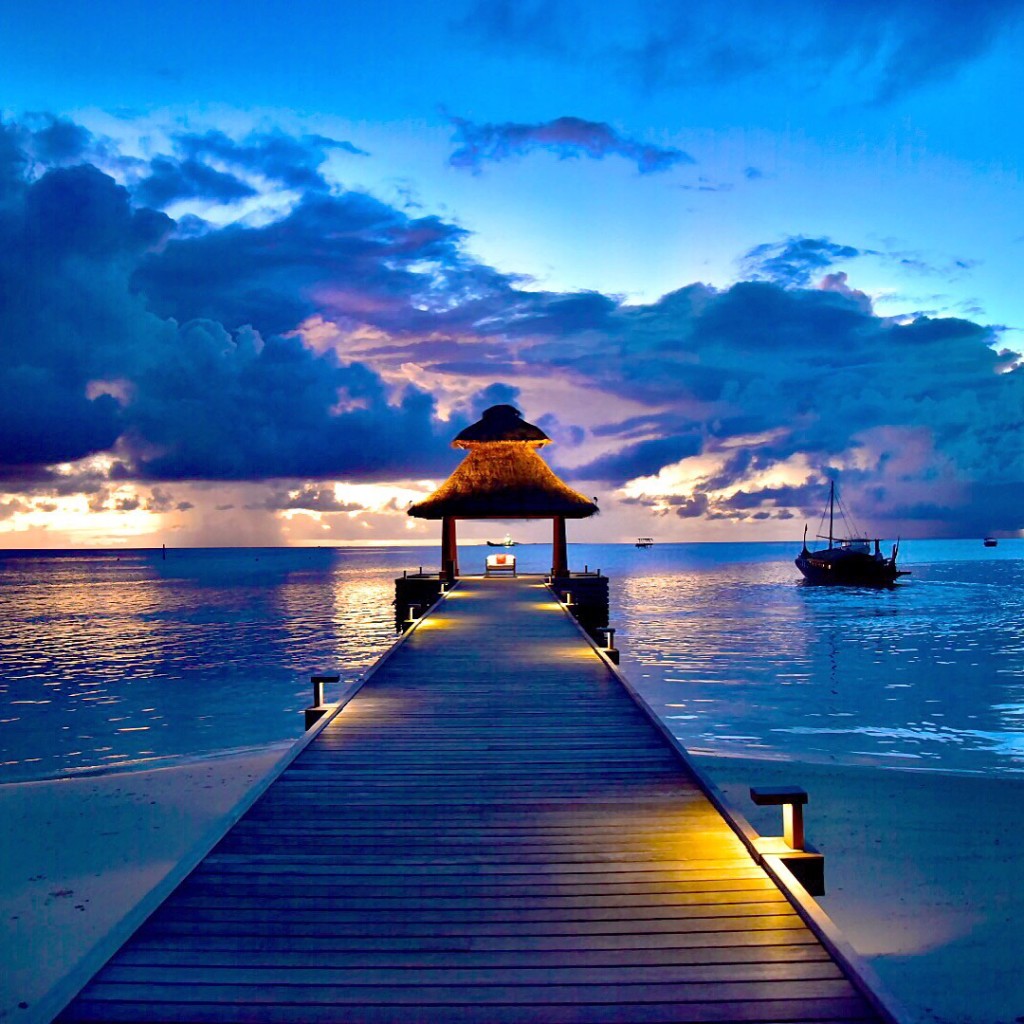 Baros welcomed the first guests to its shores in December 1973, when it was originally created as a resort for divers. The resort is owned and operated by a local family business, which explains the friendly and authentic Maldivian hospitality. Following its rebuilding in 2005, Baros was defined as a place of understated luxury for the cultured traveller.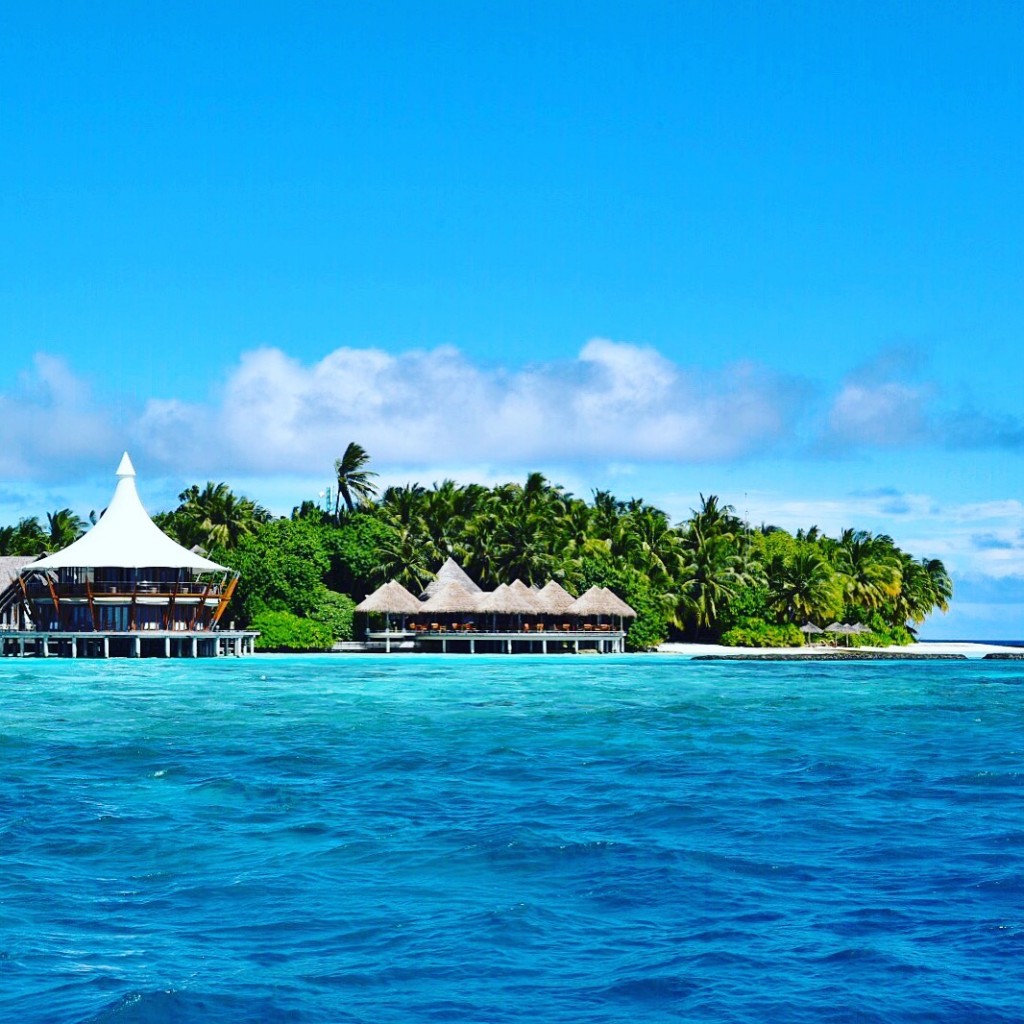 Let me take you through the incredible Baros experience that you can expect today. I am greeted at Malé airport by a boat butler (yes, they exist) and taken to the Baros speedboat for a 20-minute cruise to the island. My villa host meets me at the pontoon with a very warm welcome and acts as my go-to person for the duration of my stay. Already the Baros team feel like family and I've only just arrived. One of the first things you will notice here is that everyone – staff and guests – is genuinely happy.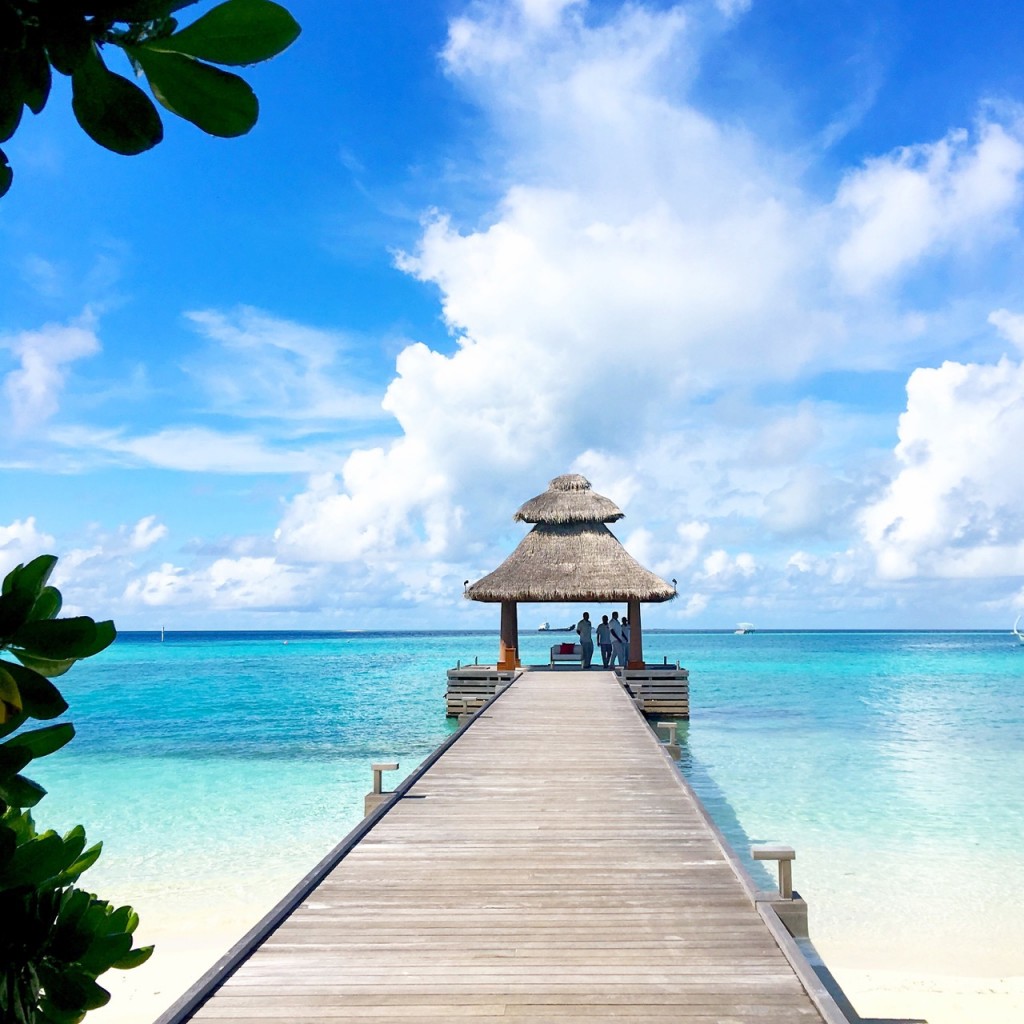 No one can talk about the Maldives without mentioning (make that raving about) the marine life. One of my favourite activities at Baros was snorkelling the flourishing house reef (the resort's local reef). It's a remarkable feeling being underwater with countless species of fish and so many magnificent colours. You realise just how insignificant we humans are and that there is another beautiful world out there.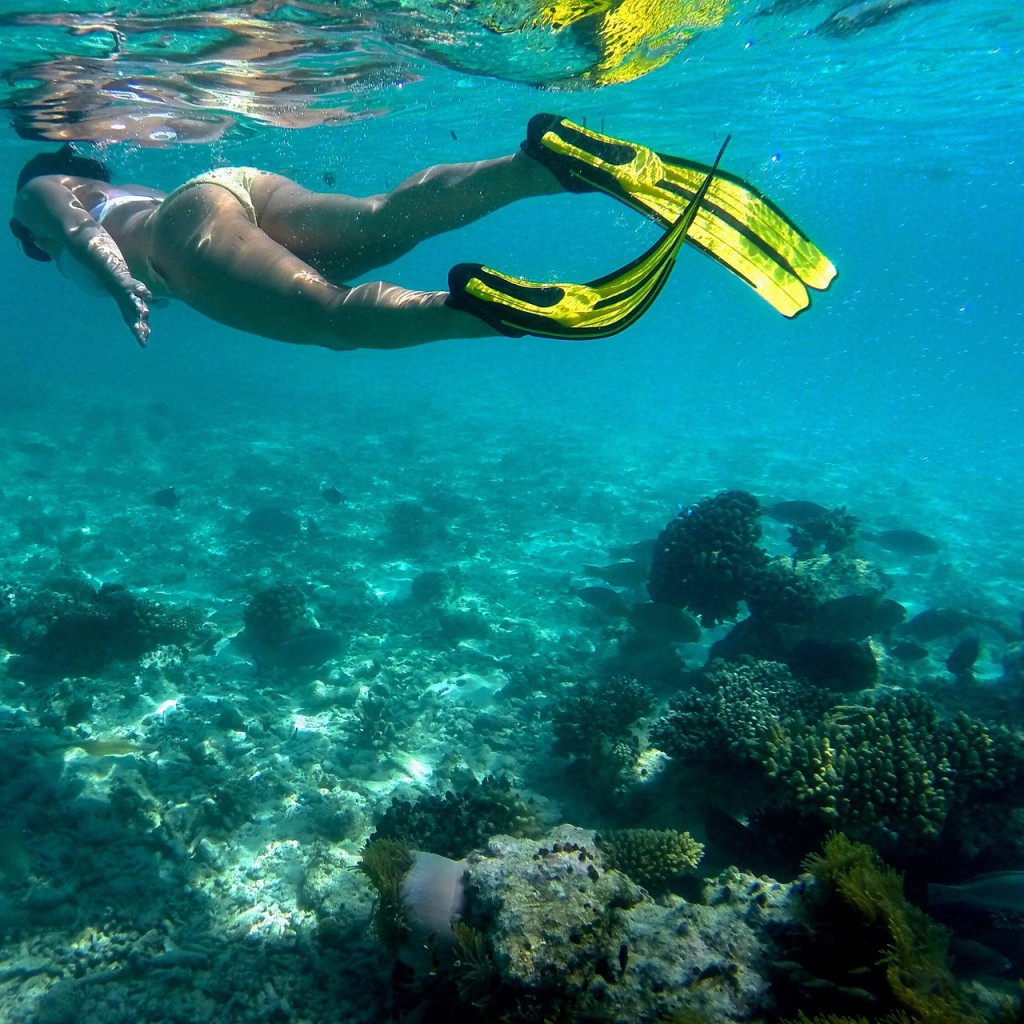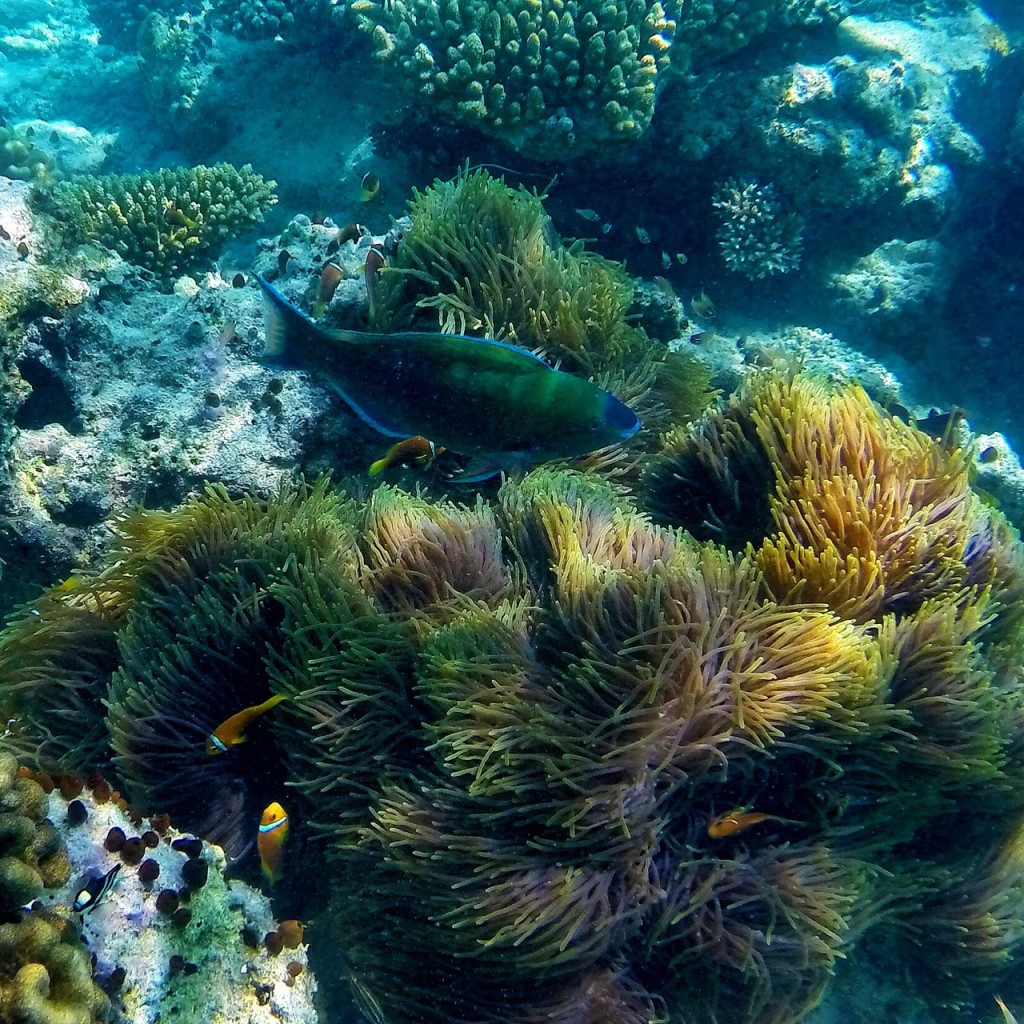 A first for me was swimming alongside the black-tipped reef sharks. The experience was surreal and adrenaline-charged, even though the sharks are timid. The PADI 5-star gold dive centre is one of the first dive centres ever opened in the Maldives. It is unique as the house reef is less than 30 metres from the shore, which means you can begin diving as soon as you have checked in. A marine biologist is on hand to guide you and provides a wealth of information. Baros also gives guests the opportunity to take part in its own reef-regeneration program by sponsoring a coral frame, which you can see while snorkelling.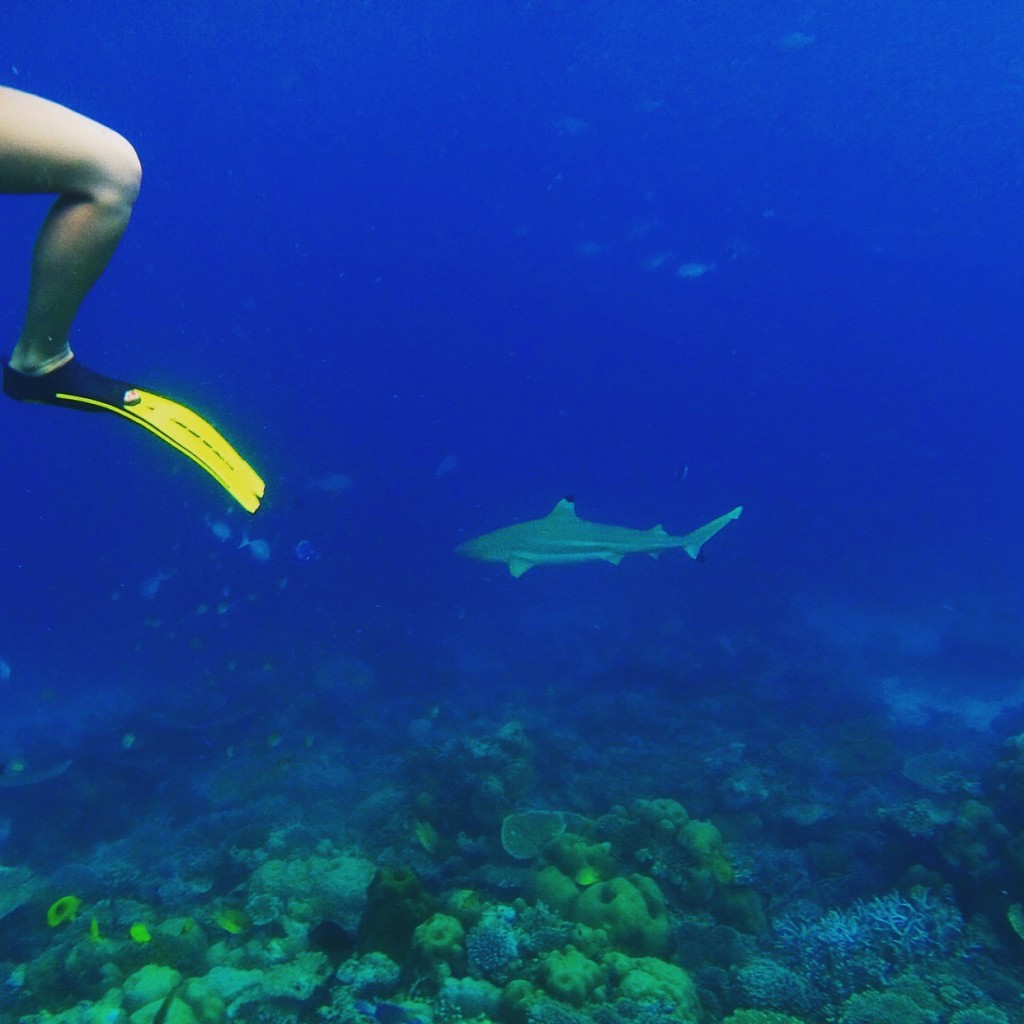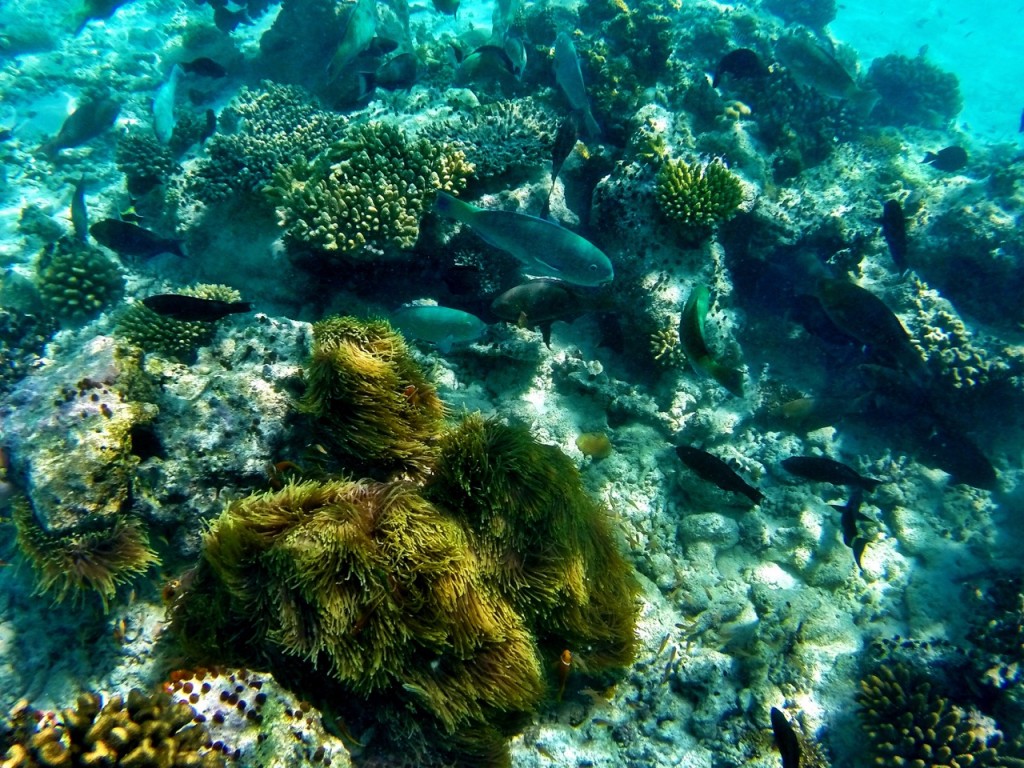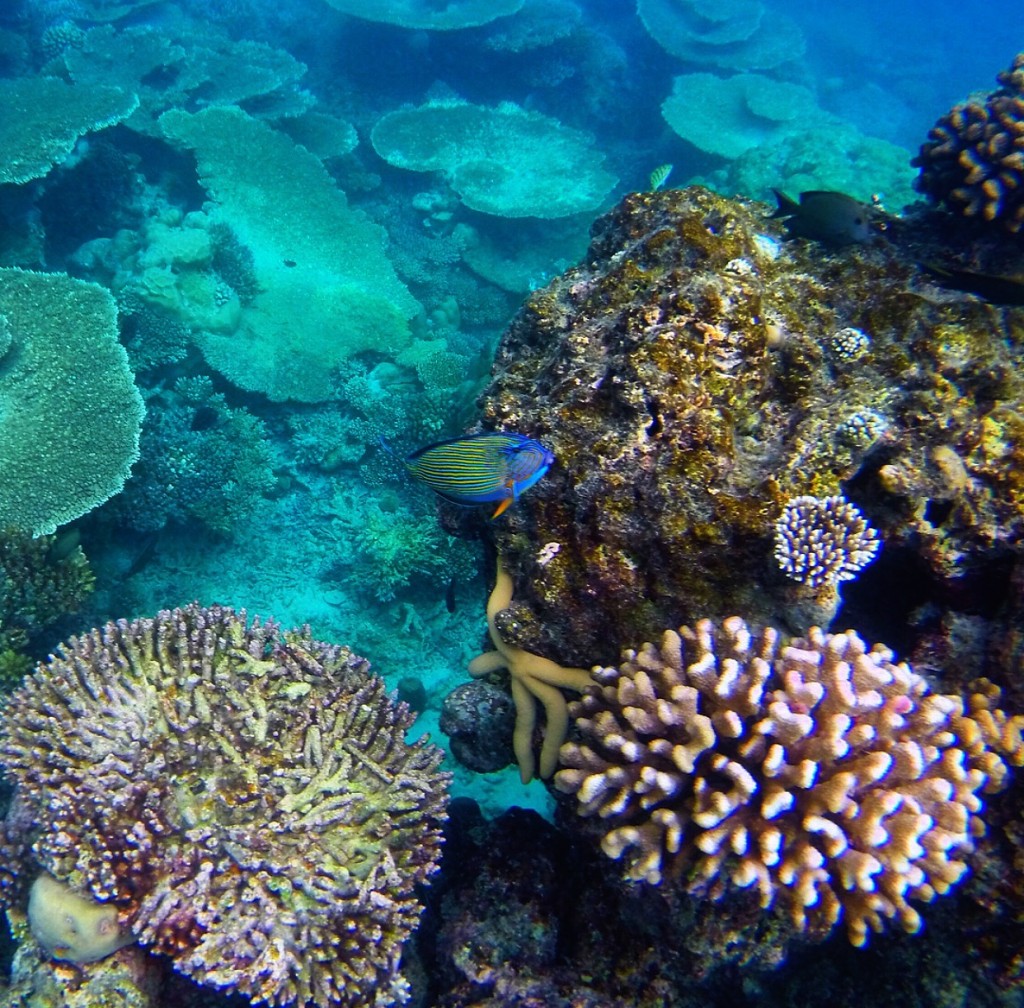 For those not inclined to head underwater, the transparent kayaks on offer at the marine centre are not to be missed. Where else in the world can you see coral, fish and a reef shark swim underneath your legs?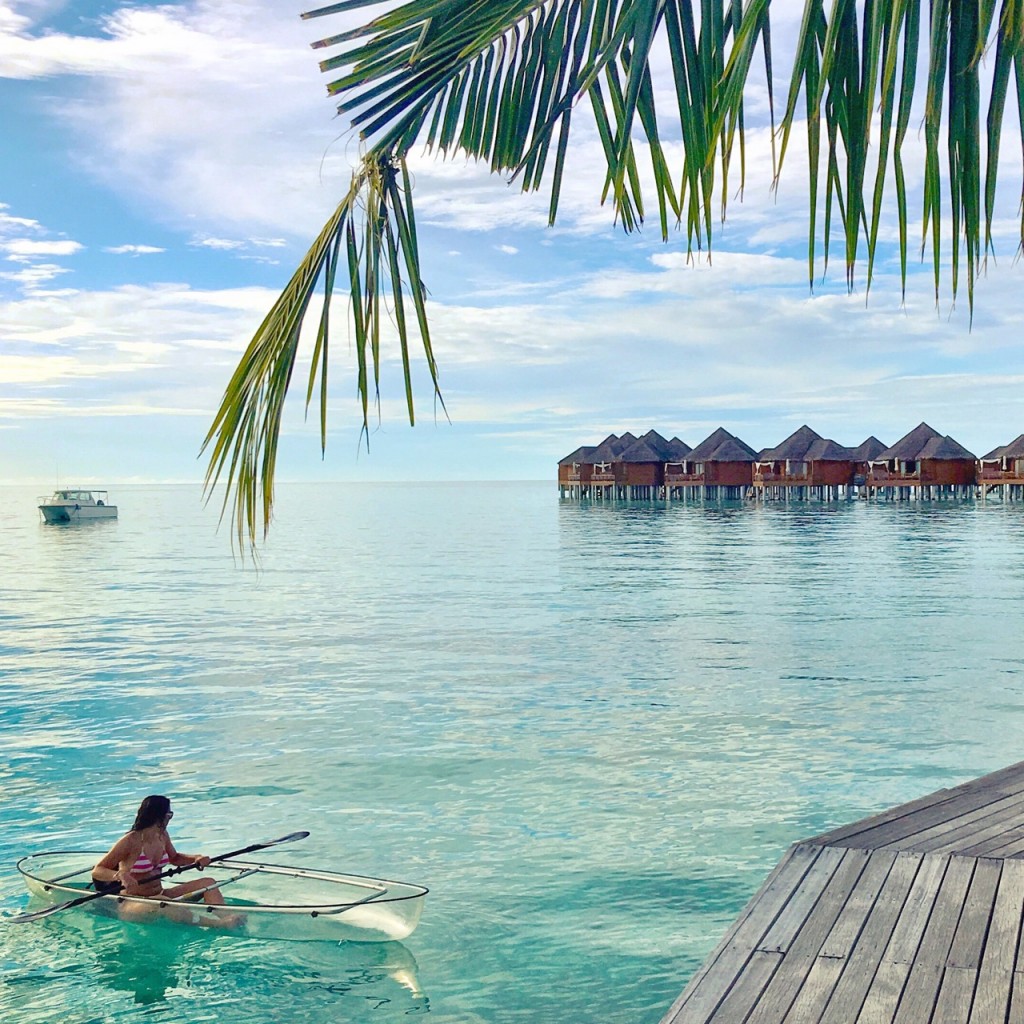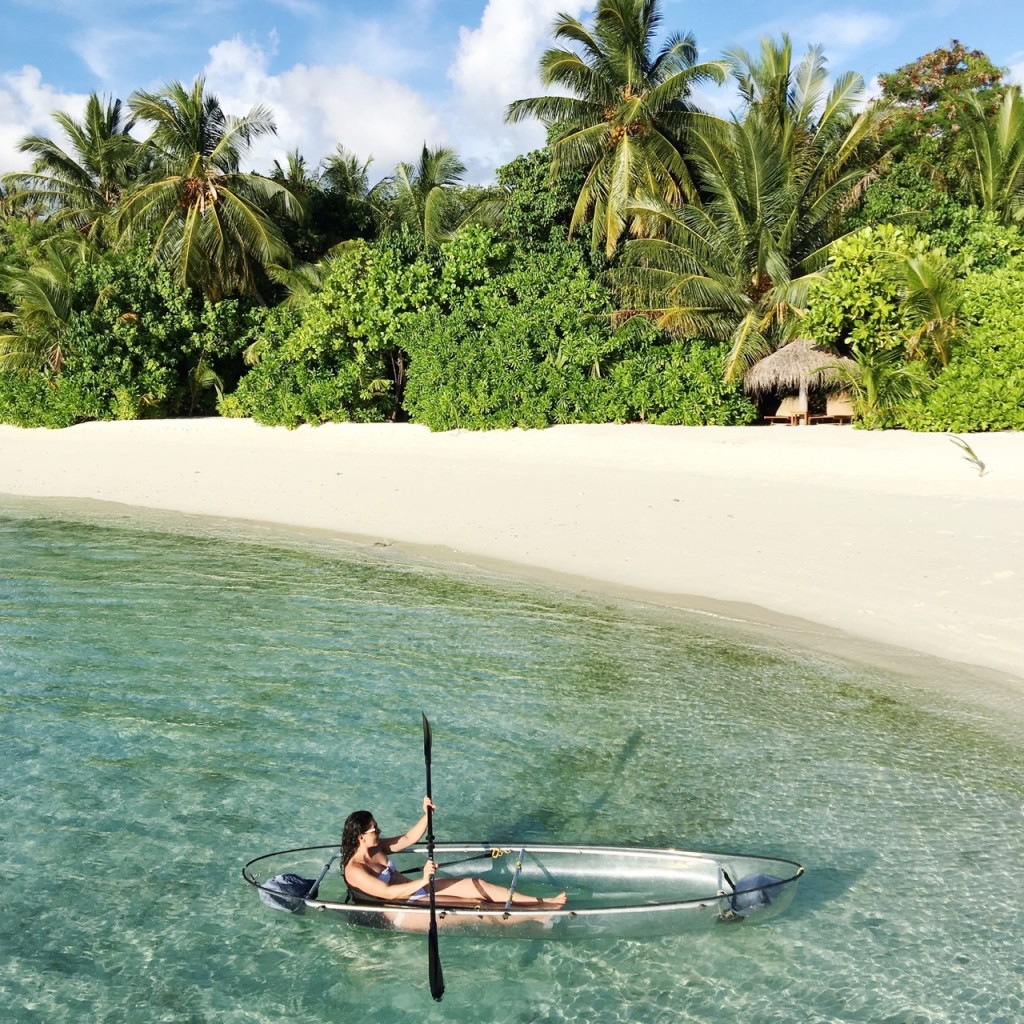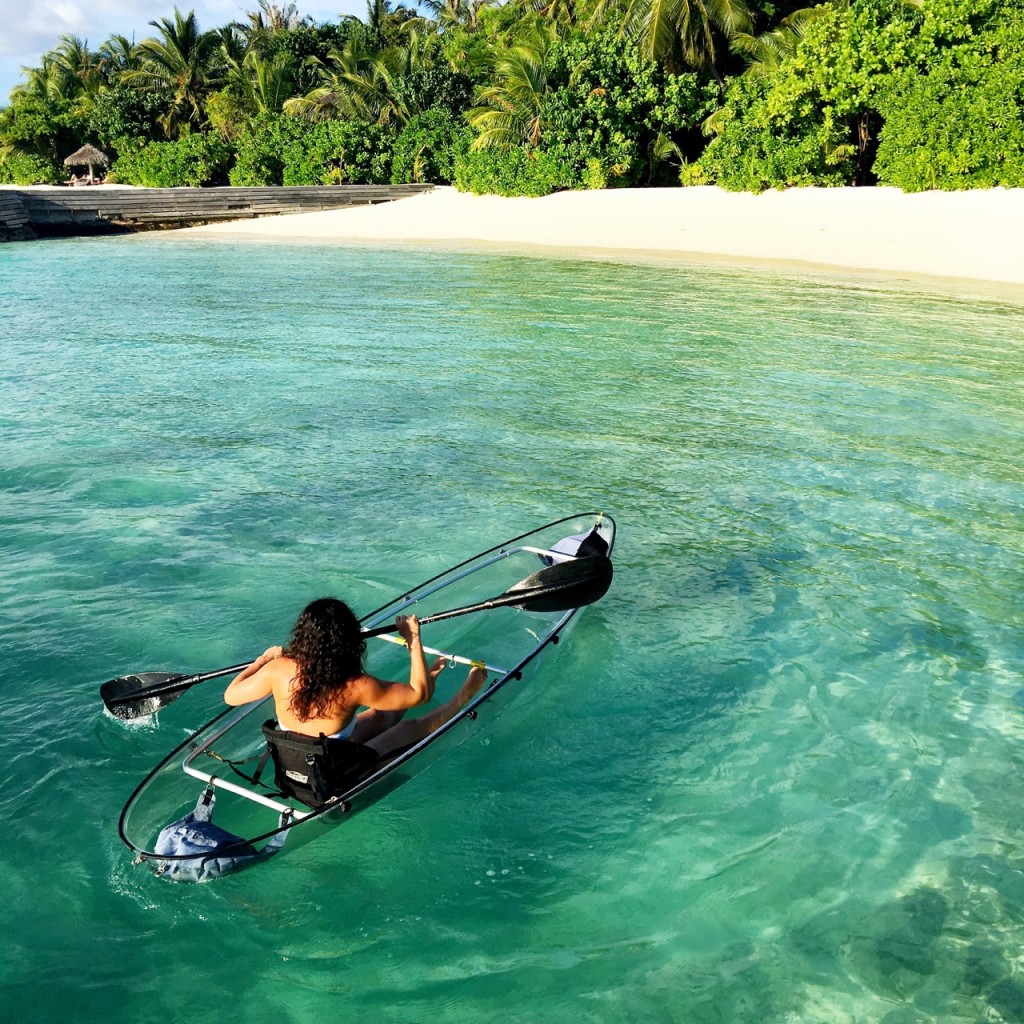 Breakfast is served at Lime Restaurant where the morning kicks off with an 'eye opener', a delicious daily mix of fresh juice. My top vote went to the Papaya, Pineapple and Basil mix. Buffet and à la carte breakfast are both on offer, with a designated fruit station adding a nice touch, especially when they peel and cut up your longans, a fruit similar to lychees. Choosing champagne or water will be the most difficult decision you make all morning, and it's such a heavenly feeling walking to breakfast barefoot and carefree.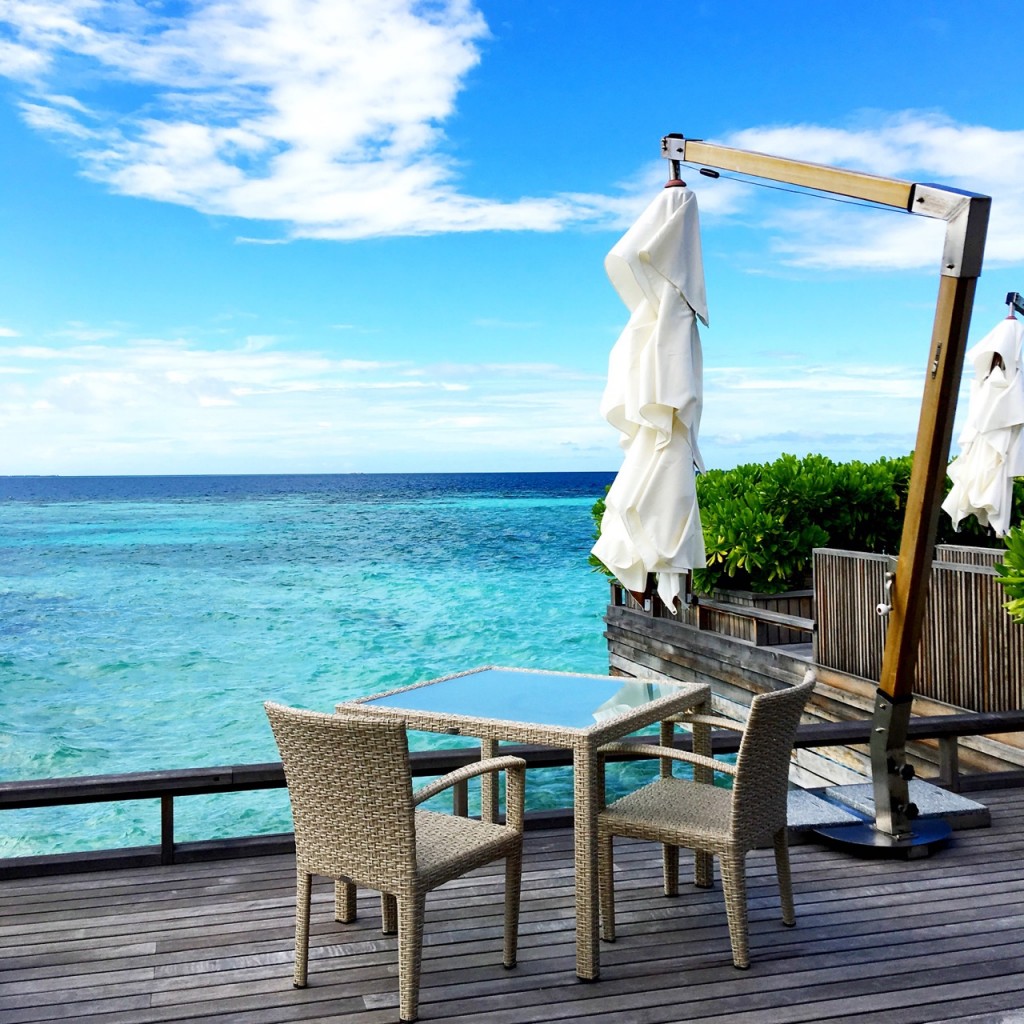 Here, too, is the resort's infinity pool, which appears linked to the sea in one seamless swathe of blue. Not only can you enjoy the views over a wonderful breakfast, but also sample the mezze plate and a glass of wine while watching the sunset, an experience I highly recommend.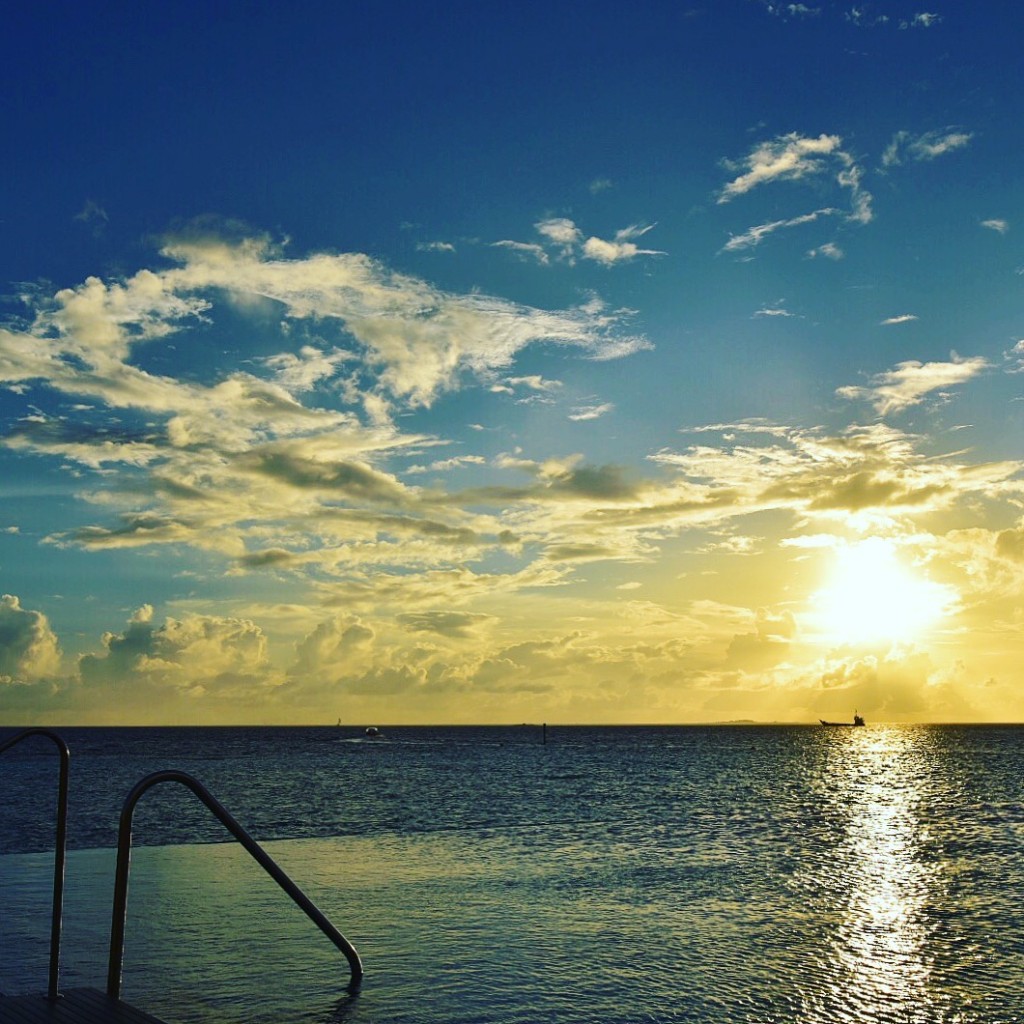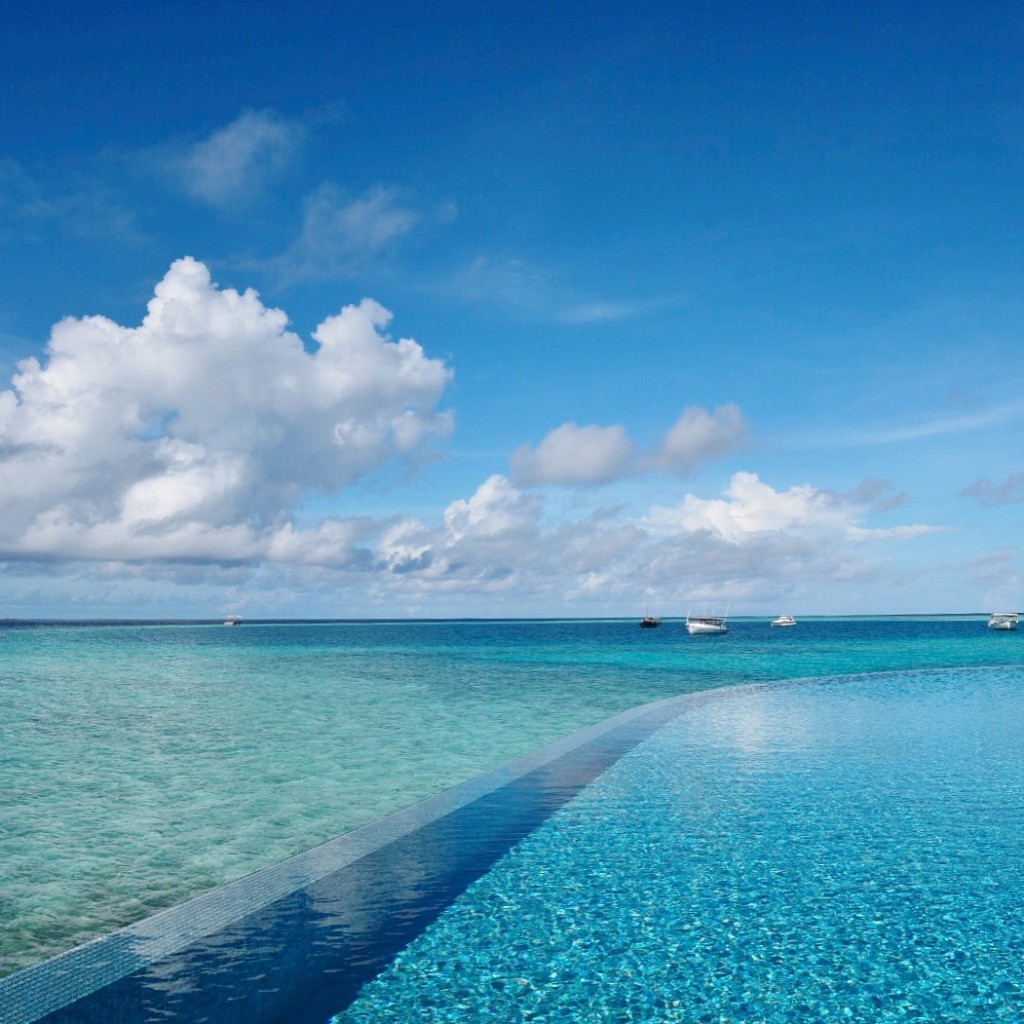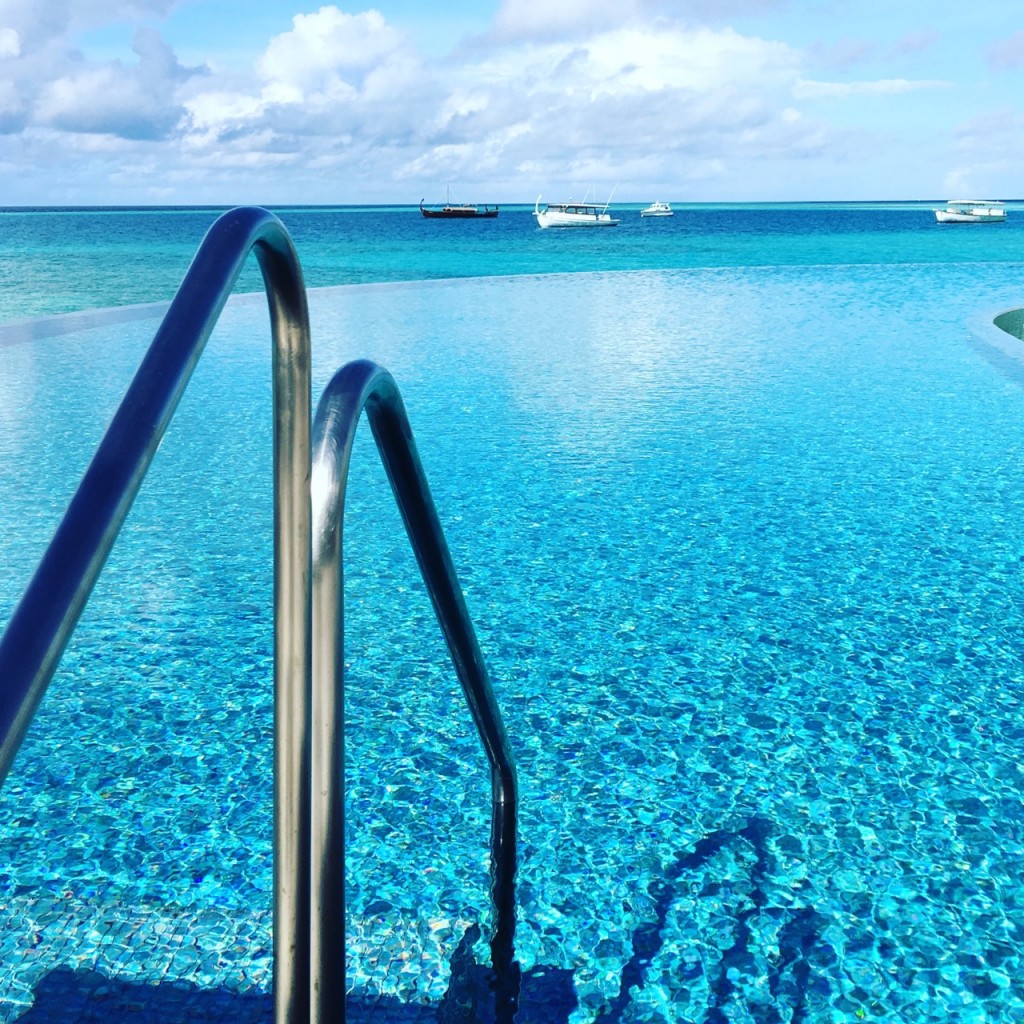 Dinner at the Lighthouse Restaurant is a must! A luxury dining experience in an overwater pavilion with a white sail roof that is visible from the plane even before the island itself comes into view.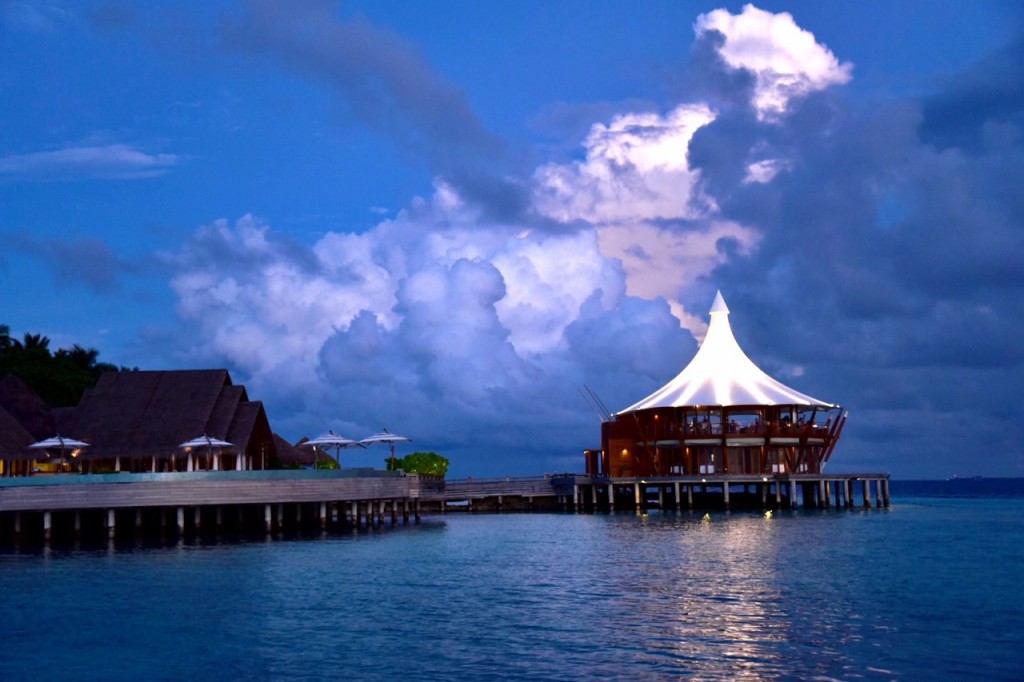 I had an unforgettable meal that started with mouth-watering yellowfin tuna with oven-dried tomatoes and avocado in a light soya dressing. This was followed by exquisite Asian spice-grilled mahi mahi fillets, pan-fried lemongrass sand lobster tails, perfectly al dente broccolini and baby corn with warm Thai-roasted pepper dressing. YUM! The sommelier is there to assist you in choosing your wine from the walk-in, glass-walled wine cellar. After wrenching myself away from viewing the sunset glimpsed between the bottles, I sat down to enjoy the sight of reef sharks and fish swimming below me while I dined.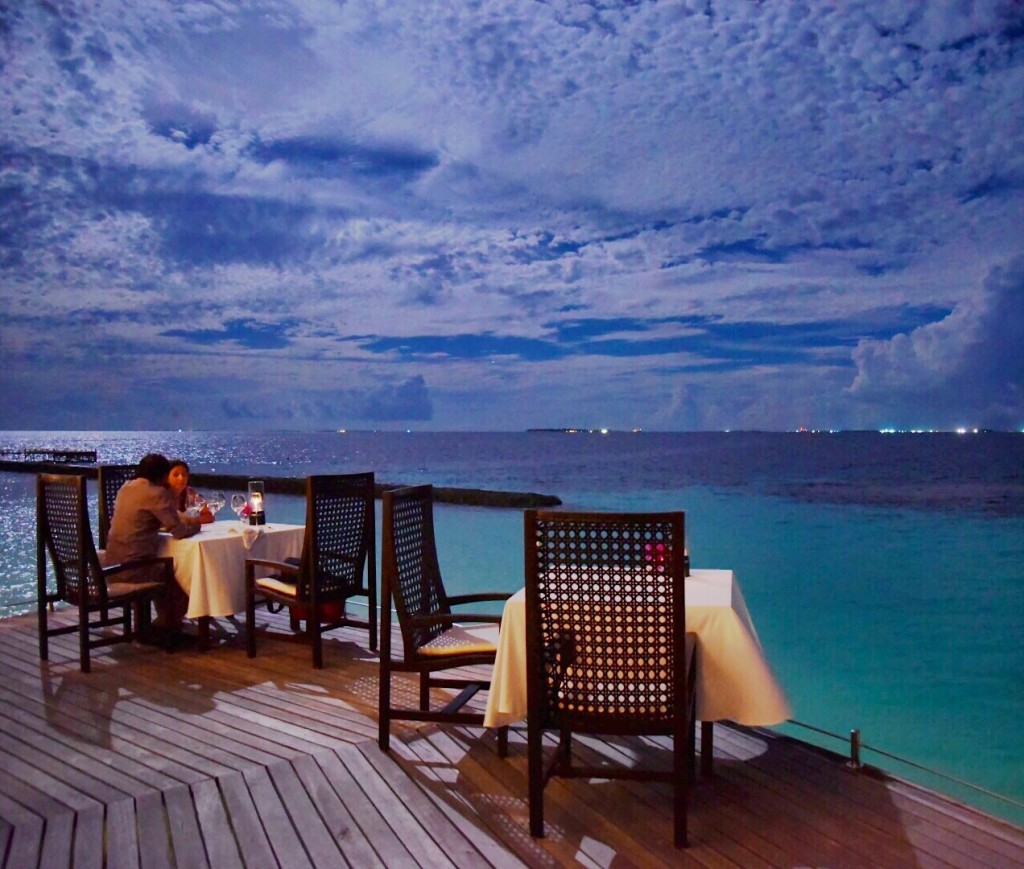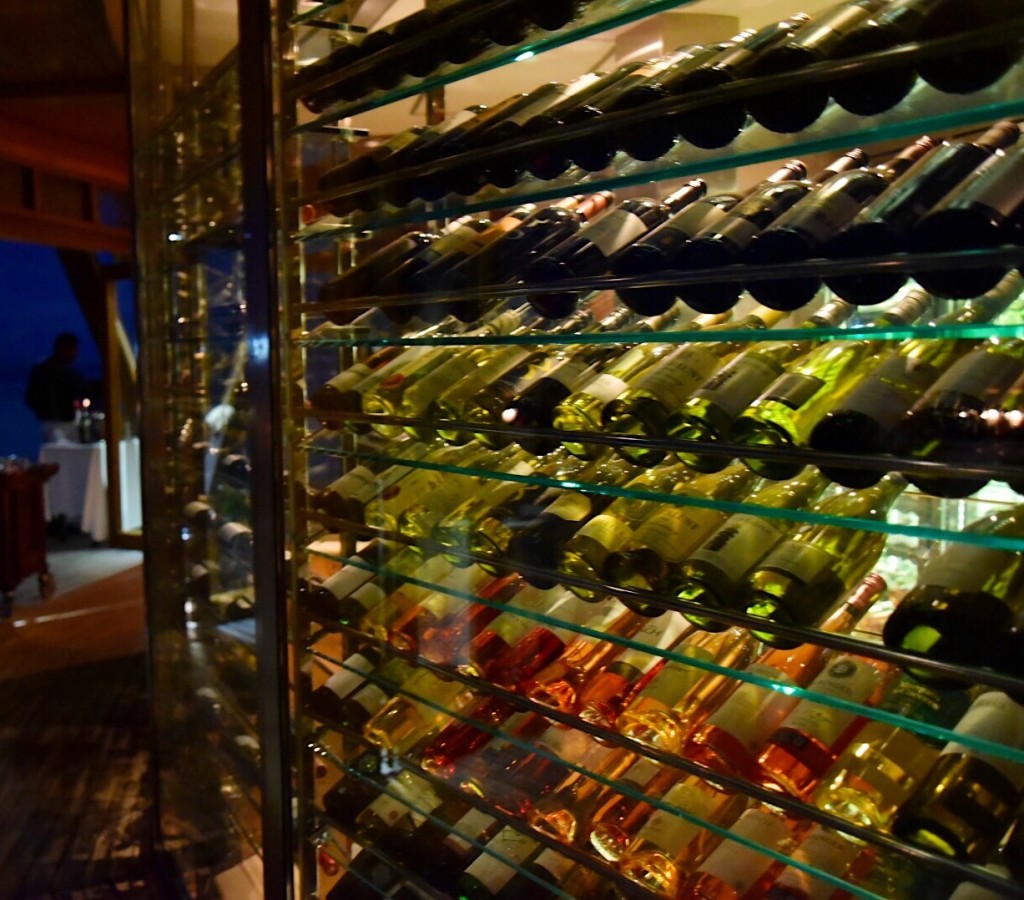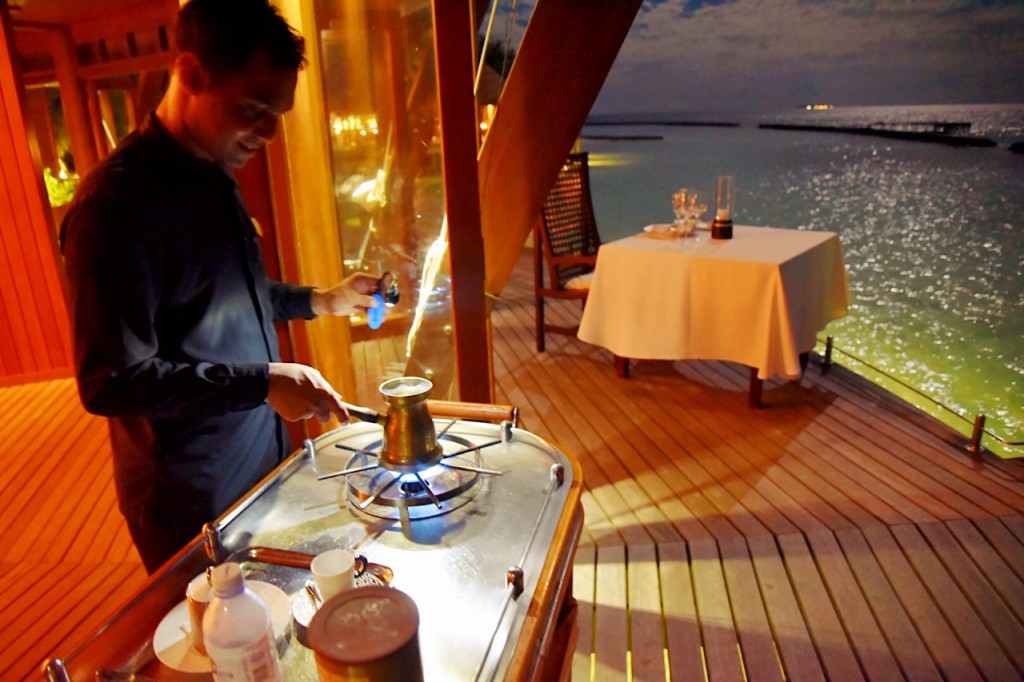 Head to Sails Bar after dinner for a nightcap or, if you're in the mood, some dancing. The bar is located in the resort's Palm Garden, which is filled with palm trees, hammocks and day beds. Twice a week local bands play and take special requests. It is here and at breakfast where you tend to see other guests – otherwise you will mostly feel as if you have the island to yourself.
I was lucky enough to stay in both a Deluxe and Water Pool Villa. The Water Pool Villa is intimate with a private wooden deck for sunbathing and wooden steps leading to the endless blue of the lagoon.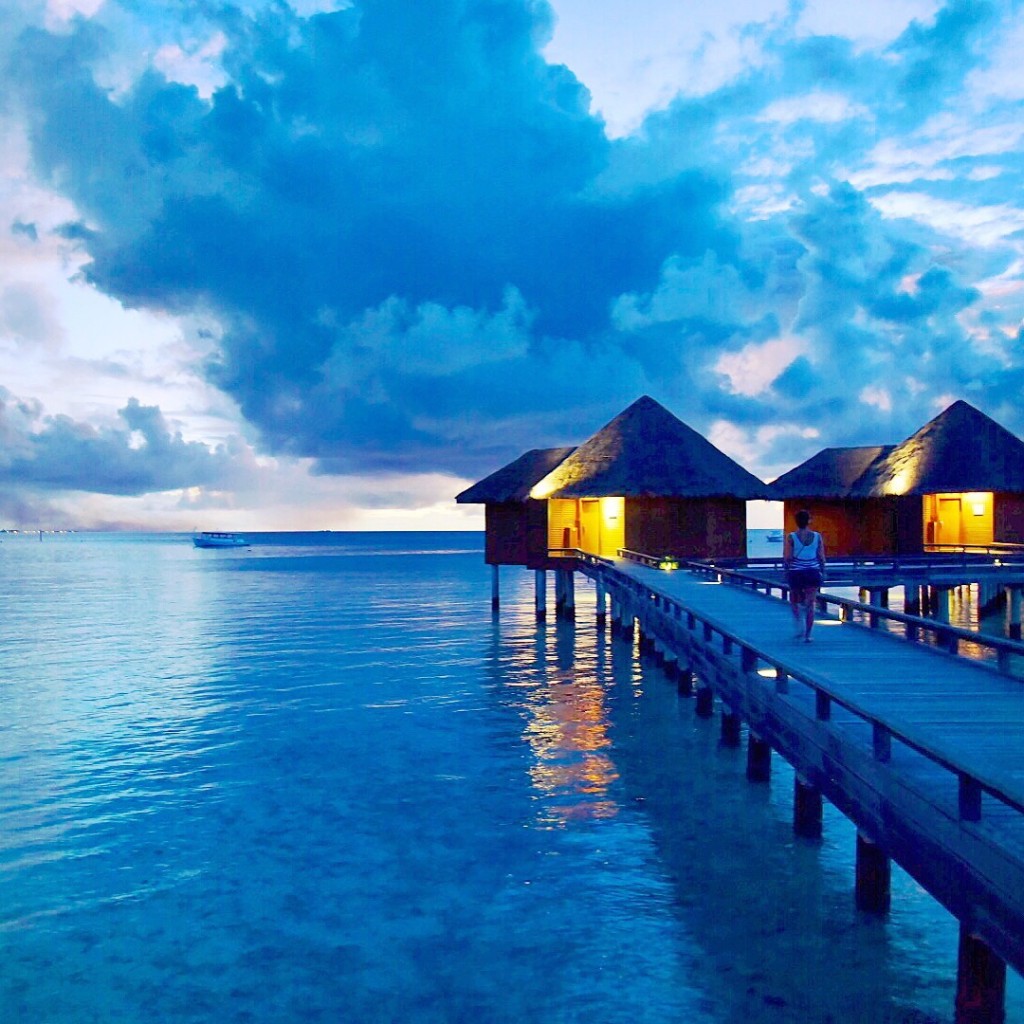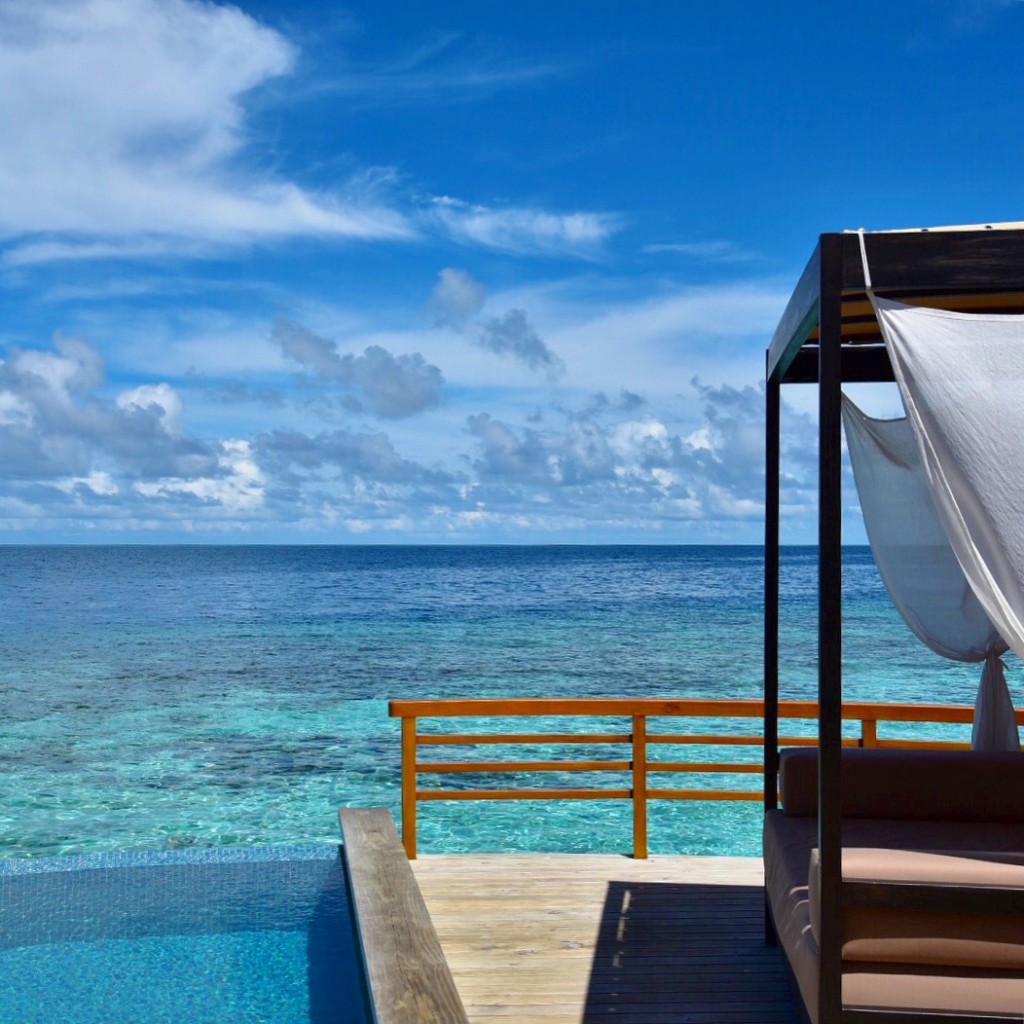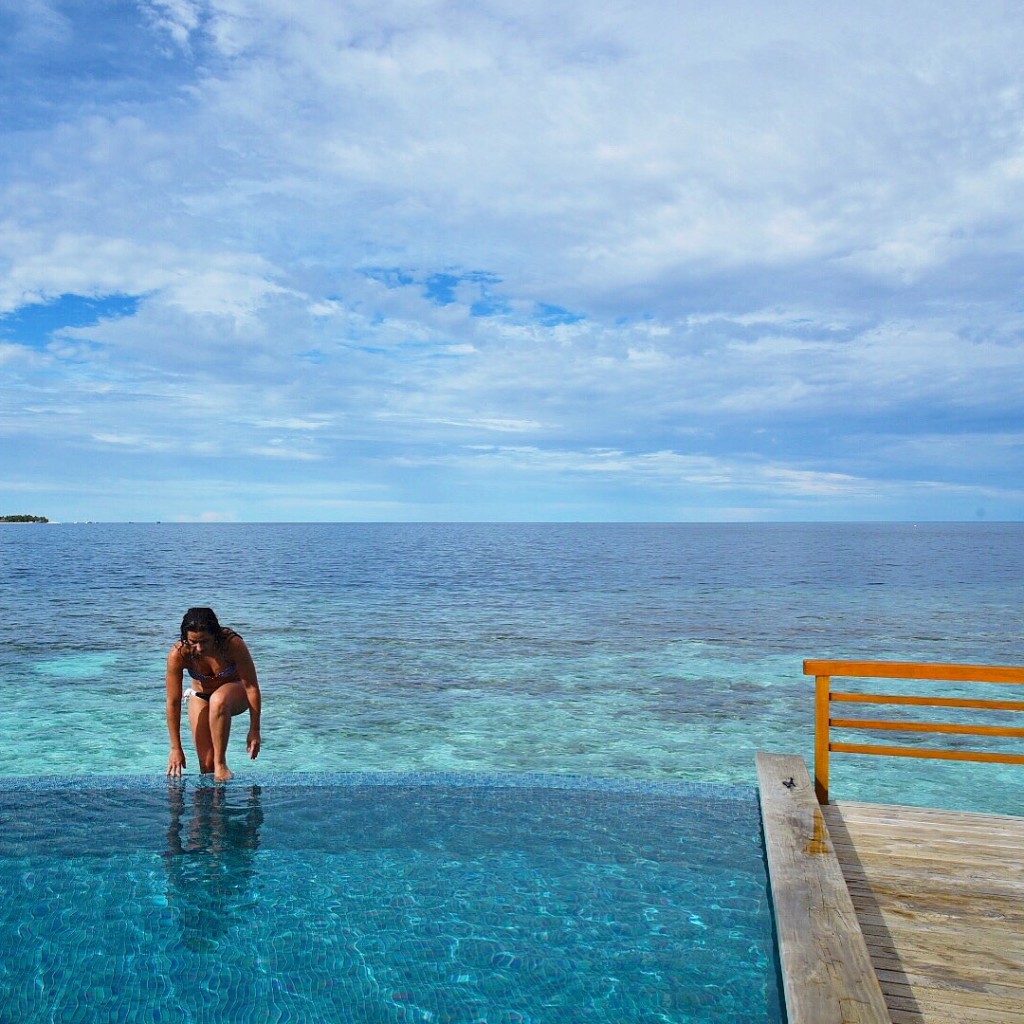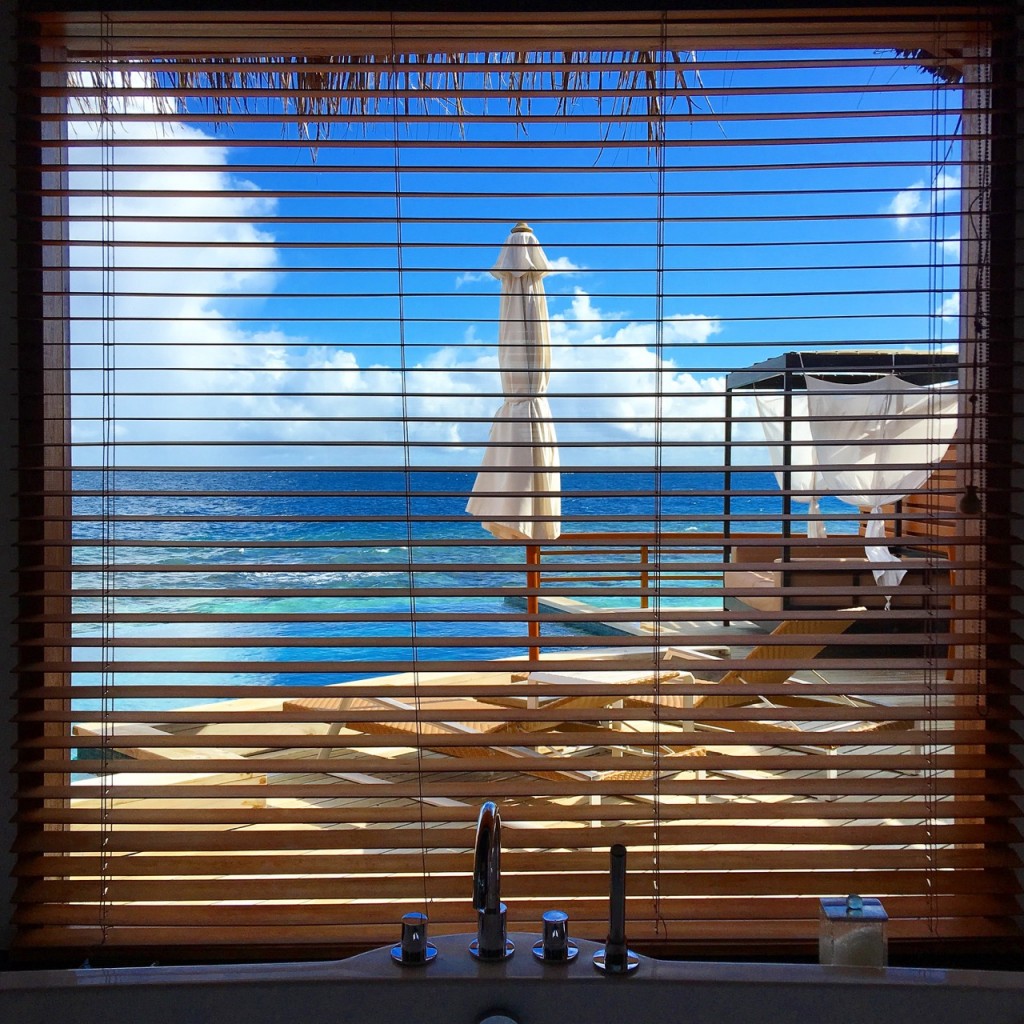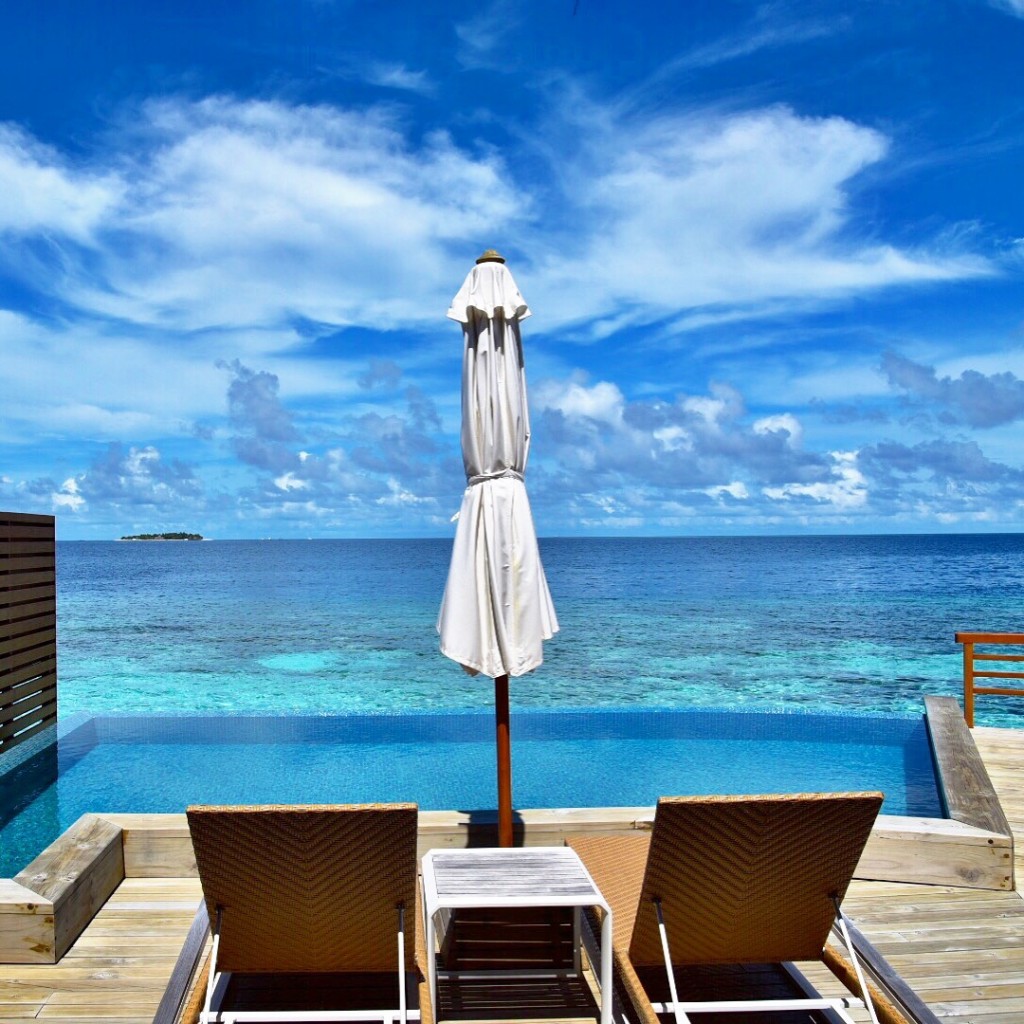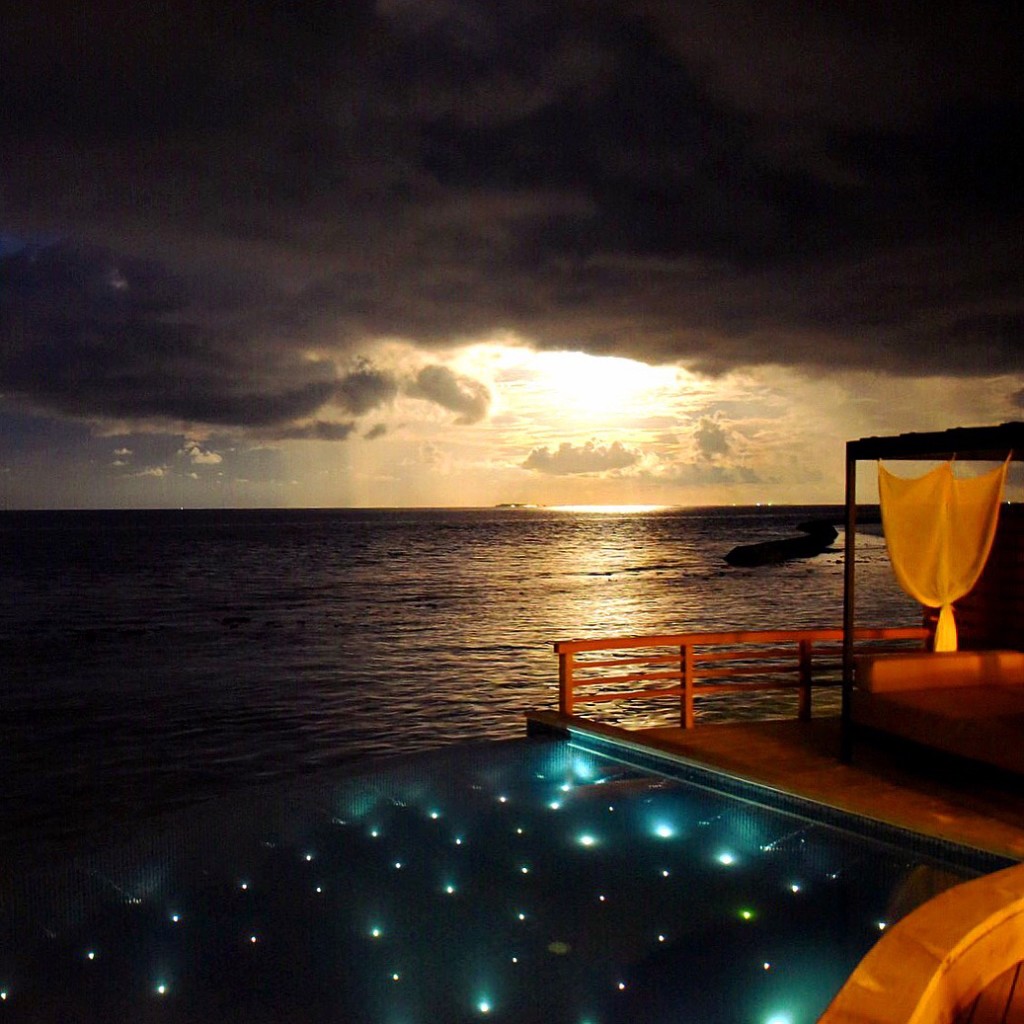 The Deluxe Villa features a private verandah, day bed, sunlounge on the beach and one of the best bathrooms I have ever seen.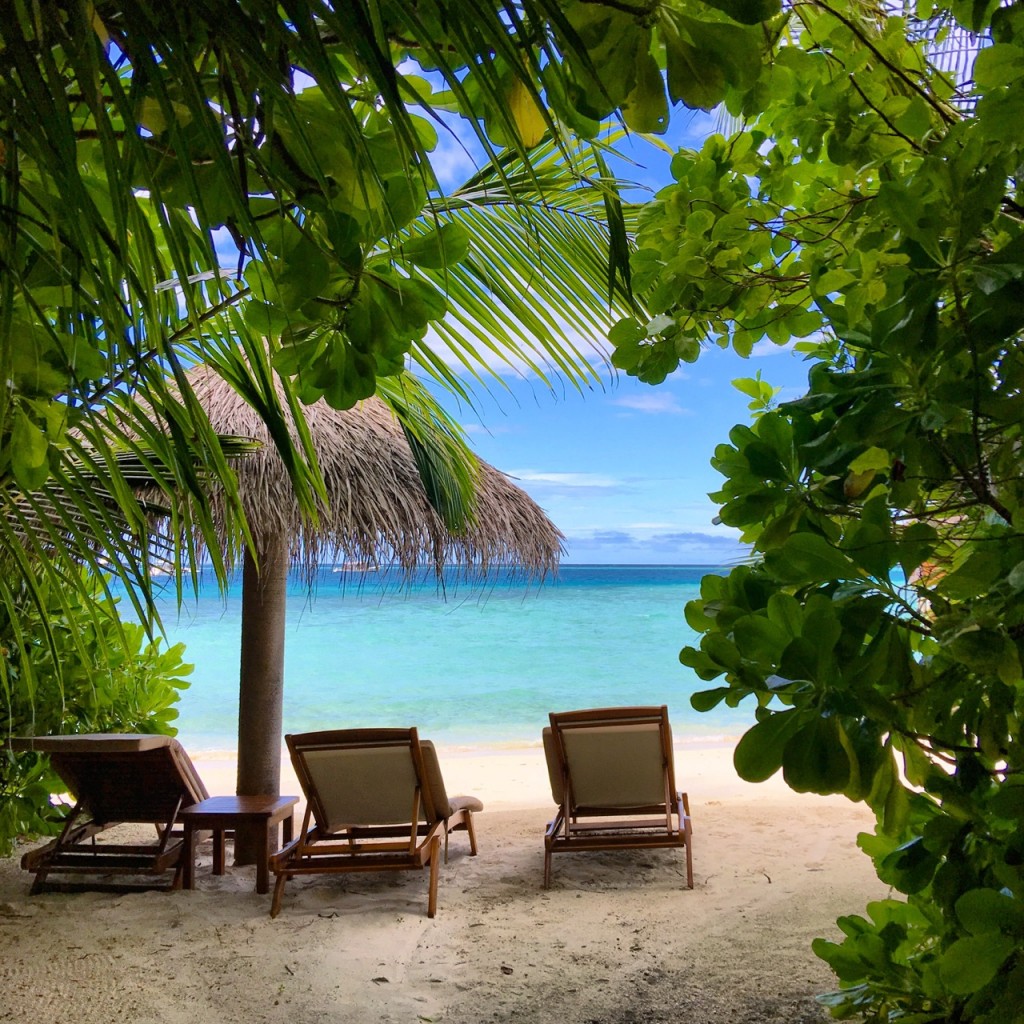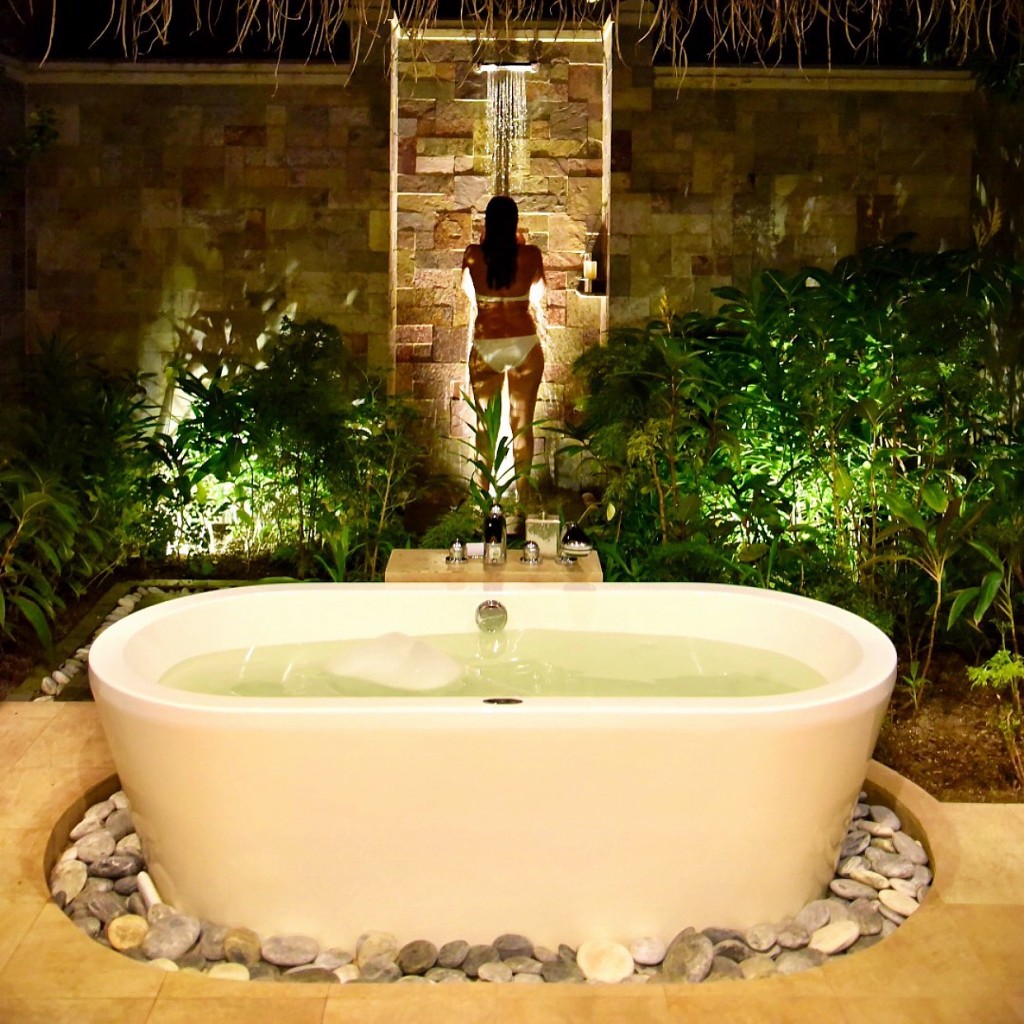 Baros offers many different experiences, including destination dining (on a sandbank, 'piano' deck or island), sunset sailing on board a Dhoni (a traditional handcrafted Maldivian boat), game fishing and night snorkelling to name a few.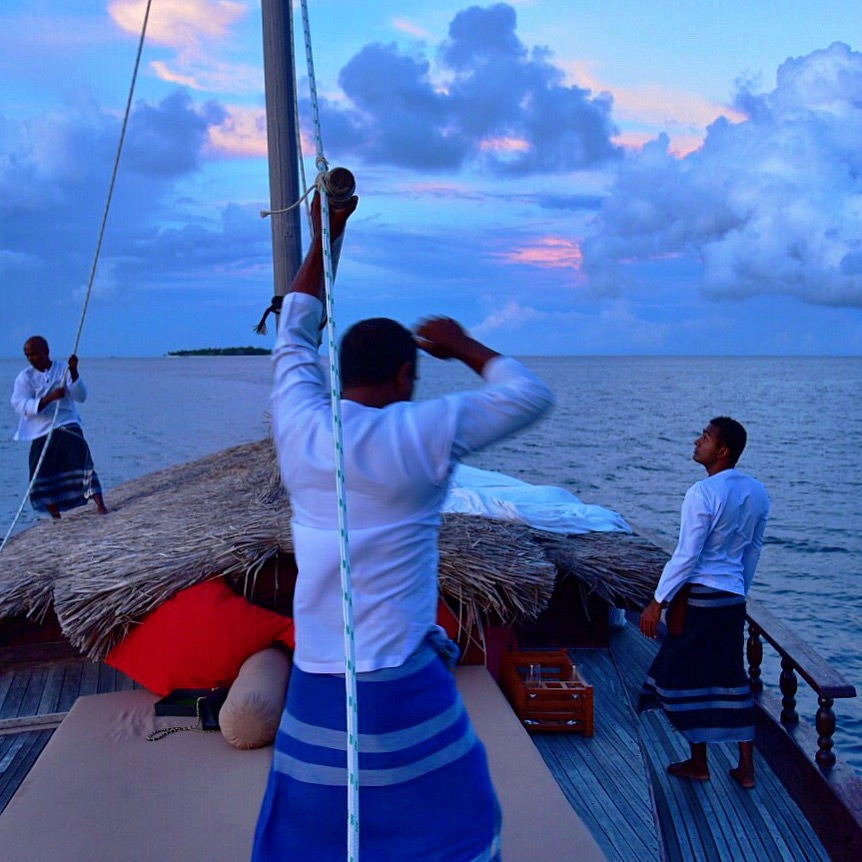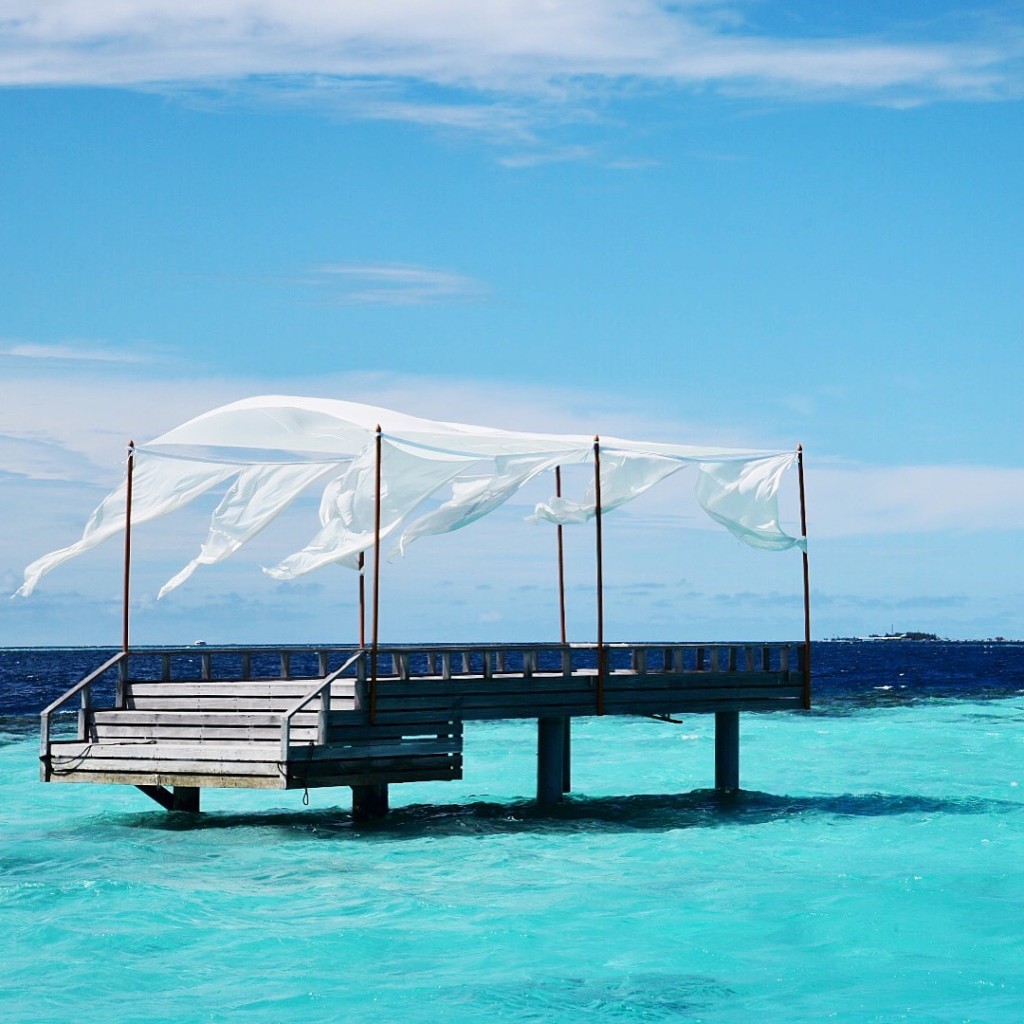 I never got to see the resident turtles at Baros, and this might just be the excuse I use to return.
Travel Tips:
– Paddling on the transparent kayak is a highlight and what Instagram perfect pics are made of
– Snorkelling the house reef is a treat – just don't freak out when you see the harmless reef sharks
– Dinner at the lighthouse is a visual as well as culinary delight – order the mahi mahi, fresh from the sea
Feeling inspired? Let's go.