Life and art inspire us in all forms, and sometimes in unusual places. Some may see it as defacing public property, but done well, street art around the world relays powerful and very public messages – and that's something we like to get behind.
"The possibility I find exciting is you could turn the world's most invasive and degrading structure into the world's longest gallery of free speech and bad art." – Banksy
#1 Let's Talk About Gaza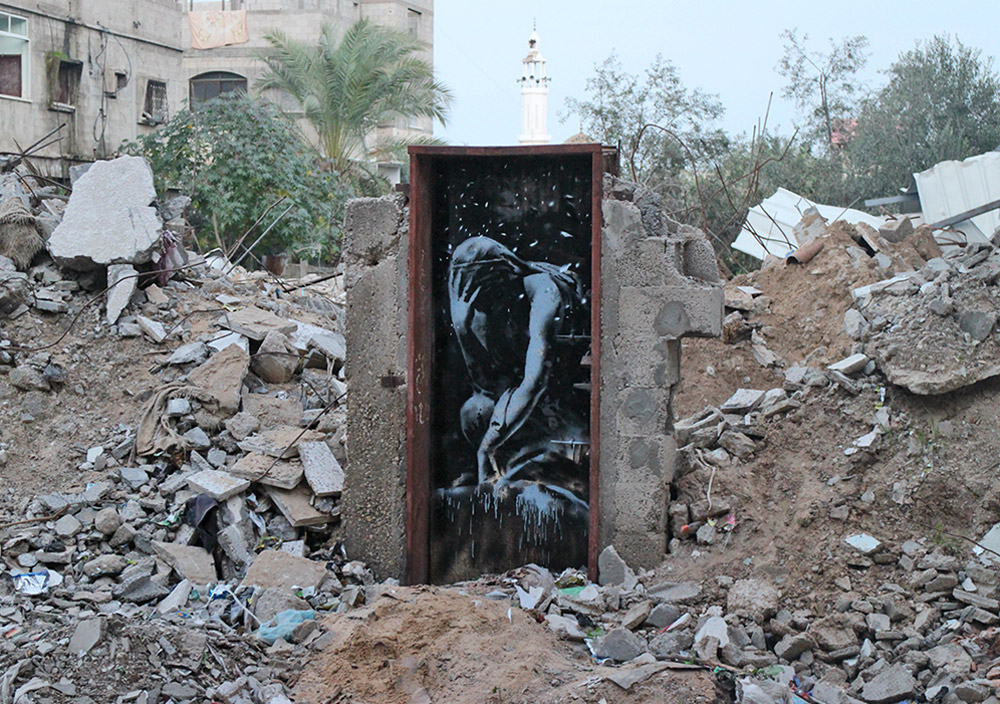 Where: Gaza, Palestine
Who: Banksy 
What: Earlier this year the world-renowned anonymous graffiti artist/political activist/film director went undercover in Gaza to spray paint a series of art-work putting Gaza's dire situation into frame. He also filmed a documentary of his exploits, a way to put forth his political voice – in our opinion this has got to be Banksy's best work to date.
#2 Need Food Not Football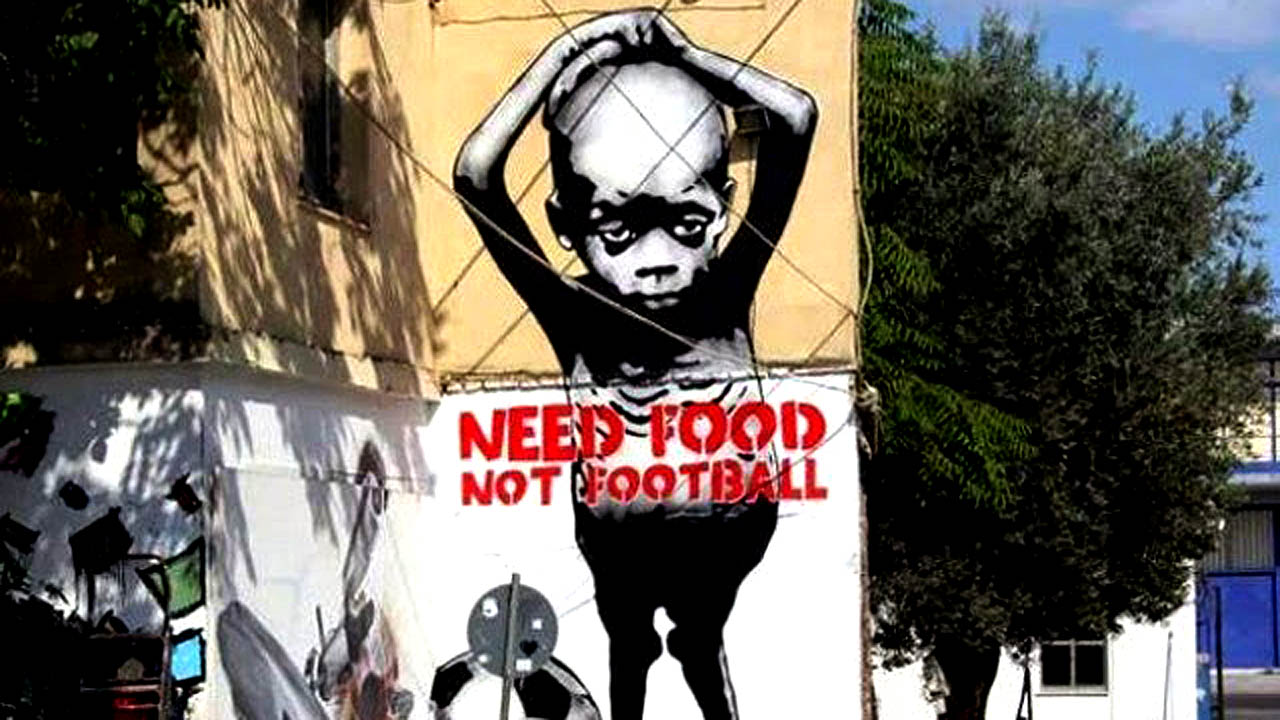 Where: Brazil and Spain
Who: Various Artists
What: As the world got excited over the World Cup in Brazil last year, various anti-World Cup graffitis popped up on the walls of Brazil and Spain to draw on the poor state of the country and its general population. This particular one depicting a starving child was painted on a building in Spain and has since been removed. Shame.
#3 Shadows of Life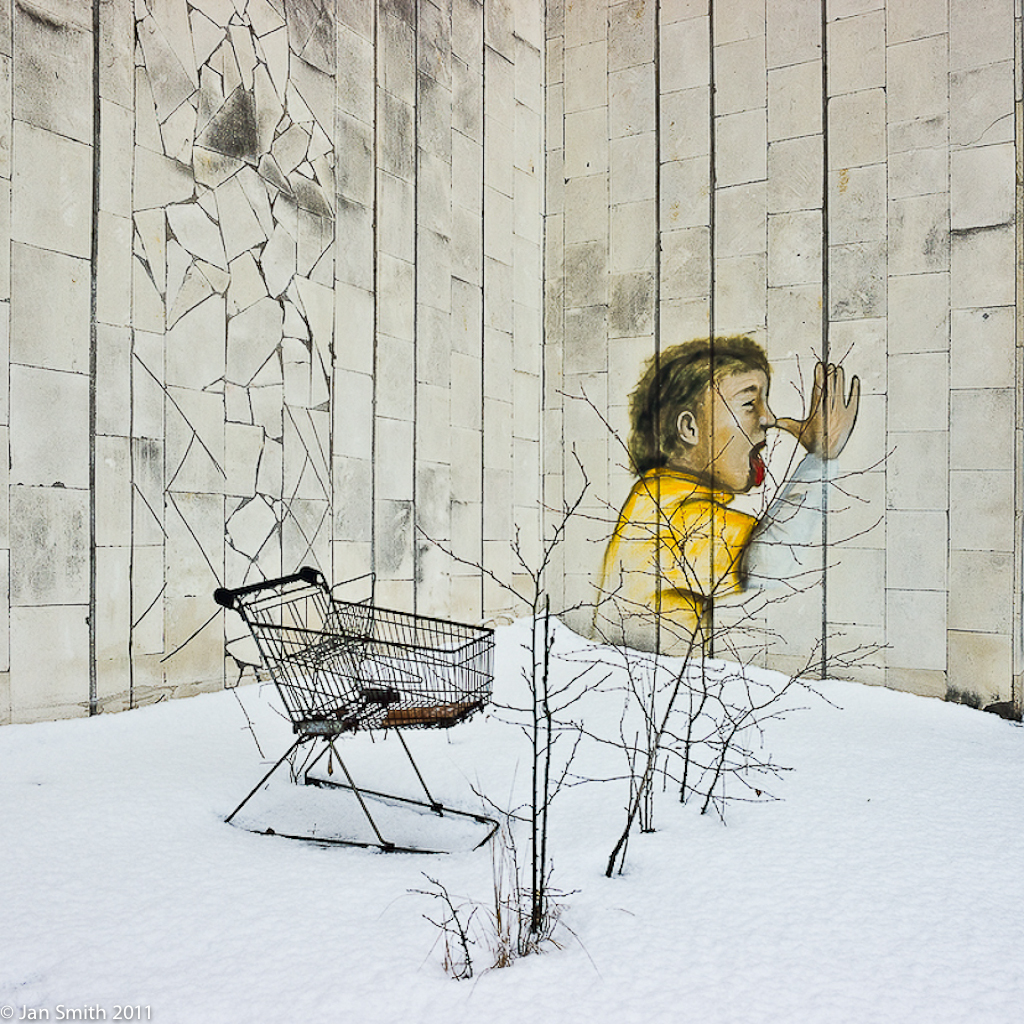 Where: Pripyat, Ukraine
Who: Unknown
What: Almost three decades ago, the people of Pripyat (nearly 50,000 of them) abandoned their hometown for safety after the Chernobyl disaster. In the last few years Pripyat has been showing signs of life in the form of art – street art. Black ghostly figures and remnants of happier days evidently still haunt the town.
#4 Love Knows No Race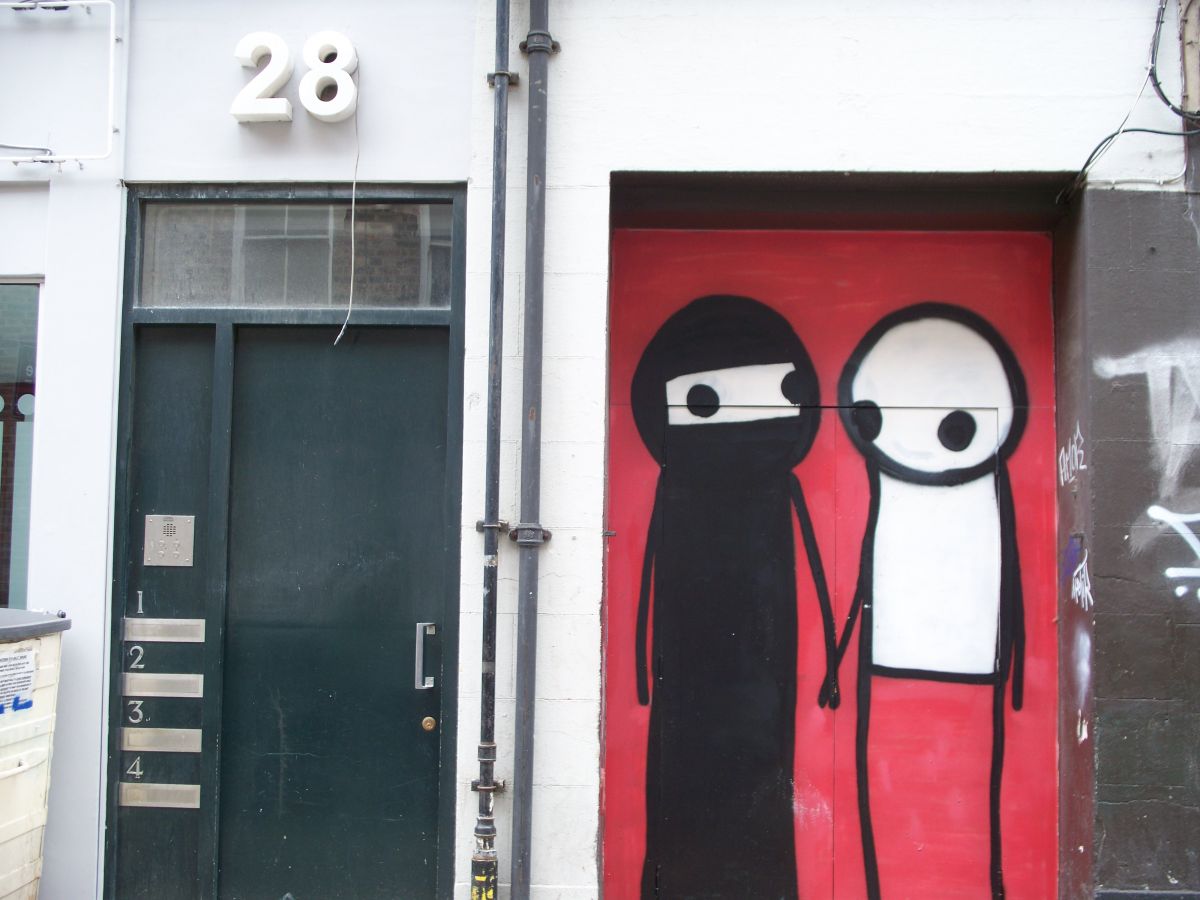 Where: London
Who: Stik 
What: This London based graffiti artist is famous for his stick figures, having worked with organisations including Amnesty International, British Waterways and Reclaim the Streets. This one on Princelet Street near the über hip Brick Lane (known for its racial tension) shows a stick woman in burqa holding hands with a white stick man. Make love, not war – right?
#5 Weight Of the World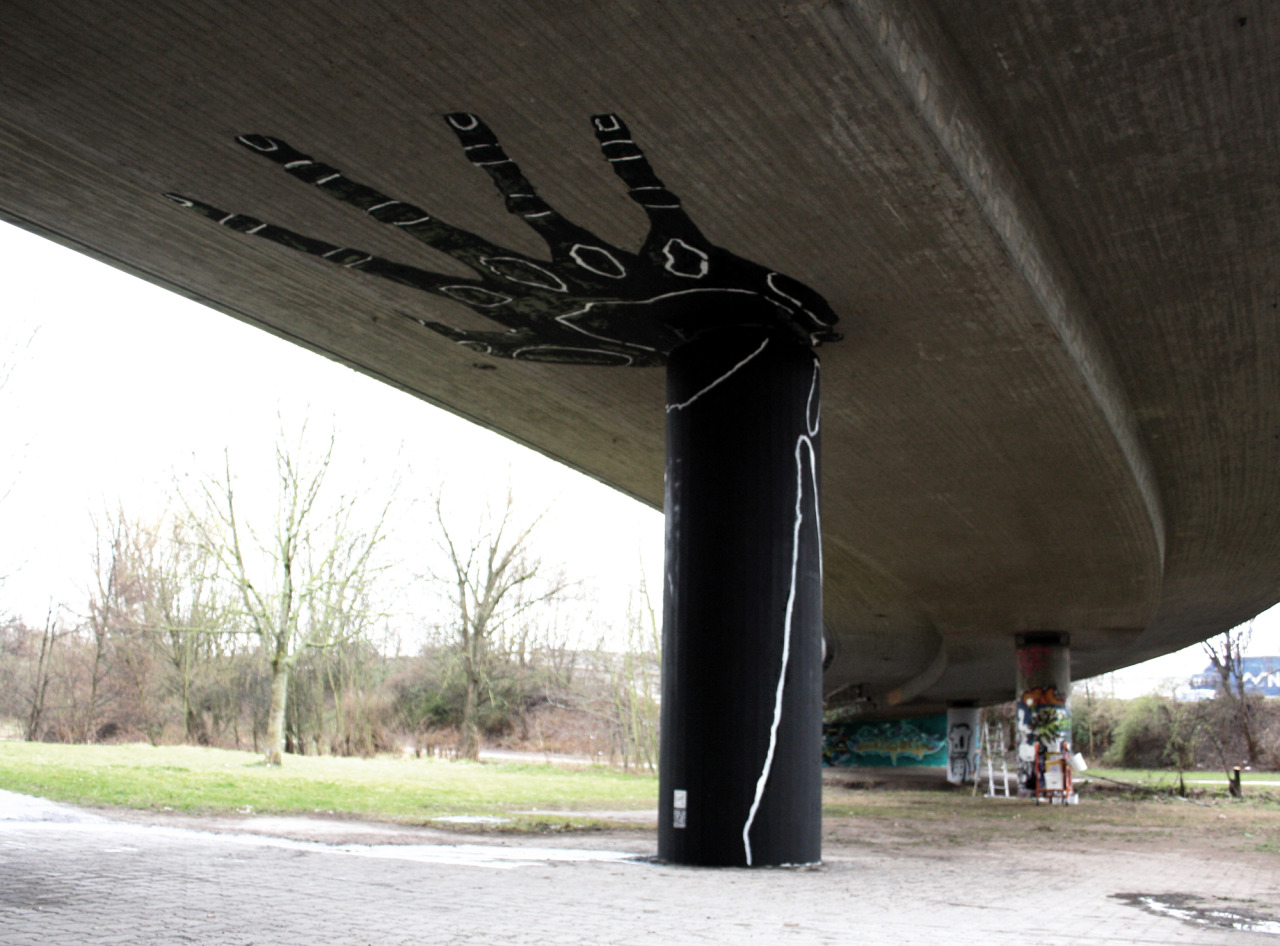 Where: Karlsruhe, Germany
Who: Dome 
What: This acrylic work by German street artist Dome  painted in 2013 is titled "Holding hands" – we're no art curators but since no further explanation was offered, we think it means solidarity equals support. But hey, what do we know? It looks pretty cool though!
#6 Hooray Crochet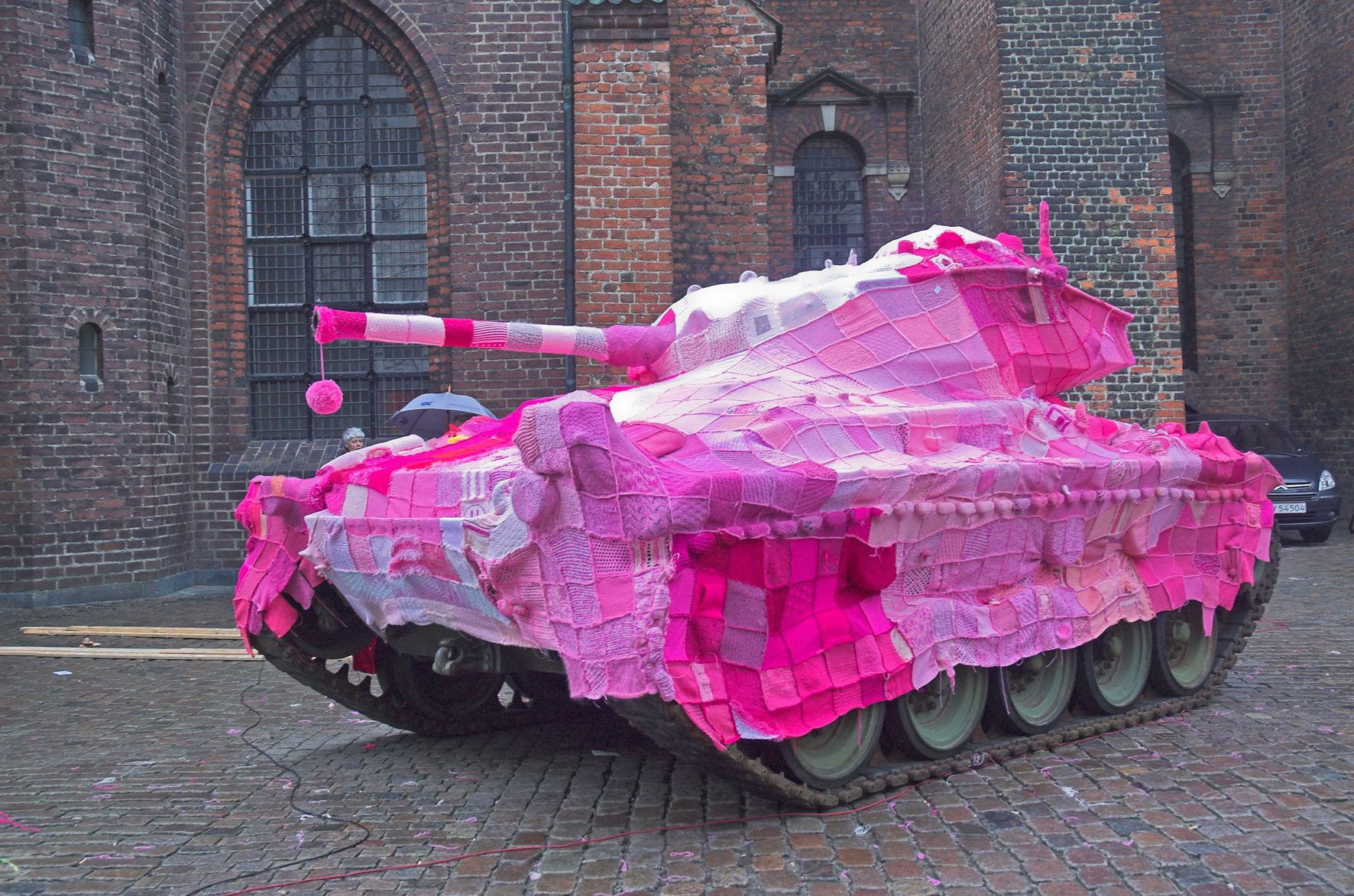 Where: Around The World
Who: Guerrilla Crochet-ers
What: Taking (or shall we say stitching) street art around the world to a whole new level, Guerilla Crochet-ers have been taking the world by storm – yarn storm. The movement was said to have originated in Houston when a lady crocheted a cozy for her door handle, which led to a crochet craze that made the granny-hobby cool again. From road signs to sculptures and parked cars to bicycles – they've all become victims of yarn bombing.
#7 Lest We Forget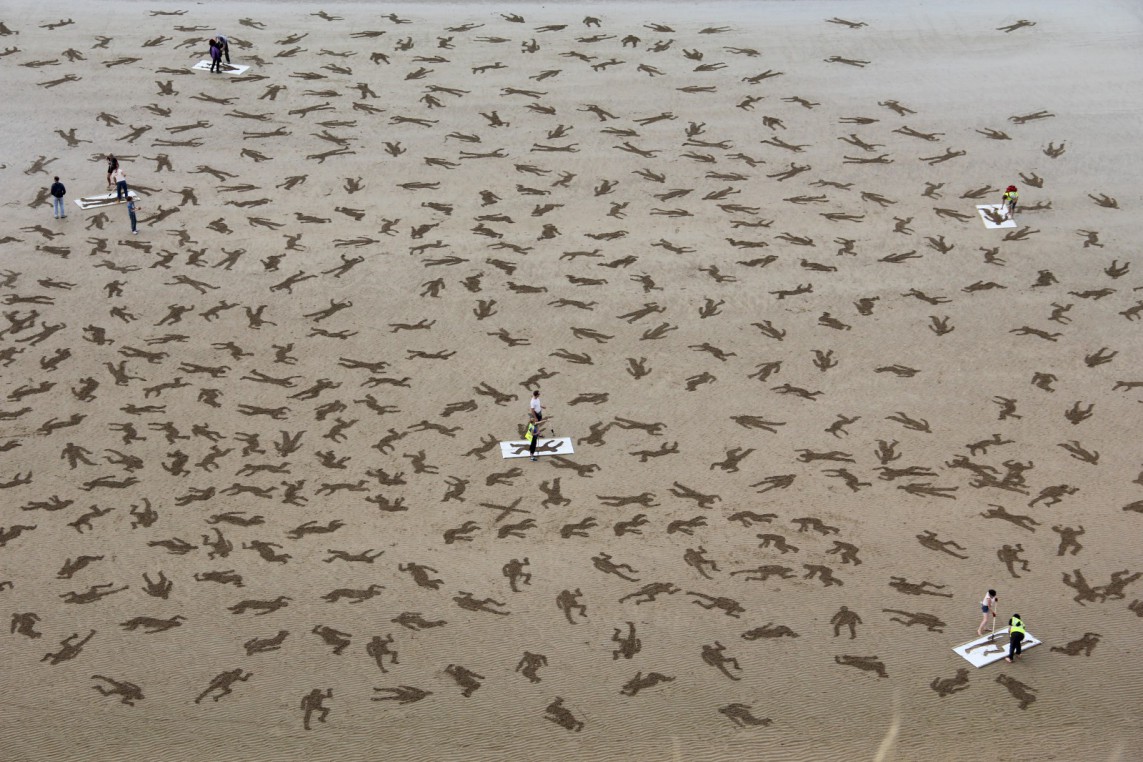 Where: Normandy
Who: Jamie Wardley and Andy Moss aka Sand In Your Eye
What: The world is their canvas for British artists and sculptors Jamie Wardley and Andy Moss – who with the help of 60 volunteers and 500 locals, took their art to the beaches of Normandy to commemorate International Peace Day. Together, they etched out silhouettes of 9,000 fallen soldiers on the sand using rakes and stencils. Not long after completion, all efforts and hard work were washed away by the tide – but it remains inspiring.
Ed's note: So technically this is "beach" and not "street" but it's a rebel art with a cause and deserves a mention.
What's your favourite work of street art, nomads?