Hotel bathrooms receive less credit than they actually deserve, so we decided to ch-ch-check out some of the sexiest hotel showers in the world. What seems to have taken on a trend – open concept bathrooms – has now taken the magic out of the bedrooms (cue: sexy saxophone music) and into new territories, if you know what we're saying.
#1 Four Seasons Resort Hualalai, Hawaii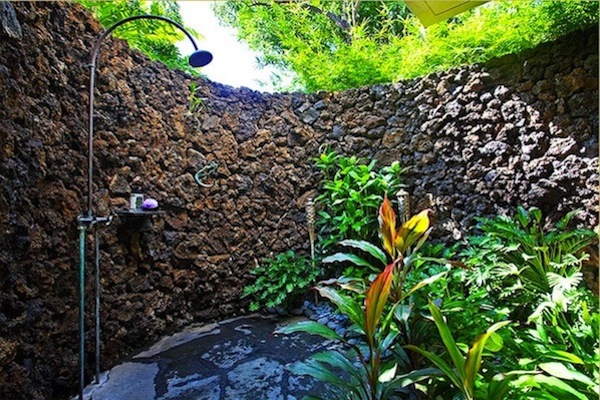 Outdoor showers incorporated with lava rock and tropical plants are the next best thing (especially when you're at the Four Seasons on the Big Island). Feel the warmth of the steaming shower as it drips down your supple skin while you soak up the Hawaiian sun beneath open azure skies. Alternatively, stargaze while taking a shower out in the cool of the night. Definitely beats staring up the ceiling of your not-so-sexy bathroom.
#2 Alila Cha-Am, Thailand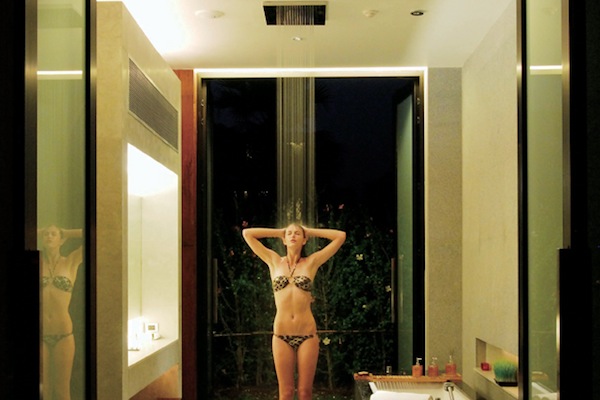 With built-in Bose (the Porsche of all surround sound technology) systems, a 24-by-19-inch Dornbracht showerhead and huge transparent glass panels that separate the bedroom from the wetlands, you are about to bring singing-in-the-rain to the next level (only right here at the Alila Cha-Am). Let's hope that's sexier than, you know, having your travel companion witness your ablutions.
#3 Viceroy, Anguilla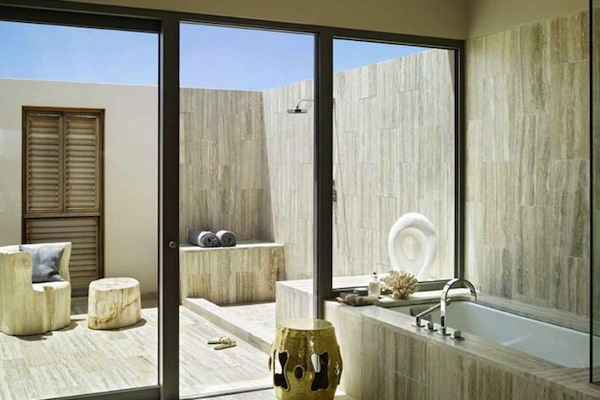 Mmmm, you know you're living in decadence when you're being treated to complimentary Neil George of Beverly Hills shampoo and conditioner at the Viceroy. A combination of an outdoor shower and an indoor marble-accented bathroom, this is paradise for those who absolutely love spending hours in the bathroom (for reasons we obviously don't need to know). If you have trouble having someone watch you go to the loo (and vice versa), you can always opt to slide those glass doors shut and pull down the wooden shutters.
#4 Andaz Hotel, San Diego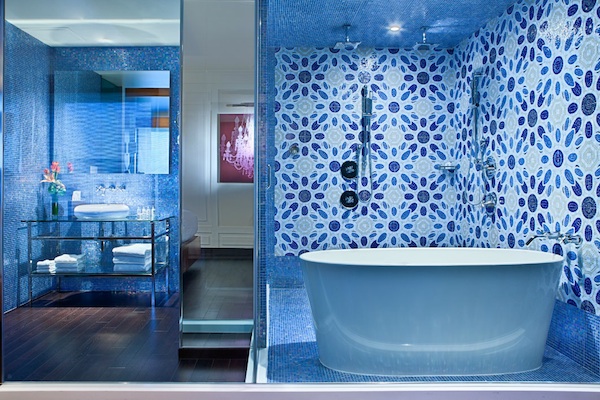 Walls in shades of blue complete with mesmerizing decorated tiles, The Andaz bathroom is dressed in rich textures and elements. But more than just what meets the eye, we fell in love with this brilliant feature – at one touch of a button, the glass partition turns clear or opaque. While you're at it, do enjoy the complimentary Korres shampoo, conditioner and shower gel. We reckon it's going to be a challenge getting yourself out of the shower.
#5 Singita Sweni, Kruger National Park, South Africa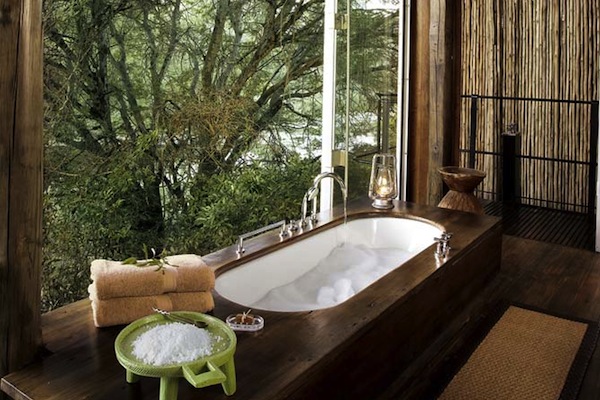 Say hello to the birds, bees, elephants, baboons and crocodiles in the river while you enjoy a nice warm shower at the outdoors. With only a sliding-glass that divides the indoor bathtub from the gorgeous shower on the outside (makes you feel like you're one with the wildlife), Singita Sweni has redefined the term – "wet and wild". Also, enjoy the free Dermalogica products while you lay soaking in the bath.
#6 Amangiri, Utah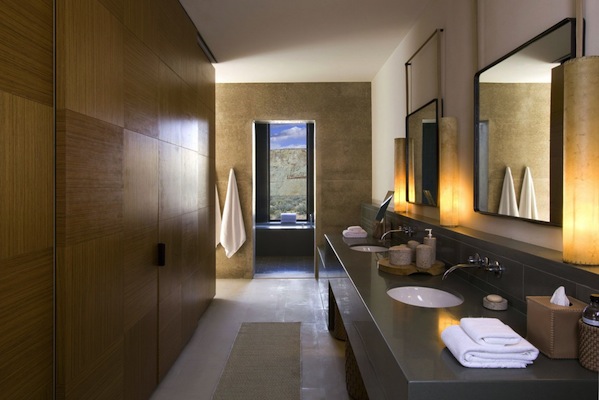 When you're out in the desert, nothing beats taking a slow relaxing shower or soaking it up in a foamy bubble bath – especially true when it's the Amangiri bathroom we're talking about. A bathroom fit for royalty, this green limestone en-suite boasts a couple of powerful showerheads, a sunken tub and a floor-to-ceiling window with a view to boot. When you're there, don't forget to try out the organic goat milk bar soap with a custom-blended fragrance (boy, was that a mouthful). You can say buh-bye to dry skin!
#7 Mondrian South Beach, Miami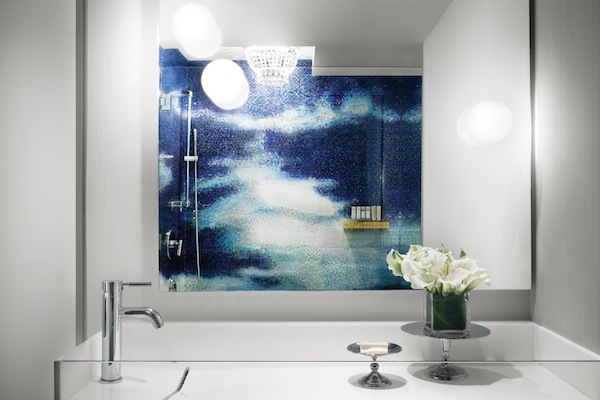 With custom glass mosaic tiled walls surrounding you and a showerhead fixture incorporated into the body of an elegant chandelier, it almost feels like you're bathing in a sunlit rain shower under the mosaic skies. Best enjoyed with your lover – this is our definition of getting your sexy on. The Mondrian scores extra brownie points with its complimentary Korres products. 
#8 Maritime Hotel, New York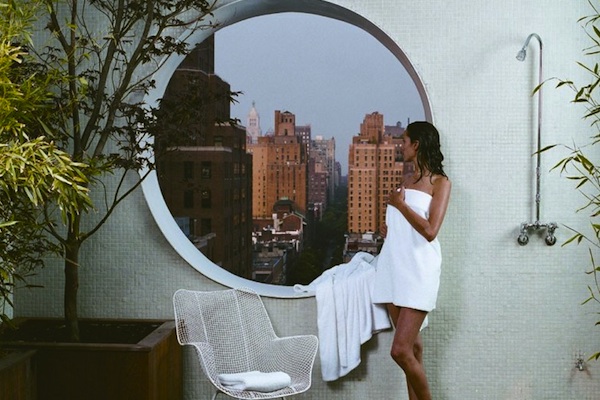 Sometimes, going back to basics isn't a bad idea at all. Clean and simple, the outdoor showers at the Maritime Hotel feature hints of nautical touches that are pleasing to the eyes. With a large porthole window right next to the shower, are you brave enough to strip down and soap up while overlooking the New York City skyline? Go on, you know you want to.
Main photo credit: 1.