By Dena Haron at Mouthing Off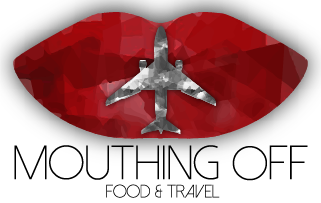 With hot new restaurants opening up faster than a stir-fry, here are just a few of the latest and luscious venues to choose from in the vibrant and fast-paced city of Hong Kong!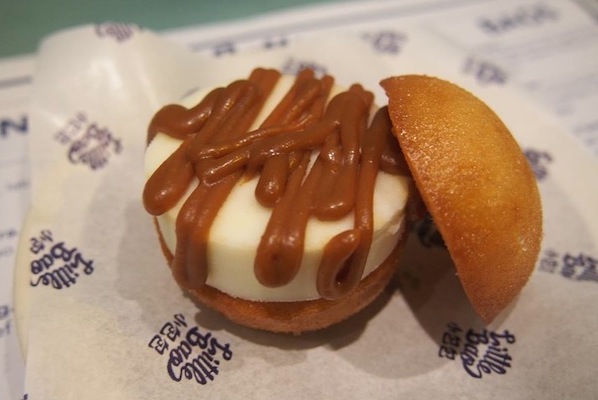 #1 Little Bao
What: Fusion Chinese hipster-style
Where: 66 Staunton St, Central
Buzz: +852 2194 0202
Click: www.facebook.com/littlebaohk
On the quiet part of Staunton road, you can't miss this tiny spot resembling an American diner serving fluffy Chinese buns 'Baos' with delicious fillings and more, just look for the hot pink neon baby bao mascot!
Must Try: Pork belly bao, the fluffy white bao contains slow-braised pork belly, sesame-dressed leek & shiso red onion salad and hoisin ketchup – small yet richly satisfying. The pan-fried dumplings filled with slow-braised organic OBE beef short-rib are crispy on the outside with tender and juicy meat in the inside, and the Mac and cheese made with mentaiko cheese sauce and rice rolls is a comforting invention. Don't forget to try the LB Ice Cream Sandwich with deep-fried bao with green tea ice cream to round out the meal.
Tip: Book in person ahead of time, head for a drink in nearby Soho, and come back when they call you!
Damage: HK$ 600-800 per head; steep for baos but not for the quality ingredients, ambiance and fun factor.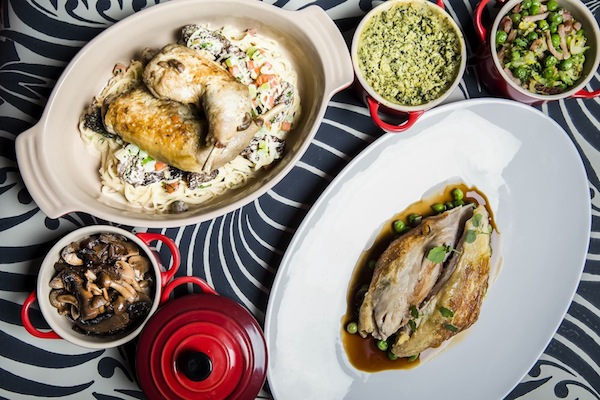 #2 Cocotte
What: Modern French with a twist
Where: 9 Shin Hing St, Sheung Wan
Buzz: +852 2568 8857
Click:  www.facebook.com/cocotteHK

This elegant Parisian-style bistro with brass sconces, dark marble and green velvet chairs is charming like its' neighborhood, aptly called 'Noho', tucked between Gough Street and Hollywood Road.
Must Try: Savor the steak tartare with truffle "egg yolk", rustic sour dough croute and roquette salad. The meat is lean but balanced out well with the rich truffle and yolk. For mains, the day boat Dover sole is perfect in its' simplicity, pan-fried with lemon, parsley and capers and deboned tableside.
Tip: The wine menu is extensive and diverse, have a glass or three!
Damage: HK$ 600-800 per head; reasonable for the quality fare, friendly service and chic ambiance.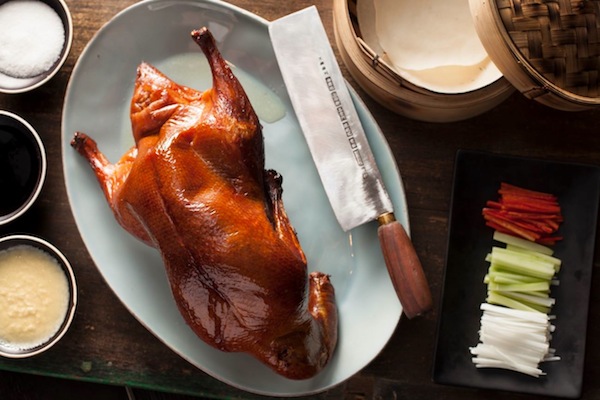 #3 Mott 32
What: Swanky Chinese fare
Where: 4-4A Des Voeux Rd, Central
Buzz: +852 2885 8688
Click: www.mott32.com

Deep into the Standard Chartered building lies this huge space, aptly named after Mott street in New York which is the heart of Chinatown. This swanky venue mixes industrial with traditional Chinese elements and serves  Beijing, Sizchuan and Cantonese "hits" to please the trendy crowd.

Must Try: You can't go wrong with the authentic Peking duck – sneak a peak at the air-drying duck fridge! The aged black vinegar sweet and sour pork uses quality ingredients and the black cod in clay pot is tender and flavorful.
Tip: Try the lavish dim sum choices and cocktails are also top notch.
Damage: HK$ 600-1000 per head; come with deep pockets and enjoy the rich food and decadent décor.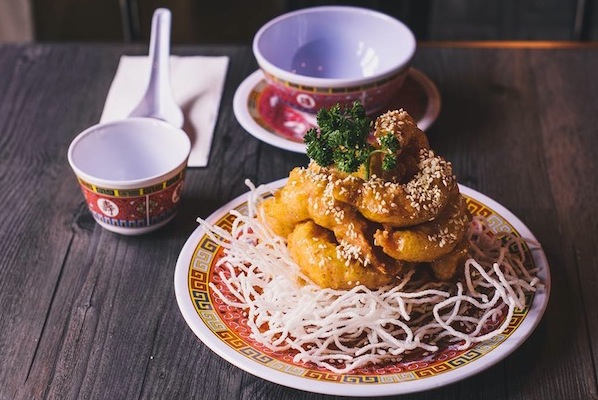 #4 Fu Lu Shou
What: Funky Western Chinese
Where: L7, 31 Hollywood Rd, Central
Buzz: +852 2336 8812
Click: www.facebook.com/FuLuShouHK

This funky spot meaning happiness, prosperity and longevity created by an Australian Chinese owner gives you western Chinese favourites, a common trend that was surprisingly not available until recently. The rooftop graffiti and tropical plants elevates this playful and casual space.
Must Try: The General Tso's chicken was tender on the inside and had a nice tangy flavor, and the chow mein is al dente without being too greasy.
Tip: Don't hesitate to open the random gate at 31 Hollywood Road, head straight to the old elevator and hit level 7. This used to be where private kitchen TBLS once was. Enjoy a cocktail on the open rooftop.
Damage: HK$ 600-800 per head; no surprises for the location and cool atmosphere.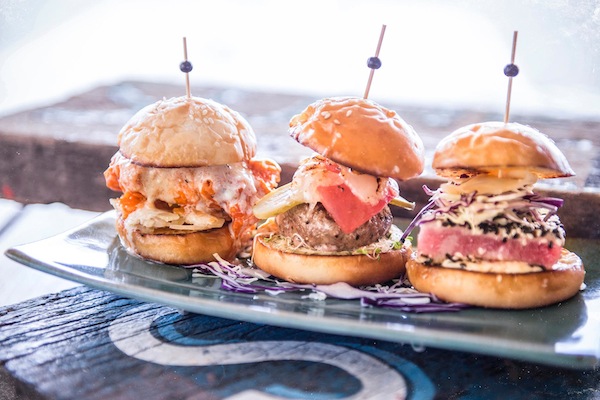 #5 Mavericks
What: Western with beachfront views
Where: Pui O Beach, Lantau
Buzz: +852 5402 4154
Click: www.mavericks.hk

Escape from the bustling city this weekend and head to Pui O Beach to family and dog-friendly Mavericks – sun, surf, an in-house DJ and good grub makes up a winning combination. Though it may take a while to get there, it's certainly worth the trip.

Must Try: The chalupas and wonton nachos are certainly tasty but stock up on napkins, things will get messy! The fish & chips are fresh and fitting for this laid-back beachfront venue which is nicely completed with a refreshing cold beer. You can't go wrong with the beef burger either.
Tip: Take the Mui Wo ferry (Central Pier 6, the fast ferry is an easy 30 minutes) then bus 1 or 4 or a taxi to Pui O beach – look out for the school (Bui O Public school), and that's your stop.
Damage: HK$ 500-800 per head; a little on the high side but everyone needs to earn a living, even beachside.
Have we missed any of your fave spots, nomads? Drop us a line if you've got some great recommendations
Follow Dena Haron on
Facebook
and
Instagram
for more yummy updates!   Main photo:
via
  Photo credits:
1
,
2
,
3
,
4
and
5