2 hands, 4 hands, walked on, jumped on, wrapped, cupped, rotated, gonged, stoned, waxed, and sometimes fondled, we've done some research. Long gone is the idea of a girls day out getting mani/pedis, as spas today are taking the experience to new heights. So guys, drop those drawers (ladies you are, of course, always included) and take the plunge; these are some of the coolest spas around.
#1 The Aural Experience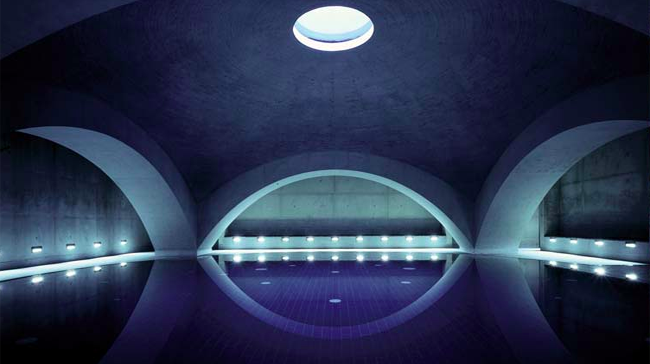 What: Liquidrom
Where: Berlin
This concrete bunker of bathing takes the sensory experience to a different level. Focusing on the relaxing qualities of music when wet, on any given night you may encounter a classical orchestra, deep techno, underwater poetry readings or the songs of whales. As moonlight streams in through the oculus and mapped visual projections disintegrate the walls, you won't be sure if it's Berghain or a bath, but in Berlin would you expect anything less?
#2 Get Biblical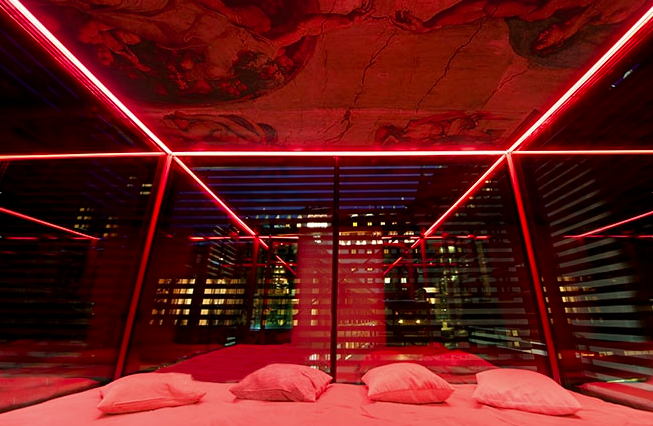 What: Backstage Hotel Vernissage
Where: Zermatt, Switzerland
Start your spa experience with headphones and a 7 minute bible reading of the creation story of Genesis, then proceed through each of the 7 days of the world's creation as imagined by architect/artist Heinz Julen as 7 separate spa chambers. Finish the 'week' by lighting a candle and relaxing to classical music underneath Michaelangelo's 'Creation of David'. Let's just hope you've found your Eve…or Adam.
#3 Beer Spa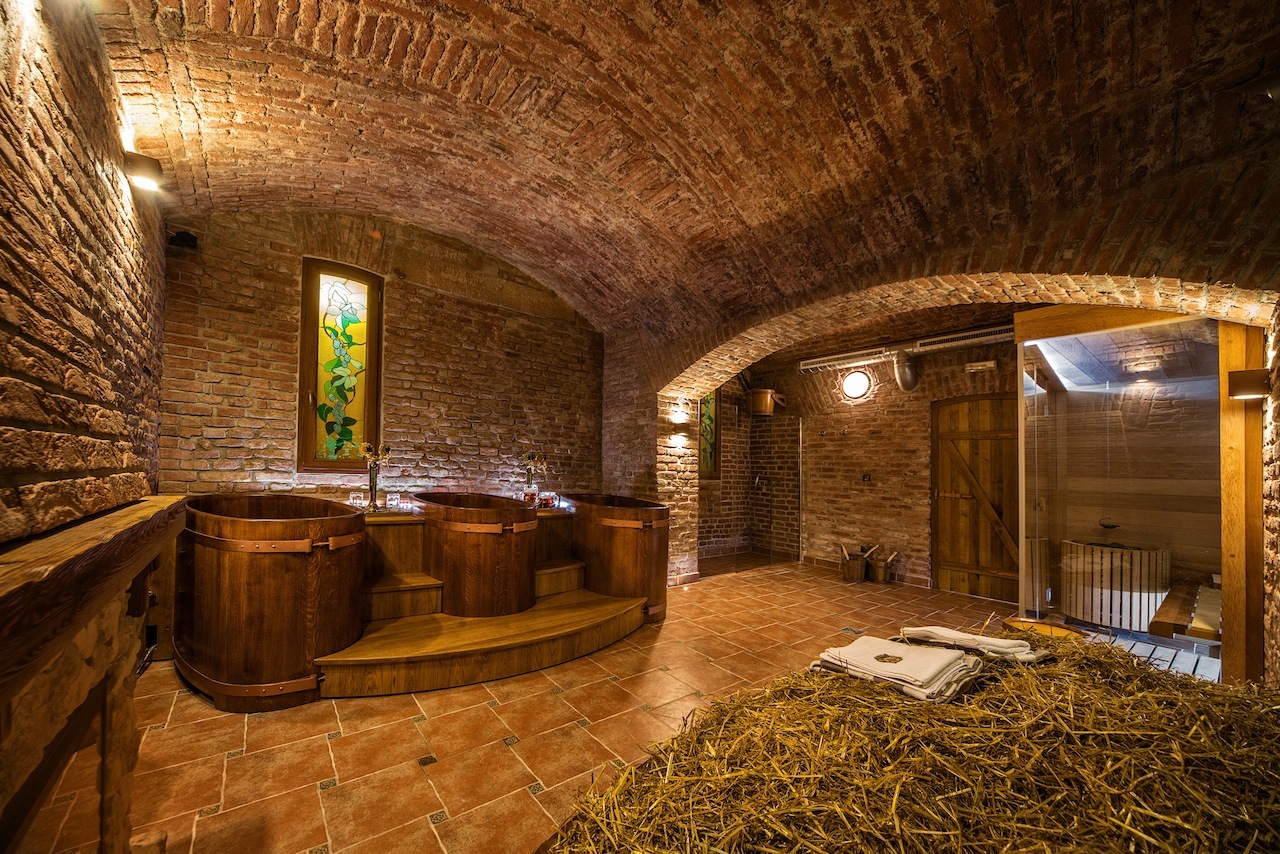 What: Spa Beerland 
Where: Prague, Czech Republic
Only in Prague can you spa and beer and beer and spa. A tradition supposedly originating from the middle ages (where soaking yourself in hops and yeast helps the circulation and your skin) it's also an all-you-can-drink party of sorts, complete with tub-side draft taps. Too much hops? Hit the hay (literally) for a post soak nap. Definitely one for the 'bucket' list.
#4 The Bling Ring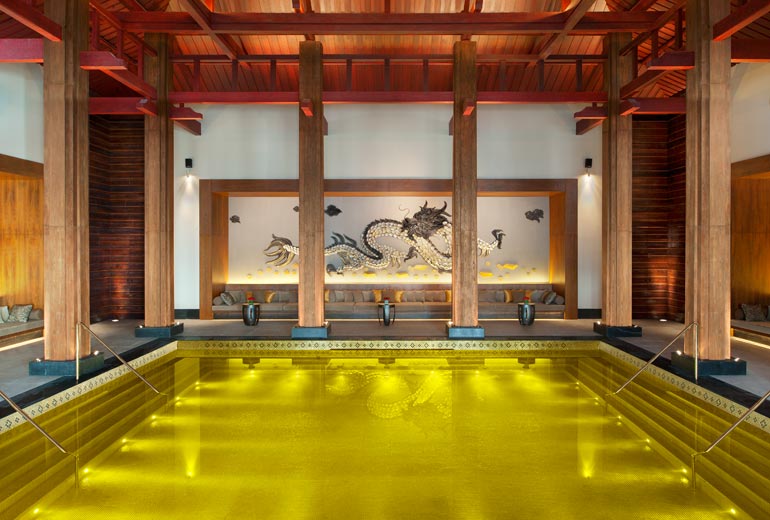 What: Gold Energy Pool at the St. Regis Lhasa
Where: Lhasa, Tibet
Hip-hop stars can take a seat, because Buddhist bling is where it's at. If you really want to be ballin', take a dip in this swimming pool made of pure gold tiles. Add the majestic Himalayas, a little inner Chi, and a swim here should tell you (in this lifetime) you're doing something right.
#5 Sky's the Limit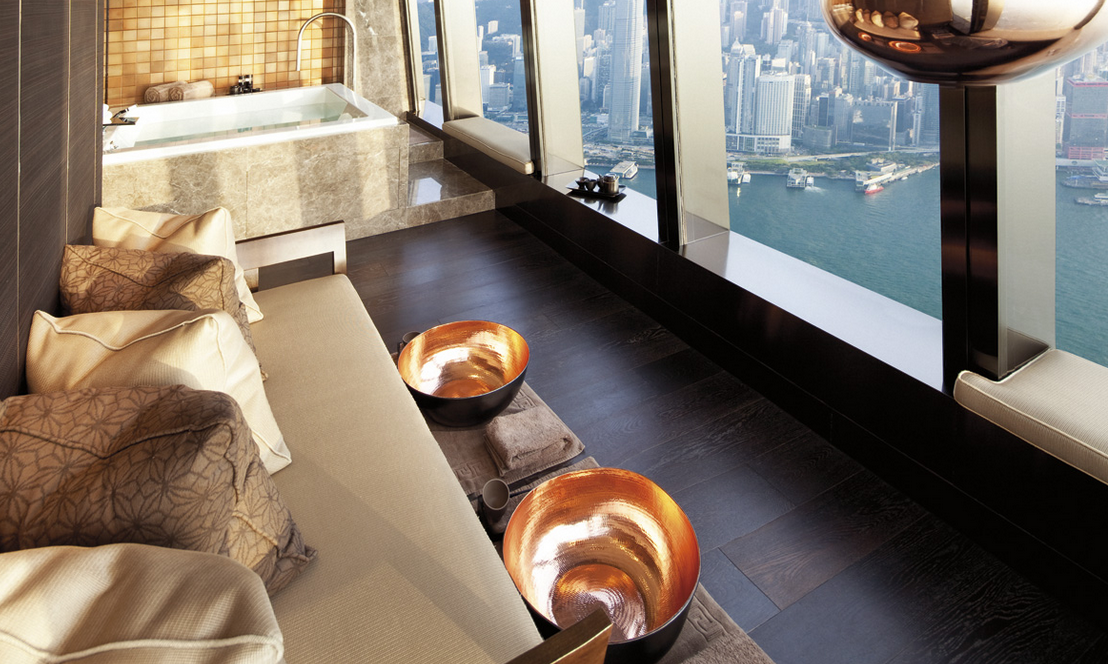 What: ESPA spa at the Ritz Carlton
Where: Hong Kong
Get high while you relax, 484m high to be exact. With bragging rites of the highest hotel pool in the world, grab a 'gentleman's facial' and do some laps, which may be tough when you have floor-to-ceiling windows offering panoramic views of the city below. Feeling fit? Head to Ozone, the highest hotel bar in the world, and…you just doubled up on your bragging rights.
#6 Turkish Delight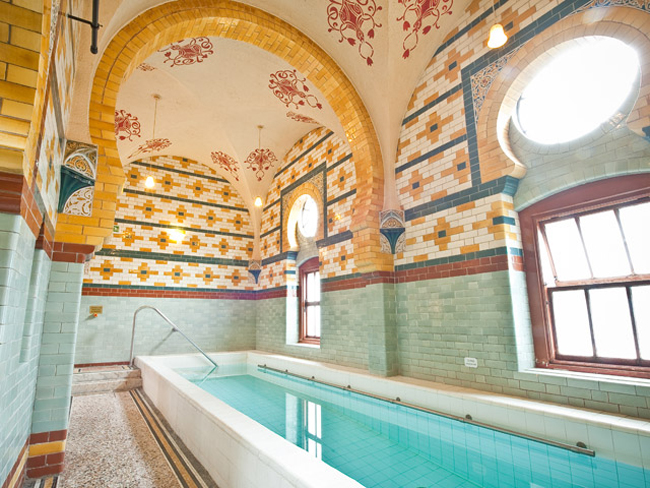 What: Harrogate Turkish Baths
Where: Harrogate, England
Built in 1897, this British Hammam is only one of  seven existing Victorian-era spas left in England, and having been recently restored with minimal need for reproduction, by far the most authentic. Harrogate also comes with quite the reputation: throughout its history at least one member from every European royal family has paid a visit. Not bad company to take in the water.
#7 Vinotherapie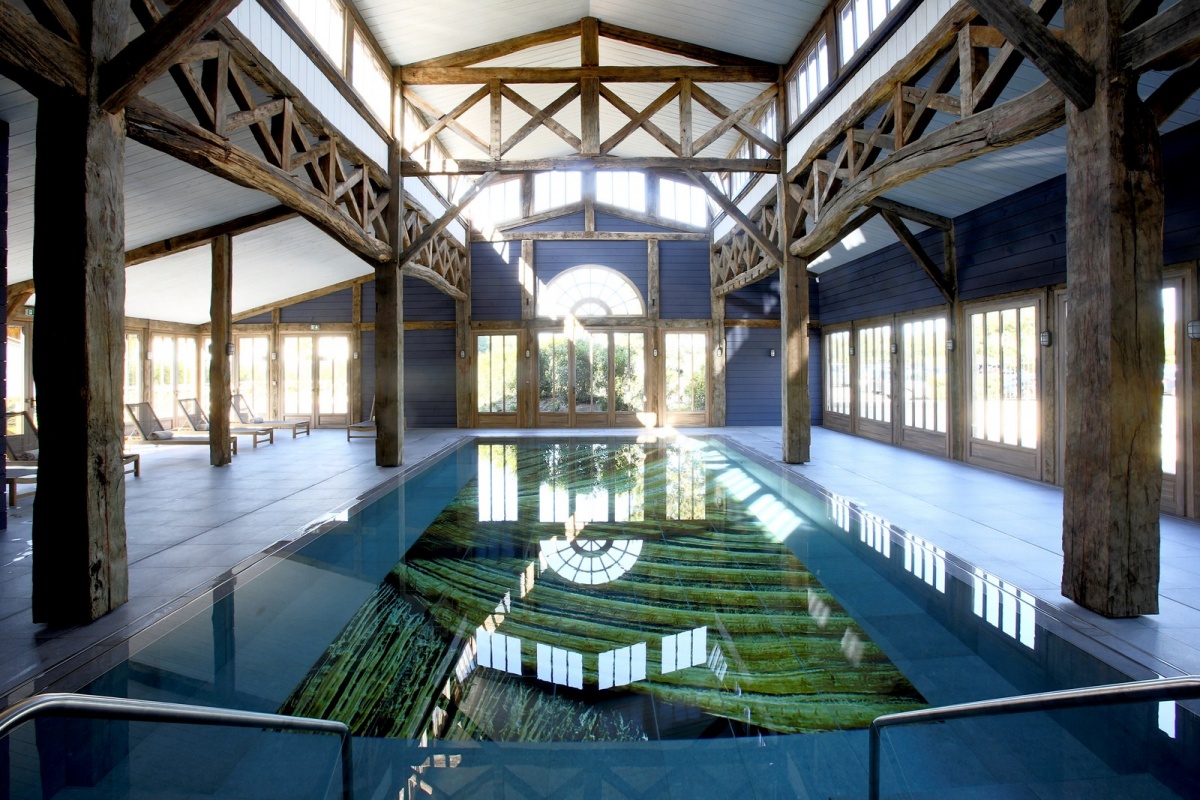 What: Les Sources de Caudalie
This is definitely a romantic one, so unless you're going all sorts of Sideways (which is also a-okay) planning a vineyard tour with your other half here will score some major points. Stop in at Rouge, the in-house wine bar and grocery, and stock up for that picture perfect picnic amongst the vines, but don't forget the real reason you came. The spa at Les Sources de Caudalie focuses on vinotherapie treatments, so in addition to drinking the grape, expect treatments like a merlot body wrap, a red vine bath in oak casks, or the 'Pulp Friction' massage with fresh grapes. A la votre.
#8 Miami Vice-roy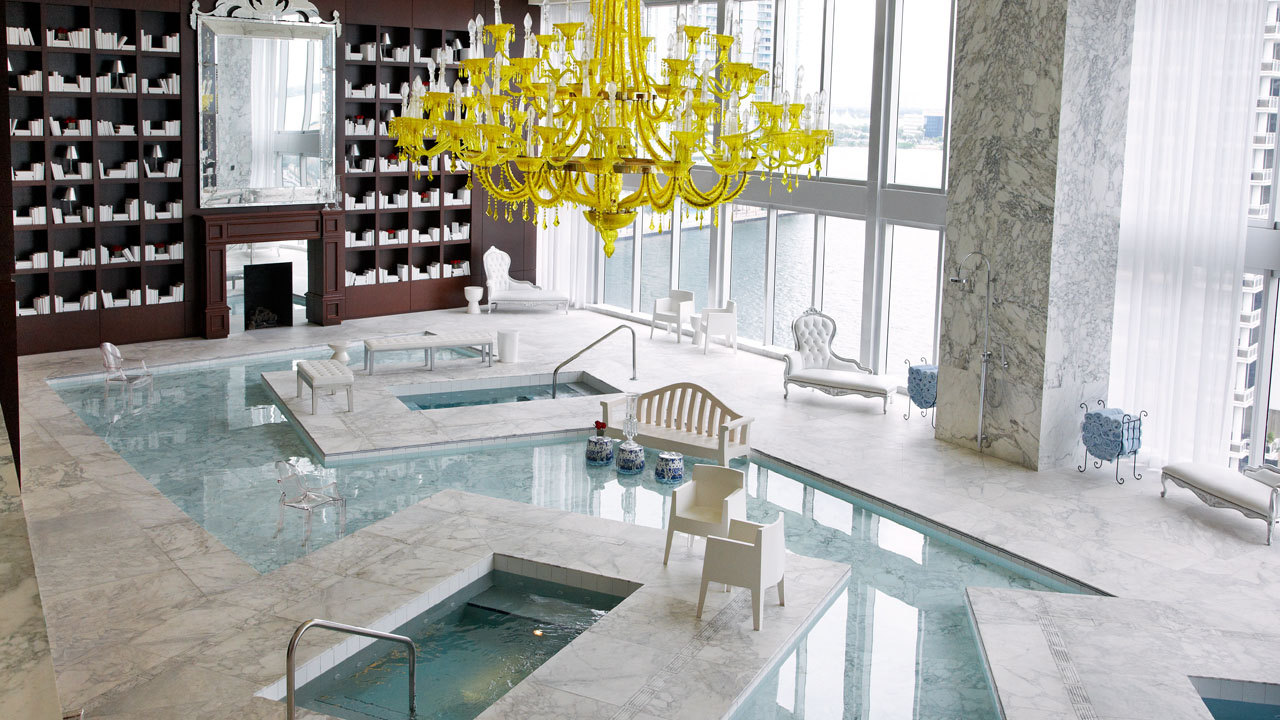 What: The Viceroy
This Philipp Starck-designed complex (and we do mean complex at over 2600 sqm) provides everything you would think of and then some to help maintain that Ocean Drive physique. Spin class? Check. Redwood Sauna? Check. A complete men's spa menu that goes beyond the usual 'men's facial'? They've got it. Throw in a 'floating library', add a few plunge pools that zig-zag across a marble 'water lounge' overlooking Biscayne Bay, and it all adds up to one cool caldarium…it is Miami after all.
#9 Thai Fusion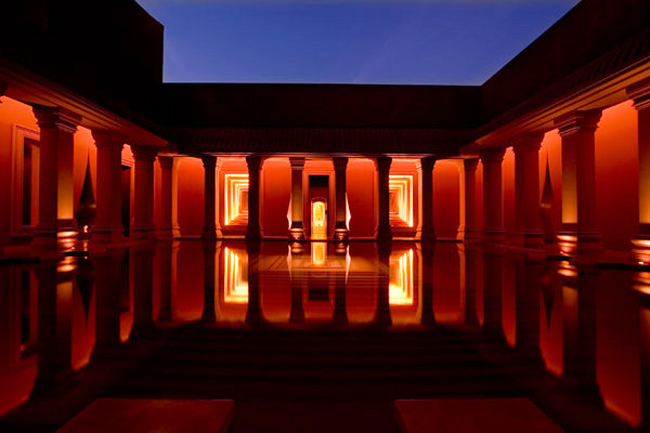 What: The Barai Spa
Designed by renowned Thai architect Lek Bunnag, The Barai takes you on a metaphysical journey of mind, body and spirit using architecture as the guide. Modelled after 11th Century Khmer buildings (Baray is Khmer for a large, manmade reservoir used for irrigation), the 4.5 acre complex plays with the grandeur and permanence of the buildings in contrast to the fluidity and impermanence of water. Sound a bit much? Just relax in the central pool at sundown. When the buildings begin to glow a fire rich, crimson red, you'll get it, or at least smile in ignorant bliss.
#10 The Legend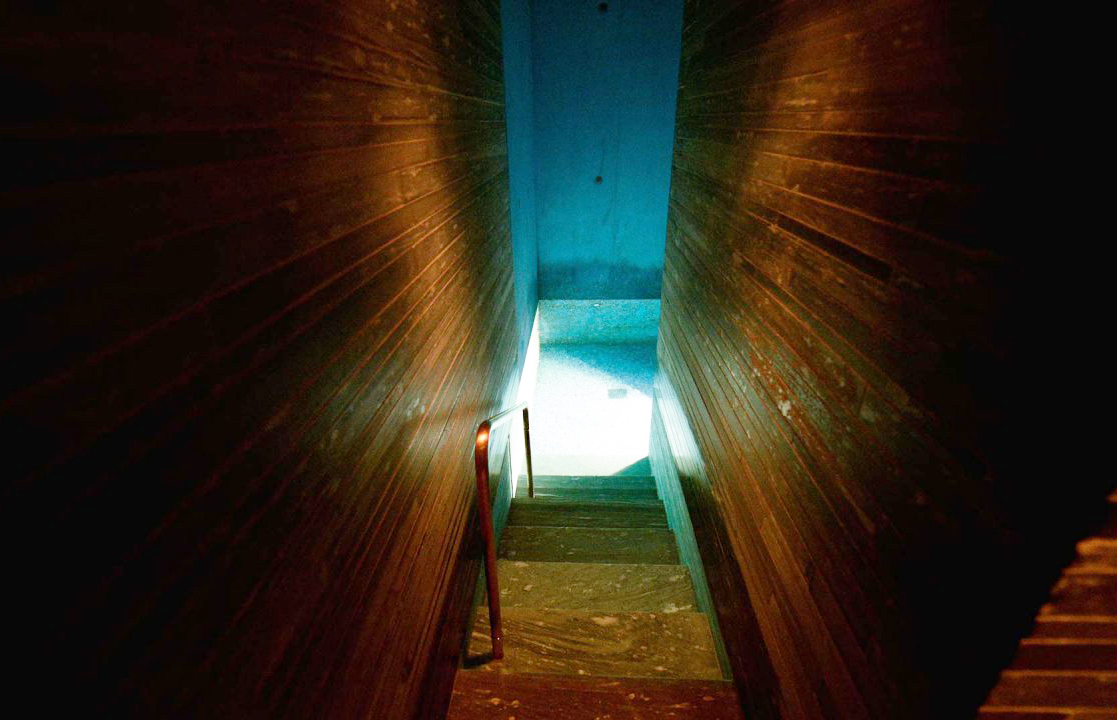 What: Therme Vals
Where: Vals, Switzerland
This game changing spa showed the world what hiring a world class architect could do for the transformation of a town (and an industry). Much the same way Frank Gehry's Guggenheim changed Bilbao, Therme Vals by Peter Zumthor has put little, alpine, sleepy Vals on the architecture map. We won't give too much away (as a plunge here is rather indescribable) but it does verge on the kinky, and their midnight moonlit session is definitely steamy.
It's gettin' hot in here