Load up your iPads, kids. If you're not one to sleep on a plane, or avail yourself of the airlines' inflight services, these are the downloads you need to do the night before. We've got short stories that pillory our modern life, a Brit rock comeback and an angry red panda. Of course.
Listen

It's been a good year for new music. The Arctic Monkeys have boggled the music world with a new record that is inspired by the moon landing and takes a slightly more leisurely pace than the AM bangers you may be familiar with. We love everything Janelle Monae does, particularly if it involves Prince inflections and dancers dressed as vaginas. And if you don't want to be dancing in your seat, allow us to point you in the direction of James Bay's newest.
Read also: How I travel: Chef John Javier
Watch
[metaslider id=44062]
Everyone loves Netflix's angry red panda, Aggretsuko. We can all identify with her – she's a frustrated office worker who vents her anger by playing death metal really loudly. Ali Wong is back with another no-holds-barred comedy special, complete with another baby bump and excellent bodycon dress. If you loved Baby Cobra (and who didn't?) get this on your list now. And finally Lost in Space is about a family… lost in space. The Robinsons were on their way to start a new life in a space colony but were suddenly cast adrift and must learn to survive.
Read also: 5 things Black Panther can teach us about travel
Read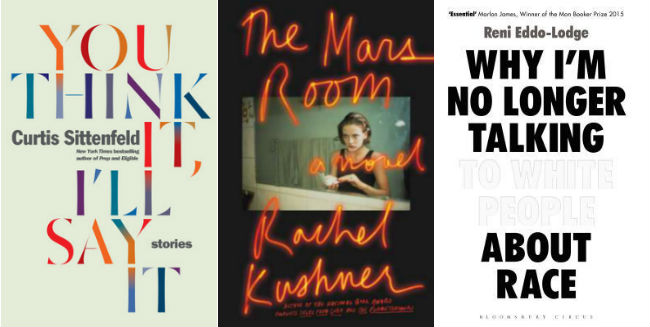 You Think It, I'll Say It is a collection of short stories by bestselling author Curtis Sittenfeld, and holds a very unflattering lamp to all our modern-day foibles. The Mars Room is being lauded as one of the month's most interesting works of fiction, in which we follow Romy Hall entering jail to begin two consecutive life sentences. And if you're after a difficult, confronting but enlightening read, look no further than Reni Eddo-Lodge's debut Why I'm No Longer Talking to White People About Race.