Gee whiz! Can you believe it's already mid-May? There was so much going on in the first part of the month that we are even surprised there's a ton more stuff to do. From spectacular theatrics to Shakespeare, fitness to film fests, family days out to boys nights out, here are seven things to do in Singapore this month.
Toruk: The First Flight
What: If you've ever wished that James Cameron's film Avatar was real, here's the closest thing to it you'll ever get – a Cirque du Soleil production based on the history of the Na'avi. Be prepared for a spectacular visual feast featuring acrobatic stunts, life-size puppets and stunning sets, and follow the three main characters as they seek the legendary Toruk to help them save the Tree of Souls.
When: May 24–June 3, 2018.
Where: Singapore Indoor Stadium
How: Book now here.
ArtBox
What: Originally a pop-up market concept in Thailand, ArtBox is now back in Singapore for the second year running, this time with 140,000 square feet of space. If spending the weekend checking out Instagram-worthy luxe pasar malam/pop-up/flea stalls is your idea of fun, then this is the place to be. With over 400 regional and local creative makers and partners, it's a market with offerings for all ages, with many interactive elements and activities, creative art installations, music and entertainment, and a wide (if rather expensive) variety of delectable food.
When: May 25–27, 2018
Where: Bayfront Event Space, Marina Bay Waterfront Promenade
How: More details here.
FitnessFest 2018
What: If you're crazy about working out, then you might want to head to FitnessFest 2018, because you'll be able to work out for 12 hours non-stop (if you want to), with super fit and good looking people like internet fitness queen Kayla Itsines. Back for its second edition, this guaranteed sweaty day out starts out with meditation and yoga, and powers through with three different stages schedules featuring bouldering, HIIT workouts, jumping exercises, calisthenics, parkour, wellness talks, barre, boxing, BBG bootcamp, CrossFit, Pound, pole, and even a blacklight flow session. What are you waiting for?
When: May 19 2018
Where: Marina Bay Sands
How: Get your tickets here!
European Union Film Festival
What: We have to admit, we'd rather curl up with a good film than sweat it out any day, so seeing that it's the European Union Film Festival, you could say we're getting our intellectual quota filled. This annual event showcases a selection of European films, giving local audiences a taste of Europe's diversity and creativity. Now in its 28th year, the EUFF is a window into the intriguing world of European cinema but also offers a platform to showcase films by young Singaporean film-makers.
When: May 10–20, 2018
Where: National Gallery Singapore
How: Check out the schedule and tickets here.
Imaginarium: Into the Space of Time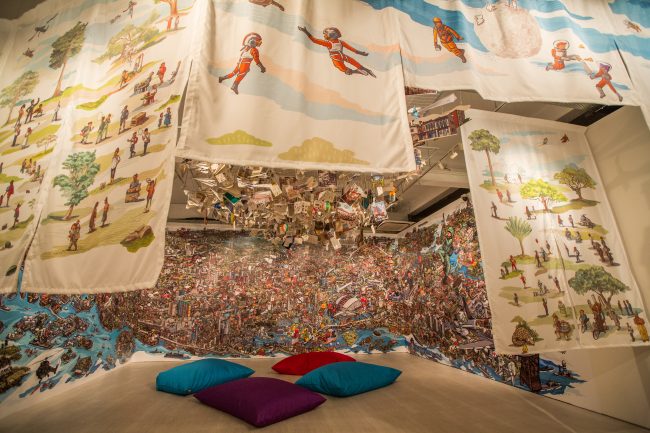 What: The eighth edition of Singapore Art Museum's annual Imaginarium exhibition explores the tales and theories that shape our memories and futures, and examines the concept of time through immersive and interactive artworks by 10 artists and art collectives from around the world. Explore the exhibition's concept further with artist-led tours, poetry reading sessions, various art workshops for children, and daily screenings of award-winning animations and short films at the museum's cinema, each exploring the concept of time.
When: Until August 26, 2018
Where: Singapore Art Museum
How: More info here!
One Championship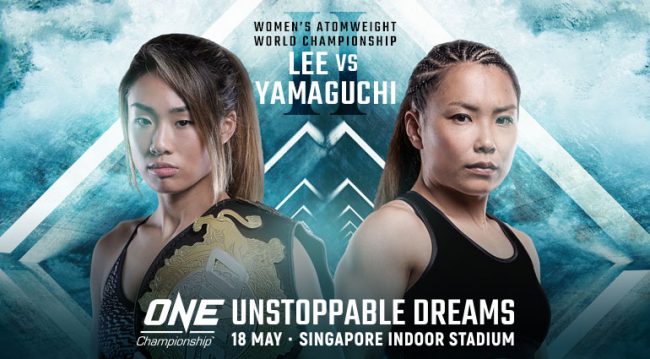 What: First rule of Fight Club? Well, in this case, you can actually watch fights and tell your buddy about it. If you're a fan of mixed martial arts, then you simply cannot afford to miss out one of the biggest events in history. For the first time ever, ONE Championship will hold three world title bouts in a single night featuring the rematch between Atomweight World Champion Angela Lee and Japanese veteran Mei Yamaguchi, the One Featherweight World Champion fight, and the inaugural One Super Series Muay Thai Flyweight World Championship. There will also be appearances by some of the biggest superstars in martial arts today, plus ticket holders also get to party hard at the Official After Party at 1-Altitude and Altimate.
When: May 18, 2018
Where: Singapore Indoor Stadium
How: Get your tickets here.
Shakespeare in the Park – Julius Caesar
What: Fancy a little bit o' Will in the park? William Shakespeare, that is. After a year hiatus, the bard and his merry troup return bigger and better than ever with an epic rendition of Julius Caesar. Directed by Guy Unsworth, this production sees Shakespeare's political thriller brought to life against a backdrop of modern-day international relations and global current affairs. Spread your picnic blanket under the stars and be mesmerised by the beautiful set and amazing cast.
When: Until May 27, 2018
Where: Fort Canning Green, Fort Canning Park
How: Buy your tickets and picnic hampers here.