Uffff….January. While we're not a big fan of resolutions (hint: we break them), for most of us it's back to work and back to somewhat of a routine before the December drinks, dinners and desserts descended. That doesn't mean you can't #wanderlust however, in fact it's kind of the best time to do so — you wouldn't want to go and shock your system into over-productivity now. So, to help ease you back into the swing of things here's a few 'blue destinations' to combat those no-good-January-blues:
#1 The Blue Mosque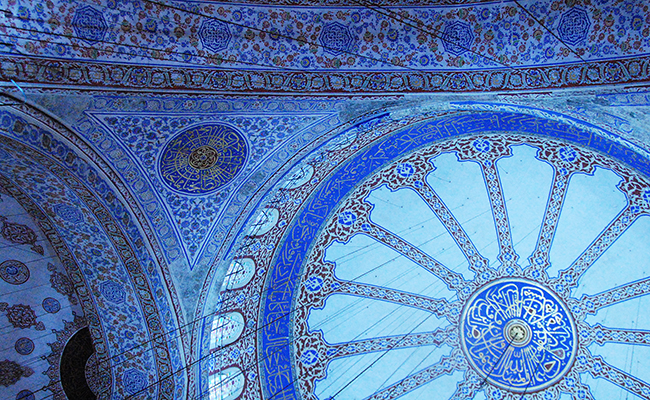 Where: Istanbul, Turkey
What: More formally known as the Sultanahmet Mosque, the Blue Mosque sits in the main square of Istanbul and directly opposite the Hagia Sofia. Commissioned by Sultan Ahmet I to out-rival the older Hagia Sofia, the mosque gained its colloquial name from the 20,000 + blue tiles that line the high ceilings and domes. One of only two Turkish mosques having six minarets, the construction caused quite the escandolo as the Haram Mosque in Mecca also had six minarets at the time. To solve the problem (and to not interfere with his own design) Sultan Ahmet I sent his architect to Mecca to add a seventh minaret there. Smoooooooth Sultan Ahmet I, smooth.
#2 The Blue Lagoon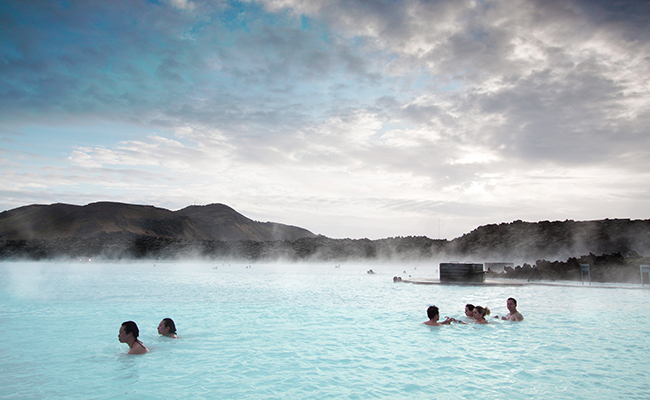 Where: Iceland
What: Sure it's one of the most visited tourist attractions in the country, but where else on earth are you able to soak in milky-turquoise waters in the middle of a lava field? Doubling in soaking size in 2016, The Blue Lagoon now covers over 8700 square metres with a volume of 9 million litres of rub-a-dub-dub relaxation. Continuing their expansion through 2017, be on the lookout for a new 60-room boutique hotel and luxury spa. It's better (read more steamy) when it's cold out, so January might be a great time to soak up (and in) this blue destination.
#3 The Blue Grotto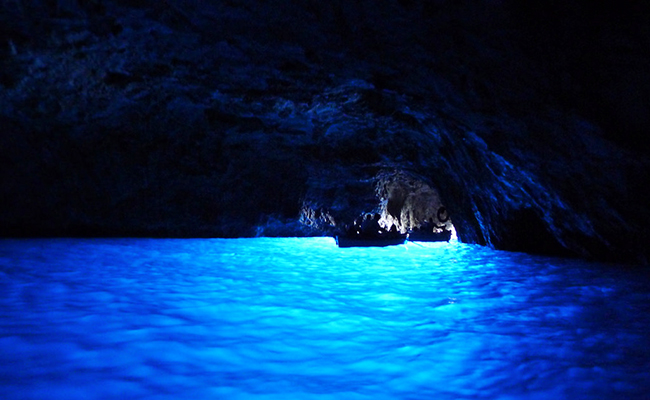 Where: Capri, Italy
What: Ahhhh Capri, where the scent of orange blossoms fills the air, limoncello flows like water, and Panama hats and Canfora sandals are as much a necessity as a selfie-stick to show off your new Panama hat and Canfora Sandals. Get off the rock however and head for the life aquatic inside the Grotta Azzura — a 60 metre long sea-cave only accessible when the tide is low and water calm. As sunlight penetrates an underwater cavity, the seawater glows an ultramarine blue illuminating the entire cave; Ain't geology cool?
Don't miss: 8 more mind-blowing geological formations
#4 The Blue Pearl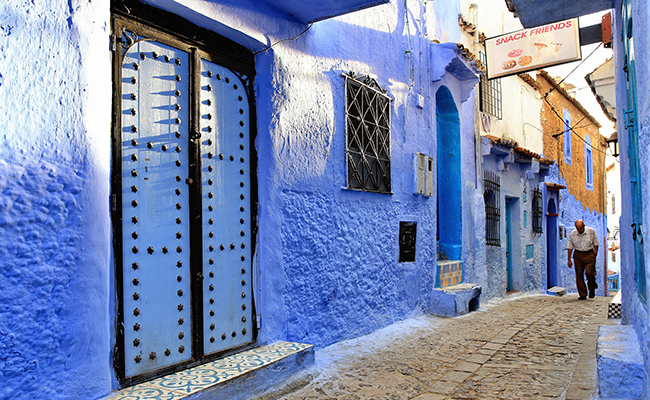 Where: Chefchaouen, Morocco
What: This mountain city in the Northeast of Morocco is best accessed from Rabat or Fez, which means although still touristy, is a long way off from tourist trodden Marrakech. Those that do make it here are rewarded with a picture-perfect Moroccan medina filled with powder blue tinted shops, homes and streets. Chefchaouen also happens to be big on the chill-out scene as many Moroccan marijuana plantations (which are grey-area tolerated) are nearby.
Read Also: Destinations that will get you high – Literally.
#5 Blue Lava?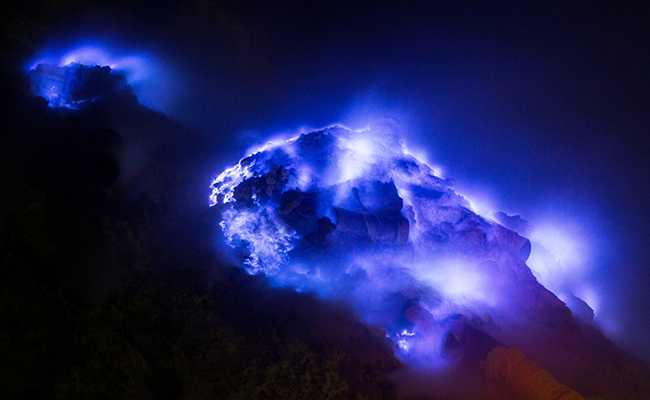 Where: Kawah Ijen, Indonesia
What: While it may seem otherworldly, it's not too difficult to see the blue fire from the Kawah Ijen volcano for yourself. In fact, you can catch the lunar landscape of Mt. Bromo, the turquoise green crater lake of the Ijen Volcano and the blue lava (which is actually just burning sulphuric gas for the chemistry nerds out there) in just a few days. It may involve some midnight hiking, but hey that's what guides are for.
#6 Blue Wine!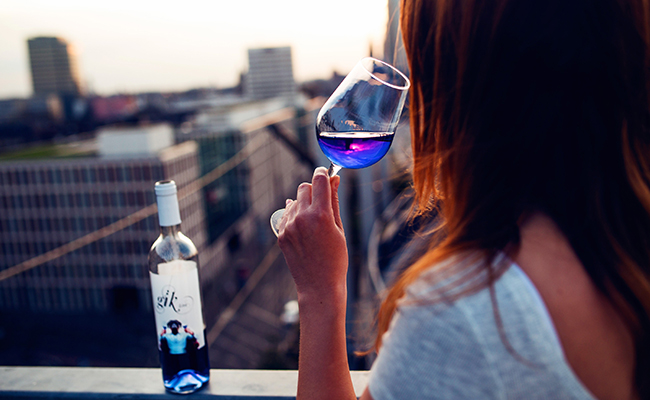 Where: Northern Spain 
What: Sure to raise a few hairs in sommelier circles, blue wine is indeed now a thing. Necessary? Not really. Making Wine Spectator's List? Probably not. Cheeky and fun to try once? You bet. While slowly becoming available worldwide, we say head to the source – Basque Country, Northern Spain where five under thirty-somethings with no professional wine experience have launched Gïk. Bucking all wine tradition, they proudly invite you to try their "blasphemous" wine. Is Gïk the new Zima? Does anyone remember Zima? Only time (and a taste test) will tell.
#7 The Blue Mansion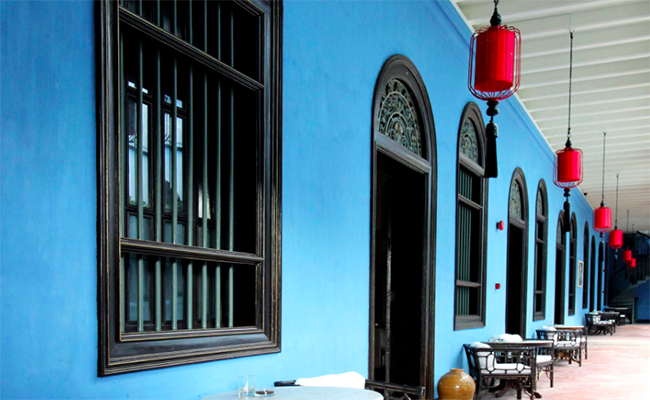 What: One of our favourite blue destinations here at The Luxe Nomad, The Blue Mansion or Cheong Fatt Tze is everything for those looking for some classic Penang history. With only 18 rooms done up in 6 different themes, a UNESCO world heritage status designation, 'Indigo' restaurant on speed dial, and what Lonely Planet calls one of the '10 Greatest Mansions in the World', some snaps here will have your instagram followers green blue with envy.
#8 Blue Lake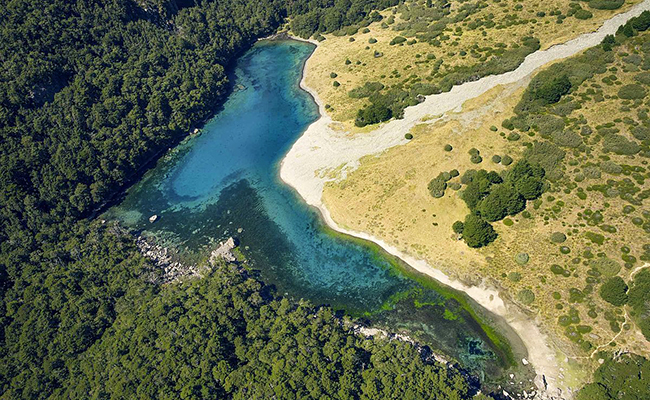 Where: Nelson, New Zealand
What: Scientific tests carried out by New Zealand's National Institute of Water and Atmospheric Research (NIWA) showed Blue Lake to be the clearest natural body of fresh water on earth. Known to the Maori as Rotomairewhenua – the lake is believed to be a sacred site, and thus swimming in it is forbidden. But, with visibility almost matching that of distilled water, that shouldn't discourage you from checking it out — from the shore of course. The catch? It's only accessible along the 80 km Travers-Sabine Circuit, which means it's about a two day hike in or out. How's that for a New Years Resolution?
#9 A Blue Diamond Chapel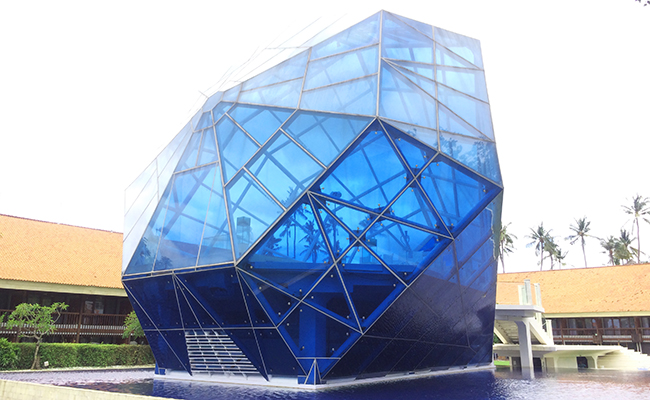 What: If you've ever dreamed of getting married in a giant blue diamond in Bali you're in luck! Set beachfront in the relatively relaxed area of Sanur, The Diamond Bali is now the largest wedding pavilion on the island with a capacity for up to 100 guests. We kind of love it for its po-mo appeal, plus the interior view looks like your getting married inside a Star Wars TIE fighter, which may just be a win-win for the happy new couple. Some blue wine for the toast perhaps?
#10 The Great Blue Hole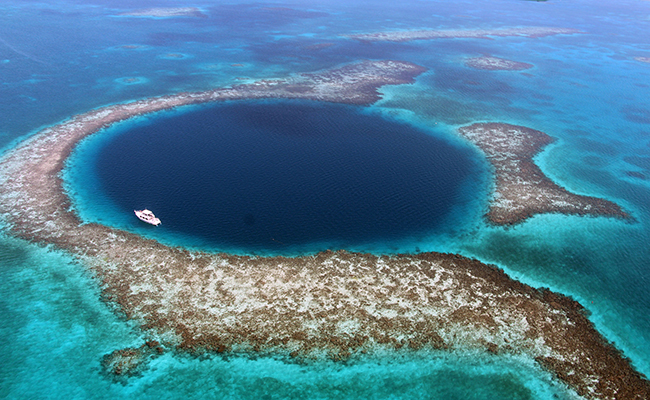 Where: Lighthouse Reef, Belize
What: About 70 km off the mainland of Belize, The Great Blue Hole is found within the larger UNESCO World Heritage designated Belize Barrier Reef Reserve System. Another wonder of geological formation, the 125 metre deep hole is the result of rising sea levels flooding a karst cave similar to on-land sinkholes or cenotes found throughout Belize and the Yucatán Peninsula. Jacque Cousteau considered it one of the top ten diving sites in the world, so for the divers out there this 'blue destination' should top the bucket list or perhaps be a perfect New Year's Resolution.
More Shades of Blue Here…