While there are a plethora of villa offerings in Bali, you'll find that great 2-bedroom properties are few and far between. Luckily for you, Gajah Bali Villas is a fab find that we've recently made and were impressed by. A complex of two separate and newly-built 2-bedroom villas, Gajah Bali Villas presents a private tropical getaway with an exclusive rice field view – a rarity in busy Seminyak! The rooms offer a King-size bed and a twin bed option (can be changed to a double bed) including en-suite bathrooms (twin sinks FTW), whilst we love the manicured garden, sleek and minimal interiors, the spacious dining and lounge area as well as the semi-open style living and dining area, which faces the medium-sized swimming pool.
It's right off Jalan Drupadi, which is conveniently by Seminyak Square and the main shopping area! Only minutes from Sunset Beach and world class dining venues, this is your perfect base from which to explore the island. As it IS Seminyak, there are always new villas being erected, but this is one of the quieter areas of the district. It's easy enough to walk to the shops and should your tummy rumble on the way, you can always stop by the new Kilo restaurant (a great restaurant from Singapore). Breakfast is delicious and the service is true to Balinese hospitality – friendly and always ready to help. All in all, a great addition to our #affordableluxe range!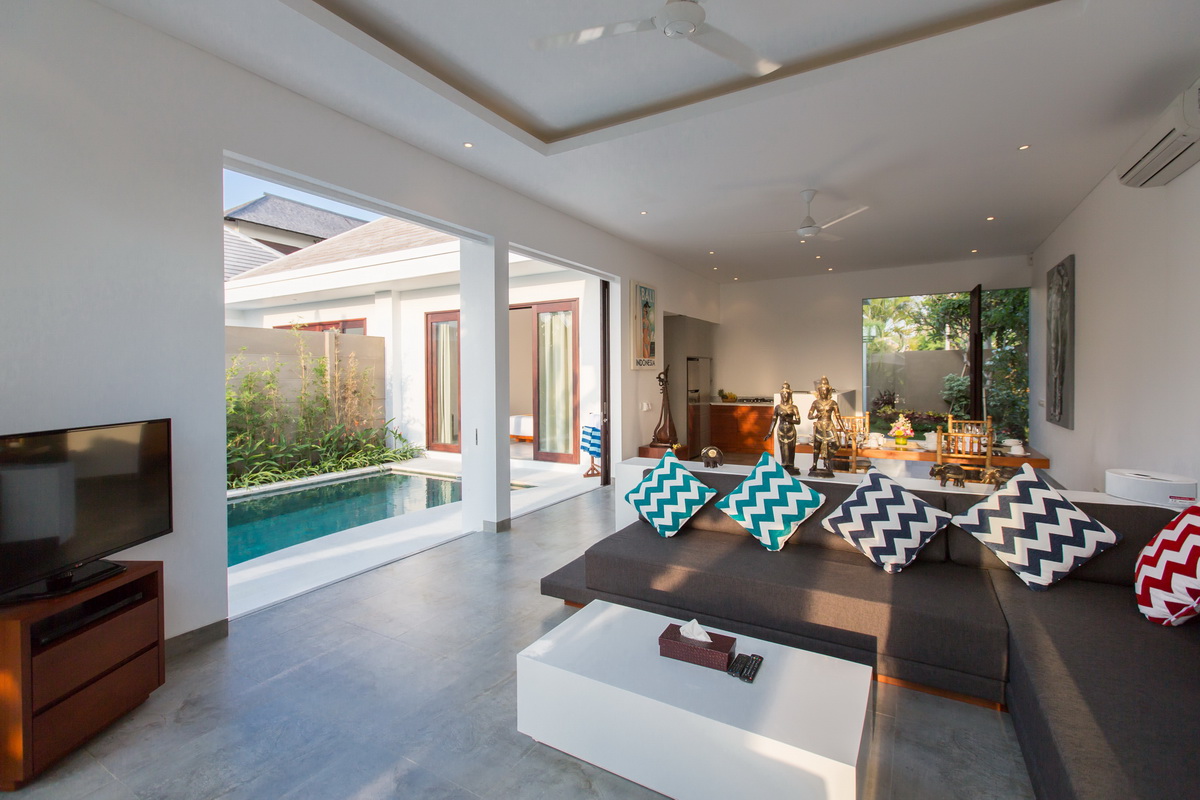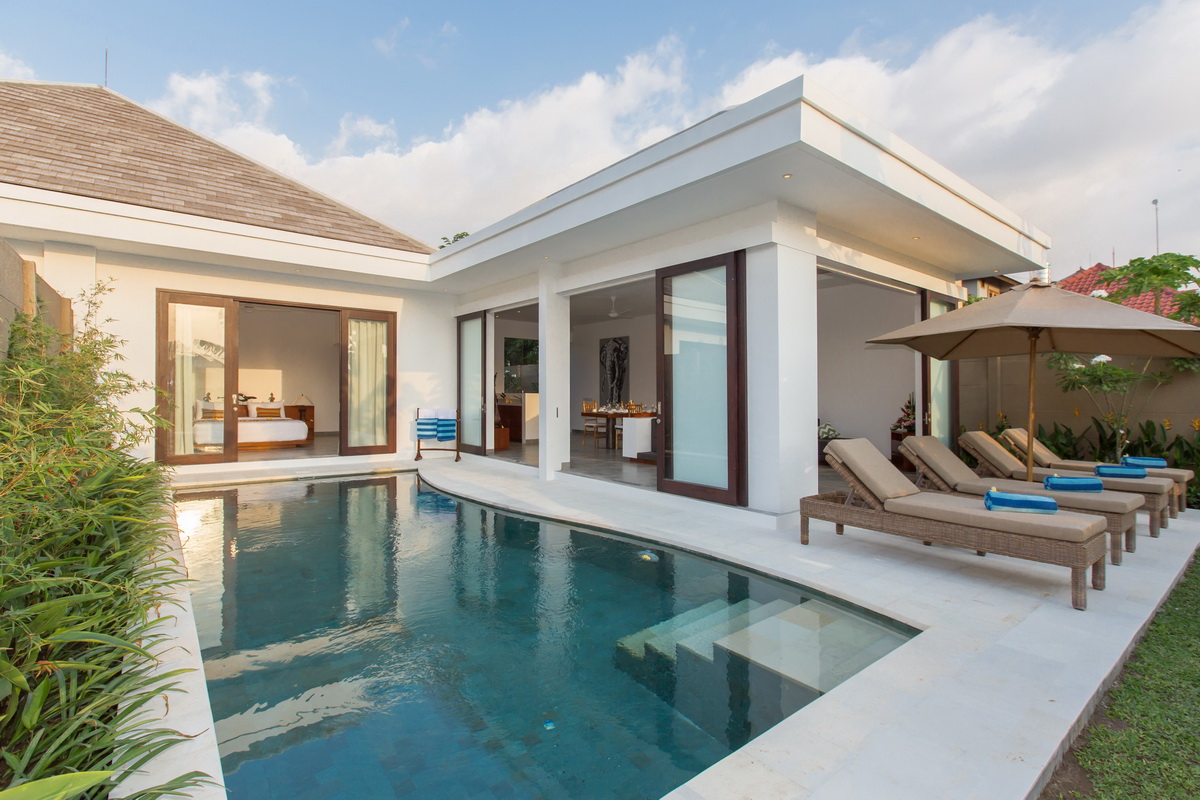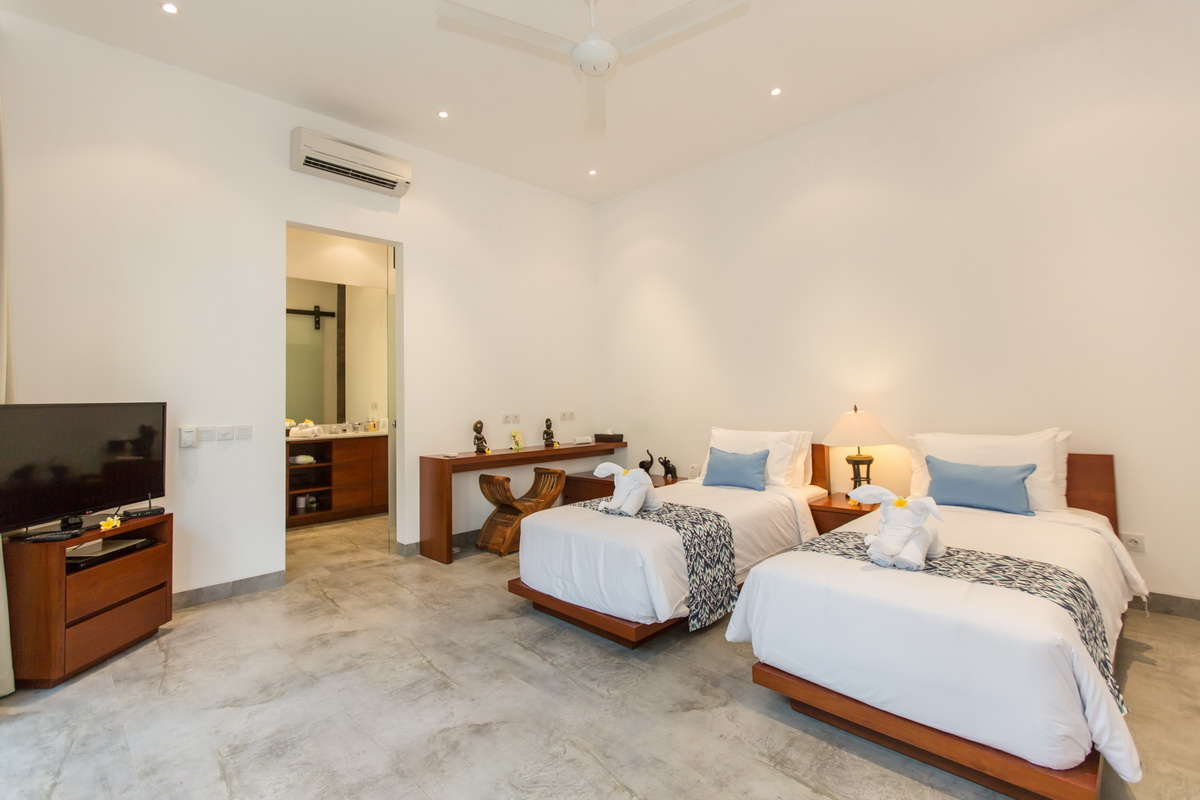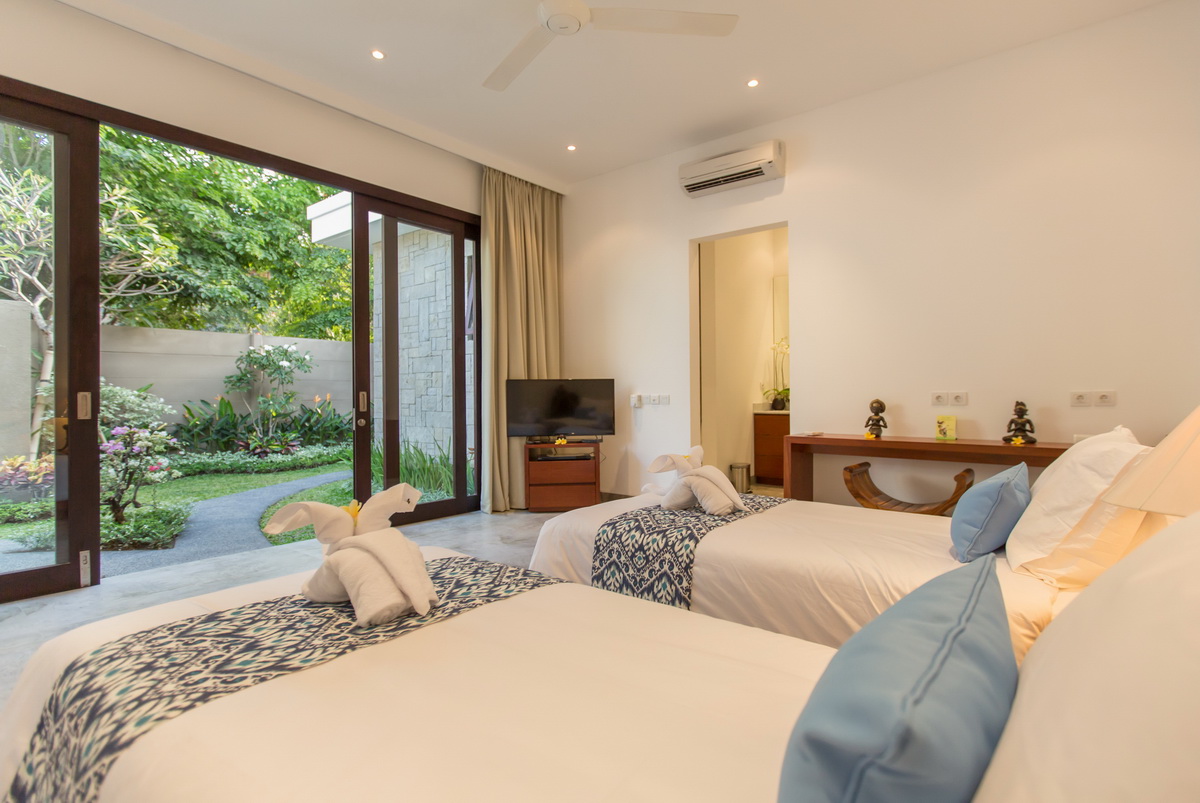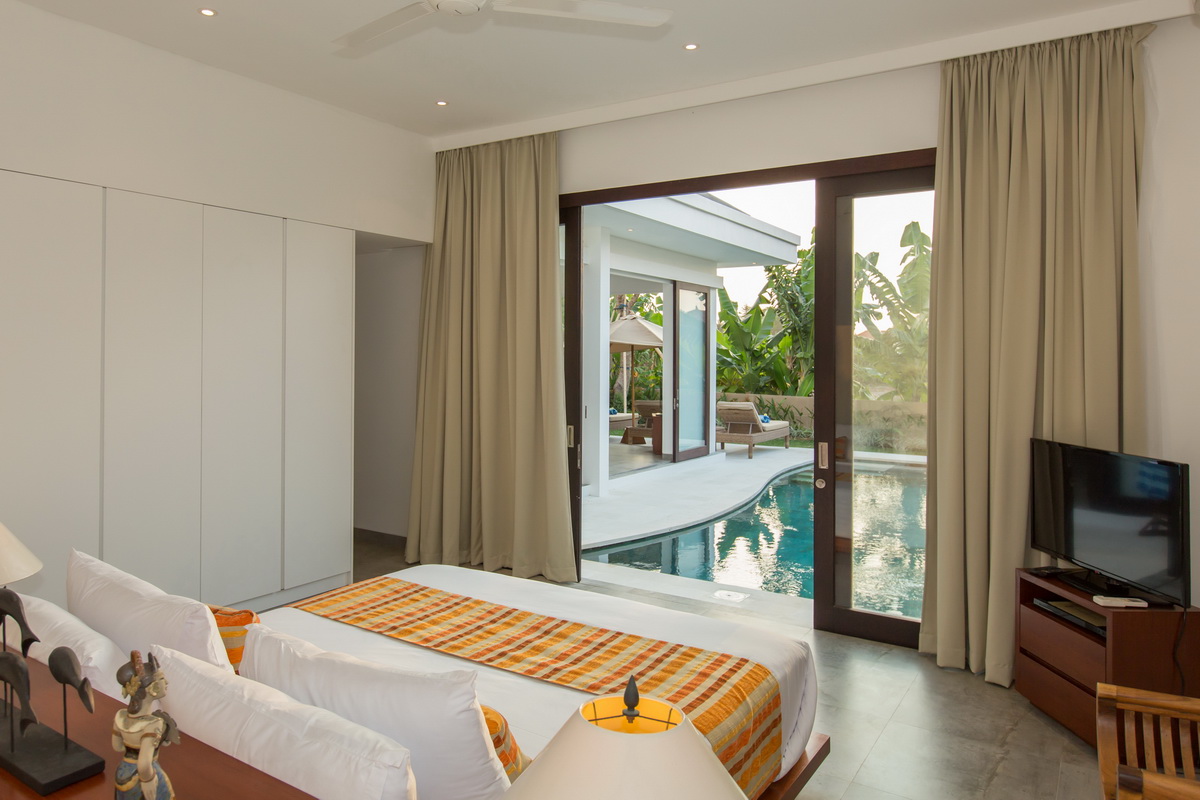 What: It's new, modern and minimalist, perfect for couples and small families or groups of friends who want a sleek but no fuss approach to their holiday. Offering two bedrooms, this complex of two 2-bedroom villas boasts a rice field view, unheard of in the midst of Seminyak. Boasting a private tropical swimming pool in each villa, the stylish interiors are just how we like them – a mix of modern and Balinese – and perfectly comfortable thanks to its large sofa, cushions, LCD TV and beautiful teakwood dining table.
Why: We think it's great value for a 4.5 star villa! Both rooms are sizable and comfortable with a King-sized bed in the master bedroom and a twin or double bed option for the second bedroom. There's plenty of privacy thanks to the walled tropical garden, plus it's within minutes from Sunset beach and some of the best dining experiences the island has to offer.
The villas are located minutes from Seminyak's Sunset Beach and only needs 30 minutes' drive to Ngurah Rai airport. Airport transfer is available at USD 30++ per car per way (maximum 4 pax).
Car rentals with driver, laundry/dry cleaning and in-house spa services are available upon request at an extra charge.
The villa is fully equipped with designer kitchen including stove, microwave, refrigerator, hot and cold water dispenser.
The bedrooms and living areas are furnished with comfortable sitting spaces, flat screen TV, satellite connection, and DVD/CD player.
For your convenience, food delivery from nearby restaurant is available.
Villa services include daytime villa service and 24 hours security service.
Flat screen TV with International satellite channels, surround sound & DVD & CD player on living room.
Welcome drinks & fragrant chilled towel service upon arrival.
High-speed wireless Internet access throughout the villa.
Think you've found the perfect island sanctuary? Book your villa

here!