When it comes to health, we know one thing is for sure: water works. It comes as no surprise then, that water has long been used as a form of therapy for the body and mind for years. A type of alternative medicine, hydrotherapy goes beyond relieving physical ailments – it also provides a sweet escape for the mind to unwind and recharge.
Now, with more hotels and spas than ever serving up the healing powers of advanced hydrotherapy treatments in various forms, it's time to get in the know and indulge in the time-tested practices that promise an overall wellness boost.
To calm anxiety: Sensory deprivation at Bangkok Float Center, Thailand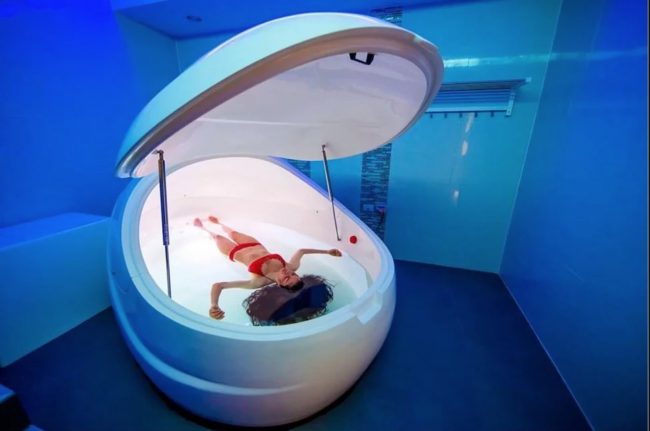 Ever feel the need to just get away from it all? Sensory deprivation may just be the hydrotherapy of choice for you. This treatment involves floating in an isolation tank devoid of light and sound, elevating you to a state of complete relaxation as you tune out the world's distractions. Inside the tank, body-temperature water is mixed with magnesium-based Epsom salts to create a buoyancy that frees the body from the effects of gravity, helping the floater experience a sense of complete weightlessness.
Read also: What it's like to stay at an all-inclusive spa resort
With that accomplished, brain activity slows down, as no active commands are being sent out as you float into a dream-like state, emulating the tranquillity you feel moments before falling asleep. Said to help reset the body's hormonal and metabolic balance, sensory deprivation works a treat in managing stress and facilitating peaceful rest while still remaining fully conscious. Thailand's Bangkok Float Center is a favourite among locals and tourists alike, offering 60- and 90-minute float sessions conducted in private rooms for an exclusive experience.
Find it here: Bangkok Float Center
To relax tense muscles: Watsu water healing at Fivelements, Hong Kong
A form of aquatic bodywork, Watsu involves gentle body movements and stretches as you lie backwards cradled in the arms of a therapist in a heated pool. Performed in one-on-one sessions, Watsu encourages both physical and psychological surrender, allowing the slow cradling and rocking action to alleviate pain and tension from head to toe. Coordinated breathing helps facilitate deep relaxation as your body gracefully unfolds in a continuous flow, awakening the spine and joints for improved mobility and flexibility. Depending on each individual's needs and body condition, dynamic stretches are also incorporated to release tight muscles and boost healing.
Supported by the therapist throughout, feel fatigue melt away as you alternate between moments of complete stillness and slow, rhythmic motions. Thanks to Fivelements' expansion to Hong Kong, city-dwellers can now experience the soothing water healing sessions offered by the renowned wellness retreat, featuring a purpose-built Watsu hydrotherapy pool that's the first of its kind in the country.
Find it here: Fivelements Hong Kong
To boost immunity: Kneipp therapy at The Farm at San Benito, Philippines
Also known as thermos therapy, Kneipp therapy is the brief dousing of water in varying temperatures to promote natural healing within the body. The contrasting effects of warm and cold water are used as a stimulus to temporarily expand and constrict blood vessels, working to promote increased blood circulation. As the body tries to warm itself up in response to the cold, it boosts metabolism and activates the immune system in the process, strengthening the body's natural defences.
Read also: The five best spas in Asia
In addition to the physical health benefits, cold water is also believed to put you in a good mood, as it prompts your brain to produce noradrenaline, one of the chemicals responsible for keeping you upbeat. Try Kneipp therapy as part of a holistic aqua programme at The Farm at San Benito, a wellness resort located amidst the lush tropics of Philippines. Perfectly serene and equipped with luxurious facilities, you're sure to find renewal in this private paradise.
Find it here: The Farm at San Benito
To achieve smooth skin: Thalassotherapy at Ayana Resort and Spa, Indonesia
As with all things that are beneficial for our bodies, whether it be fresh food or healing remedies, the secret to wellness lies within nature. Thalassotherapy harnesses the rejuvenating powers of the ocean, collecting its mineral-rich seawaters to treat various health and beauty matters; from improving skin conditions such as eczema and psoriasis to reducing cellulite and relieving muscular pain. After a filtration process, the seawater warmed to optimum temperatures to rebalance mineral deficiencies, before being utilised in an array of stations that make up the thalassotherapy treatment.
Ayana Resort and Spa's thalassotherapy labyrinth consists of 12 hydromassage stations with over 60 individual therapeutic jet streams, micro-bubbles, and geysers—all serving its own purpose to target specific issues, and all comprised of seawater sourced from the nearby Indian Ocean. Expect to emerge from the pool feeling refreshed and renewed with beautiful skin to match.
Find it here: Ayana Resort and Spa Bali