The desert is calling! Here's how to luxe it up at America's most star-studded musical festival.
Read also: An afternoon at Uluwatu's new OMNIA Day Club Bali
Ready, jet set
Traffic en route to Indio is a nightmare during Coachella, so the A-list takes to the sky. Arrive to 'Chella in style via private jet, the preferred method of transportation for celebrities like Kylie Jenner, Beyonce, and Shay Mitchell, who have been known to Instagram their luxurious Coachella commute. Flying private might seem like a pipe dream, but this year, JetsuiteX is offering festival-goers seats on a semi-private plane from LA for as little as $400 round trip!
All-access pass
If you want to rub shoulders with the likes Karlie Kloss and Paris Hilton, a VIP wristband is not enough. Your golden ticket to Coachella's ultra-exclusive backstage is an artist pass, which grants you access to the artist compound and all the perks that come with it, such as free cocktails, gourmet catering, and the two most important Coachella luxuries: clean bathrooms and air conditioning. You can typically only score an artist pass if you're personally friends with a performer, but we found a way around that (read on).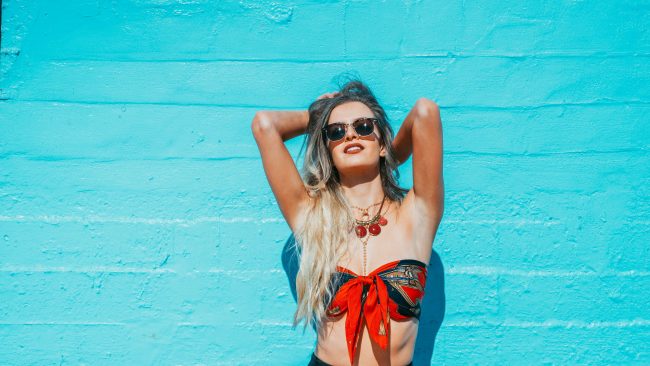 Million dollar digs
Most festival-goers pitch a tent in the infamous Coachella campgrounds, but let's face it, the rich and famous do not camp. Skip the grime and shack up in a glamorous Palm Springs mansion instead, especially one with a private pool to escape the heat. If you like the idea of camping but have a taste for luxury, you can book an on-site lavish Yurt that will set you back a cool $25,000 for two – but it comes with complimentary champagne, morning yoga, spa treatments, and most importantly, the highly-coveted artist pass mentioned above.
Dress to kill
It's no secret that Coachella is just as much about the fashion as it is the music, and last year we saw celebs rock some ridiculously over-the-top looks with lofty price tags (remember Rihanna's $8,000 Gucci get-up?). When planning your outfits, keep in mind practicality and the merciless desert heat. You'll definitely need comfy shoes, designer shades, and a light jacket for when the sun goes down. We like to get outfit inspo from Vanessa Hudgens, the reigning queen of Coachella fashion, but you can't go wrong dressing head-to-toe in Free People and rocking a Marni fringe tote!
Glam squad
Wondering how celebrities maintain their perfect hair and opalescent glow in the sweltering Coachella heat? They all have killer beauty teams behind-the-scenes. You may not travel with your own dedicated hair and makeup artists, but you can still get your glam on at Coachella's beauty bar. Located within the campgrounds, the beauty bar is a hair and makeup station offering everything from boho braids to funky festival makeup – all for free. Think of it as your own personal glam squad!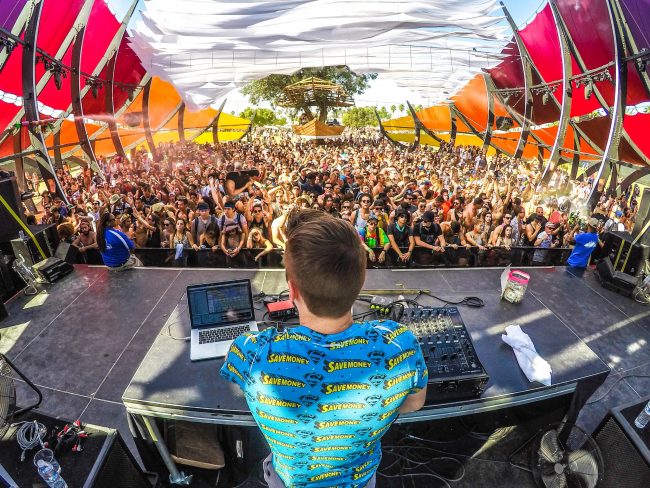 Eat your heart out
Coachella has really upped its food game in recent years. Inside the festival, you'll find food trucks and pop up restaurants from California's finest, where you can munch on Instagram-worthy snacks such as sushi burritos, lobster mac and cheese, waffle pops, boozy snow cones, and rosé popsicles. But for the ultimate dining experience, make a reservation for Outstanding in the Field, an indulgent four-course meal from celebrated chefs.
Acts the rich & famous wouldn't miss
When they're not mingling in the article compound, you can often spot celebs catching Coachella's most anticipated performances from the best seats in the house – the side of the stage. This year, there's a lot of hype for Eminem and the queen herself, Beyoncé, but other acts not-to-miss include rappers Cardi B, Migos, and Tyler the Creator, as well as Odesza and Kygo if you're into chillwave beats.  Although this year's lineup is noticeably lacking the usual rock heavy-hitters, we're stoked to see X Japan make their Coachella debut. But the best of Coachella is often the surprise performances. You never know who (or whose hologram) will show up on stage, but linger backstage long enough and you might be the first to know!
See and be seen
Branded parties are the place to be in Palm Springs when you're not at Coachella – and some would say they're even better than the festival itself! Hosted at swanky mansions, the most exclusive soirees are where you'll find Victoria's Secret models, influencers, and A-list celebs sippin' on Moët from the open bar.The hottest parties this year are set to be Revolve Festival, FORAY Desert Oasis, and Bootsy Bellows Estate, if you're lucky enough to get an invite – otherwise you'll have to live vicariously through Instagram.
Heading to the U.S? We've got digs there too! Book a stay with a view on The Luxe Nomad.