If you have only one day in Bangkok, what do you do? We'd say – shop your heart out! It is almost impossible to visit the city without having the urge to buy every knick-knack you cross. Shirts by the dozens, dresses by the millions, and more oddities than you can count. You want it? They got it. But where do you drop that baht? Here's the complete Bangkok Shopping guide, WanderLuxe style.
The size of 16 football fields put together, Chatuchak is definitely one of the biggest open air markets in Thailand. 5000 stalls and 200,000 visitors during the weekend – get ready to shove your way through human traffic and shop till you drop.
What you'll find there: Apparel, accessories, bags, footwear, ceramics, handicrafts and even pets!
How to get there:
Take the MRT to Kamphaengphet Station or Suan Chatuchak.
Hop on the BTS (skytrain) to Mo Chit station and take a 5 minute walk to the market.
Get a cab ride from the city to Chatuchak and it'll cost you about USD 5.
Where to stay: The Chatrium Hotel Riverside is an excellent choice. Enjoy the spectacular view of the city whilst you enjoy the best of Thai hospitality!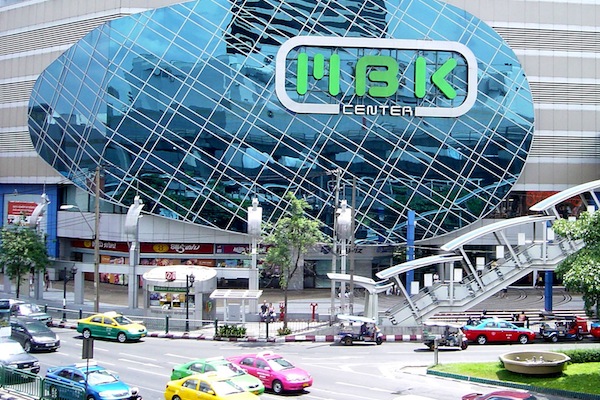 MBK is one of the oldest malls in Thailand and still is a major shopping attraction, drawing crowds of over 100,000 each day. This is also where you ought to head to if you'd like to have your suits and dresses tailored at a decent price. 8 levels high, this mall is truly a shopper's paradise.
What you'll find there: Apparel, footwear, bags, accessories, electronics, souvenirs.
Note: Aside from being a shopping paradise, MBK is also known as a spot for -ahem- INSPIRED goods (if you know what we mean) – so be careful when you shop!
How to get there:
Hop on the BTS (skytrain) to the National Stadium and you're there.
Where to stay: VIE Hotel Bangkok is close enough to MBK. What makes it even better – complimentary tuk tuk rides to the mall!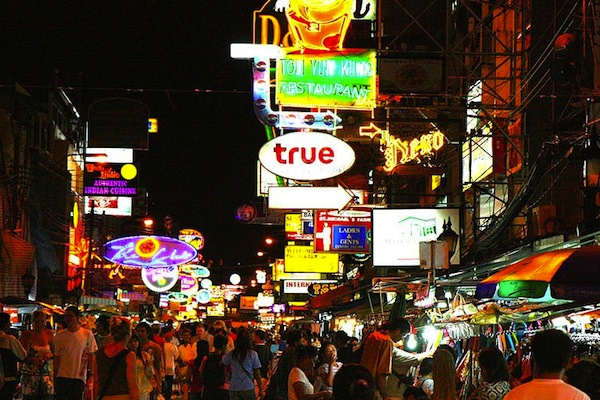 If you arrived at the streets of Khao San with an empty luggage, be sure to know that you'll be returning with a lifetime of supplies! From accessories to clothes and even getting yourself inked – this destination is akin to perfection for the backpacker in you.
What you'll find there: Tattoo parlours, street food, apparel, accessories, souvenirs, handicrafts.
How to get there:
Your best bet would be getting a cab ride. If you're heading over from downtown Bangkok, the ride will cost you between USD 3 to USD 5.
Where to stay: Book yourself to unparalleled comfort at the Riva Surya Bangkok.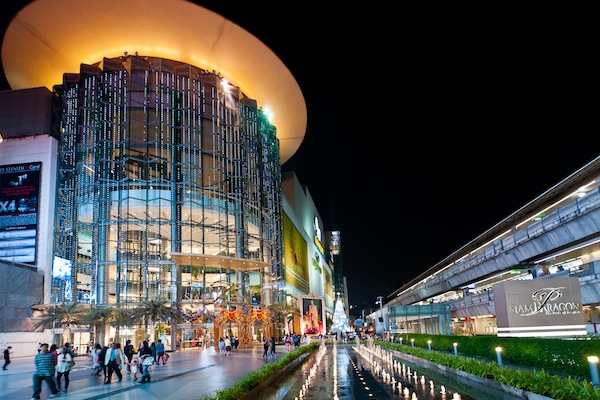 Enter the gleaming wonder that is the Siam Paragon! Somewhat similar to that of Hong Kong's IFC shopping mall, Siam Paragon is where you do your luxury designer shopping sprees! There is also an increasing number of independent designer boutiques in the mall.
What you'll find there: Hermès, Giorgio Armani, Gucci, TOD's, Jeffrey Campbell, Bvlgari.
Note: Babysitting services are available at the mall, with a fee, that is.
How to get there:
Take the BTS to the Siam Square station.
Where to stay: The Siam@Siam Design Hotel & Spa is short distance away from the mall.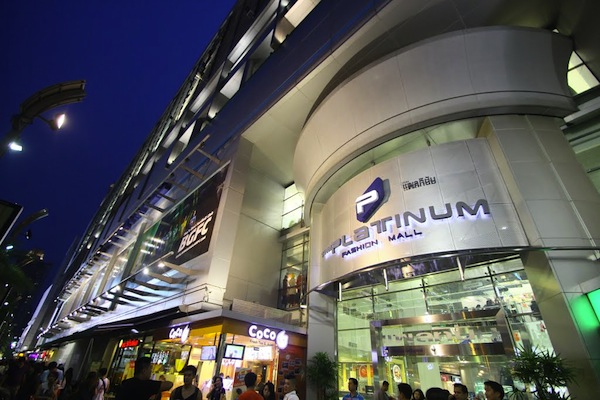 One of the newest malls in Bangkok, Platinum boasts a huge selection of fashion at wholesale prices! With over 2,000 little shops in the mall divided into 3 zones and 6 floors, get ready to shop till you drop.
What you'll find there: Apparel, footwear, bags, accessories, local crafts.
How to get there:
Take the BTS (skytrain) to Chidlom Station, and the mall is a 15-minute walk away.
Where to stay: Hotel Muse is only a 5-minute walk away from the BTS Chidlom Station.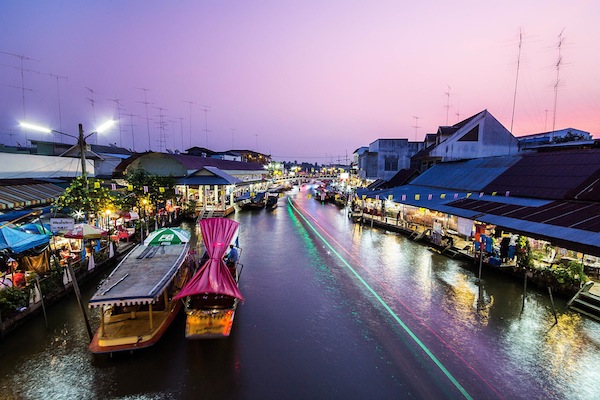 We prefer the Amphawa Floating Market over the Damnoen Saduak for one reason – authenticity (less tourists, more locals – this way, there will be less vendors trying to rip you off). Currently, the second most popular market in Thailand, it features charming little wooden houses neatly lined up along the canal. Located 90km south west of Bangkok, this quirky destination should be on your to-visit list!
What you'll find there: Souvenirs, handicrafts, accessories, apparel, lots of seafood, sweets & snacks
Note: Make sure to go on the cruise tour! You'll be brought to Amphawa's hidden gem – the Wat Bang Koong, a temple swallowed by a giant tree located across the river.
How to get there:
Get on one of those mini vans at the van station between Century Mall and the Siam International Building. The journey to Amphawa will cost you USD 2.50. Remember to purchase your ticket back to town upon arrival at Amphawa!
Where to stay: A calm oasis in the heart of town, The Sukhothai is where you should spend your nights at.
Where do you shop at in Bangkok, nomads?
Main photo: 1.