It's obvious The Luxe Nomad is run by a bunch of ladies…all you need to do is look into our travel beauty pouches! These are just some of our nomadic essentials!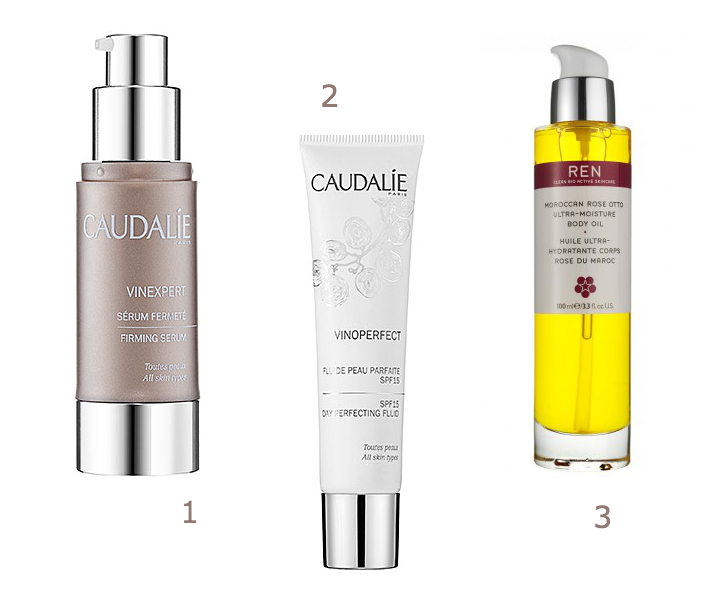 Steph
1. Caudalie Vinexpert Firming Serum – It balances my skin, which is great for travel!
2. Caudalie Vinoperfect Day Perfecting FLuid SPF15 – Hydrating, great for pigmentation and has SPF.
3. REN Clean Skincare Moroccan Rose Otto Ultra-Moisture Body Oil – Moisturises my skin and makes it smell great!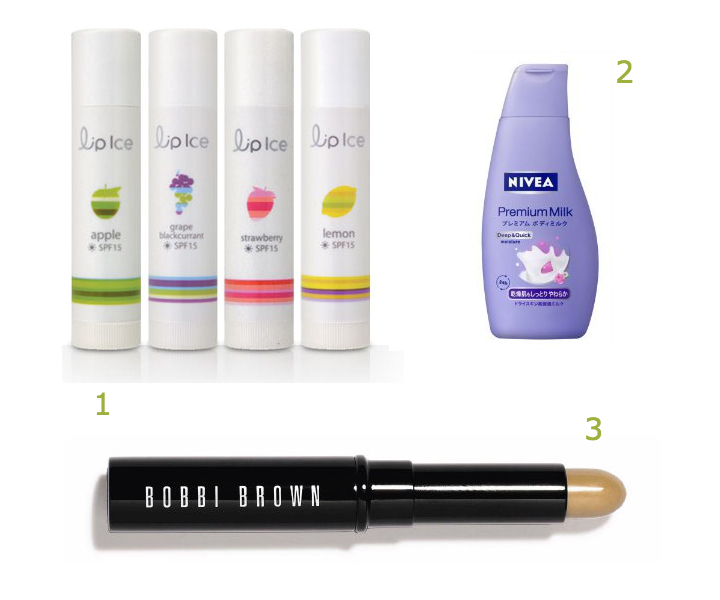 Elaine
1. LipIce lip balm – It keeps my dry lips moisturised especially in dry and harsh weather.
2. Nivea Premier Milk (Japanese version) – Excellent for my dry skin and is quickly absorbed.
3. Bobbi Brown Face Touchup stick – Makes you look flawless especially after that long-haul flight!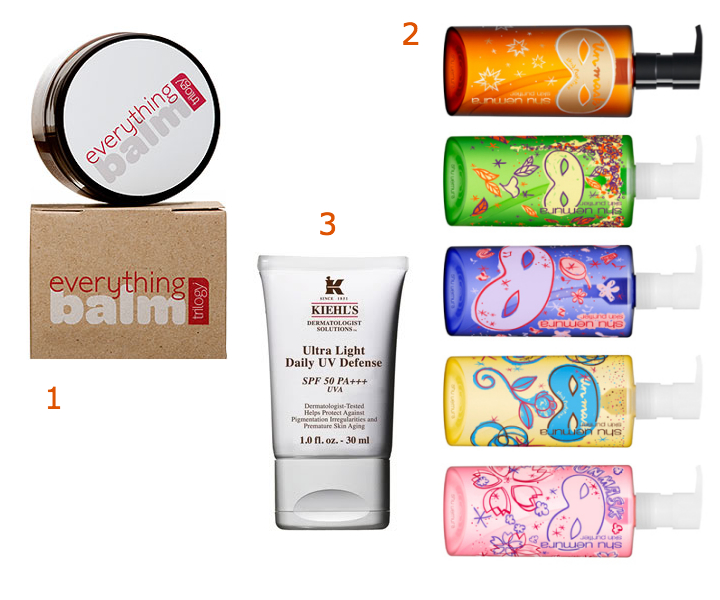 Alena
1. Trilogy everything balm – This is my moisturiser, lip balm, hand cream.  Smells great and it's organic. A true nomad staple!
2. Shu Uemura cleansing oil – One-step make-up remover and cleanser. The travel size comes with a stopper, so there's no in-transit spillage.
3. Keihl's sunblock – Best, non-greasy sunblock that wasn't tested on cutesy animals. You need SPF everywhere.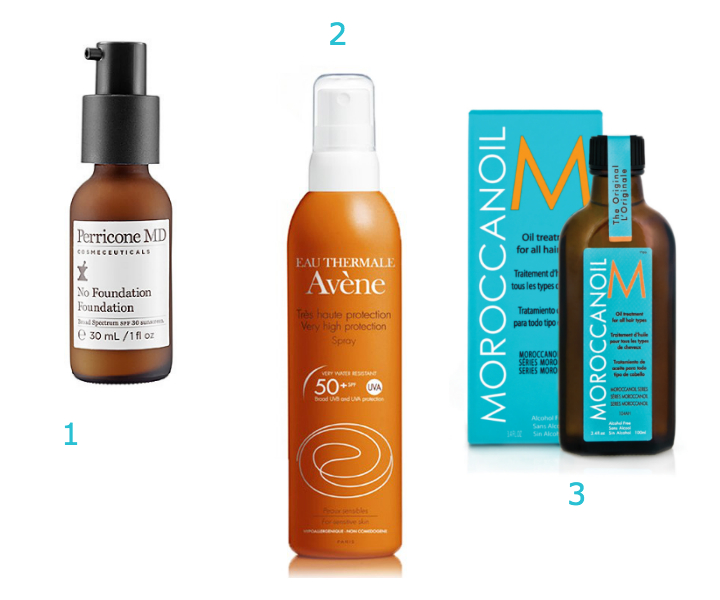 Alia
1. Perricone MD's No Foundation foundation – The handy size makes for great travelling, plus you look dewy and natural!
2. Avene SPF 50 spray for sensitive skin – A non-oily formula that smells yummy and is light yet has strong coverage. Perfect for being out and about all day.
3. Moroccan Oil hair treatment – Bright packaging aside, this delicious smelling argan oil is great for flyaway and unruly hair!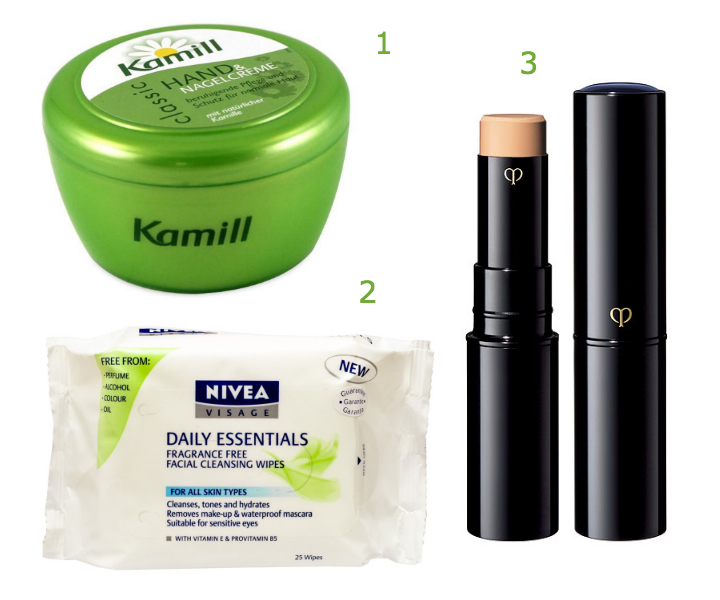 Alex
1. Kamill Hand Cream – Works wonders when your hands start to dry up on the plane.
2. Nivea Visage Daily Facial Wipes – Cleans your face in a jiffy, no need to lug your entire makeup kit!
3. Cle de Peau concealer – This magic stick makes my dark circles disappear, especially after a night out in a new destination!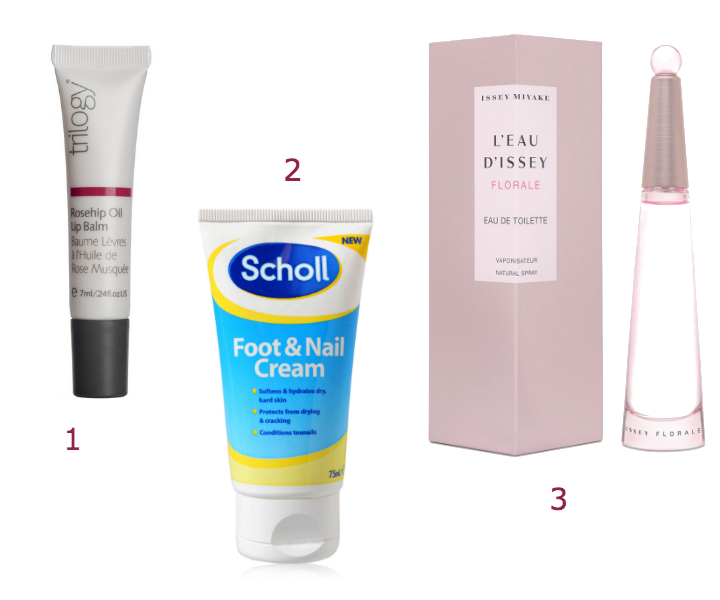 Jen-Lin
1. Trilogy Rosehip Oil lip balm – Perfect for travel but also daily use as it helps keep lips soft, smooth and perfectly kissable!
2. Scholl Foot and Nail Cream – Because our feet need TLC too!
3. L'Eau D'Issey Florale – I spent ages hunting for a scent and fell in love with this. One is never fully dressed without a favourite fragrance!
There you have it! Now how about telling us your indispensable travel beauty items?