Almost achieving a cult-worthy status rivalling the Aman brand, the independently owned 137 Pillars House in Chiang Mai has been the place to rest your head for those headed to the cooler climes of Thailand's North since opening its doors in 2012. Now after five years, the brand is bringing a little of that Northern charm back to the Big Mango…and it doesn't disappoint.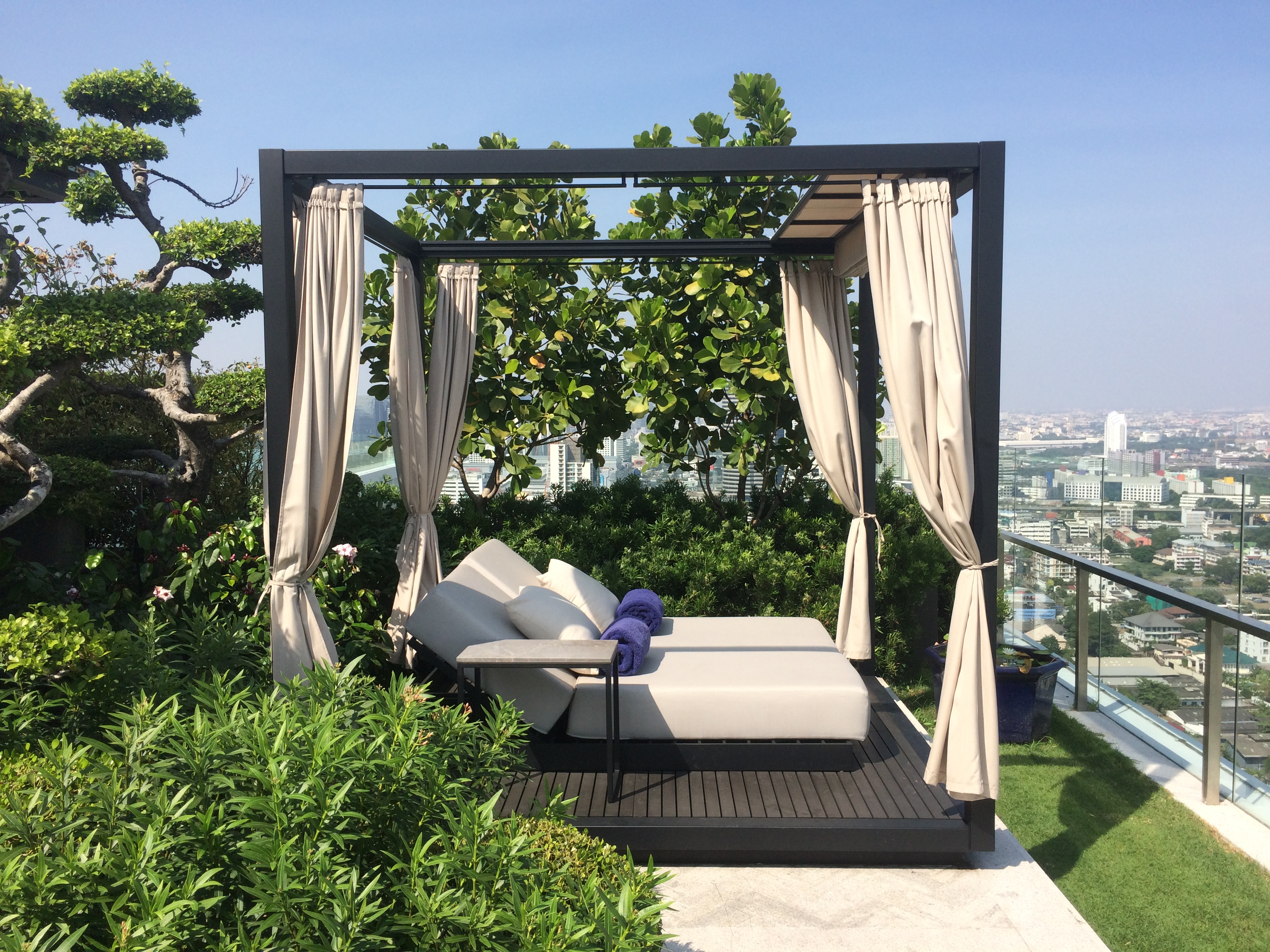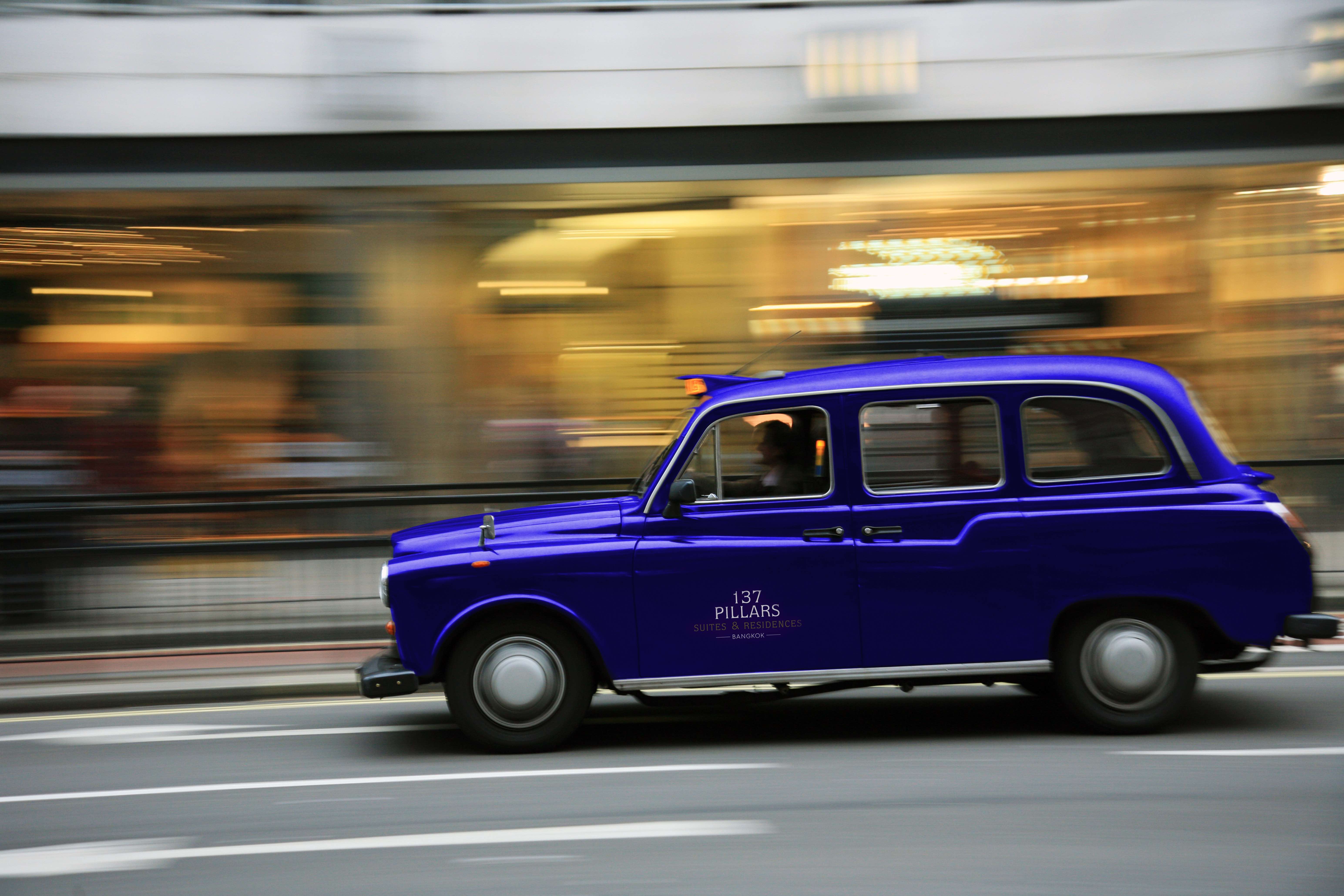 Found about 800 metres from the Phrom Phong BTS along the prestigious (and Japanese expat-heavy) Sukhumvit Soi 39, 137 Pillars Bangkok tucks itself away from the chic EmQuartier shopping centre, and within a neighborhood well worth stumbling around with no particular destination. Coffee shops and tiny boutiques abound, as does a bustling nightlife mostly centred around Soi 11. 137 Pillars however, isn't really for the party animals and seems to cater more to those who value peace and privacy.
The Rooms: 137 Pillars Bangkok is an all-suite hotel, and only has 34 of them occupying the top 5 floors of the 32-floor building (with the lower floors reserved for the 137 Pillars Residences). Divided into 4 categories named after different Thai dynasties: Sukhothai, Autthaya, Thonburi, and the two-bedroom Rattanakosin, all have sizable balconies that come complete with over-sized day beds and signature rocking chairs (a nod to the traditional rocking chairs found in the Chiang Mai house).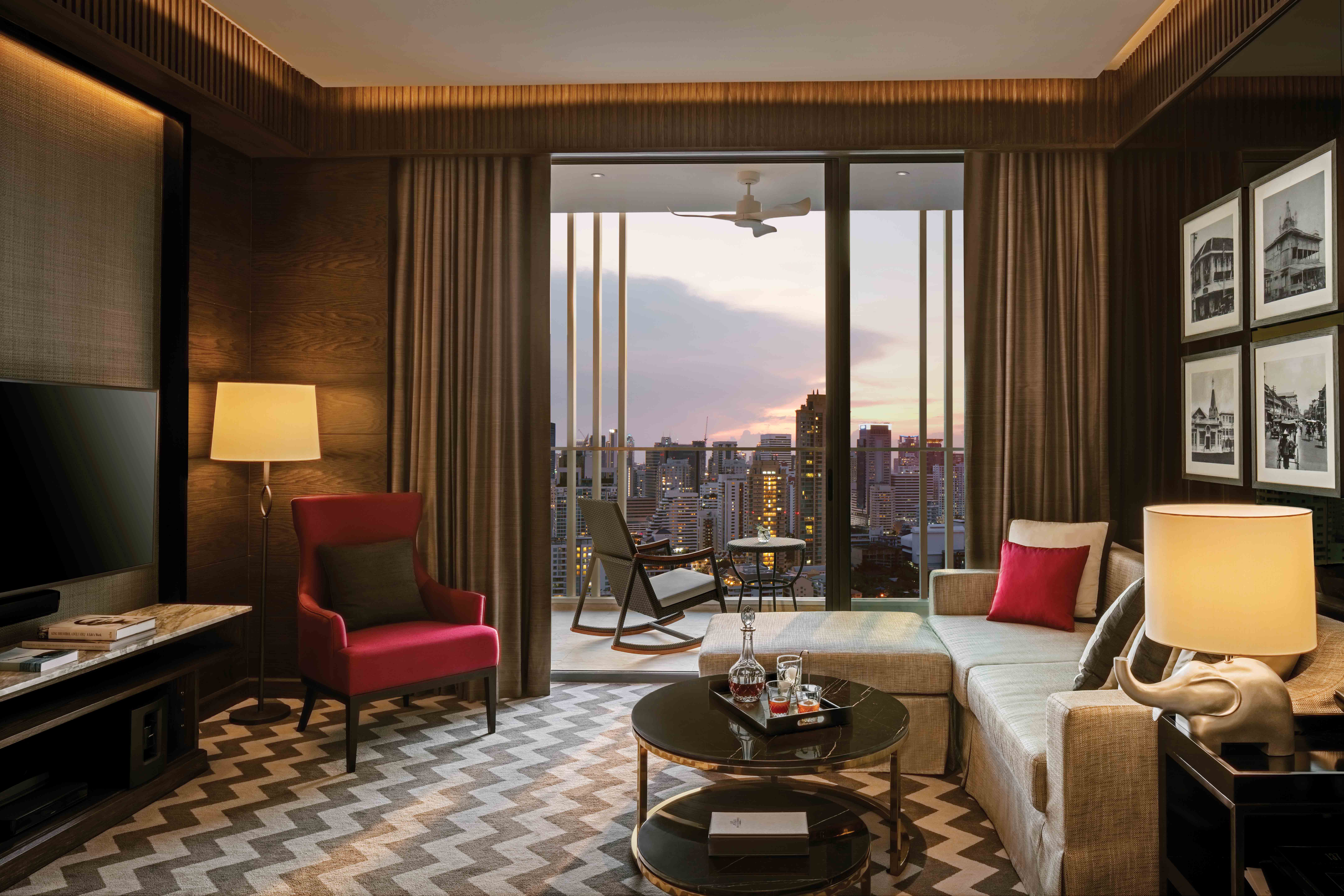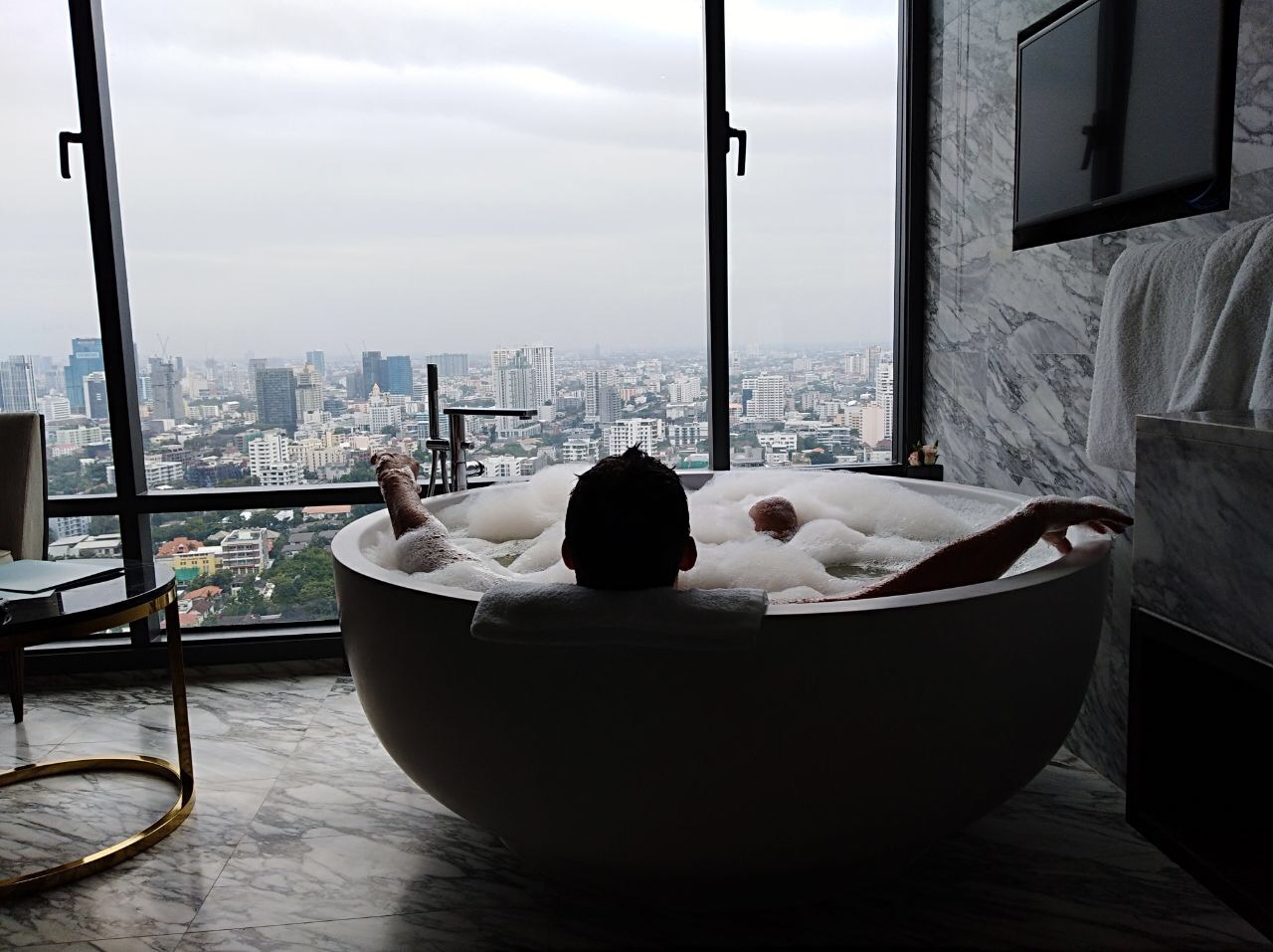 You can't help but smile at the automatic toilet greeting you every time you open the bathroom door
With the smallest suite being 70 m² and the largest being 116 m², space is king at the property. And, forget the idea of a mini-bar as each suite's kitchenette comes with a fully stocked mini-wine cellar. Walk-in closets, built-in circular banquette dining areas, Panpuri organic spa products, and daily delivered confections with your turn down service (hello brownies and carrot cake), this is in-room pampering done right.
Food and Drink: All day dining and in-house freshly made take-away is served street level at the Bangkok Trading Post. Taking inspiration from the history of the 137 Pillars House in Chiang Mai as the Northern Headquarters of the East Borneo Trading Company, the on-trend, sun drenched space is decked out in marbles, rich woods and brass, and exudes a market vibe which was bustling with neighborhood locals every time we popped in (which was a lot). If you're planning to tackle Bangkok's markets, it's great to grab a few healthy (or not so healthy) snacks for some on-the-go fuel.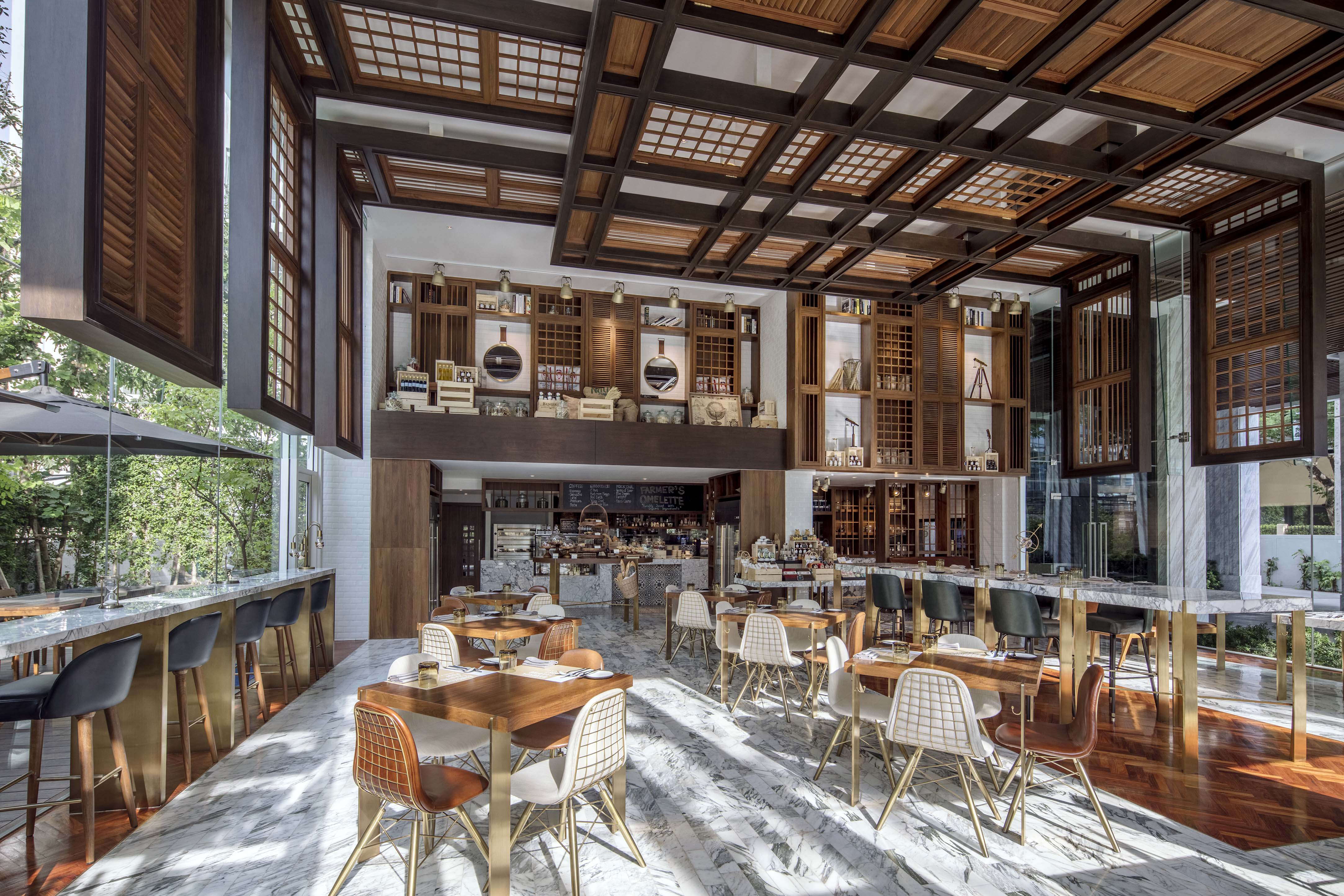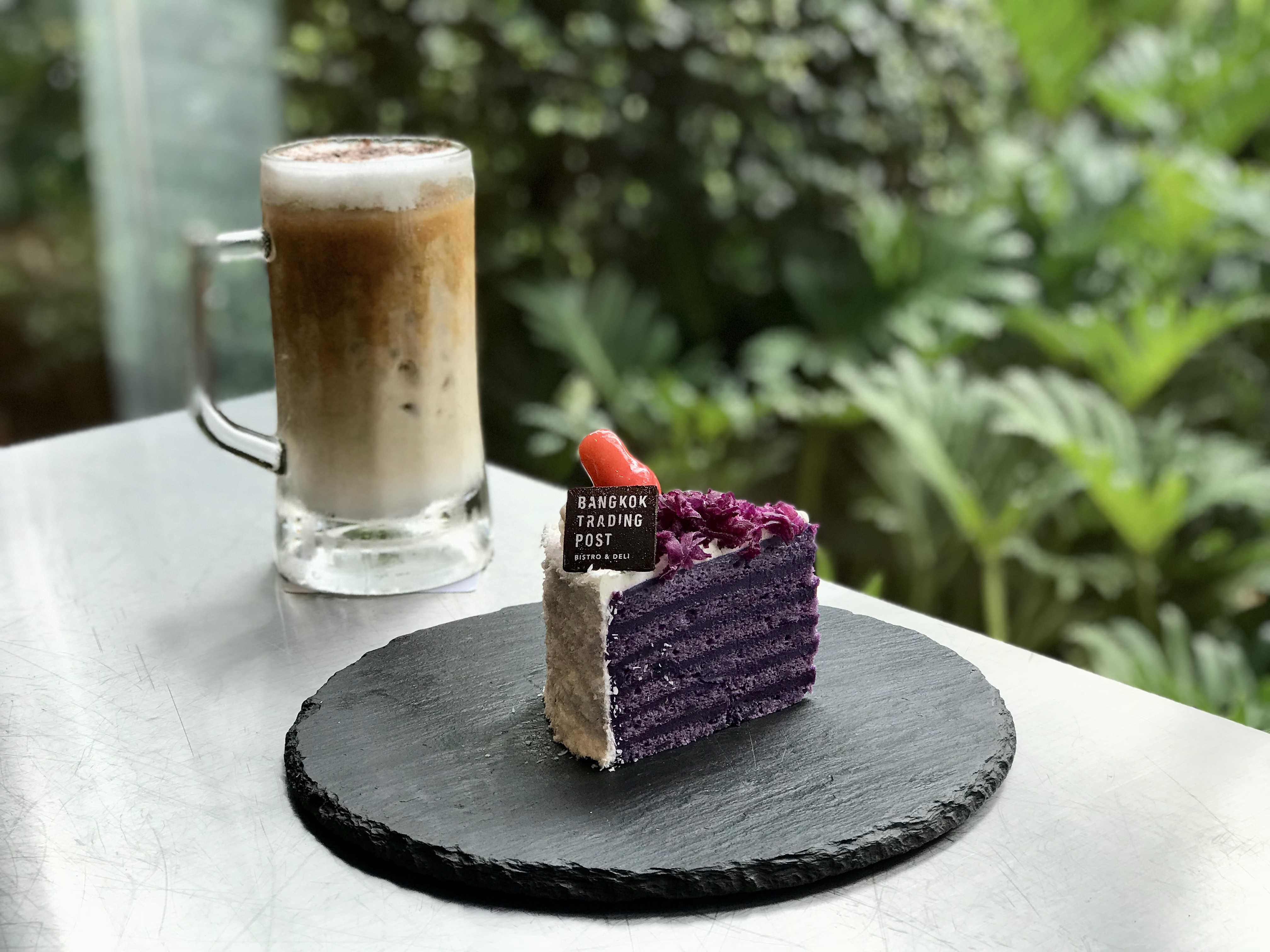 Higher up on the 27th floor you'll find the outdoor Marble Bar and intimate Nimitr fine dining restaurant helmed by Indonesian Chef Nanang. Serving up pan-Asian cuisine with some elegant twists on Thai favorites, the indigo-hued space makes for a romantic private perch with only a handful of tables. With a entire wall of wine selected by 137 Pillar's award winning Sommelier, the least one should do is uncork one and move between the restaurant and open-air bar. Just watch your step (and take a photo) around the glass-floor oculus which opens up to dizzying views of the street below.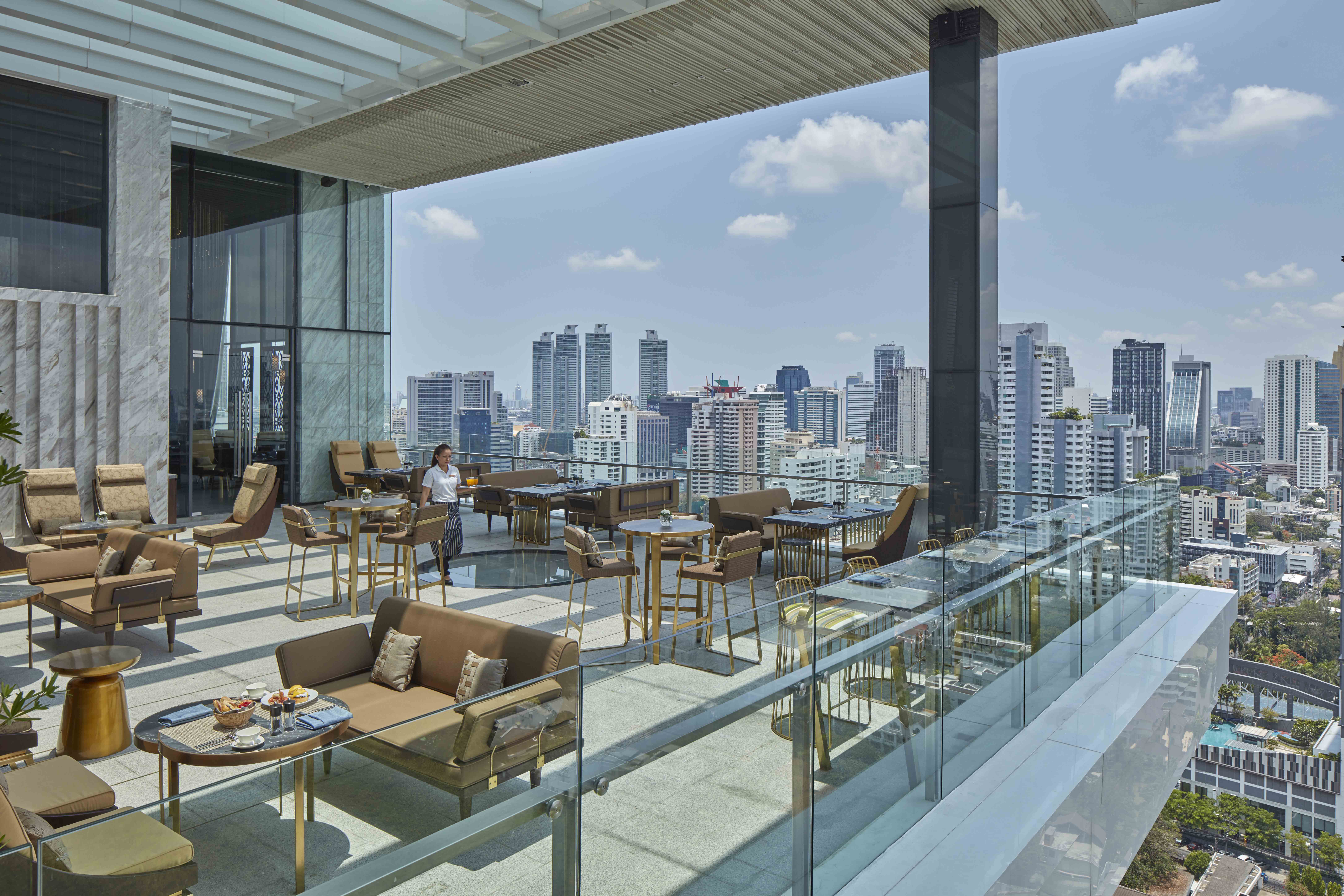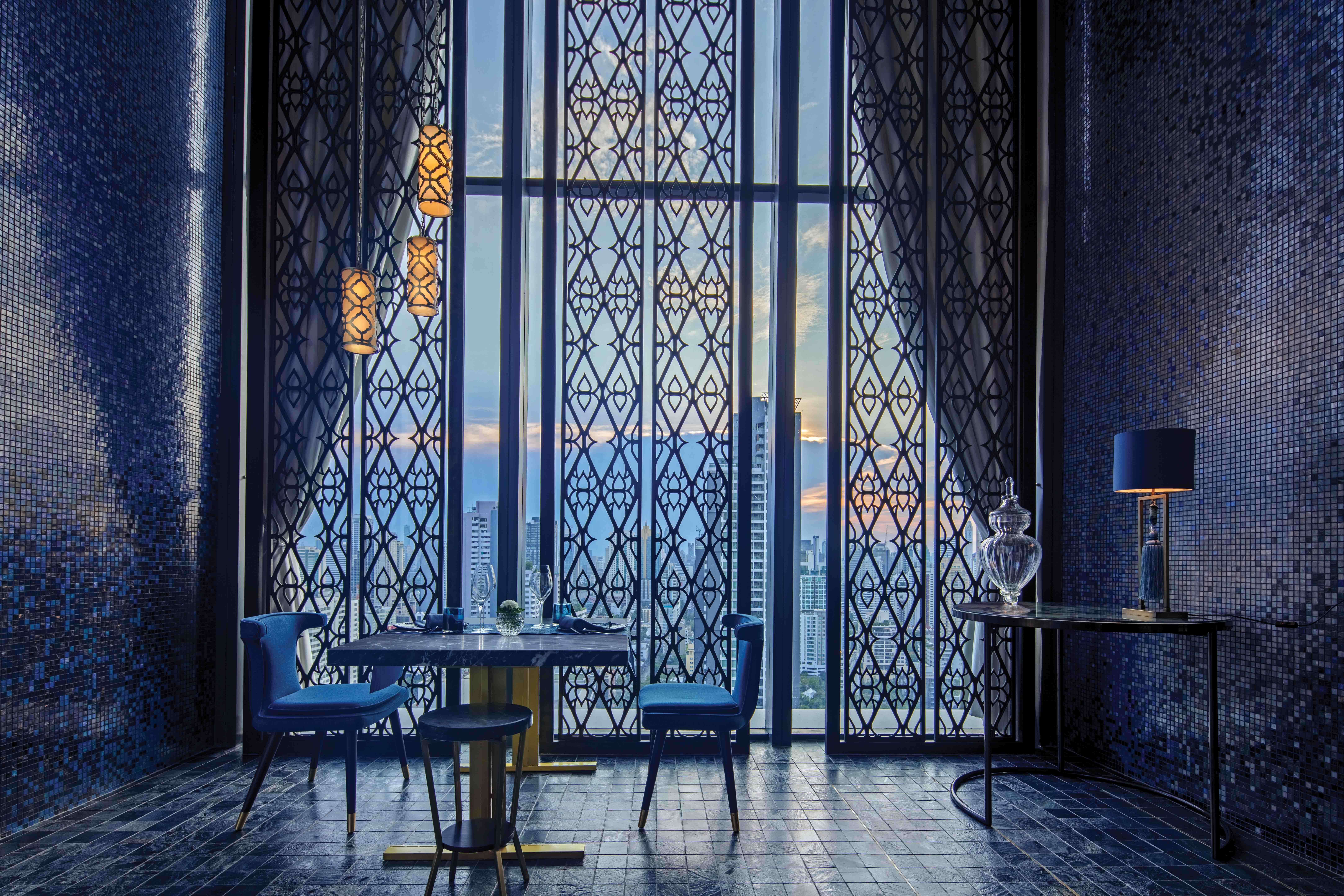 What to Do: 
1. To the roof! With not one, but two gravity defying pools, sun chasers will want to grab a morning swim on 27 and an afternoon dip/lounge on the roof. The panoramic views from the highest infinity edge pool in Bangkok are uninterrupted and jaw dropping.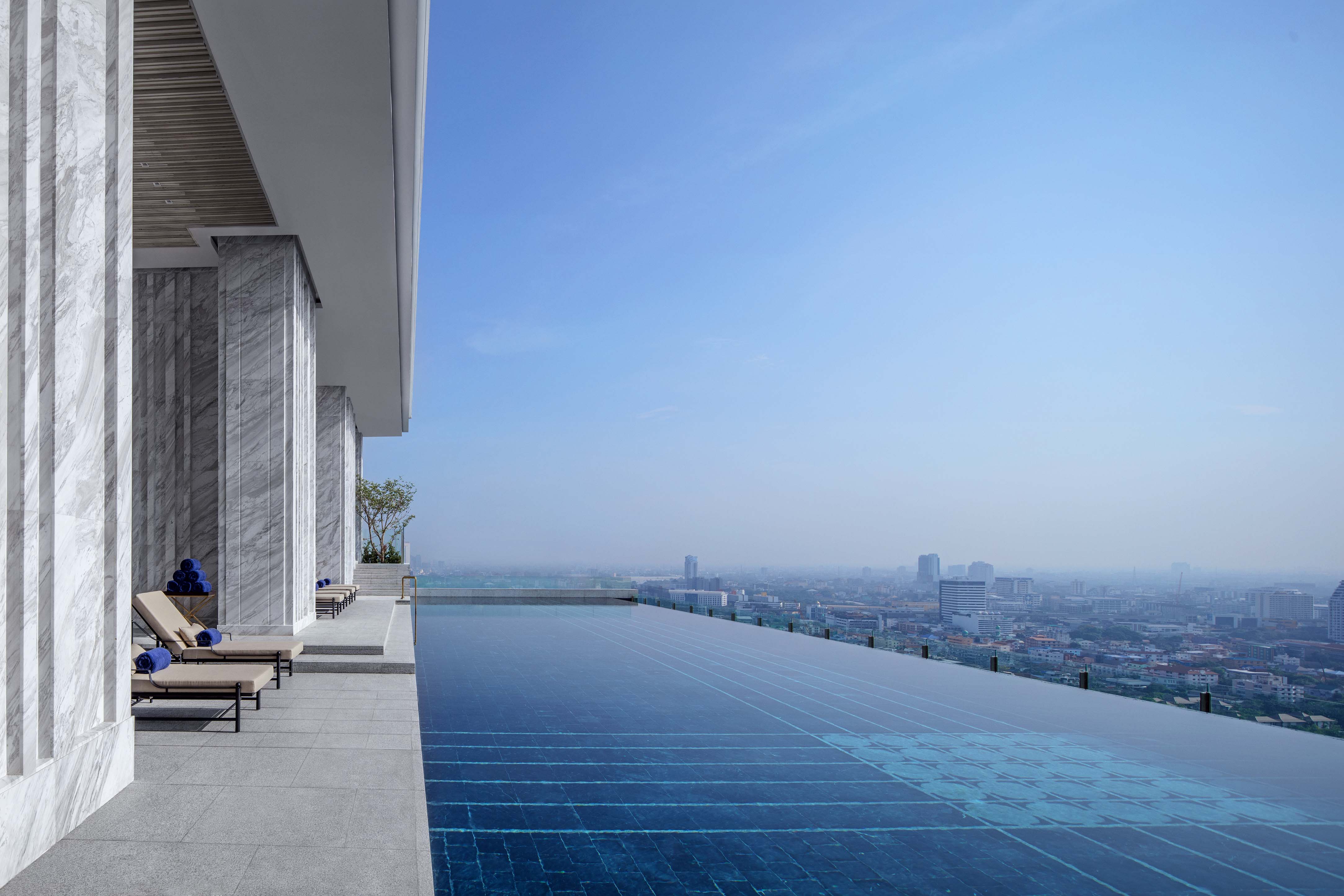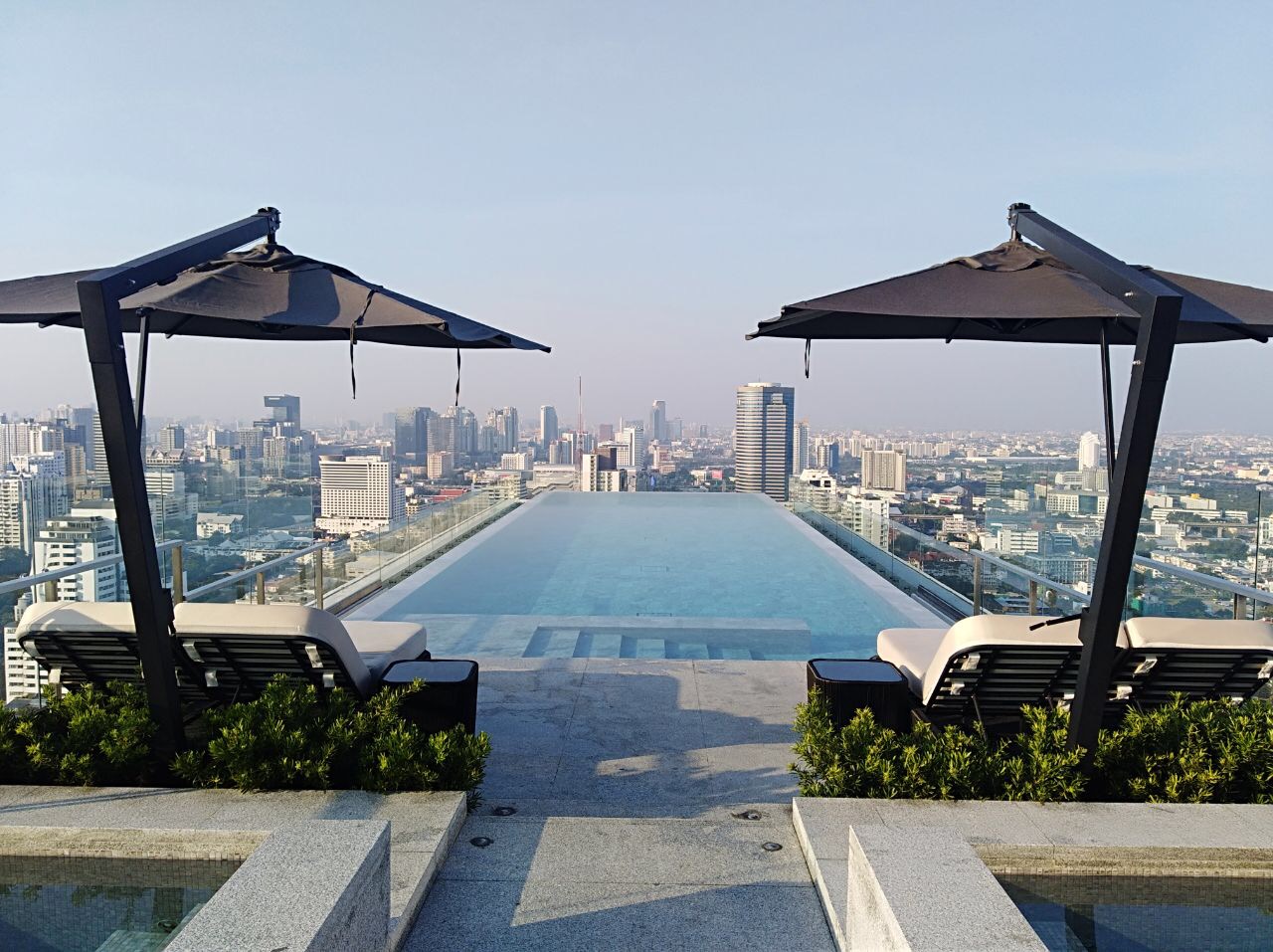 2. Golden Hour at the Marble Bar. How bad is it when you actually can't wait to get back to your hotel for sundown? At the Marble Bar we quaffed a few Cha La Wan craft Pale Ales, enjoyed the golden sunlight to some DJ spun lounge music, and snacked our way nightly into the darkness. We loved the fact that the space wasn't packed like other rooftop lounges in Bangkok, but perhaps that's due to most not being in the loop that the Marble Bar is not just for hotel guests. So, if you happen to be in Bangkok, but not staying at 137 Pillars, it's a space you may want to check out.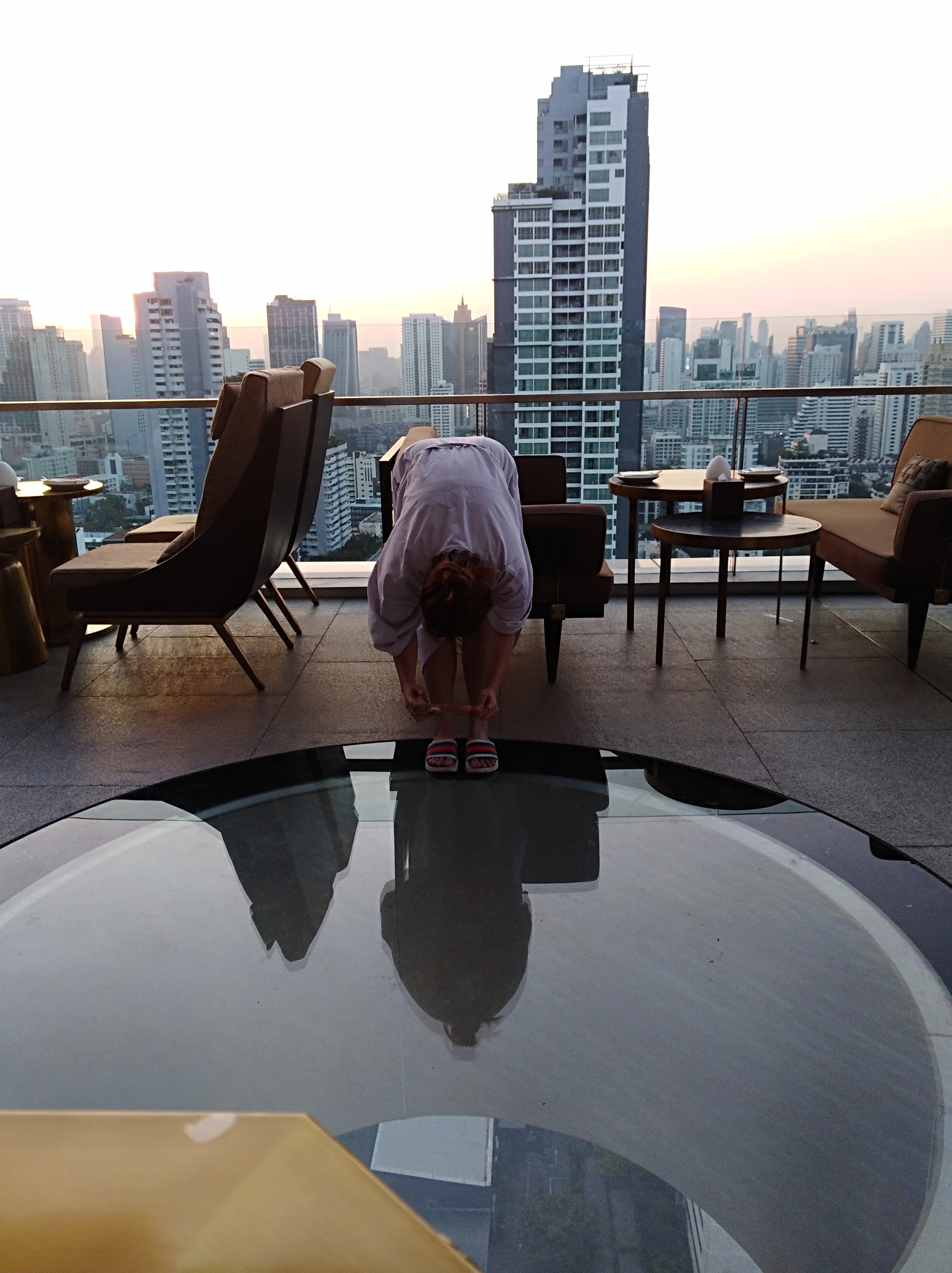 3. Get Physical. With two stocked gyms, a golf simulator room, outdoor putting greens and driving range, private Muay Thai boxing classes (and 2-night Muay Thai packages available), suspension training, meditation and Tai Chi classes, not forgetting good ole' fashion yoga offered,  there's no reason not to get a little workout in during your stay. Ever tried the Jacob's Ladder cardio machine? It got our hearts racing.
4. Sleep! No really, we mean it. Newly launched at both 137 Pillars properties, the Sleep by Design Therapy program is available at their Nitra Spa or in-room. With your own Sleep Butler and Sleep Curator, the treatments assist in getting a deep, restorative, quality sleep through the combination of aromatherapy, Reiki, gentle massage and pressure point work, as well as holistic sensory activation. Guaranteed to have you bright-eyed and bushy-tailed in the morning.
It's also worth mentioning that 137 Pillars Bangkok doubles up as suites and residences, so for business travelers looking for a serviced apartment with all the amenities of the luxe property, whether it be for a night or a year, they've got you covered. With a planned 137 Pillars to open along the shores of Phuket's Kata Beach in 2019, this boutique brand is set to dominate the discerning traveler's Thai itinerary from North to South.
Nomad rating: 5/5
Most memorable: The rooftop pool (and we're no strangers to them).
We'd recommend it for: Those seeking refined tranquility in the city.
Next stop Bangkok