Think sumo wrestlers are a bunch of overweight guys in nappies? Think again! Sumo is a competitive contact sport, and its wrestlers are considered to be professional athletes who lead highly regimented ways of life. Getting hold of tickets to a sumo match in Japan can be incredibly difficult, thanks to its popularity. Here's our guide to the "who, what, when, where and why" of this unique sport, and how to score a front row seat to witness some "larger than life" action.
Read this too: We've Found the 5 Best Izakaya in Tokyo!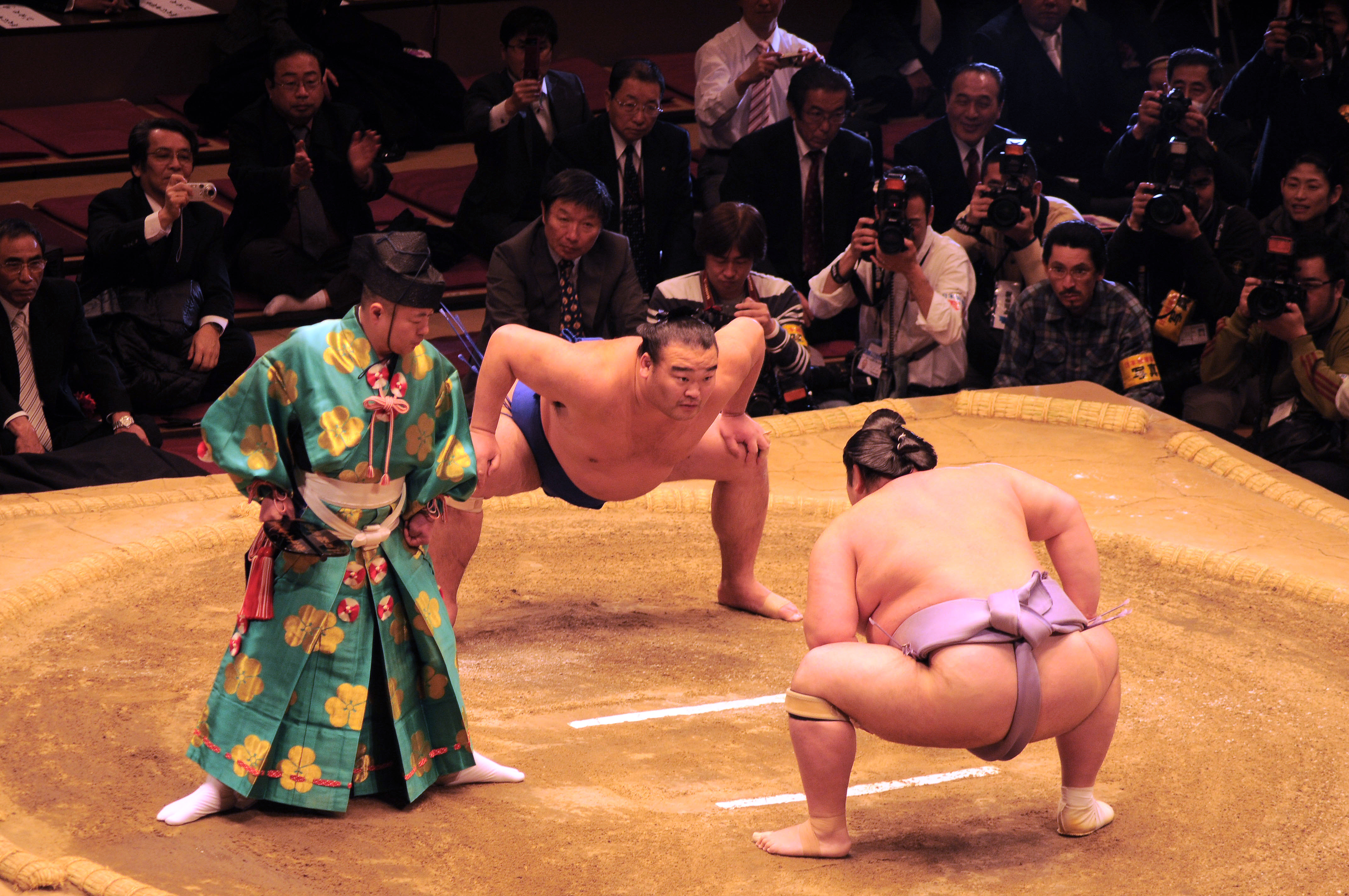 Who?
Contrary to popular belief, sumo wrestlers (also known as "rikishi") undertake rigorous exercise regimes. Underneath those rolls of flab are a whole lot of muscle, and it takes some serious training to acquire this hidden strength. From the crack of dawn and on empty stomachs, revered wrestlers will perform stretches, calisthenics, practice matches and specialised drills, all in the name of improving their flexibility and overall brawn.
And what fuels this gruelling workout? 10,000 calories a day to be precise! The staple food amongst wrestlers is the "chankonabe" – a giant pot of stew brimming with protein, broth and veggies. But food alone doesn't ensure that they'll pack on the pounds. Sumo wrestlers utilise some clever tricks in order to encourage an ever-growing waistline, including avoiding breakfast, consuming only two meals a day, and sleeping after eating.
What?
Sumo is Japan's national sport and the rules are pretty simple. Two men (with nothing but a loincloth between them), push, pull and generally grapple with the other. The wrestler who manages to force his opponent to the ground, or outside of the ring, is victorious. Matches tend to last only seconds. In fact, the pre-match rituals (such as foot-stomping and purification of the ring with salt), tend to last longer than the matches themselves.
When & Where? 
Only six sumo tournaments (or "bashi") are held in Japan every year, and each lasts for 15 days. Tournaments take place in Tokyo (January, May and September), Osaka (March), Nagoya (July) and Fukuoka (November). Other sumo-related events are held across Japan throughout the year, including sumo wrestling exhibitions, and morning practices, which you can visit during the off-season.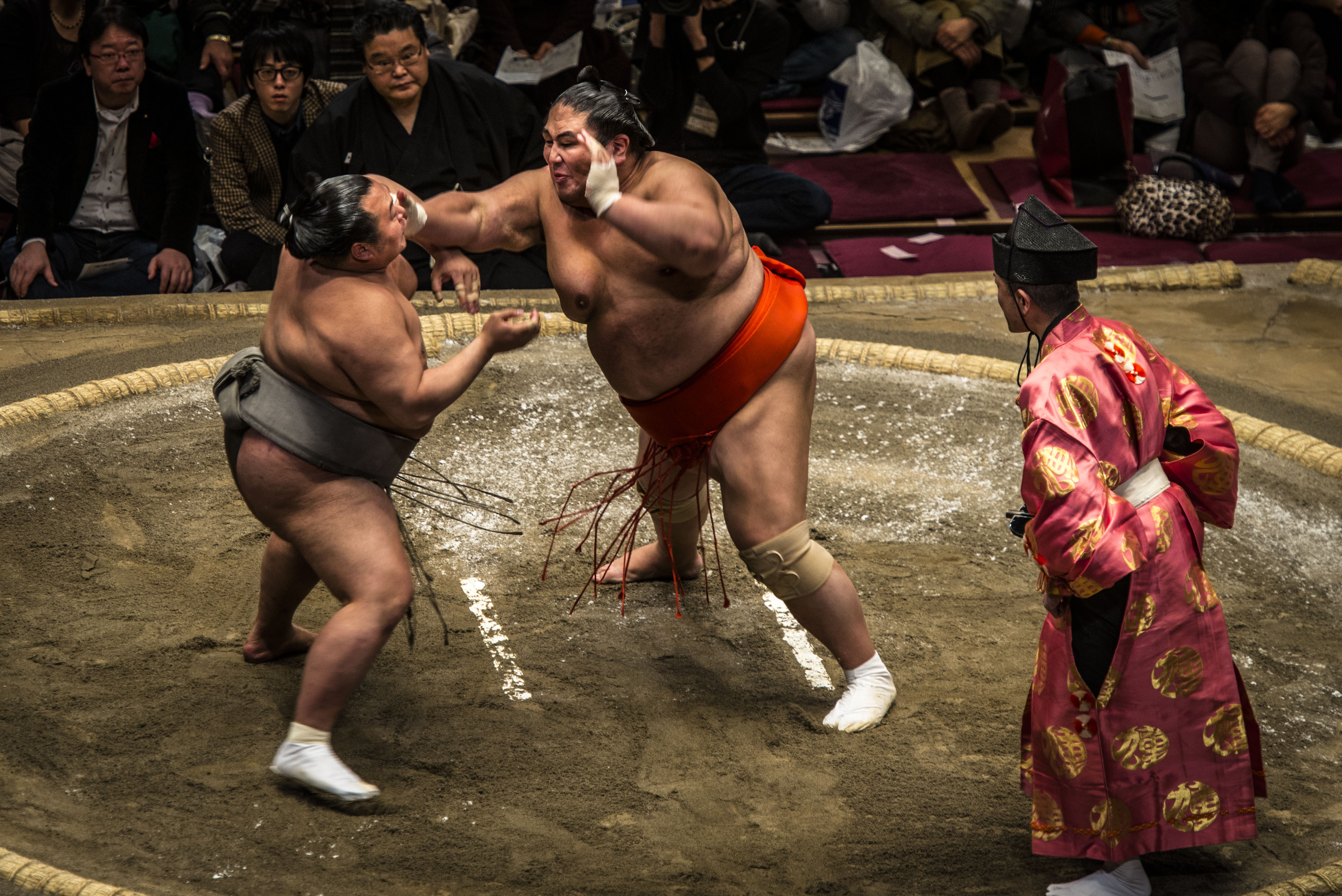 How?
If you want to observe a sumo wrestling match in the flesh, preparation is everything! The Japan Sumo Association (the governing body) lists all upcoming events, and tickets go on sale approximately one month before each tournament. You can purchase tickets from the official website (Ticket Oosumo), but most foreigners reserve tickets online at buysumotickets.com.
If you're more of a "fly by the seat of your pants" kind of traveller, you may be able to find tickets on the morning of the sumo event. Don't chance it if you really want to attend a weekend match or if you have specific seats in mind! If getting up close and personal with a sweaty, horizontally-challenged wrestler is your idea of a good time, then avoid the standard arena chairs when it comes to seating.
Our advice, assuming you can sit cross-legged for long periods, is to choose a traditional Japanese-style box seat, and cheer on your favourite wrestler along with the locals. Most stadiums will also have ring-side floor seats, which consist of cushions right in front of the ring. But don't bank on being able to purchase these tickets, unless you're BFFs with one of the wrestlers, or a hotshot Japanese businessman.
Why?
For the locals, sumo wrestling is an obsession that originated in ancient times and is steeped in tradition. Today, the wrestlers themselves are revered as celebrities owing to their weight, and just how they use it. Causing intimidation by their physique alone, wrestlers are envied and admired by both the Japanese and visitors alike, so it's little wonder that thousands flock to witness sumo tournaments. And if you just fancy watching a couple of naked dudes fight it out, then who are we to judge?!