As Thailand's largest island, Phuket boasts the environs of a beach paradise as well as the comforts of a cosmopolitan hotspot. Take a look at what there is to see, do, and eat in one of Thailand's most popular destinations.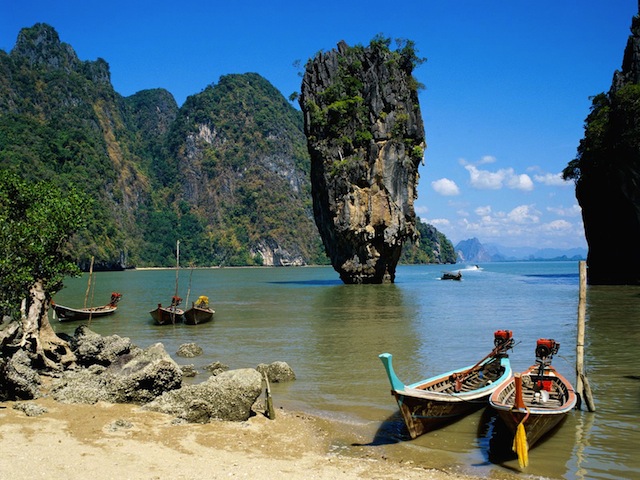 SEE
To get the lay of the land, climb up Khao Rang Hill for a breathtaking view of Phuket Town. Replete with restaurants, drinks stalls, and even wild monkeys, the lookout is a prime spot to relax, take scenic photos, and enjoy the sunset.
For a more cultural experience, visit Wat Chalong; Phuket's largest Buddhist temple located in the Chalong subdistrict. Purportedly housing one of Buddha's bone fragments, the campus of buildings gives visitors insight into Thai Buddhist culture with golden statues and wall and ceiling paintings depicting the life of Buddha.
A visit to Phuket would be incomplete without a day trip to the famous rock formations of Phang Nga Bay. At the national park, a variety of tour agents offer packages but a typical trip involves a bus ride to the east cost of Phuket, the accompanying boat rides to various islands including James Bond Island which was featured in "The Man With the Golden Gun," lunch, and the ride back.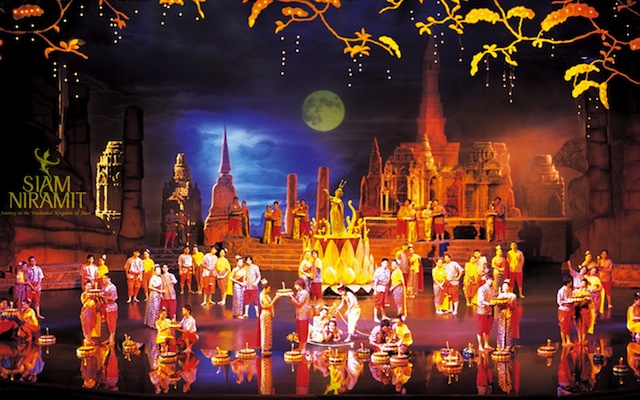 DO
As a diving Mecca for travelers the world over, diving and snorkeling in Phuket is an absolute must. The Andaman sea is oft considered one of the top ten diving destinations in the world and Phuket offers a wide variety of diving options ranging from day trips for closer dive sites to live-aboard cruises for longer, multi-day dive trips.
The production at Siam Niramit is a visually stunning theatrical introduction to Thai history, mythology, and culture presented in three acts. The two hour long performance has over one-hundred performers on stage (including live animals) that depicts Thailand's cultural heritage over its 700 year-long existence. Around the theatre itself is Siam Niramit's own floating village and other attractions including elephant rides.
For those of you craving action, a prime option is to watch a Muay Thai kickboxing match. Watch skillful kickboxers duke it out round after round or even better yet, get involved and go for Muay Thai training at one of the many gyms located in Chalong.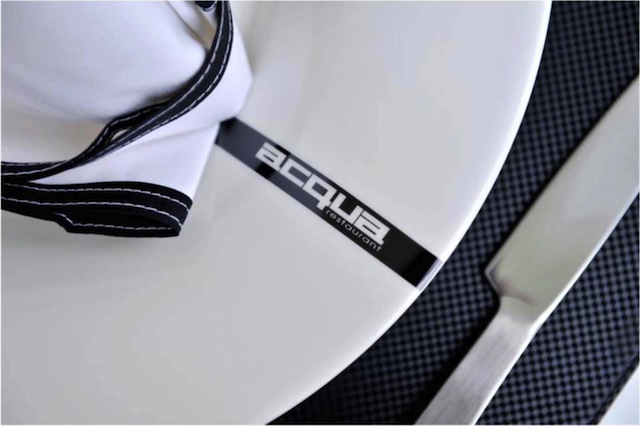 EAT
It comes as no surprise that Phuket's international crowd begets comparably diverse culinary offerings. Constantly rated as one of the best restaurants in Phuket, Acqua serves up modern Italian as imagined by Sardinian chef, Allesandro Frau. Decorated in stark and modern black and white, the restaurant delivers a chic yet relaxed atmosphere and an extensive wine list.
322/5 Prabaramee Road, Kalim Beach
If you're yearning for authentic Thai Cuisine, Raya Restaurant comes highly recommended. Located in Phuket Town's old quarter, Raya caters to locals first and tourists second and serves up delicious Thai favourites including a delicious crabmeat curry and mouthwatering caramelised pork belly.
48 New Dibuk Road, Phuket Old Town
Ka Jok See is one of Phuket's best open secrets. Though the place has never advertised, the restaurant is a popular eatery hidden behind a stained glass window. Serving traditional Thai as well as Dutch style steaks, the restaurant transitions every night from a cozy restaurant to a rollicking good party that runs into the wee hours of the morning.
26 Takua Pa Road, Phuket Town (off Rassada Road, past Michael's bar)