Mother to two beautiful boys aged 4- and 9- years old, Lynda Willoughby has been spending time at home during Singapore's circuit breaker. We caught up with her to talk about her last trip to Niseko right before the world's borders seized up and what she's been up to with her kids at home.
How are things in Singapore right now?
LW: What started as a partial lockdown where we were allowed to go out to parks quickly escalated into a circuit breaker with stricter lockdown measures. Exercise is allowed within our neighbourhood but one at a time, and eating in public is a major faux pas! Most restaurants offer delivery or takeaway though.

Read also: Travel From Home: Recreate the world's best spas for Mum this Mother's Day
Have you been homeschooling the boys? Do you have them on a "lockdown" routine?
LW: The boys have virtual school every day which starts at 9:00 AM with flexible finishing time. Instead of driving to school, we have the luxury of sleeping in and walking downstairs to start the day.
We love that we are able to live a slower-paced life at home while working and homeschooling. The flexibility to balance all of this, and the extra time to spend as a family in lockdown has been a gift to us, are relishing this time together. I feel very blessed as I know it may not be this way for every family.

How are you keeping their creativity and imagination stimulated at a time like this? Do you have any tips to share on limiting their screen-time?
LW: Now that we're at home, we've been playing a lot of card games and we love a good family crossword puzzle. We did a TikTok video with Max. The outtakes are hilarious and my husband had the biggest laugh… at us`!
Friday is our dress-up, disco-day as well as pizza and movie night. We definitely look forward to Fridays, especially when some days can be long with work and homeschooling.
We also celebrated Chase's 4th birthday recently. We set the mood with balloons and decorations, presents and of course, birthday cake. The family joined in on the fun via the HouseParty app (which is really cool by the way). It was so much fun!
The boys are definitely on gadgets and screens all the time for school. By the end of the day, they just want to zone-out and play with their toy cars, Lego or go on a bike ride around the neighbourhood.
Read also: Georgina Wilson in Lockdown!
How did you explain the situation to them?
LW: The school did a great job with addressing the situation via video conferencing and the boys are aware of the pandemic that the world is facing right now.
They understand the importance of staying home to help reduce the spread of COVID-19. When we catch up with family and friends via HouseParty, we also talk about the circuit breaker. It becomes a constant reminder.
Keeping mentally and physically healthy has been great for breaking up the day and keeping everyone sane. We do mindful yoga for physical education and swim laps at home in our pool. It does take discipline to fight the perils of too many screens and too little activity with kids.
So, have you hidden in the guest room ala Kim Kardashian to escape your kids yet?
LW: ? Oh my gosh! Next, please! Hahaha!
You were in Niseko in February, how was it?
LW: We're a family of ski enthusiasts, the kids just love to ski. I can't get them to do anything else! There's little that is more peaceful than gazing at snowy Mount Yotei in the distance or satisfying than flying effortlessly down a snow-covered slope with the wind in your face. You can say there's something magical in the simple pleasure and fun of being outside in the fresh cold air.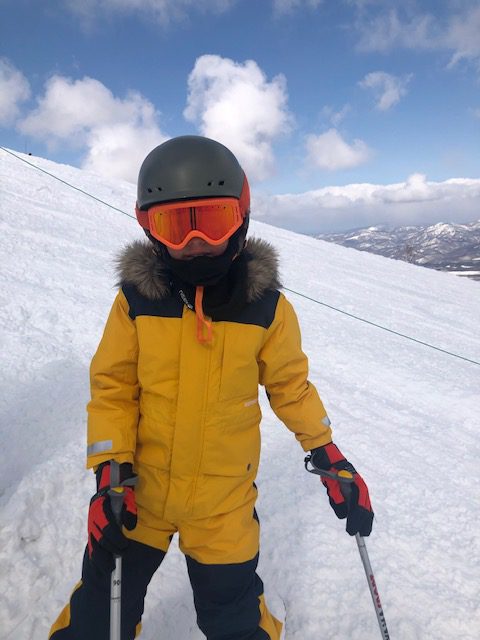 Also, don't tell anyone but we discovered the BEST crab ramen in Hanazono and kept going back for the steaming bowls of deliciousness. I'm salivating just thinking about it.
Read also: Michelin-Star Chef Yuichi Kamimura on his Restaurants and why Niseko is best at 3 AM
Food in Niseko is amazing. Which restaurants would you consider your regular haunts there?
LW: We love everything Japanese. Our top three have to be hot pot at A-Bu-Cha 2, salmon and sushi at Kumo Restaurant and Niseko Pizza. The creative pizza toppings are next level. Also Ezo, our date night seafood restaurant. This place has the best crab I have EVER tasted.
What we would give for hot chocolates on the slopes right now!
View this post on Instagram
We love how playful and fun your fashion sense is. How do you pack for a ski trip?
LW: For me, it's all about fashion essentials. I always have a pair of statement shades, a stylish handbag and a cool ski wardrobe for hitting the slopes and the apres-ski scene.
But still, I do not pack without a packing list. It makes my life easier. I just follow the list, plan my outfits and strategically stuff our suitcases instead of scrambling right before we leave. A few years ago we ended up with a lone ski boot. And this year we forgot our GoPro so we didn't capture as many great photos… argh!
Each time we travel, the kids receive a new goodie-bag. It's filled up with all sorts of fun stuff; sweet treats, a new book, small toys, fun gadgets and other lovely little things that I think boys will enjoy.
Read also: Skiing 101: How to Teach the Littlest Nomads to Love the Slopes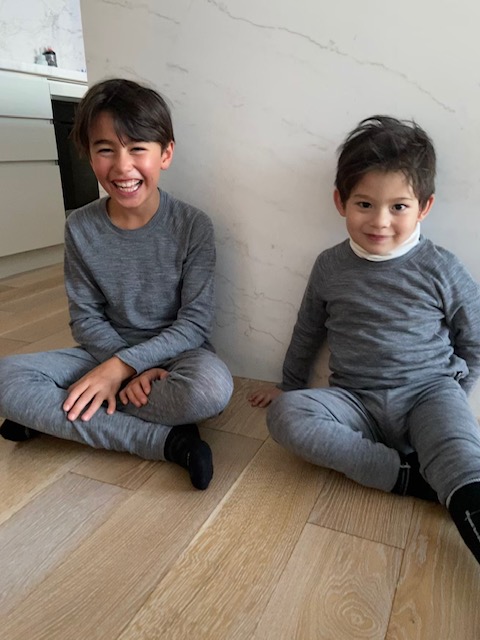 What makes Niseko so magical to you?
LW: We explored Hanazono this last trip. The smaller terrain parks there are great for kids. We also tried snowboarding, but there was plenty more bottom-sliding than actual snowboarding. Still, we're keen to try snowmobile next season. We stayed at Skye Niseko and they had the best entertainers. There was ninja star throwing one evening (yes, for real!) as well as two-man-bands and night disco dancing in the lobby area.
My partner and I absolutely love night skiing under the Niseko floodlights and then detoxing face down in a spa. We also enjoy hitting the onsen after skiing all day. The kids think it's hilarious that we take a hot bath together. Niseko is one of those rare places where you end up feeling better regardless of what you do. It's a compelling mix.
What are you most looking forward to post-corona?
LW: To see our family and friends again, most definitely! And to have that dinner party we were meant to have before the lockdown.
It would be great to travel again too! Waking up in a new place, with new everything!
But mostly, I'm looking forward to a world where we can feel safe again.