Mention Koh Samui in any conversation and the topic subtly veers towards palm-fringed beaches, squeaky white sand and tropical luxury at its finest. It's hard to imagine now that it was once little more than a backpacker's paradise without an airport.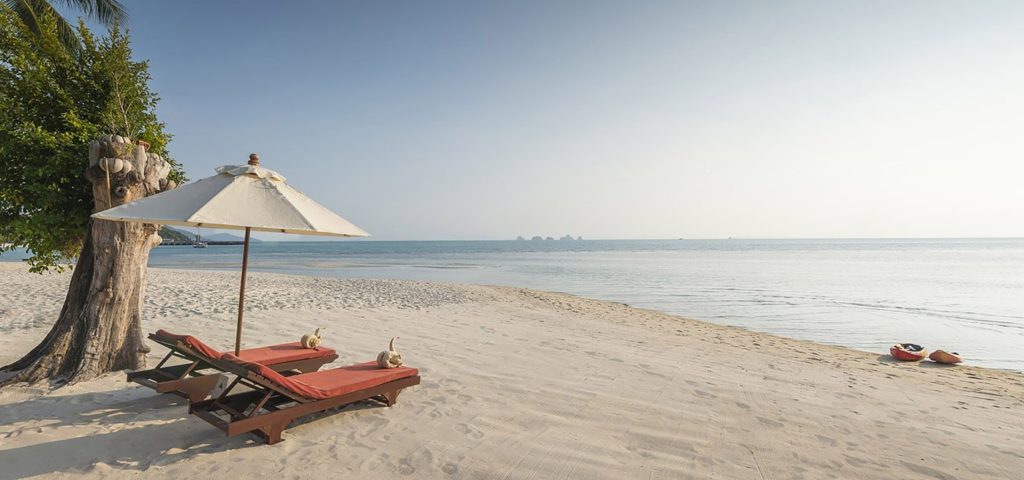 Tina Atkinson is the owner of luxury beachfront villas Baan Kilee and Baan Ora Chon (both are part of the famed Chai Talay Estate). During our chat, Tina shared how when she first began exploring the island in the mid-80s, the only way to get to Koh Samui was to ferry across from Surat Thani. She was living in Bangkok at the time and soon stumbled across the many hidden beauty spots on the island where she felt a sense of belonging.
It wasn't until 2002 (with two young kids in tow), living in space-constrained Hong Kong that she came across a scrappy piece of land on Koh Samui's west coast that she could finally afford. Along with a close Thai friend, they set about to bring to life their vision of creating a beautiful and spiritual sanctuary in the country she loves most.
TLN: What made you decide to buy land on Koh Samui?
TA: I lived in Thailand for many years and I wasn't looking for a ready-made holiday home. Although Phuket is larger and more developed, land is hard to find so when we found this stretch of beach on Koh Samui just across from the Five Islands, we knew we had something special.
TLN: Was there much development around the area?
TA: Baan Kilee and Baan Ora Chon were among the first villas built along Lipa Noi beach. Honestly, the land was a dirty stretch of beach with almost no development besides nearby villages. Even today this part of Samui remains very quiet. There are a few more houses but no high rise buildings. We still get to enjoy the monks collecting alms in the morning, local fishermen fishing on the south end of the reef, watching buffalo bathe in the nearby river and until recently, monkeys collecting coconuts from the trees. You could say that this part of the island still retains its old-world charm as if you've stepped back in time.
Newly Renovated Baan Kilee
TLN: Can you tell us more about what you envisioned for Baan Kilee and Baan Ora Chon?
TA: Our vision was to maintain the natural beauty of the beach, our surroundings and to regenerate the reef in the front. We wanted to manage our environmental footprint as best as possible and retain trees by choosing to build around them instead. We also used natural finishes despite the maintenance and were very specific about creating that indoor/outdoor lifestyle with wide, sliding doors to open up the rooms. Most importantly, we wanted many gardens and rolling lawns. Coming from Hong Kong, we really appreciate the chance for our kids (and us) to feel the grass tickling our toes.
Although our design and build pre-dates Instagram, we're quite pleased that we have some unique features such as swinging chairs, sunken loungers, the outdoor movie screen and swim-up bar. You have to admit, both Kilee and Ora Chon look stunning in pictures…though it's actually better in person!
TLN: Speaking of Instagram, Lipa Noi and the Five Islands have been popping up on our feeds as a popular and picturesque must-see spot. What do you love about this stretch of beach?
TA: To be very honest, we love how hard it is to get to. There are no jet skis to stir up the sea and the local fishermen still wander across the beach to enjoy the sunset. The sunset over the Five Islands is simply spectacular. The white sand is some of the best on the island and the sea in front of Baan Kilee and Baan Ora Chon are swimmable all year round. This isn't the case in some parts of Samui.
I sometimes hope that Instagrammers don't find us, but alas, they seek us out at times. Can't blame them though!
Weddings at Chai Talay Estate
TLN: Weddings are a huge part of the brand. What have been some of the most memorable weddings held?
TA: Destination weddings, multi-generational holidays and retreats are our forte. We've hosted it all, from an intimate 12-person beachfront wedding hosted by our staff (our villa manager's daughter was the flower girl) to a huge 150-person party. We work with talented and dedicated wedding planners as well as other partner villas to host events all year round and trust us, we've had some zany requests in our time. We actually had to put a stop to all ideas of brides arriving on elephants as we are very against the exploitation of animals. We also do not allow floating lanterns for the environmental considerations but fabulous fire dancers and tiki torches are perfect for dancing the night away.
TLN: You mentioned retreats. Can you tell us why you started hosting these?
TA: Besides weddings, we're also very proud of our wellness retreats. I trained with Nate Solia in Hong Kong, a Czech practitioner with a skillset that incorporates the 6 pillars of wellbeing. It was in 2013, over a beer and conversation when we came up with the idea of whisking friends, family and clients away to Koh Samui to recharge. For Nate, it was a way to give back to his regular clients, a chance to spend 3 days with him instead of the usual hour per week. For me, it was an opportunity for people to experience the beauty of Koh Samui and Baan Kilee. Plus, who wouldn't want a date in the diary for a detox!
Participating in wellness retreats gave me a very enlightened understanding of mental health issues that people suffer through with no apparent signals and with so little help. I took the chance to qualify as a Mental Health First Aid practitioner and joined an NGO in Hong Kong. This led me to be more aware of how kids are increasingly impacted with mental health issues and that's why I set up the Parent-Teen retreats.
Five years ago, we extended our retreats to focus more on mental wellbeing and partnered with Rupert Jackson, a practitioner from Chiang Mai. Today, my own daughter is an Ambassador for MIND HK (a mental health charity), so I believe some of my work has rubbed off on her!
TLN: How has Chai Talay adapted to the demand for events?
TA: Because we host so many events throughout the year, we repurposed some rooms into conference rooms that can be cleared in case of wet weather. We also have specific rooms for yoga and pilates and invested in a few acres of land behind the villas so we could grow flowers and vegetables. We keep chickens and plan to eventually offer a farm-to-table menu but it was most important to us that we retained the surrounding land in its natural state.
Our pièce de résistance is our 4,000 square feet indoor/outdoor training gym and grounds. There's nothing quite like it on Koh Samui. Chai Talay Retreats runs 2-3 events per year on a non-profit basis. We do this so that others have a chance to experience the villa at non-commercial rates.
TLN: Given that you reside in Hong Kong, has it been difficult to oversee the villas and staff from afar?
TA: Yes, it's been an absolute labour of love and it's very time consuming but one of our selling points is our staff. My on-ground manager resides in the villa with her daughter and she helps train and manages all our staff. In fact, our team are amongst some of the best trained in Samui. I have always tried to hire from the local villages, and my manager, who is more than a second in command, will ensure they are well-trained, usually on the job. In fact, I have no responsibility training though I do use my visits and retreats as opportunities for the staff to learn and develop new skills. I'm genuinely very pleased that my staff can run the villa without my being there.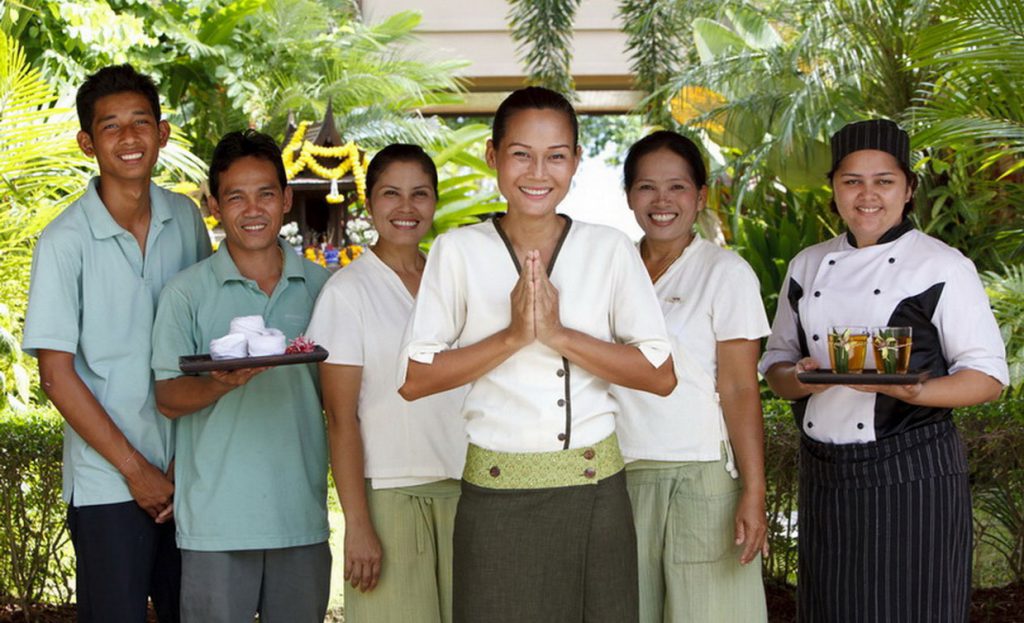 TLN: What's been the biggest challenge as a villa owner thus far?
TA: Covid-19 for sure. At the moment, none of our staff has been furloughed, they really are like family to us, but it's been difficult with zero revenue and no idea when business will return. Balancing customer expectations with staff salaries have not been easy but we are doing our best to adapt to the times identifying new trends and new markets. We're focusing on domestic travel at the moment but of course, the most important thing is to ensure the safety of our staff and guests.
TLN: You've spent so much time in Thailand, do you see yourself retiring there?
TA: With such a beautiful villa, why not? Perhaps not Baan Kilee though, it's too big for a home, but Baan Ora Chon, maybe. I have many friends who recently moved from Hong Kong to happily spend half a year on Koh Samui. I might consider this option in a few years from now (subject to their experiences of course!).
TLN: What are your favourite things to do in Samui?
TA: We're sailors so we spend a lot of time at sea. We also enjoy hiking and fishing with the locals. Besides Orion Detox, yoga, Chi Beach Club, Samui Elephant Haven, wandering through markets and countless massages, what's better than walking around our gardens, picking vegetables that are then cooked by our Thai chefs?
TLN: Any parting words?
TA: I actually hope that a high-end wellness or retreat operator might like to take over and bring Chai Talay to the next level.