We love us some minimalist architecture, and don't think we're alone on that one, but when it comes to the guys (and girls) behind those villas, we often forget the hard work and long hours that went into making those framed views so spectacular. So, the next time you sip (or like us, swill) your wine staring out at the Andaman, know that these firms have been burning the midnight oil in perfecting their expression of the Thai minimalist villa.
#1 Architectkidd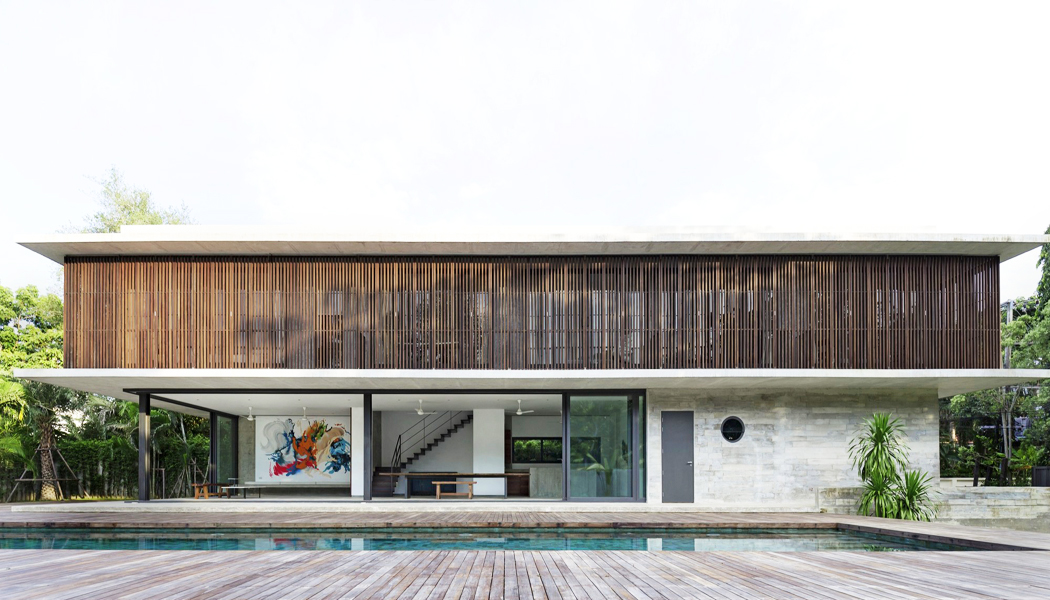 Where: Bang Saray
What: This forward-looking Bangkok-based firm led by Udomsak Komonvilas, Jariyawadee Lekawatana and Luke Yeung looks as much to local vernacular as they do to investigating material and construction techniques. In the Swiss Tropical House, thin overhanging slabs of concrete and strips of recycled hardwood protect from the tropical heat and rain while the cast in place concrete and built-in concrete furniture stays true to a minimalist palette. Like the look? Head to Bali's One Eleven, it's timber-clad perfection.
#2 Sook Architects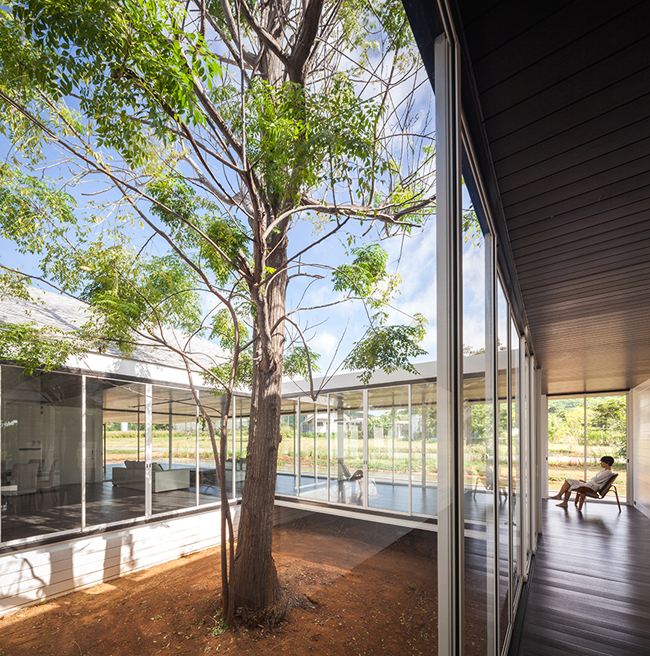 Where: Korat
What: Built around a singular tree and with a roofline mimicking the nearby terrain, the private Baan Rai Thaw Si residence is just one of the up-and-coming firms' projects that highlights how a minimalist touch can enhance outdoor/indoor living. With a wastewater treatment system and self-sufficient water system, they are also proving how green design can be beautiful. And, if expansive glass walls is your thing, Villa Beige should sort you out.
#3 IDIN Architects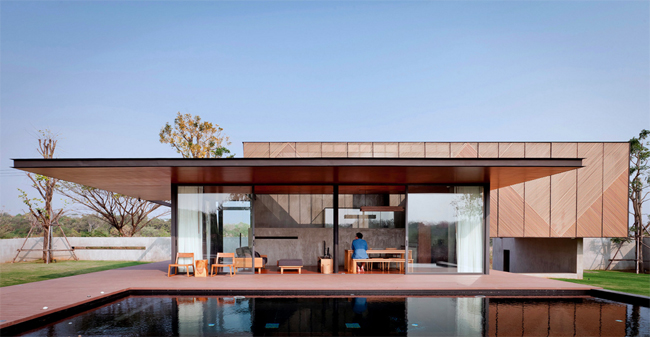 Where: Pak Chong
What: This Bangkok based firm – an acronym for Integrating Design Into Nature – follows a design philosophy of merging a 'sense' of surroundings within a modernist, minimalist design aesthetic. The KA House proves that less can in fact be more, as the relatively compact timber-clad structure focuses more on opening up to the expansive rear courtyard – a feature important to the clients – than overeating its allowable footprint. Sava – Villa Malee Sai takes the courtyard concept further – throwing in a little beachfront backdrop for good measure.
#4 SODA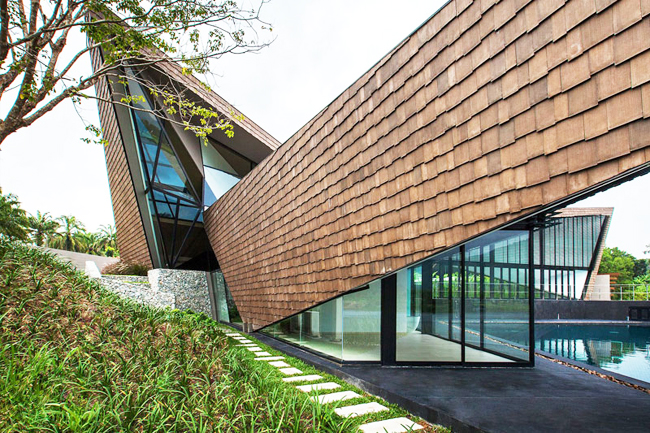 Where: Phuket
What: Never shy of bold, dramatic moves, Stephen O'Dell's Bangkok practice proves that minimal doesn't have to mean boxy with The Lenz Residence. Playing with the idea of tension – where land and water meet – the origami-like, angular roof canopy only touches the ground at four points, unfolding spaces and views instead of enclosing and framing them. SODA is also the team behind The W Bangkok among other luxe resorts, just sayin'.
#5 Department of Architecture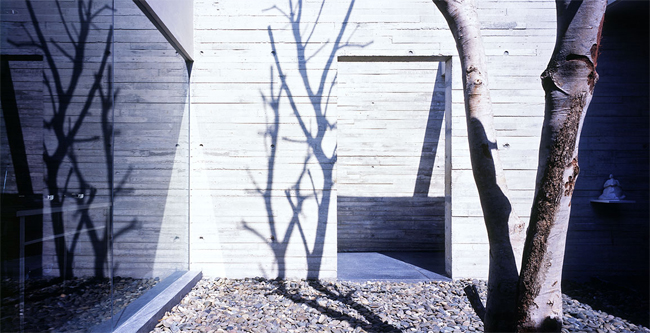 Where: Phuket
What: A great example of showing that minimalist architecture isn't just about plunking down some boxes and lines against a stunning Andaman backdrop, the Department of Architecture creates some emotionally restrained interior spaces, especially behind SALA Phuket's walls. A trip to the spa here never looked (or felt) so good.
#6 Original Vision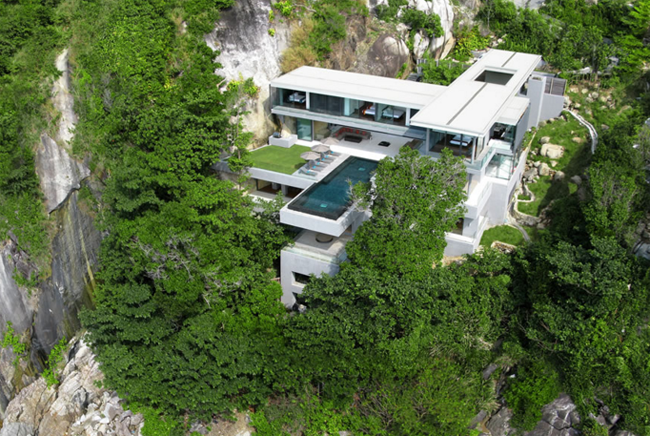 Where: Phuket
What: Probably the most recognizable (and photographed) Thai minimalist villa, Villa Amanzi sits nestled in a deep ravine seemingly growing out of the rocks of Kamala. The 6-bedroom stunner blurs the boundaries between indoor and outdoor with a cantilevered infinity pool jutting out from the cliff only adding to the spectacular drama.
#7 GFAB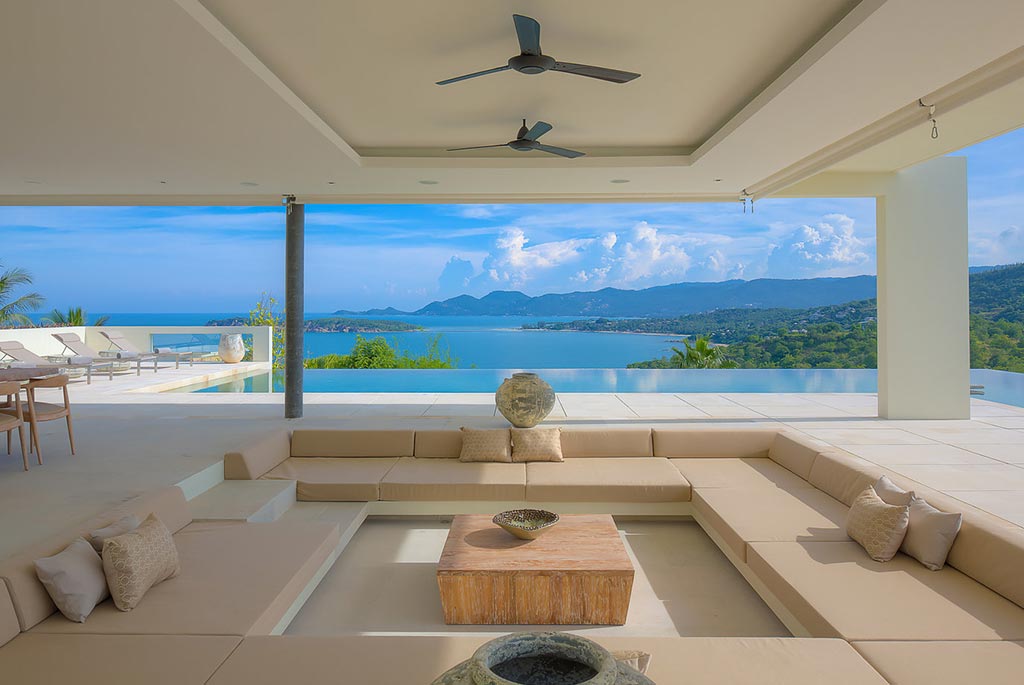 Where:
Koh Samui
What: We couldn't write about a Thai minimalist villa without throwing in the Bartlett-educated, Bali-based Gary Fell who has been dotting the Asian coastline with some truly stunning (and of course minimal) villas and resorts. While all of GFAB's designs highlight simplicity and spectacular landscapes, The Samujana Villas are particularly drool-worthy.