You need not go to an art gallery or a museum to view some of the best art in Prague. One just simply needs to walk around, maybe take the metro or look up (as is the case for one of the city's best sculptures) to see some of the best works this European city has to offer. That said, here's a little guide to help you spot the must-see street and public art around Czech Republic's capital.
#1 Pasta Oner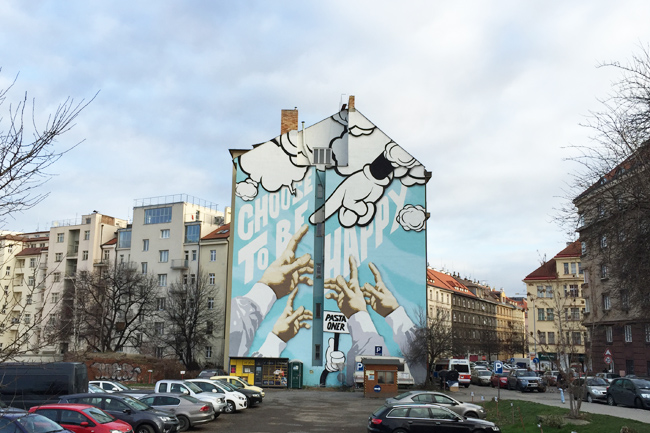 You'll find several of Pasta Oner's works scattered across Prague's centre. But if you wish you to see one of this Czech Republic-based contemporary artist's (in our opinion) best, you can just simply take the train to Vitězné Náměsti (metro stop: Dejvická) to lay your eyes on his very encouraging "Choose To Be Happy" mural by a parking lot.
#2 Lennon Wall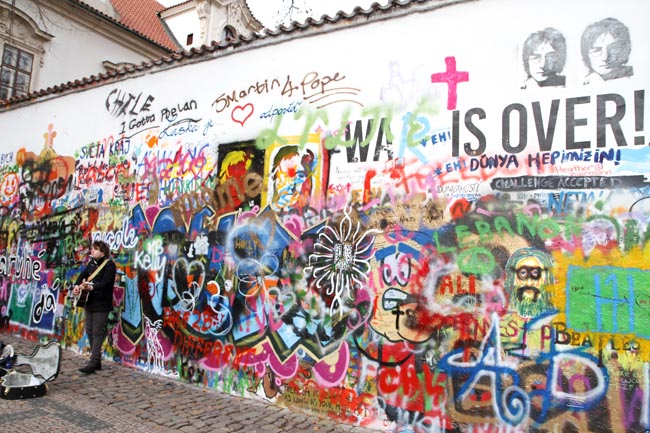 The Lennon Wall was just like any other wall in Prague, until the city's young started expressing their dismay over the country's then-Communist rule by "vandalising" this particular wall located in Velkopřevorské Náměstí with John Lennon-inspired graffiti and messages. Nowadays, the wall has become one of the city's famed attractions and if you do pay the famous mural a visit, expect the area to be crowded (but then again, when is Prague never crowded?).
#3 David Cerny's "Hanging Out"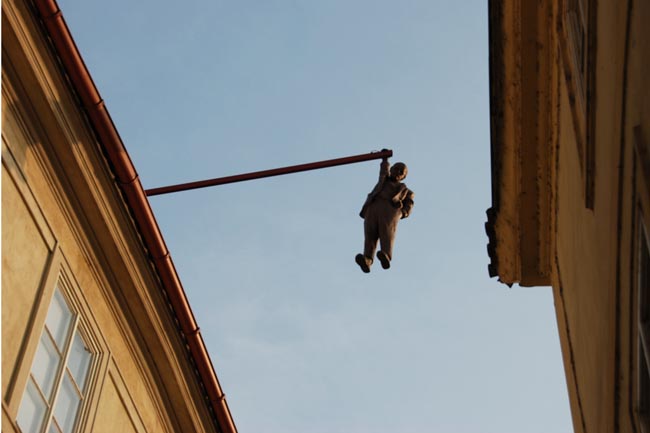 If you ever pass by Prague's Husova street and see a man hanging by a pole, don't freak out. It is just Czech sculptor David Cerny's beloved public (if not slightly creepy) art piece called "Hanging Out." Created in 1997, the artwork is the 48-year-old artist's depiction of Sigmund Freud and, some say, man's hopelessness.
#4 And more David Cerny weirdness…
If Cerny's Freud sculpture is not weird enough for you. Head over to the Museum Kampa, where three of his bronze "space-age babies" are guarding the entrance. Smaller (and, in our opinion, creepier) versions of the sculptures also appear to be crawling on the Žižkov TV Tower.
#5 Vltavska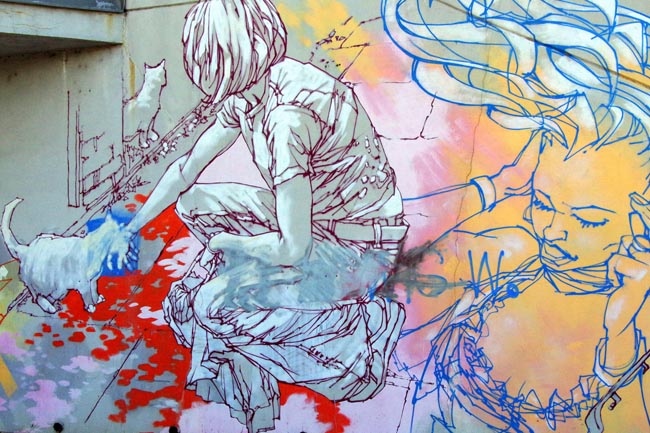 Metro stations are rarely of any interest to tourists, but Prague begs to differ. Not only are the subway platforms fascinating, but also what greets you when you exit the stations. Case in point: the Vltavská metro station, where you'll find a pastel-coloured mural by graffiti artist Mode 2.
#6 Blu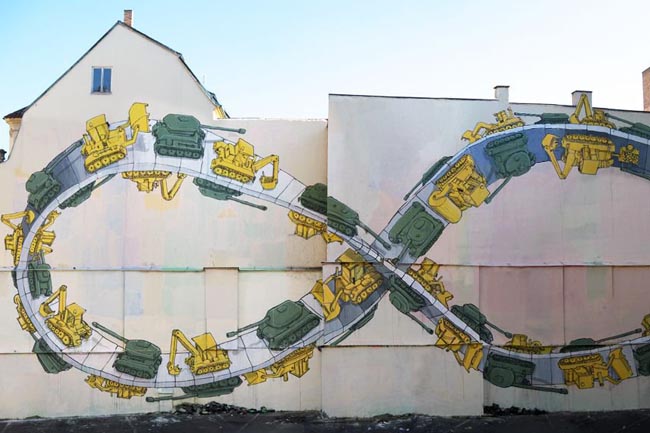 Wrapping up our favourite piece of public art in Prague is "Gaza Strip," a mural by Italian graffiti artist Blu. The Senigallia-born (that's somewhere in Italy) artist is known for his black-in-white graffiti, but for this particular mural, he played with yellow and green hues to depict war's vicious cycle through an infinite loop of tanks and bulldozers. The piece is located on Národní Třída (National Avenue), which is also known for its rows and rows of high-street boutiques (yep, there's no escaping the vicious cycle of shopping and buyer's remorse even in artsy Prague).