By Billy Clarke
We're just going to say this straight up; there will never be another Song Saa. Like a rare top-drawer gemstone, this boutique Cambodian luxury resort will never be replicated – it's the kind of place that the phrase 'once-in-a-lifetime' was designed for. However, after experiencing the magic here, you're going to want to visit twice or thrice in a lifetime. We say that because we're already wishing we were back there (and continue to do so daily).
Sitting amongst a lush cluster of mostly untouched islands, Song Saa is situated in Cambodia's spectacular Koh Rong Archipelago, a haven of unexplored rainforests, baby powder white beaches, and virgin coral reefs. The resort is a picturesque boat ride away from Sihanoukville, a developing port province with its own airport which also happens to be the main production plant for the national beer, Angkor Beer. Straight to the source, we say!
While Cambodia has long been for its backpacker vibe thanks to spiritual temples, eclectic markets and colonial architecture, Song Saa has literally taken tourism to the next level, showing that the country can also be a luxury destination; revealing an untapped side that many have overlooked.
Until now, that is. Thanks to Australians Rory and Melita Hunter, who fell in love with the area when they discovered it in 2005, Song Saa is the first private island Cambodian escape of its kind. The owners knew they had to set the right benchmark, and it's clear that they've pulled out all the stops.
The resort's high standards of luxury, service and design are impressive, as is their responsible approach to environmental sustainability and community wellbeing. The staff is truly passionate about the resort, offering warm genuine smiles whilst recounting stories about its eco-friendly operation.
In Khmer, 'Song Saa' means the 'The Sweethearts,' which is the name jointly given to the two private twin islands that the resort spans. A wooden footbridge connects them, running sensitively over a marine reserve which safeguards the reefs and tropical marine life below. These rustic raised boarded catwalks run across the resort and connect to the villas over the water. These parts of the resort were our favorite, with the exotic melody of lapping waves creating a relaxing soundtrack we never tired of.
There are twenty-seven luxurious beach, rainforest and over-water villas – with the latter being a first for this region. Everything on the island was inspired by the local environment, with the villas taking inspiration from the structures used by neighboring fishing villages. Upcycled materials from traditional fishing boats, driftwood, scrap metal and stone tastefully merge together to create the unique, exquisite rustic chic that runs throughout. The finishing touches descend even to the drinking straws which are made from bamboo-like plants grown by local farmers while the resort's spa uses locally-sourced herbs and plants.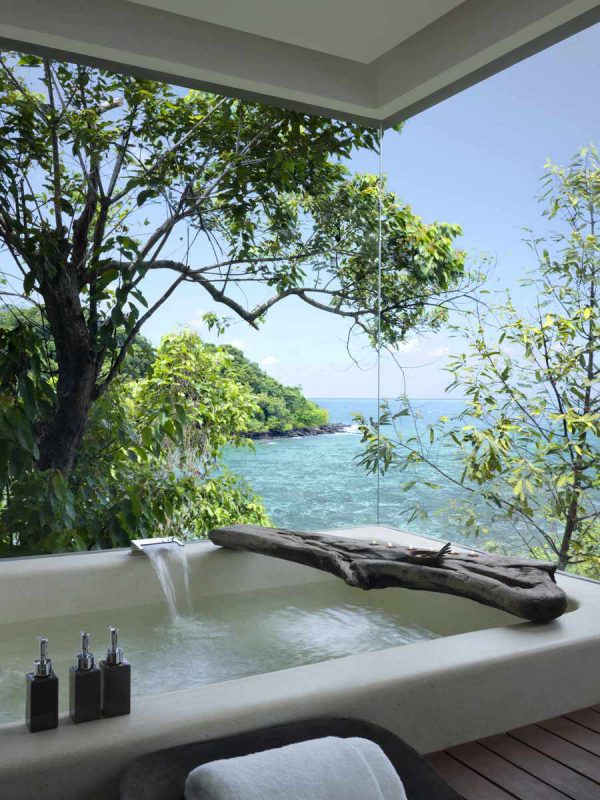 There is an undeniable je ne sais quoi about the design, which strikes a spot-on balance between raw and luxurious. The picture-perfect villas all come with spacious private infinity pools, some of which even have direct access to the seawater in the bay via stepladders. Inside, large open kitchens are to be found alongside multiple sleep-inducing lounge areas, while huge beds dressed with comfortable linens and an entertainment system pre-stocked with new movies and tunes furnish the bedrooms. There is also, of course, internet access for those who won't can't switch off, plus bathrooms with twin sinks and inviting over-sized bathtubs that look out to sea.
While your aesthetic senses are satiated, Song Saa makes sure your tummy feels pretty good too. There's a beachside bar with a pizza oven (our go-to food at the beach), plus an over-water lounge and restaurant offering 360-degree ocean views and premium Khmer-inspired cuisine. You also shouldn't miss the amazing personalised cooked meal made from the finest local ingredients – it was hard not to feel pampered, with an intense polychromatic sky at dusk as our backdrop.
If you don't want to dine out (why wouldn't you?), there's unlimited room service offerings to keep you happy. This is part of the resort's 'Always Included' and 'All Inclusive' pricing policy, which covered meals, drinks, in-room dining and a number of unique guest experiences. It took a load off knowing that we wouldn't have to worry about little things such as laundry fees and restaurant prices, with most alcoholic beverages included in the price (now we're talking).
Guests can also take a morning visit to the fishing village opposite the island (which we did), to witness the resort's community development programs. We also kayaked to a nearby beach, which provided us with five miles of private pristine white sand. Just another reason why this sustainable sanctuary of uncompromising luxury is surely one for the bucket list!
To book Song Saa Private Island, click here.
Images: Song Saa Private Island & Billy Clarke.