Ubud in Bali is paradise within paradise itself. Many travellers opt for a humble abode here, tucked between rice fields, jungles and rivers. Not all who wander are lost, but not all who wander to Ubud want to be away from the action either. You'll still be close to the action in Seminyak, but these villas in Ubud are hard to resist. If you're looking for relaxation, lots and lots of yoga, and authentic Balinese culture, you've come to the right place.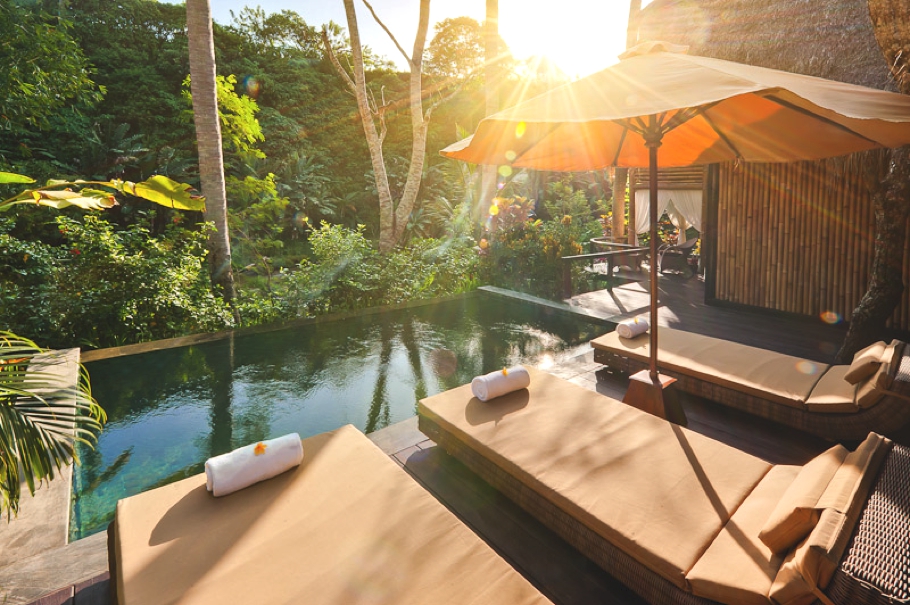 Fit for: Riverfront Suite for two people from USD 146.
Specialty: The Holistic Sacred Arts program that will have you checking-out as a whole new person. Bali is known for its rejuvenation, and this award-winning eco-spa resort knows just how to do that. Each guests has an itinerary customised just for them, which might include healing therapy, beauty rituals, yoga, meditation and interestingly, even vibration healing music and water healing. It's more than enough to peak any nomad's curiosity.
Check it out: Vegan? They're big on raw living too.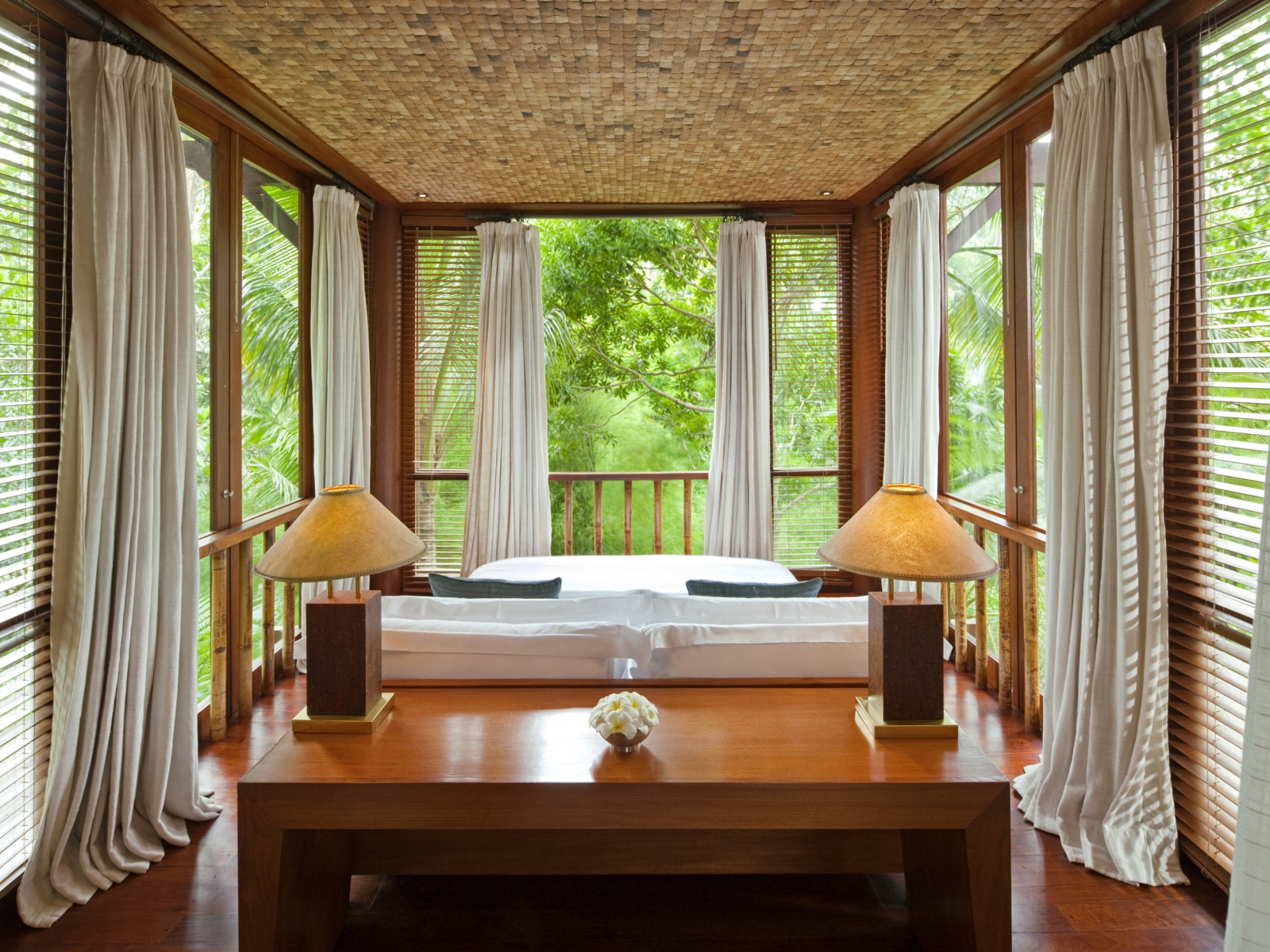 Fit for: One to four travellers, with suites / villas from USD 630.
Specialty: If you fancy yourself a wellness aficionado, you might have already heard all about this swanky resort from your fellow yogis. It's hidden away in a jungle, above a flowing river, where all spa treatments have the most amazing outdoor surroundings — so those birds you hear chirping aren't part of some regular spa CD. Tailored wellness and Ayurvedic programs are the highlight here as well (oh, the choices), and you'll have full access to the gym, pilates studio and yoga pavilion with in-house teachers.
Check this out: First-class accommodations that look like something out of a dream.
#3 Bisma Eight Ubud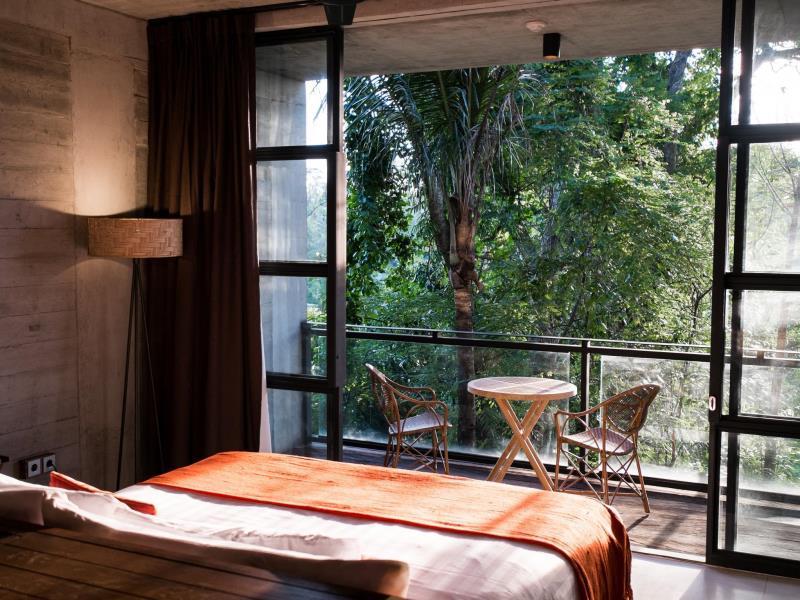 Fit for: Suites for two people from USD 164.
Specialty: It's close to town, yet when you're tucked in your cool, crisp sheets you feel as though you're in your own stress-free world. In other words, the best of both worlds. You can chose from three different types of suites; Forest, Canopy and Garden. To soak in the tropical heat you can head to the infinity pool, or you can spend an afternoon chilling in the Library Cafe.
Check this out: All suites come with their own Japanese soaking tubs. Fancy.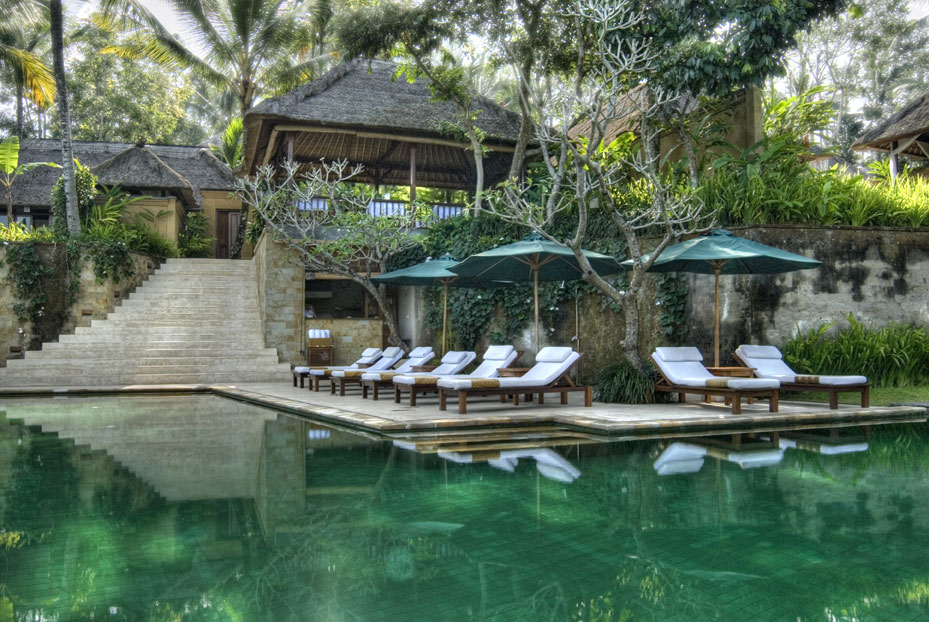 Fit for: Suites and villas for two people from USD 282.
Specialty: An unbeatable location! This five-star resort is a short drive away from the cultural wonders of Ubud, such as temples, museums, galleries, and artists' villages. But for days spent inside as equally as inspiring, with walks along the Oos River and meals at the traditional Balinese restaurant that looks towards the Batukaru volcano. Double the relaxation with a trip to the spa and a yoga class.
Check this out: The Signature Bale Daja two-bedroom villa that comes with a mini library, private pool and the best views of all.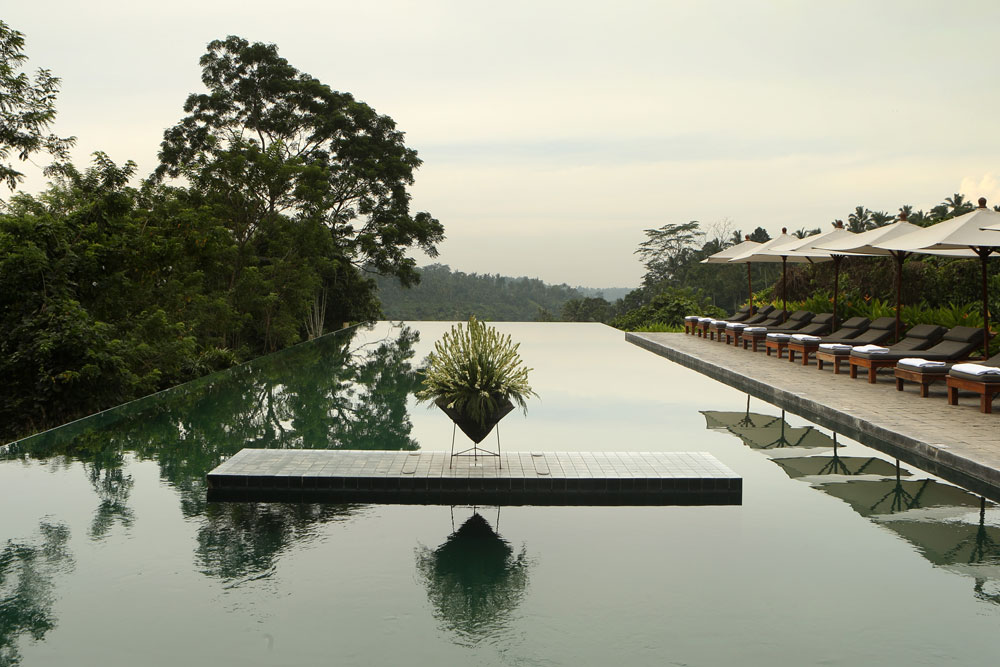 Fit for: Rooms and villas for two from USD 176.
Specialty: It's hard to pick just one, but let's go with the emerald green infinity pool first, and close-to-town location second. You'll be perched in a tree-house-like Balinese abode designed by (wait for it) Kerry Hill Architects! C'mon guys, that's a world-renowned architectural firm, if you haven't already heard of them. Now you know you'll be getting some modern glass-walls-and-wood-elements style, and there's an art gallery and a sculpture garden.
Check this out: 24-hours dining. Who's hungry?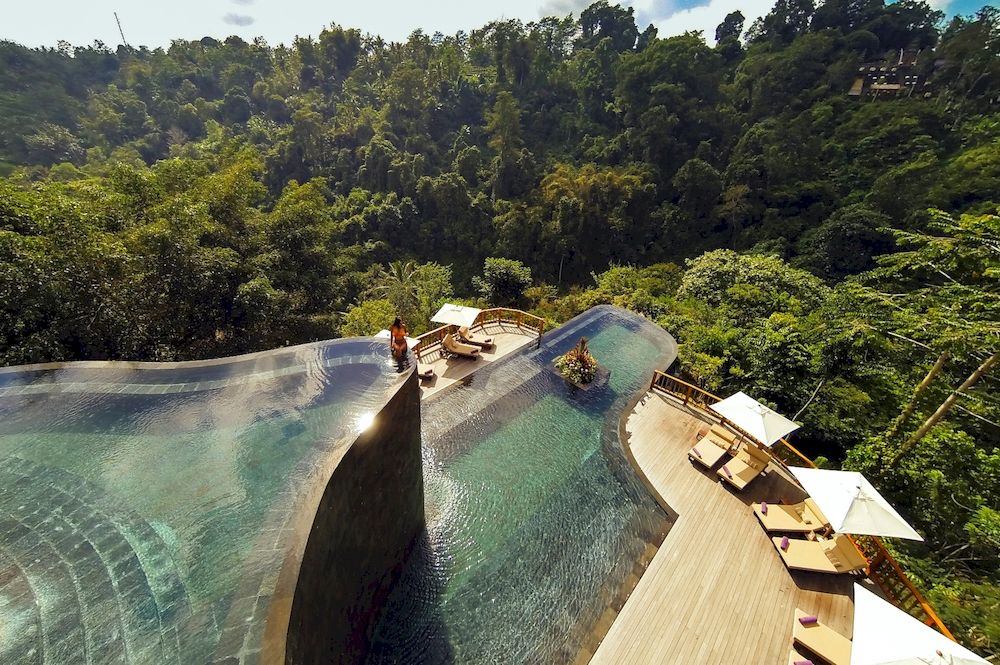 Fit for: Villas and suites for two people from USD 383.
Specialty: And if daydreams of infinity pools are still swimming in your head, behold the one pool that is just wow. Actually, make that a three-tier pool.  So rooms here have to compete with that, and would you know it, there are eight levels of the hotel and guests need to shuttle across via funiculars (little train-like things). Again, you're placed rather close to town… that's if you can get enough of the pool. Did we mention each villa also has its own pool pavilion?
Check this out: You can get a true Balinese massage down by the river. That's as 'Ubud' as it gets!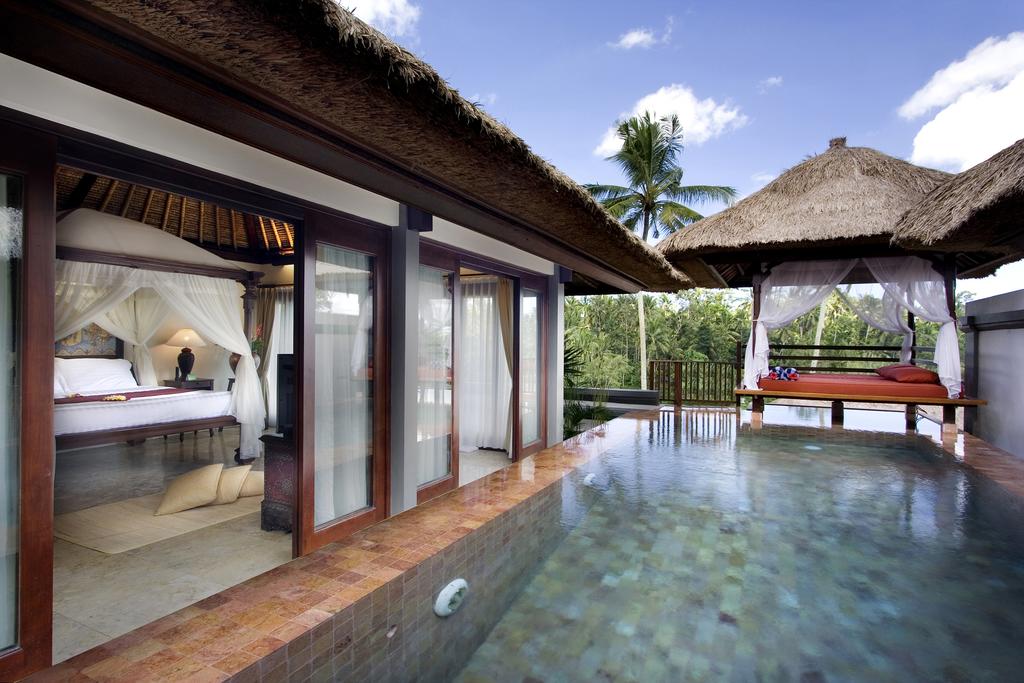 Fit for: Chalets and villas for two people from USD 247.
Specialty: Chalets where you can roll right out of bed and into a pool. It's quite a roll, as you can see, but it's possible. At this five-star resort you also get free shuttle services and yoga lessons. What's a trip to Bali without sneaking in some much-needed yoga time, right? But what you'll really take to is the ambiance of the place. It resembles real-life Balinese villages and has a must-visit spa.
Check it out: All guests get a flower lei when they check-in. Love it!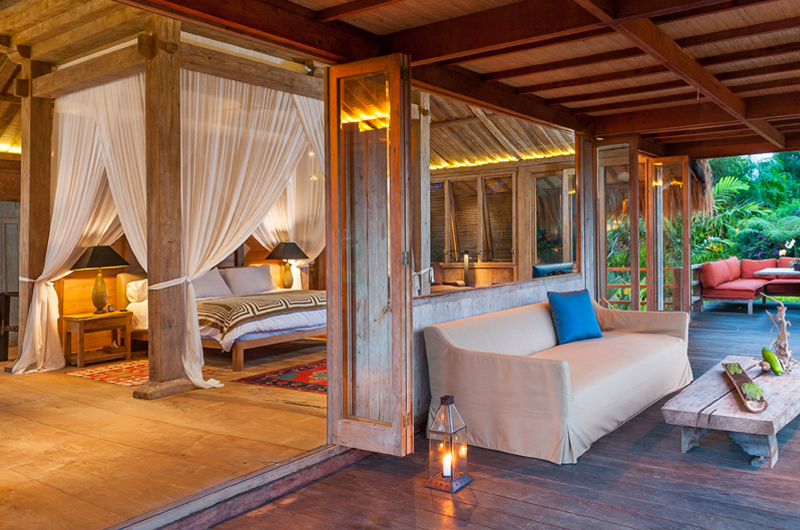 Fit for: 4-bedroom villas for 8 people from USD 920.
Specialty: It's the most authentic of Balinese villas you'll ever (hopefully) stay in. Think villas on stilts, teak wood, extensive decks and rain showers. For the meditation buffs, there are two the perfect spot to breathe easy by the bamboo meditation gazebos — they're secluded on the hillside and are equipped with fans, mosquito nets and naturally, picturesque views. In fact, you're guaranteed good views all around, like the Sayan Valley, volcano and mountains.
Check it out: Saltwater pools and an organic herb and vegetable garden — this place knows just how to do it.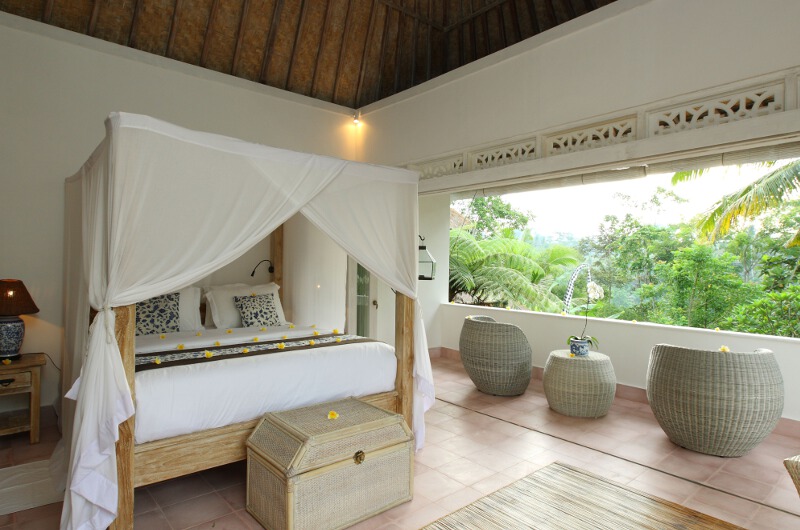 Fit for: Rooms for two people from USD 213.
Specialty: They're masters of interior design, or so it seems. The villa has an unbeatable light, airy, clean space. If you're OCD about being neat, this is the place for you to let your hair down and enjoy yourself (finally). The villa is located in the serene village of Payagon, better known as Yoga-town so you know what that means — more yoga! (Seriously, you're going to leave this place a total babe).
Check it out: Ever wish you could share your amazing playlist with everyone? Here there's an iPod dock, so you sorta can.