Good news we found this week!
Uplifting stories from around the world. For when you need a break from sobering news.
#1 Hotels and cruise ships light up with images of hearts and hope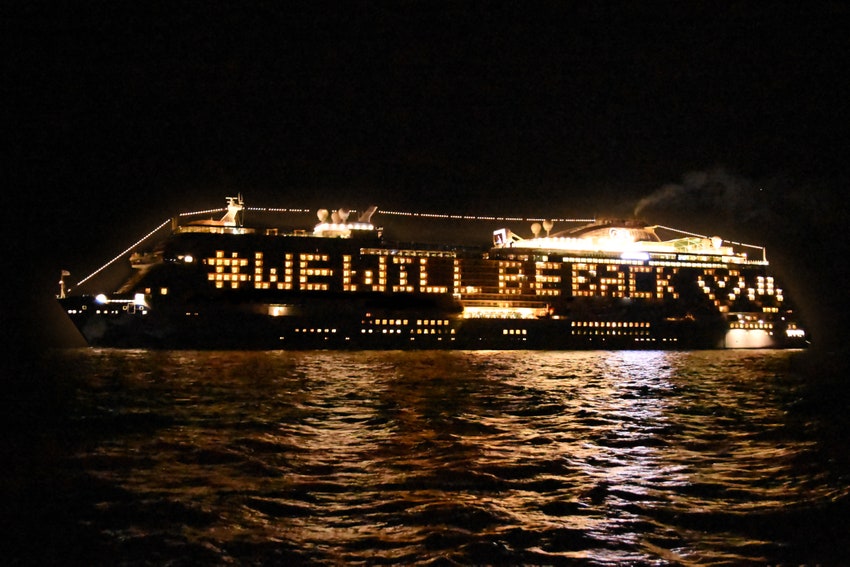 The travel industry may be in a nosedive but hotels and even docked cruise ships around the world are coordinating guest room lights at night to form messages of encouragement or hope. Heart shapes and words such as "hope," or "love," and even "#wewillbeback" as seen on Princess Cruises cruise ship, Sky Princess, have been popping up to spread positivity and solidarity during these wild times.
#2 Goats invade locked-down Welsh town
What the heck. https://t.co/FfWBdwQzBE

— Andrew Stuart (@AndrewStuart) April 1, 2020
This wild bunch is completely ignoring rules on social distancing. Mountain goats are roaming the streets of Llandudno, a town in North Wales. Normally keeping to themselves, the lack of people and cars have emboldened the long-horned animals to venture deeper into the seaside town. Their furry adventures are racking up thousands of views though!
#3 Oldest Covid-19 survivor turns 104
Bill Lapschies has lived through a lot. Born in 1916, he has lived through the 1918 flu pandemic, the Great Depression, World War II and now Covid-19. The veteran turned 104 this past Wednesday, 25 days after he started exhibiting symptoms of Covid-19. After being in isolation, Lapschies recovered from the virus in time ("It just went away," in his own words) for his birthday party where his entire family gathered together (albeit 6 feet apart) to celebrate with him.id of anything."
#4 Penguins touring their neighbourhood again
View this post on Instagram
The penguins from Shedds Aquarium in Chicago from two weeks ago are back, this time visiting the centre's belugas, Kayavak, Mauyak and baby Annik.
#5 Queen of Malaysia cooking for hospital frontliners
Tunku Azizah Aminah Maimunah Iskandariah – who is the wife of the monarchy's ruling king, Al-Sultan Abdullah Al-Haj of Pahang – has been supporting those helping to fight the virus by cooking them traditional Malaysian meals and treats. The queen is an avid cook and has been posting her dishes on Instagram where she captioned one photo, "The least I could do… for the govt servants sacrificing their lives [sic]… I salute them."
#6 US airlines fly medical volunteers to the frontlines for free
View this post on Instagram
Both Delta and Southwest Airlines are flying volunteer medical personnel to the hardest-hit states of New York, Louisiana and others. These selfless and unbelievably brave heroes offer a beacon of hope amidst the fear and uncertainty.
View this post on Instagram
Additional healthcare assistance has also arrived in New York City. The US Navy Hospital Ship Comfort docked on the west side of Manhattan. With 12 fully equipped operating rooms and more than 1,100 health professionals and 1,000 beds on board, the ship offers much needed non-coronavirus-related treatments so that other medical facilities can be freed up.
Image source: Main: Mariott International