Chin up Luxe Nomads, here are some of the good news we found this week!
Are you stuck at home and tired of the never-ending stream of Covid-19 news? Rather than bombard you with more sobering updates, here are some uplifting stories from around the world.
But first, a PSA: The travel industry makes up for 10% of the world's workforce. The sooner we stay indoors, the quicker we'll be able to flatten the curve so we can continue supporting local businesses and exploring our favourite places again. Thank you for taking social distancing seriously ?
#1 Hubei relaxes lockdown restrictions
Life is slowly returning to a new normal after two long months of lockdown and travel restrictions throughout Hubei province and the original epicentre of the pandemic, Wuhan. China has just announced the liberalisation of Hubei on 25th March with Wuhan to follow suit on 8th April.
This signifies a landmark turning point in China's efforts to control the outbreak as well as a ray of hope for the rest of the world as the epicentre of the pandemic shifts to Europe and the United States.
Hang in there Luxe Nomads! Your social distancing and self-quarantine efforts are paying off <3
#2 Man runs a marathon on his 7 metre-long balcony
Elisha Nochomovitz, a Frenchman under lockdown in the southern city of Toulouse ran 42.2km (26.2 miles) back and forth on this 7 metre-long (23 feet!) balcony. Nochomovitz wanted to lighten the mood with a crazy challenge to "de-dramatise the confinement situation," and also, show his support for medical front-liners who have been working tirelessly.
He didn't make record time though – it took him six hours and 48 minutes, bouts of nausea and the worry that neighbours would complain about his pounding footsteps. But he did it.
#3 Yo-Yo Ma calls for #SongsOfComfort amidst the pandemic
American-Chinese cellist Yo-Yo Ma has called for people to share #SongsOfComfort across social media. Mr Ma said that the idea for "songs of comfort" came spontaneously as he wondered how to help people through this global crisis. "Music always has been comforting to me," he said. "This is what I do, and this is the best that I can offer."
The international response has been uplifting. The growing collection of songs, which includes covers and original pieces from many genres, performed by musicians of all ages and abilities, reflects the universal and infectious joy of making, sharing, and experiencing music.
#4 Learn how to make handmade pasta with an adorable Italian nonna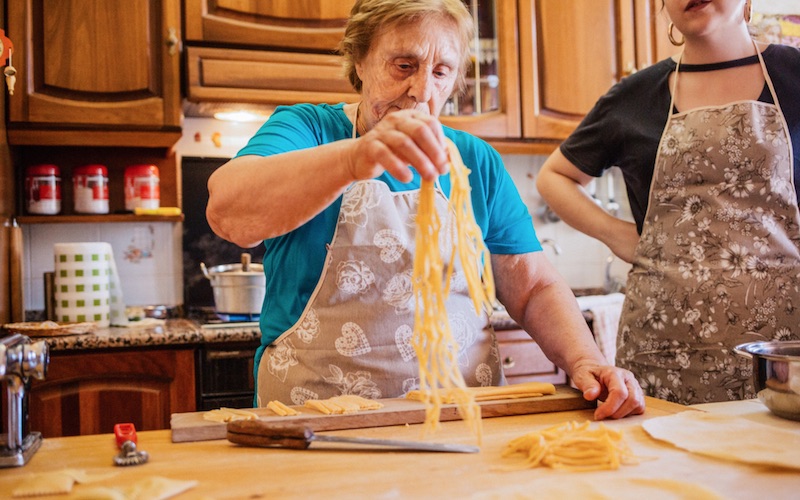 "Handmade Pasta with Grandma" is an AirBnB Experience hosted just outside of Rome, where visitors can learn how to make pasta from scratch with a real Italian grandma. With the current lockdowns and movement restrictions, this cooking experience is going virtual. Nonna Live allows anyone to live-stream this cooking class for US$ 50. Classes with grandma are only available on weekends, but one of Nonna's granddaughters, Chiara Nicolanti, hosts weekday classes.
Nicolanti says, "The first time trying to let her understand that people could see her and hear her (over video chat) was like, the craziest thing. It was supposed to be an hour class, and it lasted two hours, and people were laughing all the time. She never stops, she never waits for me, so it was really crazy, but I think this is what people want. They want an Italian grandma making a mess with them for an hour."
#5 Elephants in Chiang Mai are "set free"
An elephant camp in Chiang Mai known for elephant rides is finally removing the huge wooden and metal carriages that are strapped to elephant's backs throughout the day. Camp director Anchalee Kalampichit said that 25 March 2020 was the first time in 44 years that the elephants had not worn the seats at the start of the day.
She said the camp will now shift focus from elephant rides to allowing the elephants to roam freely in the grounds and operate as a place for visitors to observe the animals – and all 78 of the camp's jumbos will never have to wear them again.