So your family is big and diverse – some like the water and some don't, some can be proclaimed 'tanorexics' while others steer clear of direct sun exposure. We feel you. With something for everyone, the Thai island of Phuket is an exciting adventure with endless activities that you and your whole family can have fun with.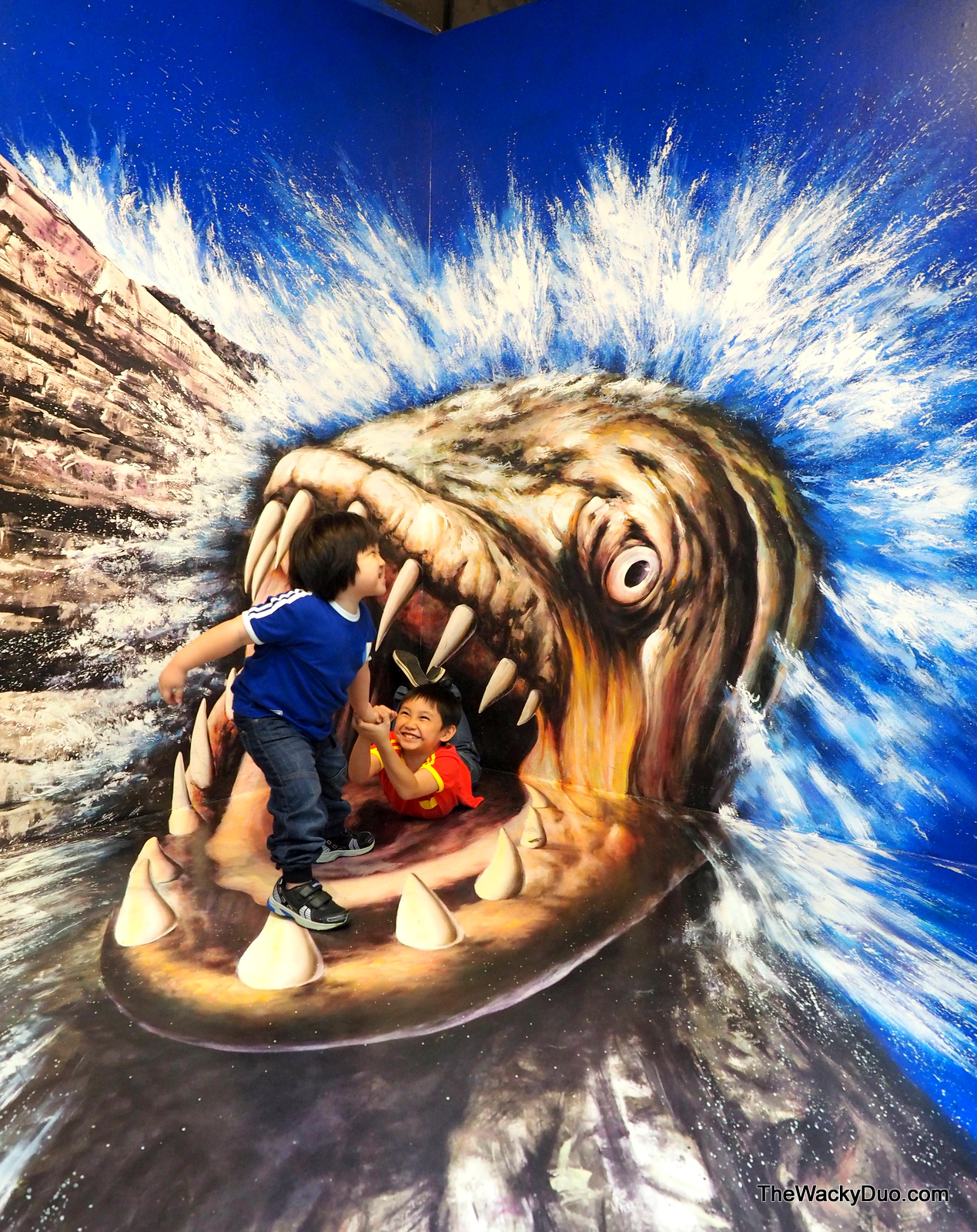 Where: Talat Yai, Mueang Phuket District
What: Based on the ancient painting technique of trompe-l'oeil which creates three dimensional illusions on flat surfaces, the Phuket Trickeye Museum is a gallery of interactive 3D paintings that expose visitors to dangerous situations – created with paint. Stand treacherously on a broken bridge above rapid and run from the  angry bulls in the streets of Spain – it'll make you wonder where you've been tricked in action movies.
Why: It's a bit kitsch but the kids will love it– and so will the adults who'll go trigger happy with their cameras, no doubt.

Where: Kata Beach 4 Moo 2, T. Karon A. Muang Phuket 83100
What: Surf's up all day, errrday. Regardless the weather, you can count on a good surf day at the Surf House. Thanks to a wave-generating machine, beginners can safely learn to surf and more experienced surfers can perfect their skills. The kids and adults can spend all day here – there's a trendy restaurant serving up local and international food and snacks and if you get bored with surfing, they've got activities involving other board sports too such as bodyboarding, skateboarding, wakeboarding and snowboarding.
Why: Work off that energy – we're sure dinner time will be peaceful.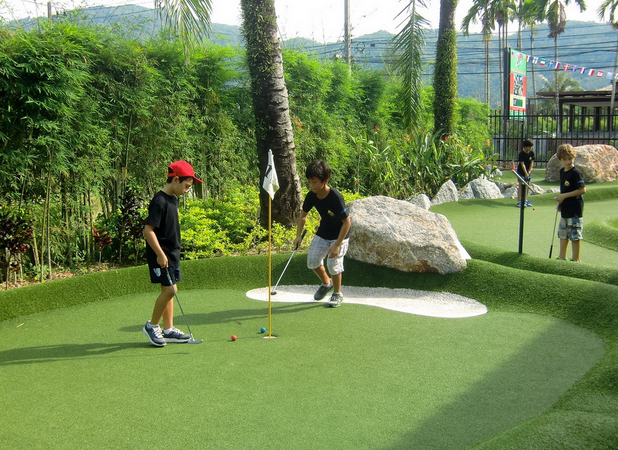 Where: 72/44 Moo 3, Bangtao Beach Road, Soi 2, Cherngtalay, Talang Phuket 83110
What: Nestled amongst palm trees, bushes, water, bamboo and granite rocks, it's a fun mix between mini golf and long golf. With 18 challenging holes and plenty of obstacles, it's exciting whether it's your first time picking up a golf club (in which case, careful not to call it a stick) or regularly shout 'Fore!' in your free time (what better – or more fun way to practice your putting?). If you have a really big family, you can even book the whole course and have a big blow out.
Why: Because you can't beat the good ol' fun of mini golf.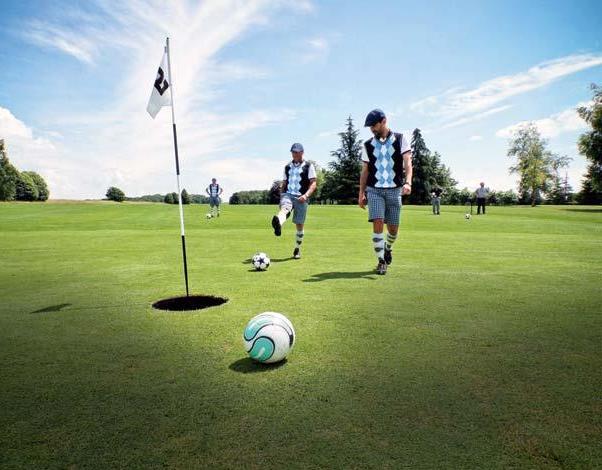 Where: 46/417 Moo 6 Prabaramee Rd, Kathu, Phuket
What: Say your dad wants to play some golf, but your brother is more of a football fan and neither are keen on settling. Voila – Phuket gives you Football Golf! A fun mix of kicking around a football ball with the tactful precision you would use playing mini golf, the playing field is a 69-par, 18-hole course with rocks, curves, slopes, bunkers and tunnels to tests and hone skills.
Why: It's double the excitement when you combine golf and football!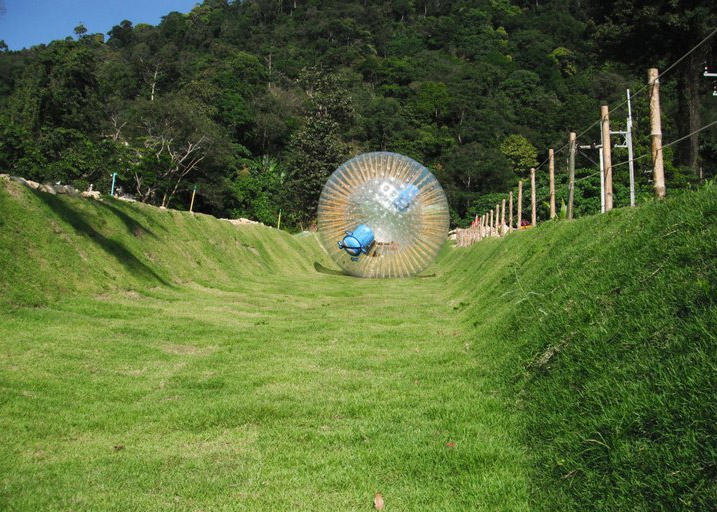 Where: Soi 7, Kalim Bay View, Kalim, Patong, Phuket 83150
What: The kids are driving you nuts and if only you could let them roll around in a bubble (so they're protected from obstacles)! Well, have you heard of zorbing? Essentially, it's a big plastic ball of fun that you climb into and take exhilarating rolls down the hill in. The adults can even take it lying down on the ground while the kids roll over them in the zorb. Sounds fun?
Why: It's a really good way to work off those pent up adrenaline and fun and laughter is guaranteed.
Where: 5 KetKwan Road, Karon, Muang Phuket 83100
What: Love Thai food and wish you could have it everyday? If you're in Phuket, Kata Thai teaches traditional home style Thai cooking twice a day, six days a week from Monday to Saturday. Lessons are conducted in English and classes are kept small (between 2 to 7 participants) so the cooking instructors can provide close attention in teaching their techniques in a comfortable and laid back environment.
Why: It's one souvenir you can take back from your trip that won't take up any luggage space and you can show it off every mealtime if you wanted to.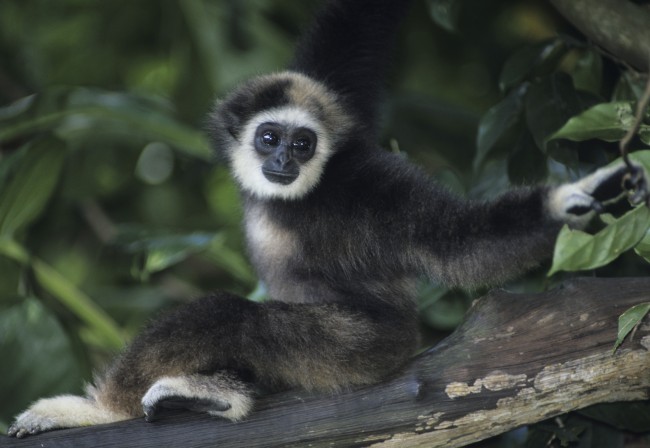 Where: 104/3 M.3 Paklock, Talang, Phuket 83110
What: Let's face it: it's hard to avoid the kids (and adults) going crazy over the cute little monkeys  on Bangla Road. We know the animals are just money-making gimmicks – once they're old enough, the cute gibbons develop large canines and become boisterous and are usually dumped or worse, put down. The Gibbon Project takes in abandoned and surrendered gibbons, providing a sanctuary for these beautiful creatures.
Why: Not only will you and your family get a good dose of fuzzy cuteness to look at, it's also for a good cause. By supporting the organisation, you are supporting the conservation and protecting the gibbons' habitat.
Plan your Phuket family getaway with us now!