Read the original article on Sassy Mama Hong Kong
Villa: Angsana Velavaru
We hear it so often, life in Hong Kong is great but sometimes you just need to get away from the hustle and bustle and spend a bit of time in an oasis that seems worlds away from the concrete jungle that we call our home. There are so many fab destinations that surround us living here but one travel spot that is now high on my love list after a recent holiday is the Maldives. Seriously, a trip to this aqua water paradise will cure anyone who is suffering from a case of the big city blues.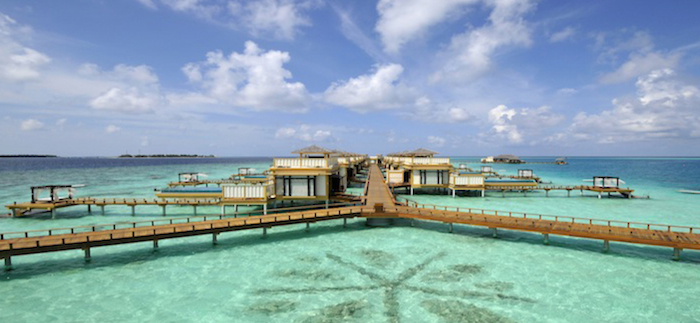 And if you're convinced that the Maldives is the next vacay spot for you, check out the Angsana Velavaru, which just happened to be my home away from home on a recent romantic getaway with my hubby (but don't fret as there are activities for the little ones if you want to bring them along too!). We had our travel arrangements coordinated by The Luxe Nomad so they can get you sorted with your booking to make it as stress-free as possible. Check out the booking section below for more deets.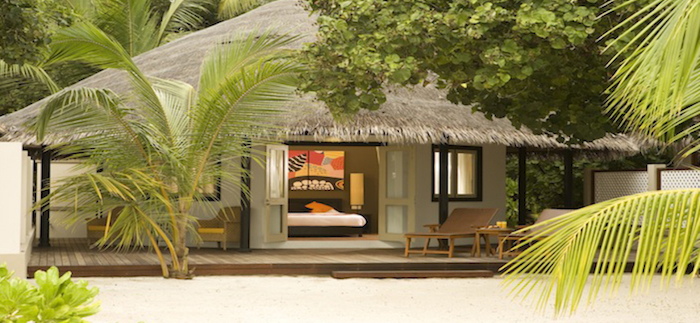 Getting there: Once we landed in Malé, we took a seaplane (such a fun experience!) to our island home. The seaplane took about 35-minutes and once we landed we were greeted by friendly staff who whisked us away by speedboat to the reception area. Upon arrival, we were treated to a refreshing gelato sampler (major plus points in my book!) and were introduced to Henna who took great care of us during our stay. We stayed in a Deluxe Beachfront Pool Villa, which included our own private pool. My favourite part of the room was how it was literally steps away from the beach. The water in the Maldives is amazing and it is quite incredible that in just 10 steps from your villa you can be on the beach, which is so private you feel like you're the only one on the island!
The Angsana Velavaru was one of the first places in the Maldives to have parts of their hotel separated by water so on the other side of the property is their stunning InOcean Villas which is my goal for a future visit. Some guests (and I think this is genius) split up their stay to spend half the time in a Beach Villa for easy access to the beach and the other half of their time living it up in the InOcean Villas, which are situated literally right on the water.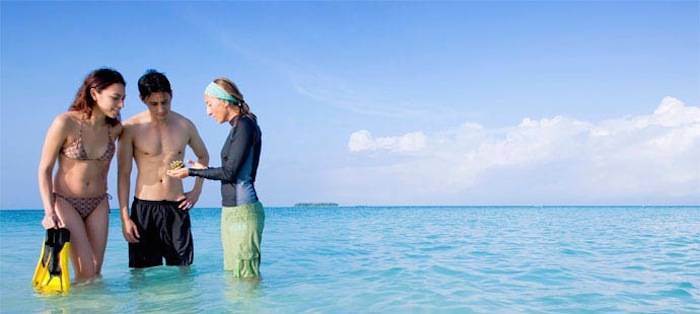 What to do: 
1. Visit the Marine Lab. Scuba Diving is a major activity in the Maldives, but if that isn't your thing Angsana Velavaru definitely delivers in the snorkelling department. The hotel has a Marine Lab, which is dedicated to protecting the coral reef and they host education sessions for guests, which involve taking part in their very own replanting programme. I have to admit I wasn't so sure about this activity at the start (as I came to the Maldives to sit in the sun and not the classroom), but for 30 minutes or so, it was so cool to learn about the environment we were holidaying in and then take part in something that contributes to taking care of the coral reef via the replanting programme.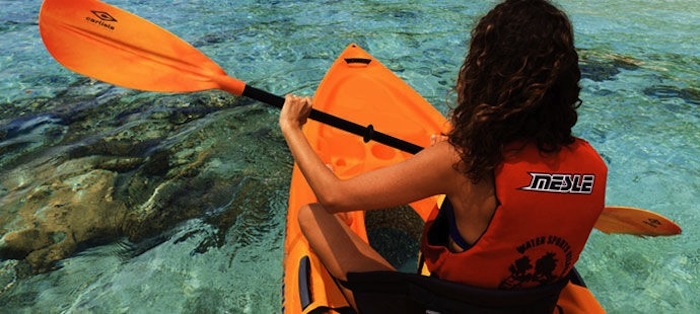 2. Enjoy (more) watersport activities. The hotel has loads of other activities, which is good because once you're on the island there isn't much opportunity to leave it. You can visit the water sports centre and take out a paddle board or a canoe or take advantage of the many excursions they offer such as a sunset cruise or night fishing, which we did. We brought our gym clothes on this trip but the gym was a bit tiny so we opted for some morning runs around the island which to be honest was much more scenic and relaxing anyway.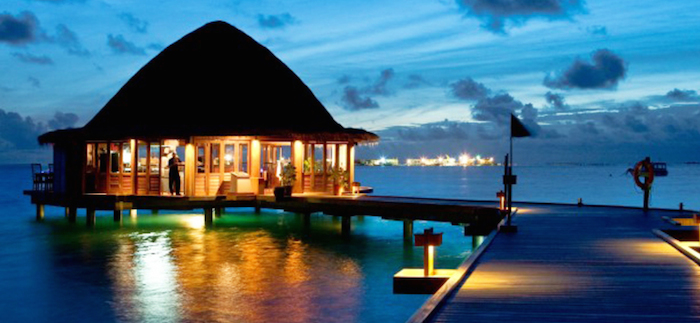 3. Tuck in. The hotel has three restaurants and a bar and then some special occasion dining options, which we took advantage of. Kaani Restaurant is where we typically had the breakfast buffet and a la carte lunch, and while this spot does a buffet in the evening we enjoyed our meals at some of the other restaurants on site to spice things up.
We had a lovely dinner at Fuma, which is situated in a hut overlooking the water. The setting was fabulous, the view was incredible and the vibe was set just right but in this day in age, we sadly were surrounded by many diners who couldn't get away from looking at their phones instead of the lovely view the hotel has set up for them. Sometimes I wished this resort didn't have SUCH great Wifi service so everyone, myself included, can detach a bit more.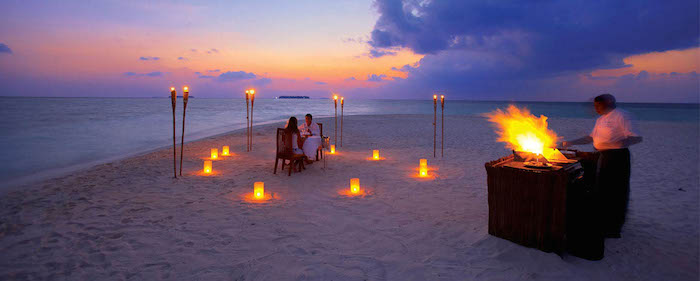 4. Have a romantic dinner. The icing on the dining cake was a beachside candlelight dinner, which was set up for us. I have never been one for a super romantic dining setting on the beach (I know, I'm strange), but I have changed my ways because this was just incredible. We had great seafood and steak and had enough food that we literally rolled back to our room which was a short beach walk away.
And as a side note, getting food to the Maldives can be a journey so it is important to know prior to your stay that everything you eat (minus fresh seafood) has probably travelled a long way. So while the food was yummy and hit the spot, you should go with an open mind that you are coming mostly for the amazing setting and relaxing vibe rather than 5-star dining.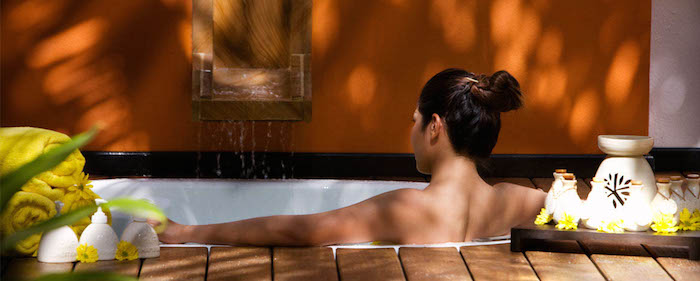 5. Get pampered. We escaped on an afternoon to the spa and it was seriously one of the most relaxing treatments I've had in a long time. The treatment rooms are all situated outdoors which I loved (but are covered and private of course!). During our treatment it started to downpour, so we were able to have our treatments while listening to the relaxing sound of the rain coming down. I highly recommend a visit to the spa if you are staying at the hotel. While no one wishes for rain on vacation I do sort of wish for a rain shower during your spa experience, as it was so very cosy and relaxing during mine!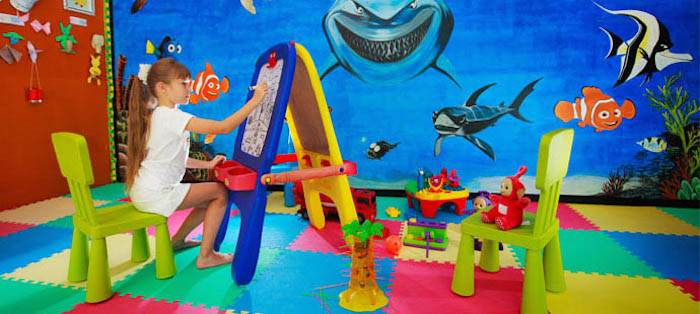 6. The kids are alright. While we were at the resort without our little daughter, we do know that a good Kids Club scores major points in any parents' books when they have little ones in tow. The Kids Club at the hotel is centrally located and easy to get to. We walked by it each day on our way to the main beach, which made me miss my daughter. Although, I must admit that feeling quickly vanished as I settled down on the beach to a nice book without interruptions!
How to book: We are big fans of The Luxe Nomad team here at Sassy Mama and booking a stay at Angsana Velavaru couldn't be any easier through them. They are experts in all things when it comes to luxury villa and hotel bookings. And just browsing through their Instagram feed can give you a serious case of wanderlust. Bookmark them when you need to travel as they definitely are a brand you can trust!
Nomad rating: 5/5
Most memorable: The romantic dinner for two
We'd recommend it for: Definitely couples, travelling with children or without.