Have you ever wondered what it'd be like to be stuck in paradise for weeks on end? Daniel Haddad, the writer behind food and luxury travel website Hungry Hong Kong, along with his wife and two kids did just that and lived to tell the tale!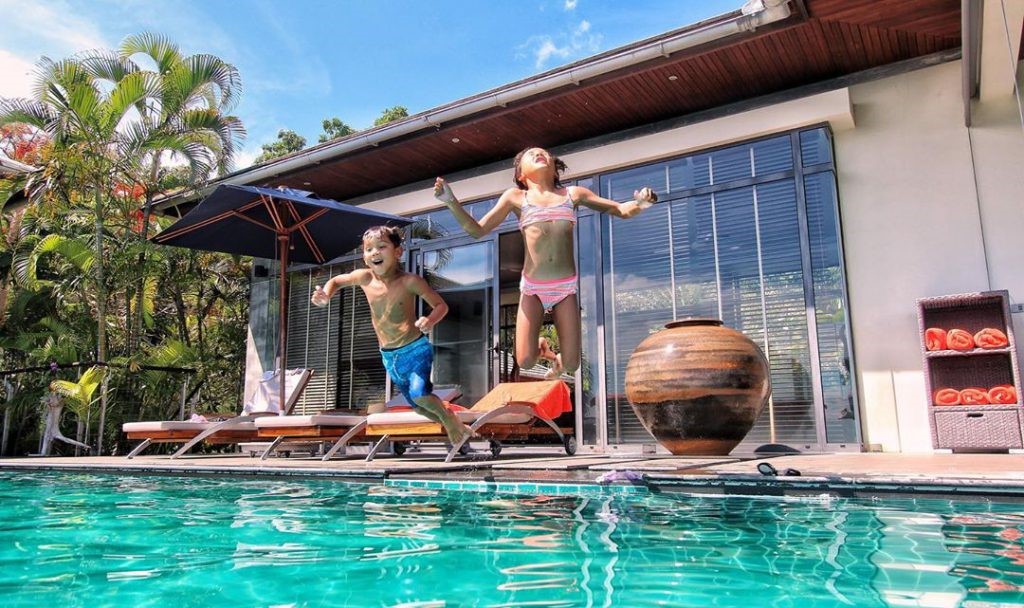 Based in Hong Kong when they're not travelling, Daniel and his wife are digital nomads who found themselves faced with a decision when Covid-19 cases started rising all over the world. The family landed in Chiang Mai, Thailand back in March to celebrate their four-year-old son's birthday and eventually made their way to Koh Samui in April. Little did they know that the local airport would close soon after, flights would get cancelled, border regulations would tighten overnight and that they would have to live it up on the island for the next three months!
"Koh Samui had less than 10 positive cases at the time. Everyone in the community, both local and expat, were being very careful, wearing masks, sanitizing, and social distancing. It felt like the safest place for us to isolate as a family and allow our children to still have a life outdoors, away from cities and crowds," Daniel explained when asked about his decision to stay back.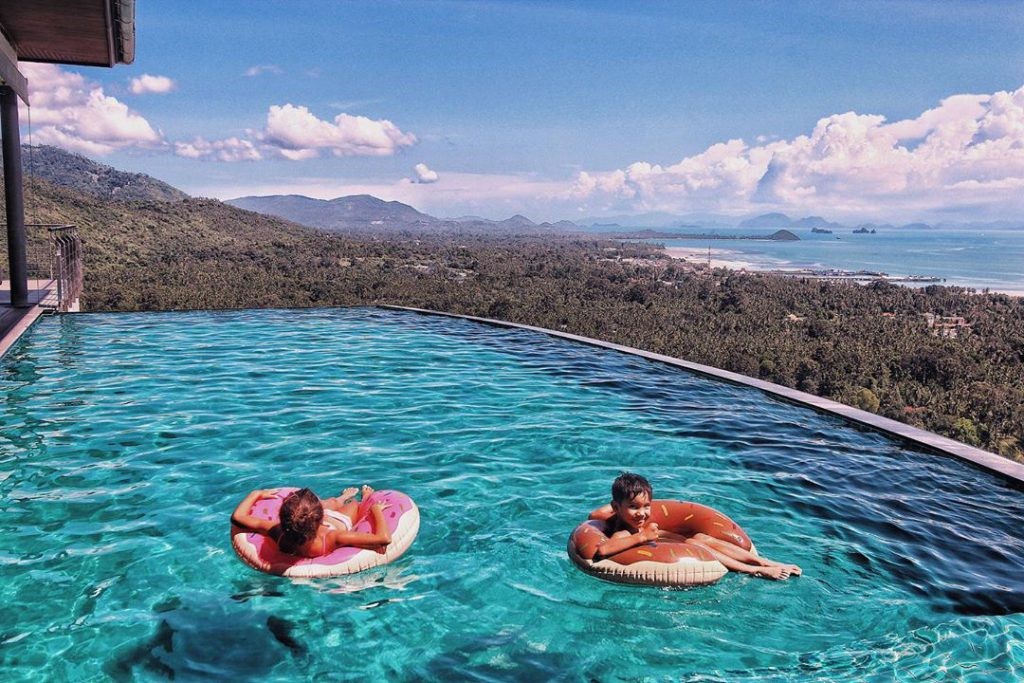 How does one make the best out of an unpredictable situation? For Daniel and his wife Christing, their priority was to remain cautious and survive lockdown (while quarantining in beautiful villas). For the Haddad kids, their new normal included homeschooling in the morning, brushing up on their swimming skills in the afternoon and watching sunsets unfold across the sky before dinner.
"We travel eight months out of the year and usually move around every two to four weeks, so this is the longest our children have ever stayed in one country consecutively since they were born. We found that when the situation got difficult, we could sit down at the end of the day, look at the view as a family and still feel tranquil and lucky," shares Daniel.
Which Luxe Nomad villas did the Haddads end up finding sanctuary in? Read on as we dive deeper into each property and hear first-hand why these villas are the best family-friendly options on the island.
Baan Hinyai + Daniel Haddad
Bedrooms: 4 to 5 fully air-conditioned guest rooms each complete with a private balcony, king beds, TVs and dramatic en-suite bathrooms with freestanding bathtubs.
Best bits: High-ceiling living area, open-plan dining space, infinity-edge pool and poolside sala.
Why we love it: Spread across three levels, this beachfront villa allows parents to truly relax and recharge whilst kids roam freely in the expansive indoor and outdoor spaces. Start your day by waking up to dramatic ocean views and end it with a decadent meal prepared by the in-house chef (available upon request at an extra cost). Have free time in between? The villa comes with water-sports equipment like kayaks and paddleboards, so put those muscles to work and get your tan on!
Why the Haddads love it: "Baan Hinyai is so beautifully designed and really shows off Koh Samui's natural beauty. We loved the huge villa built into the large boulders and the secluded and quiet beach. The kids loved climbing the boulders and we saw fireflies at night from the terrace of the bedroom. The villa is very immersed in nature and sea which is ideal for the kids who spent their days swimming in the large pool and playing on the beach. The large bathtubs were also a huge hit."
---

Read more: Baan Hinyai, The Perfect Getaway for Stylish Jet-Setting Families
---
Baan Leelawadee + Daniel Haddad
Bedrooms: 1 master suite & 3 guest bedrooms that fit up to eight guests. All rooms are air-conditioned and en-suite.
Best bits: Apple TV in the living area, SONOS sound system and outdoor speakers, handicap-friendly saltwater swimming pool and direct access to a quiet white-sand beach.
Why we love it: Baan Leelawadee is one of the eight properties of a secured gated community known as Dhevatara Residence. Located on the North coast of Samui overlooking the Andaman Sea, this spacious villa is decked out in a mix of modern and traditional Thai influences that take your breath away. What's more, the incredible around-the-clock staffs are always on hand to make your stay is a stress-free experience.
Why the Haddads love it: "The villa is right on the beach so the kids loved running along Bophut Beach, collecting shells and returning to the large private pool. The lounge was also a very comfortable space with Nick Jr and Disney Jr on the tv. They haven't watched tv in a while so the home comforts really helped them settle in.
Besides that, Baan Leelawadee had the most accommodating and kind staff and we loved the in-villa chef who really created the best menus with us each day. We showed the chef google images of our favourite Thai dishes and she created them so easily. Her Deep Fried Local Fish, Phad Thai, and Chicken Satay were all delicious but if we had to pick one dish to recommend it would be her Pork Larb."
---

Read more: Baan Leelawadee, A Cosy and Romantic Beachfront Villa
---
Baan View Talay + Daniel Haddad
Bedrooms: Luxurious and airy 6+1 (mezzanine) bedroom that comfortably sleeps 12. All guest rooms are equipped with air-conditioning and en-suite rain showers.
Best bits: Sensational daily continental breakfast and astonishing 180-degree sea/mountain views.
Why we love it: This pool villa has well-equipped facilities like an indoor gym, a putting green, a field for badminton, volleyball or soccer and even a petanque boulodrome for target bowling—perfect for an outdoorsy family.
Why the Haddads love it: "Baan View Talay has the most stunning panoramic views and a huge infinity pool that makes you feel as if you are swimming at the very top of the world. Although the pool was incredible, the children actually loved the foosball table, pool table, and games area at the villa the most. We decided to get grocery delivery and cook by ourselves here. The kitchen is so well equipped and also has sea views which made the entire experience very enjoyable."
---

Read more: A Guide to the Top Neighbourhoods in Koh Samui
---
The Headland Villa 3 + Daniel Haddad
Bedrooms: The master boasts a king bed while the adjacent second bedroom offers two twin beds, with an additional built-in upper bunk. Upstairs on the mezzanine level is a TV den that can easily be converted into a third en-suite double bedroom.
Best bits: Both guest rooms are interconnected and have direct access to the infinity pool outside. The 12-metre long pool also has a shallow paddle part designed just for children.
Why we love it: The Headland Villa 3 is part of the Headland Villas—one of the most exclusive and prestigious private estates on Koh Samui. An outdoor patio is available for peaceful meals while taking in the breathtaking backdrop of the famous Five Islands and Ang Thong National Marine Park. The vacation complex's gorgeous white-themed interior doesn't hurt to look at either.
Why the Haddads love it: "It was an absolute dream beach home and has the best of both worlds. We loved having epic views but also a white sand beach within a few steps. The kids spent almost all day in the infinity pool but they also loved the wide-open lounge which was such a beautiful space for family meals and homeschooling.  The villa truly felt like a really nice family home which we all loved."
---

Read more: Cara G Mcilroy's Top Tips on Travelling With Kids in Samui
---
Psst…Baan Hinyai, Baan Leelawadee and The Headland Villa 3 are all certified for "Amazing Thailand Safety and Health Administration" (SHA) by the Tourism Authority of Thailand (TAT). The stamp,  'Amazing Thailand: Safety and Health Administration: SHA', is a government-approved layer of safety to boost confidence among domestic and international tourists in regards to safety and health protocol.
One last message from Daniel:
"This was our second time coming to Koh Samui but this time we have truly had the opportunity to explore the island and all it has to offer.  It's one of the most family-friendly destinations we've been to with a huge variety of beaches, outdoor activities, hikes to waterfalls, elephant sanctuaries, Muay Thai studios and a great expat community. The locals have all been so kind, welcoming and grateful so please support local businesses during your stay.
As the islands have been so quiet, the beaches and water are the cleanest they have been for years with turtles and dolphins all returning. We have seen so much marine life and crystal clear waters that are comparable to the Maldives. We highly recommend people visit Koh Samui as soon as international travel opens."